Amazon is continuing its student deal on its Music Unlimited (opens in new tab) streaming service.
The offer gives Amazon Prime Student subscribers the option to tack Music Unlimited on for $0.99 per month. This offer is compatible with both annual and monthly Prime Student plans. If you're a college student who hasn't kicked the tires on Prime Student, a 6-month trial is available here (opens in new tab).
The current standard Music Unlimited offer for existing Prime members begins with a 3-months free trial and then requires a $8.99/month fee. Not a Prime member? You can sign up for a 30-day trial (opens in new tab) and cancel before your trial runs out.
If you're not familiar with Amazon's music services, the retailer offers two music plans, and the difference proves that you get what you pay for.
Prime Music (free for Prime subscribers (opens in new tab)) is a neat freebie, but Music Unlimited ($8.99 per month with Prime, $9.99 per month without Prime) provides additional ways to control what you're hearing. It used to offer a larger library, but Amazon Music now offers the full library without asking you to pay extra.
About Amazon Music Unlimited
Amazon Music Unlimited gives users access to ad-free and unlimited music plays in lossless CD-quality or better through the Amazon Music app and Amazon Music website.
More than 100 million of Amazon's songs are available at what Amazon chooses to call HD quality (16-bit/44.1kHz sample rate, which is actually CD-quality audio), while Amazon says it has over 7 million songs available at Ultra HD (up to 24-bit/192kHz sample rate, which is better than CD-quality audio, aka hi-res).
Amazon Music Unlimited costs $8.99 per month for Prime members or $9.99 per month for non-members. Amazon is currently offering a 30-day free Amazon Music Unlimited trial (opens in new tab).
You can also sign up to a $4.99 per month tier that lets you use the service on a single Amazon Echo, Echo Dot, Echo Studio, or Fire TV.
Following the recent price hike for Apple Music, Amazon Music Unlimited is much become better value than it used to be, with access to CD-quality and hi-res audio content for $9.99, although the pricing structure remains complicated.
Amazon Music Unlimited is supported by Amazon's streaming on desktop (Windows, Mac) and mobile (iOS, Android), Fire TV, and Fire Tablets. Also, third-party devices, including speakers from Sonos, McIntosh and Sennheiser.
And while more sounds nice, I know the question on your mind: do you really need to be spending that extra cash? To find out, we've compared both of Amazon's services and even investigated how they stack up to the Spotify and Apple Music.
How are Music Unlimited and Prime Music the same?
Amazon Prime Music and Music Unlimited both offer ad-free on-demand music listening with offline playback. Both are available on many devices, including the best smartphones, Amazon Echo speakers, best smart TVs, best Alexa speakers, best Macbooks and best PCs, for example.
What does Music Unlimited have that Prime Music doesn't?
Amazon Music no longer offers fewer songs than Music Unlimited, as a Nov. 1, 2022 change unlocked Amazon Music's full library for free to Prime members. The biggest difference remaining is that nearly all of that library can only be listened to on shuffle mode.
If you love to chat with Alexa, you'll also prefer Music Unlimited, which allows for a stronger set of voice commands. For example, if a friend told me that Lorde's latest record is amazing (it is), I could just say "Alexa, play Lorde's Pure Heroine album," to hear it. If your needs are less specific, just ask the assistant to play music by an artist ("Alexa, play Run The Jewels") to get a playlist of that musician's most popular tracks.
Music Unlimited also unlocks Alexa's ability to name the song that's stuck in your head. If you say "Alexa, play the song that goes, 'You see what I mean?, USDA certified lean,'" it will recognize the tune as "The Man" by The Killers. You can also ask Alexa to pull up songs from a specific decade, mood or genre.
More: Get more from Alexa with these 30 best Alexa skills.
How much more does Music Unlimited cost?
Music Unlimited costs an extra $8.99 per month for Prime members, which costs $14.99 per month per month, though you can save $40 with its $139 per year annual billing.
Without Prime, you'll spend $9.99 per month for Music Unlimited, though if you only want to use Music Unlimited on an Echo, Echo Dot or Tap speaker, that costs just $4.99 per month.
Swipe to scroll horizontally
| | | |
| --- | --- | --- |
| | Prime Music | Music Unlimited |
| Prime members | Free | $8.99 per month |
| Non-Prime members | $14.99 per month, or $139 per year | $9.99 per month |
How does Amazon Music Unlimited compare to Spotify and Apple Music?
Amazon Music Unlimited offers a library of 100 million songs, which is similar to nearest best music streaming services rivals such as Spotify and Apple Music.
Amazon Prime Music offers 100 million ad-free songs as part of its Prime subscription, so it's not strictly speaking free. Spotify's free plan offers access to it's full catalog at a lower data rate than its Premium subscription service, and has ads popping up every few tracks.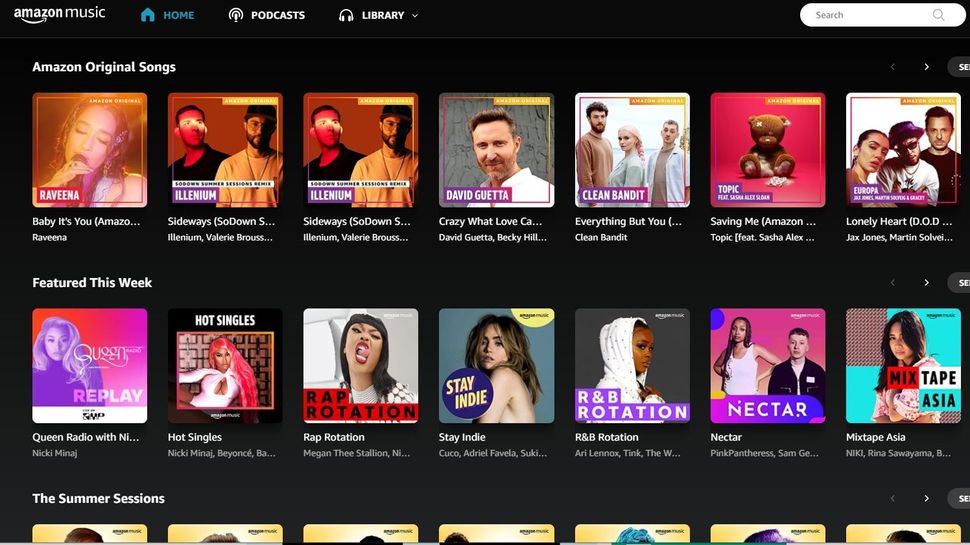 Who is Music Unlimited best for?
If you're a Prime subscriber, especially if you've got Alexa-enabled devices, you should seriously consider Music Unlimited. Not only will you save a few dollars per month over Spotify Premium or Apple Music, but you'll be using a service that's made for the speakers you've peppered your home with.
Also, one last note: if you know the difference between Garth Brooks and Chris Gaines, Amazon Music Unlimited is definitely right for you. That's because it's the only service that streams all 16 of the country western superstar's studio albums (opens in new tab).
Contributions from: Henry T. Casey
Next: Undecided about whether Amazon Prime is worth it? Check out these Amazon Prime perks. Also, if you want to know more about one of Amazon's closest rivals, here's 10 things you didn't know Spotify could do.