With our PS5 review we declared Sony's console is "the future of console gaming" — and we stand by that conclusion. But as impressive as the PS5 is more than six months after its release, Sony still pushes out regular PS5 updates to get the most from the machine.
If you're lucky enough to have secured a PS5 restock we're here to help you keep track of the latest PS5 updates so that you can make sure you have them installed. And you definitely won't want to miss out: many of these updates either improve the console itself or enhance the performance of the best PS5 games and the best PS4 games, thanks to backwards compatibility.
Read on for the latest PS5 updates news, as well as everything you need to know about keeping your PS5 up-to-date.
Latest PS5 updates news (updated November 11)
PS5 Wishlist gets a neat money-saving update
With Black Friday deals already underway, the Wishlist function on the PS5 has received an update that will now send you push notifications when a game that you've put on the list is is discounted. That should prove handy now that PS5 games can cost around $70.
But it's also a neat feature to help you avoid the process of checking the PlayStation Store every time you want to sniff out a discount on a game you're after. You can also set up the Wishlist to flag discounted games on you smartphone, providing you have the PlayStation app and have it paired to your PS5.
October 21: Sony's latest PS5 firmware update boosts system performance
it's not the biggest update for the PS5, but the latest firmware update for Sony's games console is well worth having.
That's because it can boost system performance, which is set to make getting into game that bit faster and navigating the console's UI a little slicker, not that it was sluggish to begin with. Bigger updates are likely to arrive later on down the line, but it's still nice to see Sony work on optimizations.
September 17: PS5 system update finally lets you add another SSD without beta access
Sony has released a system update that now lets those lucky enough to have a PS5 make use of the previously dormant expansion slot inside the console, allowing for the overall SDD capacity to be upgraded. While this expansion slot was enabled in a PS5 system beta, it wasn't available to all; now it is.
As such, if you're handy with a screwdriver you can add an extra PCle 4.0 M.2 SSD to your PS5. Just bear in mind it needs to meet the specific requirements and the SSD has to have a heatsink, but otherwise the upgrade is fairly straight forward. And to make thinks a little easier Sony has made a PS5 compatible SSD under its Nextorage, offering an easer way to upgrade the SSD.
August 26: Horizon Zero Dawn 1.53 updated enables PS5 60 fps mode
Sony has released an update for Horizon Zero Dawn that will enable the game to run at 60 frames per second while at maximum graphics.
While Horizon Zero Dawn could run on the PS5 via PS4 backwards compatibility, it only had access to the PS4 Pro's graphics or performance settings; the former prioritized resolution over the latter, which favoured smoother performance. But this new patch des away with that, and enables and simply runs the game at its max console settings at 60 fps.
It's not a massive upgrade, though went combined wish the snapper loading speeds the PS5's SSD enables, the whole experience of playing Horizon Zero Dawn for the first time on the PS5 should be a lot nicer than it was. And that should make the wait for Horizon Forbidden West, with it coming February 2022, a little less painful.
August 10: PS5 loading times could get even faster with an SSD upgrade
Following on form the new PS5 beta update, as detailed below, adding in a secondary SSD can not only increase the storage space on Sony's latest games console but also deliver improved loading times.
Tech analysis specialists at Digital Foundry found that an upgraded SSD allowed for PS4 games like The Witcher 3, Fallout 4 and Cyberpunk 2077 to load some two to three seconds faster then they did when installed on the PS5 main SSD. So going to the trouble of seeking out the best PS5 hard drive deals could yield solid benefits to your PS5 experience.
July 30: PS5 beta now allows users to upgrade the internal hard drive
A new PS5 beta will let owners upgrade the internal SSD storage of Sony's console, finally making use of the expansion slot the console came with but wasn't enabled for upgrades. There is a catch in that you'll need the beta and ensure the SSD you get meets some rigorous requirements outlined by Sony.
But we've got a handy how to upgrade PS5 internal storage guide to direct you on the in and outs of the DIY approach to PS5 storage upgrading. Having more internal storage will build upon the rather limited 825GB SSD the PS5 comes with. While you can store PS5 games on external hard drives, you can't run them from such storage, so an internal upgrade can solve this problem.
July 8: A new PS5 patch will boost system performance
Sony has released a new 902MB patch that updates the PS5 to version 21.01-03.21.00.
The official patch notes state how the console's system performance has been improved and little more. But we'd expect the patch has done more than that, just that Sony hasn't shared the details at the time of writing. The last update fixed things like a controller battery indicator bug, as well as make it more stable to copy games from an external USB storage device to the PS5's SSD.
Check out the how to install PS5 update section below to make sure your PS5 is all set to get the latest firmware updates. Keeping your system up to date, is one way to ensure it remains stable and offers the best performance it can, so it's worth keeping an eye on the latest updates.
July 2: Ghost of Tsushima Director's Cut coming August 20 with PS5 exclusive features
More than a simple game update, Sony has announced Ghost of Tsushima Director's Cut is coming August 20 on PS5 and PS4. It looks to build upon a lot of the things we liked in our Ghost of Tsushima review, by offering new features as well as all the content released so far in one game.
There's a whole new story chapter taking place on Iki Island, as well as new option for alternative controller layouts and the ability to lock-on during combat.
But more pertinently, the PS5 version will get exclusive features in the form of 3D audio enchantments, better haptic feedback that taps into the adaptive triggers of the DualSense controller, and of course it runs at 4K and 60 frames per second.
Oh and there's one more key PS5 feature. Over to Andrew Goldfarb: "We've heard your feedback about the lack of Japanese lip sync in the original version of Ghost of Tsushima, and it's something we worked hard to address in this new release. Thanks to the PS5's ability to render cinematics in real time, cutscenes in Ghost of Tsushima and on Iki Island on PS5 will now offer lip sync for Japanese voice over."
If you've not played Ghost of Tsushima, then the PS5 looks to be the console to try it on.
June 23: You can now sign up to the first PS5 system software beta program
Sony is letting PS5 users sign up to a system software beta program to let PlayStation fans have a hand in trying out the next major system update before it gets rolled out later this year.
We'd advise you proceed with caution here, as such beta software can be unstable. But at the same time it could be a way to get a sneak peek into what Sony has planned for its game console. You can sign up to the PS5 beta program today.
June 22: PS4 8.53 firmware update boosts system performance
While Sony is focused on PS5 updates, the PS4 hasn't been forgotten, with the latest 8.53 firmware update boosting performance.
Weighing in at 481MB, the update isn't huge, and nor does it change a great deal; Sony simply notes that "this system software update improves system performance."
It's a small change, but the PS4's user interface could be sluggish at times, so this update could make the UI feel noticeably smoother. That'll come in handy if you've not yet made the move to the PS5.
June 16: Cyberpunk 2077 finally returns to PlayStation Store
After being pulled from the PlayStation Store due to its buggy state and poor performance, Sony has now allowed Cyberpunk 2077 back on the PS Store.
However, Sony recommends you play the latest CD Projekt Red game on the PS5 or PS4 Pro, as performance on the base PS4 isn't up to scratch.
"Users will continue to experience performance issues with the PS4 edition while CD Projekt Red continues to improve stability across all platforms. SIE recommends playing the title on PS4 Pro or PS5 for the best experience," Sony told Polygon.
May 20: The Last of Us Part 2 got a big PS5 performance boost — get it now
The Last of Us Part 2 has been upgraded to take advantage of the power of the PS5 with a performance patch for the game.
Patch 1.08 enables PS5 players to select whether the game targets 30 frames per second or 60 fps. While the game was able to hit a relatively consistent 30 fps, doubling the frame rate is going to be the best way to play the stellar game and we recommend you play it on the PS5 over the PS4.
April 15: Major PS5 update improves HDR and 120Hz gaming
Sony has rolled out a PS5 update that's brought a slew of welcome changes with it, most notably enhanced support for 120Hz gaming.
Furthermore, the April update included a handful of settings that can be tweaked for ultimate convenience; from automatically switching to non-HDR output, to powering on and off in sync with your TV.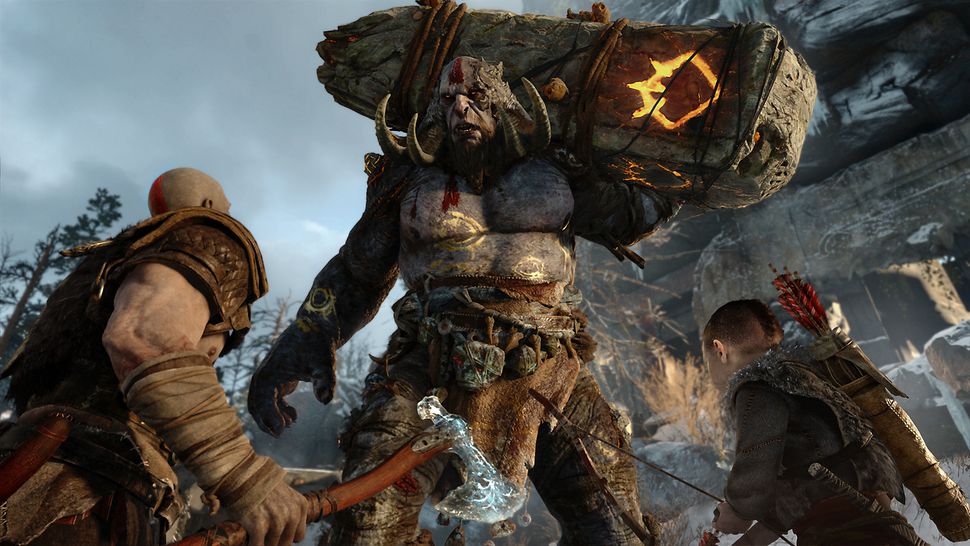 February 14: God of War gets a big fps boost on PS5
One of the best games of all time, God of War has been given a frame-rate boost when running on the PS5.
While it won't run at a full 4K 60 frames per second, when used in the resolution mode the PS4 Pro offered, God of War runs at a near-locked 60 fps. For people coming from the standard PS4 version, which ran at 30 fps, this is a major boost and makes the game feel even better to play.
February 4: PS5 update fixes annoying double install bug for PS4 games
Sony has updated the PS5 so it doesn't install PS4 version of games alongside their PS5 equivalents.
While you could select which version of the game you wanted to install on the PS5, a quirk in the software meant that the PS5 would still install a PS4 version of the likes of Spider-Man: Miles Morales. This would end up eating into the 667GB of usable storage the PS5's 825GB SSD has.
But with an update, the bug has been squashed — meaning you'll not have to worry as much about games taking up that precious storage space unnecessarily.
How to install PS5 updates
Most PS5 updates for the system and games will install automatically. It's worth noting that if your PS5 is in rest mode it will automatically install update files and game patches.
To ensure that you have the PS5 set to update its files automatically, navigate to the console's Settings. From there, head to System Software, then System Software Update and Settings.
Once there, simply toggle on or off Download Update Files Automatically or Install Update Files Automatically to enable or disable automatic system updates.
For automatic game updates, which are enabled by default, head to Settings, then Saved Data and Game/App Settings and navigate to Automatic Updates. Under that menu you can turn on Auto-Download or Auto-Install in Rest Mode.