The best wireless earbuds in Australia make it easy to enjoy your favorite music, movies, podcasts and more. There are more models than ever vying for our attention, and while Apple's AirPods are synonymous with the category, there are plenty of great-sounding alternative options to choose from.
Some of the premium models here are loaded with useful audio tech and also make the grade as one of the top models on our best noise-cancelling earbuds that isolate you from noisy surroundings, but we've also included our favourite mid-range and low cost earbuds models that are often less well specified in terms of features.
Ready to cut yourself free from the wires? Keep reading through our picks of the best wireless earbuds and you're sure to find a pair that fits your needs.
Best wireless earbuds: Jump to a section
While this buying guide also brings together great advice on what to consider when looking for the best wireless earbuds, don't forget you'll find lots more info in our in-depth standalone test reviews. There we cover design and comfort, features, ANC performance (where applicable), real-world battery life, sound quality across all kinds of media, as well as how well each model performs when taking and making calls.
Just follow the link at the end of each product summary or tap the product name next to the star rating to discover everything you need to know about the best wireless earbuds available to buy today. With prices starting below $60 up to $300, there's something for everyone.
The Quick List
Top 3 best wireless earbuds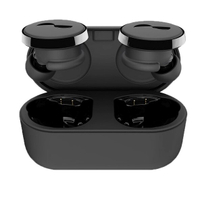 Best sound overall: NuraTrue Pro
These are the best-sounding earbuds we've heard, plus they have the best feature set of any pair of earbuds right now — think multipoint connectivity and support for Bluetooth Lossless audio from compatible devices. ANC performance isn't the strongest, but this 'pro' model presents one of the most immersive listening experience from a pair of earbuds, period.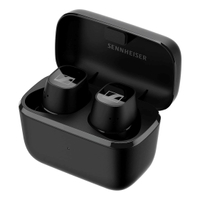 Best value: Sennheiser CX Plus
These are great value at the AU$260 RRP, but you can regularly pick them up for less, especially if you don't mind which colour you get. At the time of publishing, the black pair can be picked up for AU$246 from Amazon, but if you're happy with white, you can grab a pair for AU$149. With Sennheiser's high-quality house sound, effective ANC, and dependable connectivity, the CX Plus earbuds are an enticing package for less.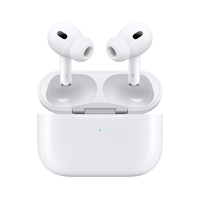 Best overall for iOS users: Apple AirPods Pro 2
The AirPods Pro 2 are Apple's flagship ANC earbuds taken to the next level with better overall performance, including 6 hours of battery life on a single charge. Not only are the earbuds IPX4-rated, but the wirelessly chargeable case is too, and has a built-in microphone that helps you find it when it's lost.
Best wireless earbuds overall
The Sony WF-1000XM5 wireless earbuds had incredibly big shoes to fill, as the previous XM4 were long considered one of best pairs of earbuds money could buy. Fortunately, the XM5 offer improvements across the board. They're smaller and lighter, yet offer a much stronger performance. Their sound is perhaps the most dynamic and engaging we've yet heard, and noise-cancellation is on par with that of the Bose and Apple pairs above.
We would have liked to have seen an improvement in battery life, but considering they've shrunk a fair amount, the fact Sony has managed to keep it the same is still commendable. You also get LDAC support for higher-quality music, adaptive listening model, support for Google and Alexa voice assistants and a high level of EQ customisation. Call quality has thankfully improved, too.
It was never going to be an easy feat, but the Sony WF-1000XM5 wireless earbuds are by far the best Sony has ever produced.
Read our full Sony WF-1000XM5 review.
Best wireless earbuds for value
Regarded as a budget alternative to the Sony WF-1000XM4, the WF-C700N build on the entry-level WF-C500 (one of the best cheap wireless earbuds out there) by adding effective active noise cancellation (ANC). The aesthetic upgrades to the buds and charging case give them a luxe appearance, and the boost to battery life make them a sweet pickup for brand enthusiasts. Sound quality is powerful with Sony's bass-heavy sound signature at the forefront, alongside proprietary technologies like 360 Reality Audio and DSEE Extreme.
The adaptive ANC technology built in to the WF-C700N is remarkable at the price. It learns your behaviour and tweaks noise cancellation depending on your environment. Call quality is good and the mics silence most background interference for clear-sounding phone conversations, making these a versatile option that have few rivals even as the most affordable model in this roundup.
Read our full Sony WF-C700N review.
Best wireless earbuds for iPhone owners
We were blown away by the AirPods Pro (2nd Generation) when Apple launched them in September 2022, and there are plenty of reasons why they continue to beat all other wireless earbuds. They are without doubt the best ANC earbuds for iPhone users, and the most versatile model for all kinds of lifestyles. This next-gen model brings significant upgrades to the popular original AirPods Pro to take performance to the next level. Externally, they look pretty similar to the first generation, but battery life has been increased to offer 6 hours on a single charge from the earbuds and a further 30 hours from the wireless charging case.
Designed for iPhone owners looking for a more tailored listening experience, we think the AirPods Pro 2 are the pinnacle of Apple technology. While testing them out for all kinds of active lifestyle activities, we found that the fit had been improved to the point where they're a viable option for the best sports headphones, and suitable for runners and gym workouts alike. Not only are the earbuds IPX4-rated for protection from sweat and light showers, but now too is the case itself.
On the audio front, Apple has included a new H2 chip with custom amp and driver that delivers better lower and higher frequencies, and you can use the iPhone's TrueDepth camera to create a personalised spatial audio sound to listen to some of the best Dolby Atmos sound in any pair of earbuds. Noise cancellation is double what the original AirPods Pro offered, and is among the best we've yet to experience.
Read our full Apple AirPods Pro 2 review.
Best wireless earbuds for noise cancelation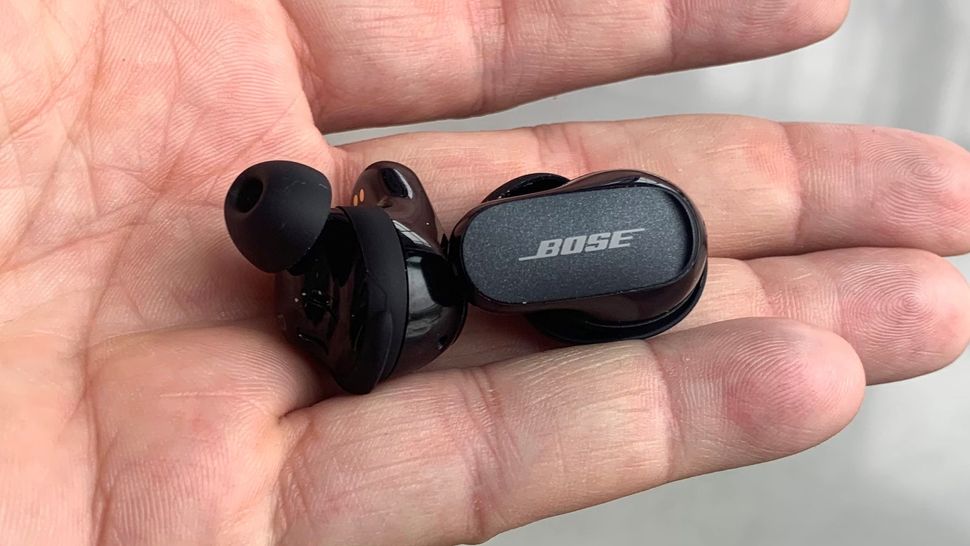 As the market's best noise-cancelling earbuds overall, Bose's latest flagship introduced several upgrades such as adaptive active noise cancellation (ANC), Bluetooth 5.3, and sound calibration technology for improved sound quality. In our review, we loved the fact that Bose made the new version one-third smaller than the original QuietComfort Earbuds, while also developing new ear-tips to help achieve optimal wear for more users.
The next-gen buds build on traditional Bose hallmarks, but we feel battery life, special features, and touch controls could be bettered at the price. Despite these shortcomings, though, we found their ANC and sound quality performance continue to make the QuietComfort Earbuds 2 one of the best pairs of wireless earbuds. The sound quality of Sony's pair does trump them, but only just. This next-gen flagship model are highly recommended for anyone seeking the ultimate ANC experience from a pair of earbuds.
Read our full Bose QuietComfort Earbuds 2 review.
Best cheap noise-canceling wireless earbuds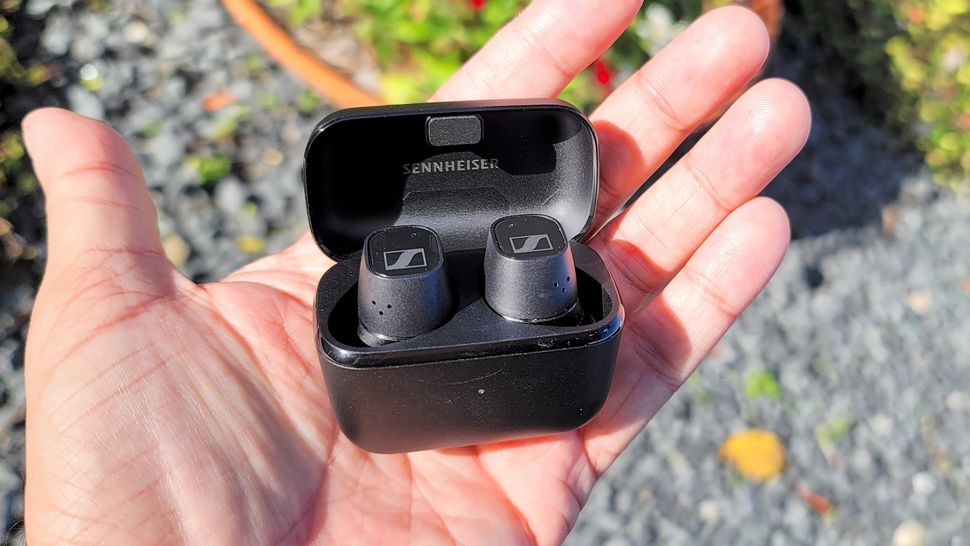 If you're looking for a bargain pair of wireless earbuds with ANC, then this Sennheiser pair offers some of the best value we've heard. During our testing, we were impressed by the performance of Sennheiser CX Plus, and what's better is they can regularly be found at a discounted price.
Often overlooked for more costly models, our reviewer regarded them as one of the most underrated earbuds. In our original review, we highlighted the Sennheiser's articulate, high-quality sound combined with normal playtimes, effective ANC, aptX Adaptive support, and dependable connectivity via Bluetooth 5.2 make them an enticing package. During our listening test, we felt that music lovers would swoon over the sound quality that delivered clarity and depth to feed our ears a well-balanced dose of deep lows, rich mids, and detailed highs, and our review recently
There may be compromises in terms of fit and lack of features compared to some rivals, but even at the full MSRP, we felt there was plenty of value in these ANC buds and a great entry into Sennheiser's signature sound.
Read our full Sennheiser CX Plus review.
Best wireless earbuds for Galaxy phones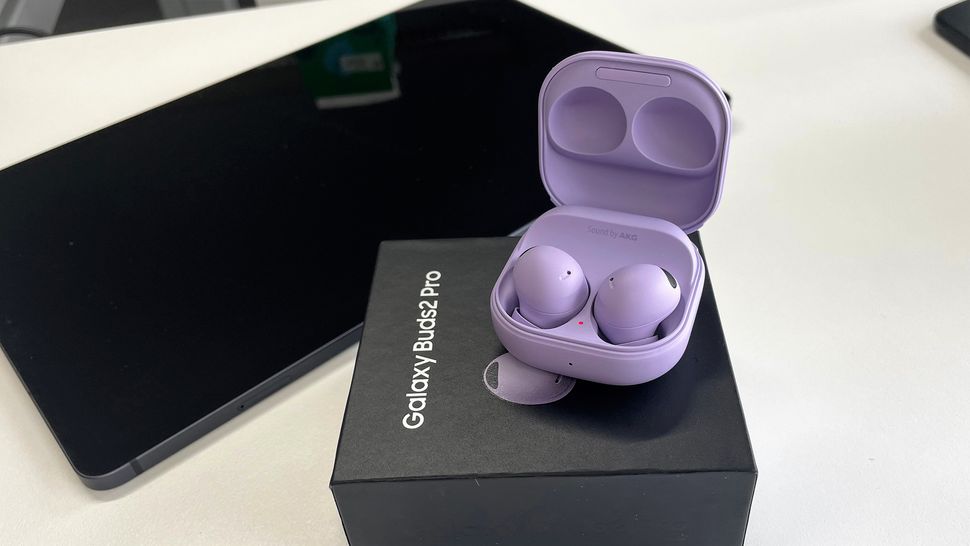 Samsung's Galaxy Buds 2 Pro set out to rival the AirPods Pro 2, at least for Galaxy owners. During our testing we found the sound alone makes the Galaxy Buds 2 Pro worth the investment, giving listeners a high quality audio experience and compelling 3D sound with precise head tracking. Samsung's ANC holds its own against the category leaders and blocks out close to 90% of ambient noise. The updated design also provides improved comfort and noise isolation.
We found these buds operated well across all Bluetooth-enabled devices, but Galaxy smartphone owners get to enjoy cool features like Easy Pairing and compatibility with Samsung's Scalable Codec. It's upsetting that Bixby (Samsung's voice assistant) doesn't perform up to its potential, though the mediocre battery life with ANC on is a greater disappointment. Since our review, Galaxy smartphone and Buds 2 Pro owners now get 360-degree audio recording, too.
Read our full Samsung Galaxy Buds 2 Pro review.
Best for active lifestyles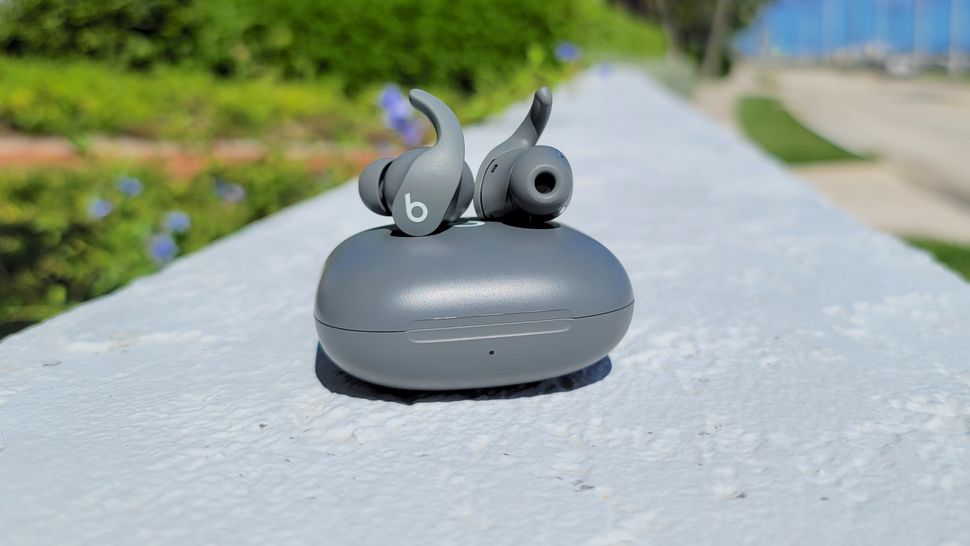 The Beats Fit Pro are the best for iOS users with active lifestyles, and also rank #1 in our best sports headphones. They're a culmination of Apple and Beats' greatest triumphs, packaging AirPods Pro-like performance into an updated Studio Beats design.
When we tested the Beats Fit Pro, our reviewer was impressed by the amazing sound quality, which was backed by a proprietary transducer that keeps bass punchy, while also balancing frequencies to hear crisp mids and detailed highs. Spatial Audio for immersive 3D sound has also been added, making this the first Beats product to feature the technology. Popular features tied to Apple's H1 processor are available, including automatic switching between Apple devices and FindMy to help locate misplaced buds. We also appreciate the integrated wingtips, which keep the buds secure during runs and intense workouts.
Android users do get to bask in the sonic upgrades, though all other iOS-related features remain exclusive to iPhone and iPad users. The lack of features available on the Android app also means limits to what the Fit Pro can perform on Google's mobile platform.
Read our full Beats Fit Pro review.
Best entry-level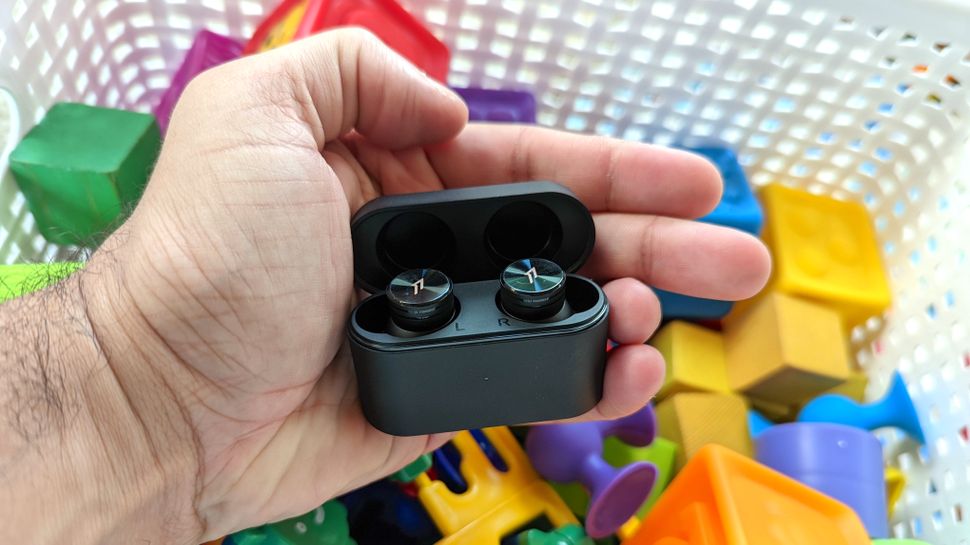 The PistonBuds Pro are a win for budget-conscious consumers who desire outstanding ANC and sound in a stylish, affordable package. Are they going to replace your AirPods Pro? No, but they are easily one of the best AirPods alternatives that can be had for a third of the price.
Okay, battery life isn't anything to write home about, nor is call quality. But these shortcomings are forgivable when factoring in the audio and noise cancellation these buds deliver, and are enough to satisfy (especially at their low price) and give the Piston Buds Pro mass appeal.
Read our full 1More PistonBuds Pro review.
Best non-ANC wireless earbuds for iPhone owners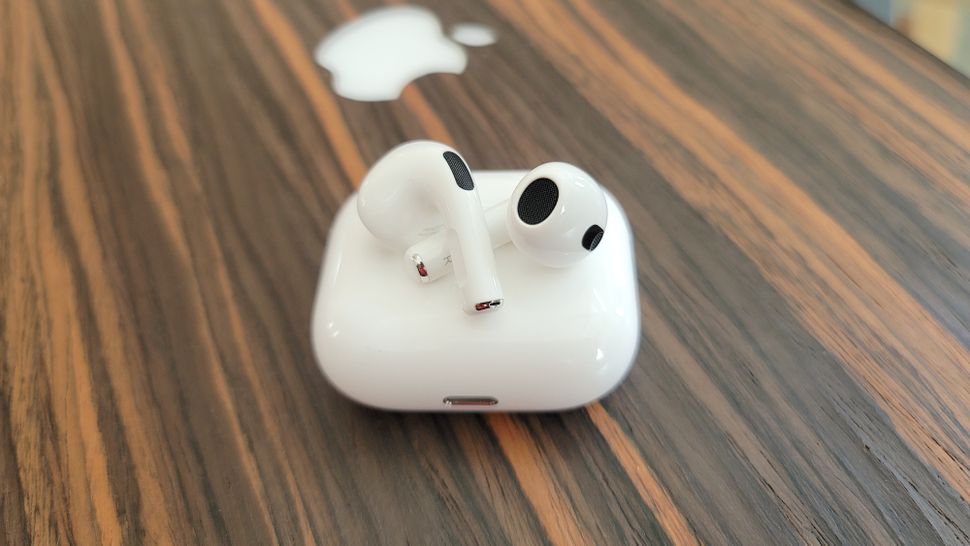 We'll be honest, we didn't expect Apple's third-gen AirPods model to turn out this great. Minus the eartips and noise cancellation, these buds are a near replica of the AirPods Pro, sharing many of the same features, while introducing new ones to the series. These include MagSafe wireless charging and skin-detect sensors that accurately discern when the buds are in your ears to enable auto-pause/play.
Music and movies are a delight to hear with Apple's proprietary technologies like Adaptive EQ and Spatial Audio at the helm. We also love that the popular Force Sensor was added for seamless operation. Best of all, Apple increased battery life to 6 hours, along with 30 hours in total via the charging case. Simply put, the AirPods 3 wireless earbuds are the upgrade iPhone users have been clamouring for, at least those not interested in the AirPods Pro.
Read our full AirPods 3 review.
The best alternative wireless earbuds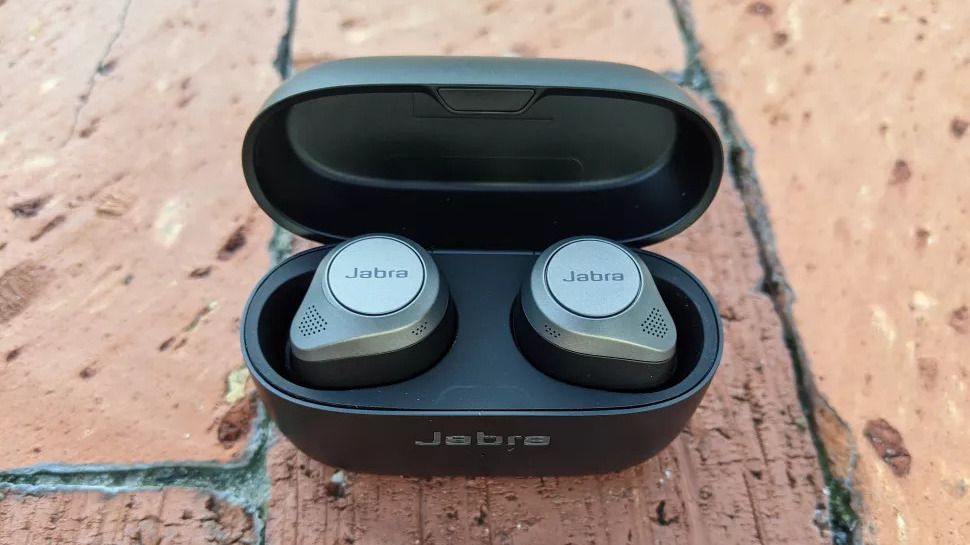 Jabra has long been circling the bigger names at the top of this list like a vulture. The company regularly produces some of the best pairs of earbuds on the market, but can often go overlooked, which we think is a travesty, to be honest.
The Elite 85t is the latest pair of Jabra's flagship true wireless buds and they do plenty to make you sit up and pay attention. First up you have some incredibly effective ANC, which can be adjusted to one of five levels from within the app. Also impressive is HearThrough, which lets external sounds through.
Sound quality is also excellent and can also be customised within the companion app. We really couldn't fault the sound when we reviewed the Jabra Elite 85t, finding them to be engaging, loud and lively. Battery life isn't what you would call class-leading, but it's standard for the category.
Read our full Jabra Elite 85t review
How to choose the best wireless earbuds for you
With so many wireless earbud options to choose from in Australia, you may find it difficult to settle on one. There are several factors to weigh up, and which one is most important depends on personal preference.
Design: When buying a new pair of wireless earbuds, it can be helpful to think about where you want to wear them. If you're going to use them on a run, for example, you may want a pair that offers the most secure fit and a high water resistance rating like all the models in our best sports headphones.
Whatever type you choose, make sure the earbuds are well built and comfy to wear for at least 1 to 2 hours daily.
Sound quality: Different models offer different sound, and since you're buying a pair to enjoy music individually, it's important to find headphones that match your sound preference, be it heavy bass or distinctively clear to where you can hear the littlest nuances in recordings.
Some models like the NuraTrue Pro (top) offer personalised sound via their companion app, which allows the user to create their own profiles and tweak EQ levels to their hearing.
Battery life: Battery life is also key in choosing the best wireless earbuds. Wireless earbuds can last about 5 to 10 hours and offer extended playtime with their bundled charging cases — always make sure one is included.
Accessories: It's disappointing spending money on a new pair of wireless earbuds only to find that you need to buy the accessories separately. Any models that come with a carrying case, charging cable, user guide, and extra ear cups or tips are solid purchases.
Pricing considerations: Obviously, price is a big consideration when looking for the best headphones. Although there are always exceptions, big-name brands will typically command a bit extra, but generally speaking, the less you spend on a pair of headphones the greater the chance that sound and features will be compromised.
Going for a budget option isn't always the best choice, as any money you save on your purchase won't do you much good if you're constantly needing to recharge your audio gear, or the sound quality is poor.
As the saying goes: timing is everything; and right now many of our favourite models are discounted at online retailers, meaning you can bag a bargain for even less. Bookmark our headphone deals pages to keep track of the latest discounts.
How we test the best wireless earbuds
In determining the best wireless earbuds in Australia, we consider fit, battery life, sound quality, design and value (are they worth the price?). We also factor in features like how well the controls work and how easily the earbuds pair with phones.
In terms of audio, we listen to many sample tracks that span a number of genres, including hip-hop, rock, jazz, classical and R&B, while evaluating volume, clarity and fullness. We also make phone calls to assess both call quality and microphone performance.
Find out what we listen for during our testing process and how to get the best headphone sound for you.
During the testing phase, our reviewers wear each pair of headphones for hours at a time throughout the course of a week. Reviewers will make note of battery life and how well it matches the rated battery life provided by earbud makers.
We evaluate earbuds based on our five-point system (1 = worst, 5 = best). If a product hits nearly every mark, it's awarded an Editor's Choice badge.
For more information, check out our how we test page for Tom's Guide.
Contributions from: Alex Bracetti, Simon Lucas, Nick Pino
Next: Looking for a pair of great-sounding value earbuds? Check out the best wireless earbuds under $100.
More: Find out why Tom's Guide audio editor says I'd still choose wired headphones over wireless.