Best Noise-cancelling headphones: Quick List
1. The list in brief
2. Best overall
3. Best value
4. Best battery life
5. Best Bose battery
6. Best under $150
7. Best for iOS
8. How to choose
The best noise-cancelling headphones are a must-have for all forms of public transport, as anyone who's worn a pair on a flight or a train commute to and from work will tell you. ANC headphones have gone from strength-to-strength over the past couple of years, with many models improving their audio performances compared to predecessors, as well as incorporating the latest features such as Spatial Audio and 360 Reality Audio.
The pick of models below represent the greatest ANC over-ear headphones across we've seen (and heard). Over-ear headphones often have superior noise-canceling performance as the earcups form a seal around the ears, although as our guide to the best noise-cancelling earbuds shows, in-ears are becoming increasingly more effective and are a lot more portable.
Read on to discover our pick of the best noise-cancelling headphones based on our testing. And don't forget, you'll find lots more info in our in-depth standalone reviews, covering design and comfort, features, ANC performance, and sound quality with all kinds of media, as well as how well they handle calls. Just follow the link at the end of each product summary or tap the product title to find out more.
Read on to discover what are the best noise-cancelling headphones you can buy right now.
Recent updates
Update: Bose has just unveiled new Ultra models in its line up launching early October.
The Quick List
Best overall
Best overall
The Bose 700 have unrivaled noise canceling performance and intuitive tech features. Sound is crystal clear when listening to music and taking calls. We also love the svelte, contemporary design with comforting ear pads and intuitive touch controls.
Best value
Elite sound and ANC
The Sony WH-1000XM5 have top active noise cancelation, strong call quality, intuitive controls and enhanced connectivity. The elite sound, user experience, and hefty 30-hour battery life will not disappoint.
Best battery
3. Sennheiser Momentum 4 Wireless
Best-ever battery life with ANC
Although the revamped design of Sennheiser's fourth generation Momentum Wireless headphones don't stand out quite like their classic-looking predecessor, the 60-hour battery life is a real crowd pleaser and make these the one to beat.
24h playback
Best Bose ANC battery life
The always-on ANC is as effective as it is on the 700, blocking out nearly 90% of ambient sound at a high rate. The ambient-listening mode (Aware) does a fantastic job too, of piping in external sounds for increased awareness.
Best budget
Best ANC headphones under $150
Cleer's noise-canceling headphones are a bargain for travelers, and we got 50 hours and 15 minutes of ANC playback time from a single charge in our testing.
Best for iOS
Best Apple headphones
Apple's mots expensive noise-canceling headphones have a plush design and comfortable fit. They present an immediate feeling of luxury which only grows once you start playing music.

Read more below
Best noise-cancelling headphones you can buy right now
Best noise-cancelling headphones overall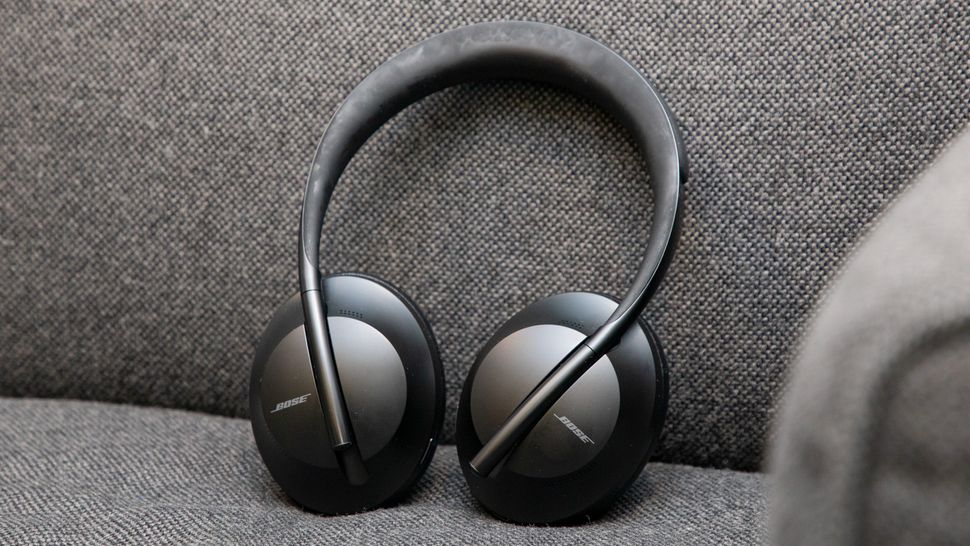 It truly is a close run thing between the Bose 700 and the Sony WH-1000XM5 for the best overall noise-cancelling headphone crown, but there is no denying that Bose has the most effective active noise cancelling technology on the market. Period.
The Bose 700 boast 10 levels of ANC that can be adjusted in the Connect app and work flawlessly to silence the majority of external sounds. Most importantly, the 700s achieve this without compromising sound quality, allowing listeners to enjoy clean, well-balanced sound reproduction, although the slightly deficient lower frequencies may leave bass fiends feeling short changed. Bose's companion app lets you adjust the EQ for personalized audio, though.
We love the ultramodern design, and the slim, sexy silhouette is as much of an engineering feat as the ANC performance. But we need to address the elephant in the room — battery life, which at 20 hours with ANC enabled is outperformed by the Sony.
Read our full Bose 700 review.
Best balance of elite sound and ANC overall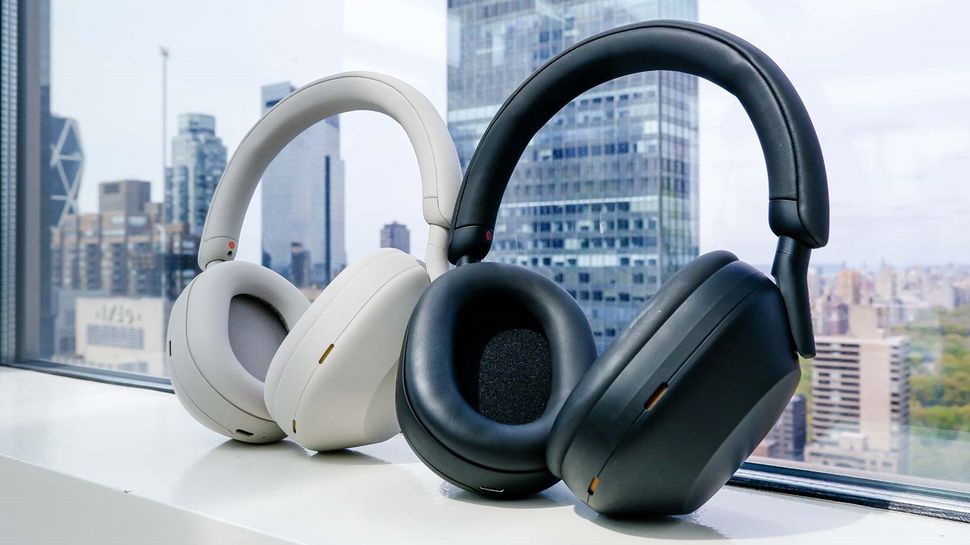 Sony has been steadily closing the noise-cancelling gap on Bose, and the new Sony WH-1000XM5 comes closer than ever to beating the Bose 700 in terms of its ANC performance. It has two processors controlling eight microphones, where the 1000XM4 (still on sale and regularly discounted) before it had just one processor controlling four, and the result in our testing is near-seamless ANC.
During our testing we found that sound quality is superb, the 30-hour battery life (with ANC) is excellent and everything from the touch controls to the ability to tweak the EQ via the Sony Headphones Connect app is well thought out and seamlessly integrated. Call quality has also been improved greatly and there's really nothing to criticize here beyond the slightly bland styling and the $50 price increase over the XM4.
Read our full Sony WH-1000XM5 review.
Best battery life
Although the revamped design of Sennheiser's fourth generation Momentum Wireless headphones don't stand out quite like their classic-looking predecessor, the 60-hour battery life is a real crowd pleaser and make these the one to beat. Add in the easy-going Sennheiser sound and effective noise cancelling, and the Momentum 4 are one the most practical wireless headphones we've seen, perfectly built for a life on the road rather than tethered to a power socket needing regular battery top ups.
Sennheiser's smooth house sound handles a wide range of music content, from pounding beats to more mellow tunes with aplomb. It has Bluetooth 5.2 and aptX Adaptive support, and there's a supplied 3.5mm cable for audiophile wired connections. ANC performance is effective, and auto Wind Noise Reduction is very impressive when stood on a windy train platform on daily work commutes.
Read our full Sennheiser Momentum 4 Wireless review.
Best Bose battery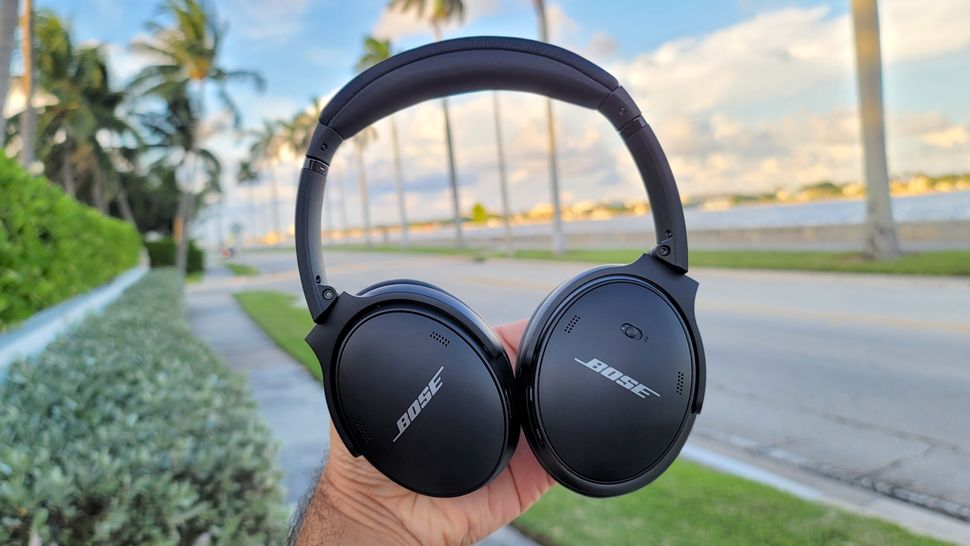 The latest entry in the QC over-ear series is the best yet, welcoming several improvements, including better active noise cancellation, sound, and battery life. ANC is as effective as it is on the 700, blocking out nearly 90 percent of ambient sound at a high rate. Bose's ambient-listening mode (Aware) does a fantastic job of piping in external sounds for increased awareness. The combination of proprietary TriPort acoustic architecture and a volume-optimized Active EQ gives these headphones a refined, well-balanced sound signature to enjoy most music genres. Having 24 hours of ANC playtime is also huge, considering all the older Bose models only give you 20 hours.
Not being able to turn off ANC means the battery will drain more quickly, plus the absence of some features found on the 700 and QC35 II might have you hesitant about choosing this model over the others. Well, just know that the ANC, sound quality, and battery life make up for any shortcomings.
Read our full Bose QuietComfort 45 review.
Best under $150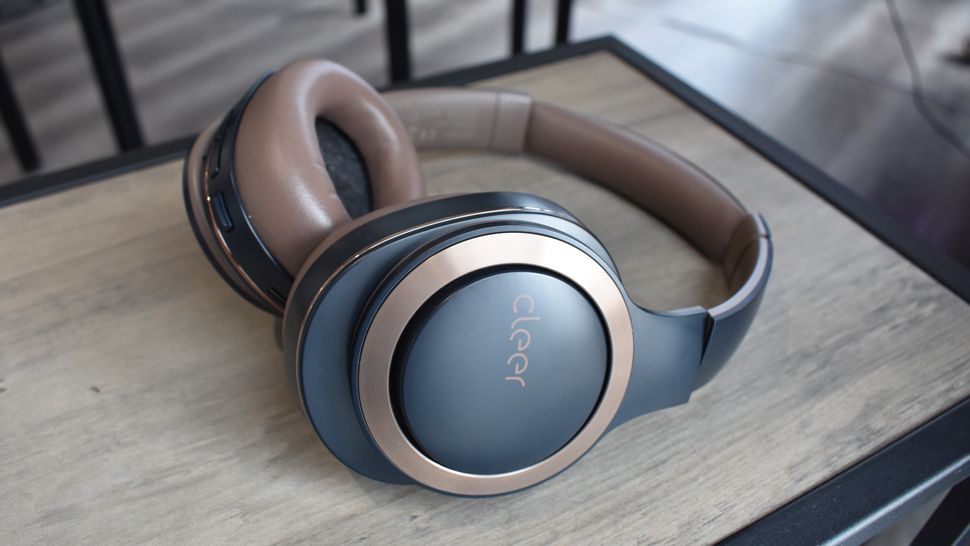 How's this for an ANC headphones bargain: great sound, a modern and flexible design, ample features, a useful app, a full set of accessories and the best battery life in its class, all for $150? That's the Cleer Enduro ANC, currently one of the best cheap wireless headphones available.
The Enduro ANC aren't without their foibles — there's a fair bit of wind noise in ANC mode, and they are seemingly made with smaller ears in mind — but there's no arguing about the incredible value for money. Cleer's noise-cancelling headphones are particularly good for travelers, and we got 50 hours and 15 minutes of ANC playback time from a single charge in our testing.
Read our full Cleer Enduro ANC review.
Best for iOS
Although there's only one level of active noise cancellation on the ultra-premium AirPods Max, it works like a charm. The cans do a great job of blocking out ambient sounds, especially at the lower end of the frequency spectrum. It's almost as good as Bose's ANC, which is a fine showing for Apple's first pair of over-ears.
Elsewhere, the AirPods Max sound great, especially with the surround-sound spatial audio feature switched on, and their design standards and build quality are so high you can almost forget that these headphones cost $549. That's a lot more than the Sony and Bose headphones higher up the list, so this is a luxury purpose, but can very much be a worthwhile one.
See our full Apple AirPods Max review.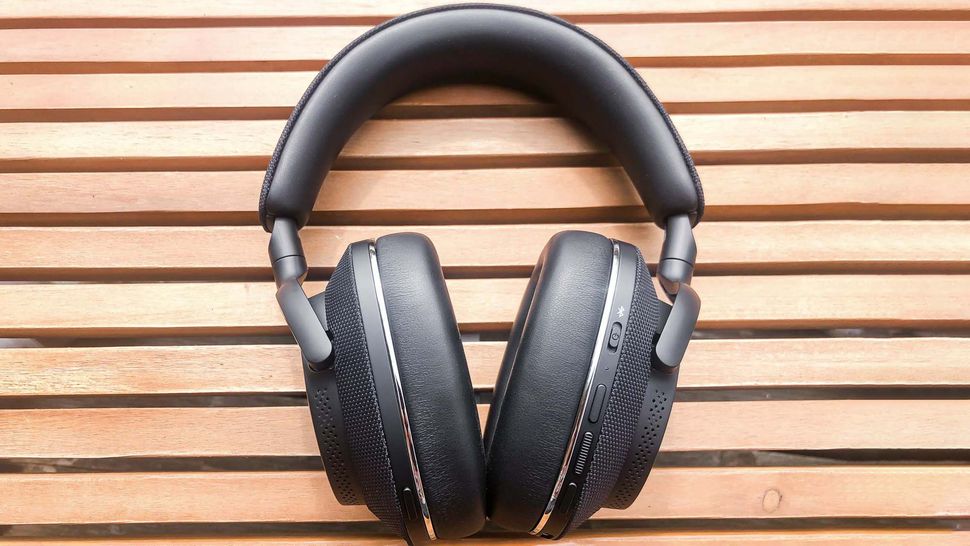 The Bowers & Wilkins Px7 S2 over-ear headphones are priced the same as Sony's Sony WH-1000XM5. The active noise-cancelation proves 'good' rather than great' — that's to say, it will be perfectly acceptable to anyone who doesn't insist on absolute silence, and this next-gen model are a worthy purchase if you prioritize overall sound quality. They feel good, are beautifully constructed and are either good-looking in an understated way or a bit too understated for their own good — it depends on your taste. They have active noise-cancelation and a control app — but 'extended functionality' is not their thing.
They're designed to deliver the best wireless sound this sort of money can buy, and they do. The entire frequency range hangs together well, with nothing overstated and nothing struggling for representation. Tonality is clean, consistent and entirely convincing. If you want every wireless headphone feature under the sun, you have plenty of choice. If, however, you want headphones that make the most of the digital audio information you give them, the Px7 S2 really needs to be in your thinking.
Rear our full Bowers & Wilkins Px7 S2 review.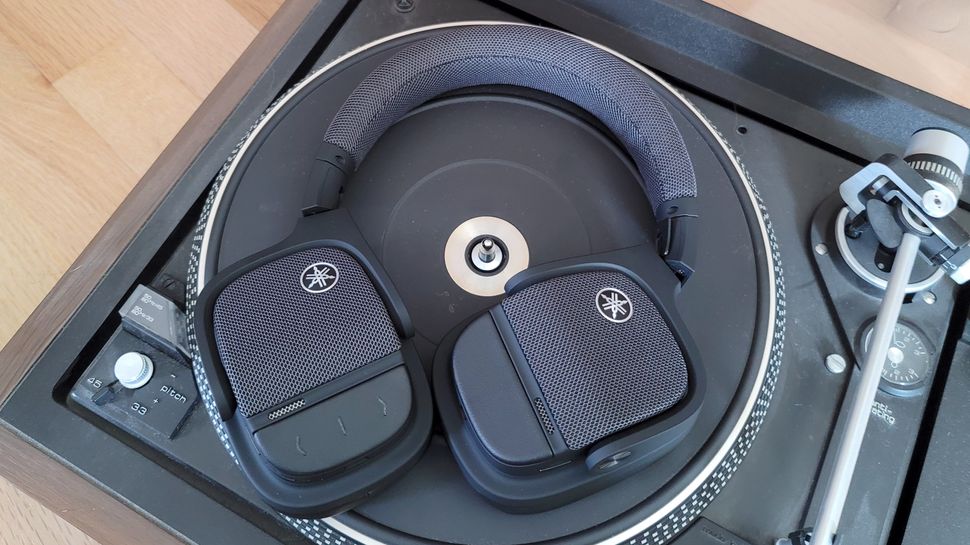 You're probably wondering how a pair of $500 wireless headphones with adequate noise cancellation could sneak its way onto this list. The answer is simple: spatial audio. We know these are two separate talking points, but hear us out. The YH-L700A are an excellent-sounding model that have a better 3D sound experience than the AirPods Max. They're equipped with accurate head-tracking technology and multiple well-engineered listening modes for different content. Even with spatial audio turned off, these headphones produce spacious sound with full bass presence, delivering rich lows, palpable mids, and crisp highs. And though Yamaha's ANC won't match what Apple, Bose, or Sony offers, it's still effective to enjoy premium sound in most environments.
You just have to live with its large, heavy design and uneven battery life, which fluctuates when listening with 3D enabled.
Read our full Yamaha YH-L700A review.
Like the Cleer Enduro ANC (above), Anker's Soundcore Space Q45 are quite the bargain with a remarkable set of features and effective ANC performance. They offer remarkable battery life, quality ANC, and superb sound powered by upmarket specs and special features. Sound quality has a liveliness that pulls listeners to the front row of the performance on whatever music you're listening to. The sonic soundstage is wide and immersive, and have a ramped up low end, rich mids and crisp highs.
Anker engineered the Space Q45 with a versatile Ambient Sound mode that features dual settings for both Noise Cancellation and Transparency settings. And they all work well when used in proper situations. These headphone are not without some flaws, but nevertheless they have compelling sound and noise neutralization for half the price of Bose and Sony's flagship models and are worth tracking down.
Read the full Anker Soundcore Space Q45 review.
How to choose
5 things to consider when choosing the best ANC headphones and earbuds for you
The first item to check off the list when shopping for the best noise-cancelling headphones is active noise cancellation, which shouldn't be confused with passive noise cancellation. What are the differences?
1. Active vs. passive noise cancellation: When it comes to active noise cancelling (ANC) headphones, these use an 'active' combination of hardware (microphones) and firmware to make external sounds or noises sound quieter when you're listening to your favorite media such as music, videos, or podcasts. Unlike passive noise isolation, which simply blocks sounds out by forming a seal with headphone ear cups around the ears, or in-ear tips inside the ear canal, active noise cancellation listens out for background sounds and uses clever audio trickery to "cancel" these potentially disruptive noises out. For a more in-depth explanation see ANC explained.
2. Battery life: Noise-cancelling headphones have a reputation for sucking up lots of power, so you'll want a pair that holds a charge long enough to get you through a long business flight or weekly commutes. Thanks to the arrival of Sennheiser's Momentum 4 over-ear headphones battery life standards have increased up to 60 hours, although more typical figures are anywhere between 15 to 30 hours. Noise-cancelling wireless earbuds are usually rated for 4.5 to 8 hours.
3. Sound quality: ANC technology can compress sound and reduce dynamics, which may affect audio performance when turned on. In some cases, you'll notice a background hiss when listening to music. However, there are noise-cancelling headphones out there that limit these disruptions to deliver full, crisp sound.
4. Design: The look, build and feel of a pair of headphones is massively important when selecting the best noise-cancelling headphones, so consider how it looks and feels and whether the style is right for you. The type of headphone is also important when it comes to the most effective noise cancelling models. Over-ear headphones tend to give the best noise cancellation, though some of the more recent wireless on-ear and in-ear models are proving to be just as effective.
5. Pricing considerations: Obviously, price is a big consideration when looking for the best noise-cancelling headphones. Although there are always exceptions, big-name brands will typically command a bit extra, but generally speaking, the less you spend on a pair of headphones the greater the chance that sound and features will be compromised. Going for a budget option isn't always the best choice, as any money you save on your purchase won't do you much good if you're constantly needing to recharge your audio gear, or the sound quality is poor.
As the saying goes: timing is everything; and right now many of our favorite models are being discounted by online retailers, meaning you can bag a bargain for even less. Bookmark our best headphone deals page to keep track on the latest price drops.
How we test
The best reviews criteria carried out by audio experts
With more than 30 years experience in testing and reviewing consumer audio products for all kinds of media outlets and big-name brands around the world, the Tom's Guide audio team follows a rigorous test regime when it comes to determining the best products for recommendation in our buying guides.
To help you separate the wheat from the chaff when shopping for headphones, Tom's Guide evaluates the following criteria: design, comfort, features, performance and value. We employ a rigorous review process, comparing products with similar fit, features and pricing.
During the testing phase, our reviewers wear each pair of headphones for 2 hours at a time throughout the course of a week, to test comfort over time.
ANC, meanwhile, is tested in both indoor and outdoor environments where ambient sounds are produced at high levels. This includes airplanes, city parks, convenience shops, offices, and public transportation. ANC headphones programmed with transparency modes are also tested thoroughly to determine how well the listener can hear their surroundings.
For sound quality, we listen to many different sample tracks and span as many music genres as possible, including hip-hop, rock, jazz, classical and R&B, while evaluating volume, clarity and fullness. Find out what we listen for during our testing process and how to get the best headphone sound for you.
And now that more streaming music services are offering high-resolution audio, be sure to read our audio codec FAQ for all you need to know about FLAC files, MP3s and everything in between.
Once we complete our testing, we rate headphones based on our five-point system (1 = worst, 5 = best). If a product hits nearly every mark, it's awarded an Editor's Choice badge.
Find out how we test for more information on our reviewing procedures.
Contributions from: Alex Bracetti, Simon Lucas
More from Tom's Guide