Samsung is rolling out an update for its flagship noise cancelling Galaxy Buds 2 Pro earbuds that makes them even more versatile for Galaxy smartphone users.
Part of the spectrum of audio features supported by the new Bluetooth LE standard, 360 Audio Recording is the latest to use the advanced Bluetooth standard. And in this update it gives Galaxy smartphone owners the first opportunity to use the Galaxy Buds 2 Pro's built-in microphones to capture sound on video recordings precisely as they hear it, rather than using the smartphone's built-in mic.
News of new firmware versions isn't always worthy of announcement. But this update is more interesting than most, as it makes use of the earbud's left and right mics when pairing with a Galaxy phone running One UI 5.0 or above with LE Audio support.
Compatible with Galaxy Z Flip 4 and Galaxy Z Fold 4 smartphones from January 12, as well as the upcoming Samsung Galaxy S23 expected to be announced next month, 360 Audio Recording can be activated via the Samsung Camera app. This is done by tapping camera settings after selecting Video mode, followed by Advanced video options, and then selecting turn on 360 Audio Recording.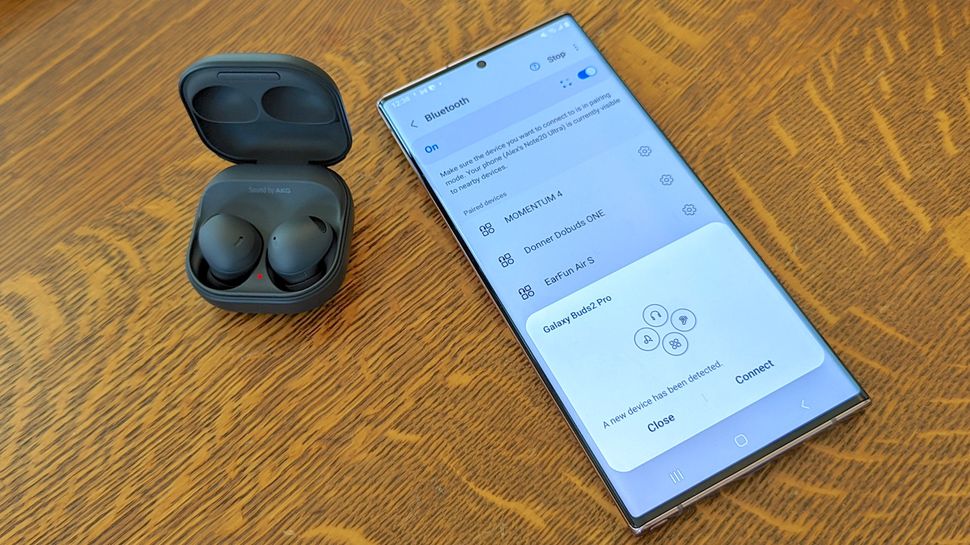 Make videos with pro sound
The use of twin microphones placed either side of the head is a method more accurately known as binaural recording. By using the earbud's mics, Galaxy smartphone owners can film and capture high-quality 360-degree sound for their videos that's more usually associated with professional audio recording techniques.
Samsung says users will be able to place viewers at the center of a roaring festival crowd, say, or beside a babbling brook for the most atmospheric and immersive recorded sound possible.
What is Bluetooth LE?
Bluetooth LE Audio was revealed at CES in 2020 by the Bluetooth Special Interest Group (SIG for short), and is the latest version of the shortrange wireless transmission standard.
Operating on Bluetooth Low Energy radio technology, LE Audio enables power to be used more efficiently, meaning battery power will last longer. It also introduces a new audio codec: the Low Complexity Communications Codec (LC3), which improves audio handling and extends wireless range with a stronger and more stable connectivity.
Along with 360 Audio Recording capabilities, the new standard also adds support for hearing aids, and introduces Auracast broadcast audio, another new Bluetooth capability that enables one audio device to broadcast to multiple listening devices. This will enhance how listeners connect and share audio experiences at home and in the outside world, making sharing a common audio experience with multiple people a lot easier (and a lot more fun).
Galaxy Buds 2 Pro update analysis
We loved the flagship Galaxy Buds 2 Pro earbuds for their effective ANC performance when we reviewed them last year. Samsung's high-quality three-mic array produced loud, clear-sounding calls with minimal background interference, and are ranked as one of the best headphones with a mic for voice and video calls.
The roll out of 360 Audio Recording compatibility supported by the latest Samsung Galaxy smartphones looks set to make one of the best noise-cancelling earbuds even more appealing to Galaxy phone owners.