Best cheap wireless earbuds: quick menu
1. The list in brief
2. Best overall
3. Best value
4. Best sound
5. Best battery life
6. Best for style
7. Best under $25
8. Best for sports
9. How we test
The best cheap wireless earbuds crush their more upmarket counterparts with a balance of solid performance, features, and great value for money. The Tom's Guide team test dozens of low-cost wireless earbuds a year, which means we have plenty of insight in weighing up which are the best value models on the market for budget pockets.
Just like the best wireless earbuds overall, you can count on the models listed here to deliver on sound quality regardless of their budget price tag. All cost less than $99, but despite the budget price tag they don't skimp on features. Several of our best cheap wireless earbuds choices also include active noise cancellation (ANC), making them even better value for anyone wanting to reduce distractions from the outside world for less.
Don't forget, you'll find lots more info in our in-depth standalone reviews, covering design and comfort, features, ANC performance (where applicable), battery life, and sound quality across all kinds of media, as well as how well they handle calls. Read on to find the pick of the best cheap wireless earbuds available to buy right now.
The quick list
The best cheap wireless earbuds you can buy right now
The best cheap wireless earbuds overall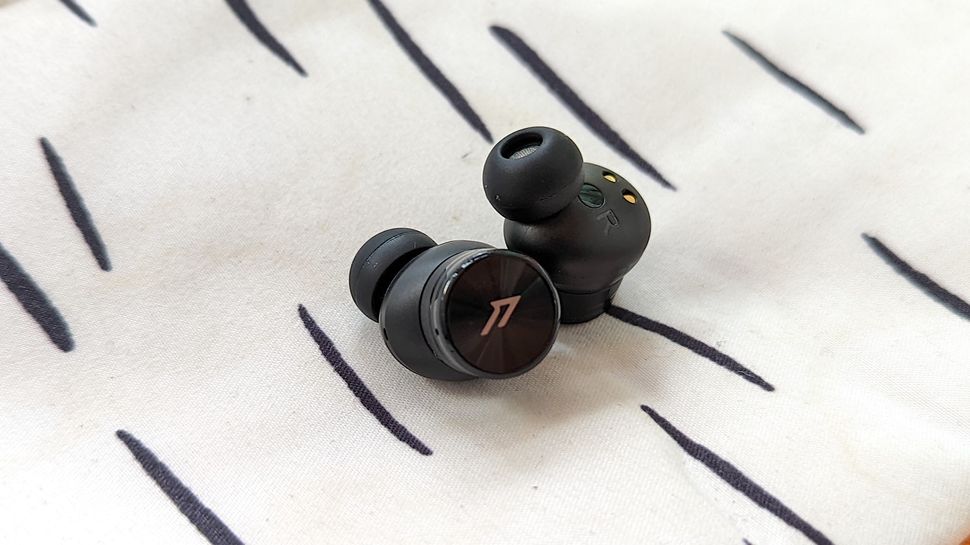 The PistonBuds Pro are a win for budget-conscious consumers who desire outstanding ANC and sound in a stylish, affordable package. Are they going to replace your AirPods Pro? No, but they are easily one of the best AirPods alternatives that can be had for a third of the price.
Okay, battery life isn't anything to write home about, nor is call quality. But these shortcomings are forgivable when factoring in the audio and noise cancellation these buds deliver, and are enough to satisfy (especially at the $69 price) and give the Piston Buds Pro mass appeal.
Read our full 1More PistonBuds Pro review.
The best value for OnePlus smartphone owners
The original OnePlus Nord Buds surpassed expectations at $39, but this next generation version adds active noise cancellation (ANC) and sound-enhancing features (Dolby Atmos, Dirac Tuner) into the mix for just $20 more. Although they're mostly agnostic about platform and an enticing purchase for both budget-conscious iOS and Android consumers, the extra feature support when connected to OnePlus devices makes them very attractive to OnePlus owners.
In terms of performance, the Nord Buds 2 deliver a warm presence and bass-centric tracks sound energetic. Though some mids and most highs were subdued in the audio balance during our tests, it's not a major compromise. ANC performance is solid but doesn't rival the 1More PistonBuds Pro (above). And while it's true that to unleash Dolby Atmos and spatial audio support you'll need to partner these 'buds with a OnePlus smartphone, what's perhaps more impressive is that fast charging generates 5 hours of listening time on a 10-minute charge. At $59, these buds are remarkable value and a must-own for budget-conscious earbud users everywhere.
Read our full OnePlus Nord Buds 2 review.
The best sound and big-brand experience
Sony's WF-C500 earbuds may not wow you with their looks, but arguably these are the best wireless earbuds under $100. Music sounds punchy and although their profile might not be as depth-filled as Sony's WF-1000XM4, you can expect powerful lows and crisp highs, along with under-emphasized mids. Should you want to tweak the sound, there's the Equalizer feature in the Sony Headphones Connect app to manually adjust frequencies or select from nine presets that prioritize different sonic elements, depending on the music genre or content.
The WF-C500 isn't perfect, though, with slightly impractical controls that can inflict some discomfort when attempting to activate, and mediocre capacity from the charging case. However, these are trivial complaints when factoring in the level of sound Sony has managed to engineer into these tiny buds, and they're a bargain-priced model that really shouldn't be overlooked.
Read our full Sony WF-C500 review.
Best battery life
Soundcore's newest entry-level buds are stacked with features and offer strong performance for the money. For $99, the Liberty 4 NC are fantastic-sounding buds that should be marketed towards budget audiophiles. They have an adjustable EQ with multiple customization settings, fine-tuned 11mm drivers, LDAC codec support, and spatial audio. You can expect an engaging and satisfying listening experience across the board. These buds give plenty of sonic versatility, be it booming bass, crisp mids, or well-balanced frequency range.
Battery life is rated at 10 hours with noise canceling off, while enabling the feature reduces playtime to 8 hours, and LDAC brings it down to 7 hours. The charging case holds up to 50 hours, which is considerably longer than many here and stronger then the AirPods Pro 2 case (30 hours) and WF-1000XM5 case (34 hours), which are both more than double the price.
Only noise-canceling performance lets it down. It struggles with mid- and high frequency sounds, and the unstable fit didn't help isolate noise either.
Read our full Soundcore Anker Liberty 4 NC review.
Best for style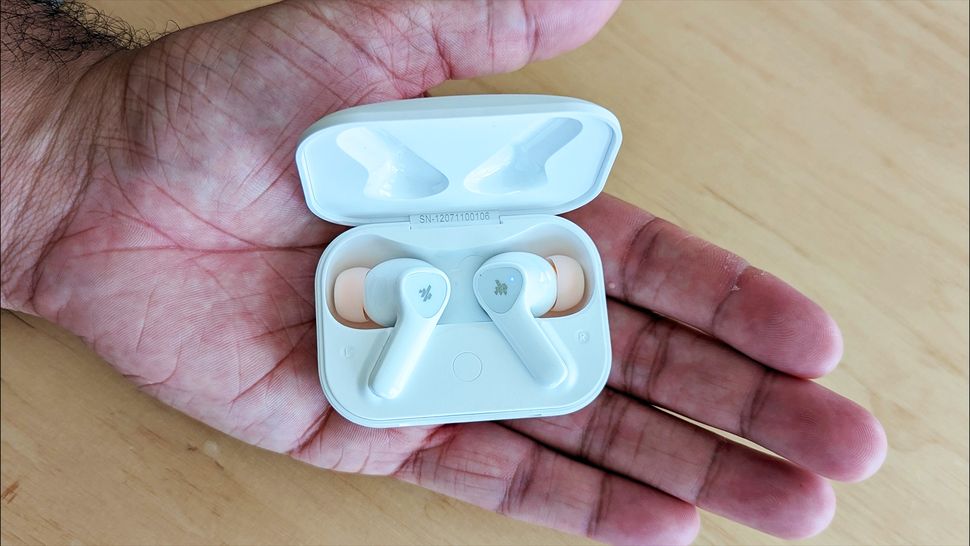 The Donner DoBuds One are one of the most affordable ANC models we've seen and a fantastic fake AirPods-style design and one of the most competitive cheap noise-cancelling earbuds market.
Any noise-cancelling earbuds that come with more playtime than the AirPods Pro (4.5 to 5 hours) are a win in our book, and the DoBuds One give up to 6.5 hours of play with ANC on, and 8 hours with ANC off. They undercut several mid-range models by delivering superb sound and surprisingly good ANC in an affordable package. Not everything hits its mark, such as app connectivity, comfort, and the EQ, but you're still getting an incredible deal for the price.
Read our full Donner DoBuds One review.
Best cheap wireless earbuds under $25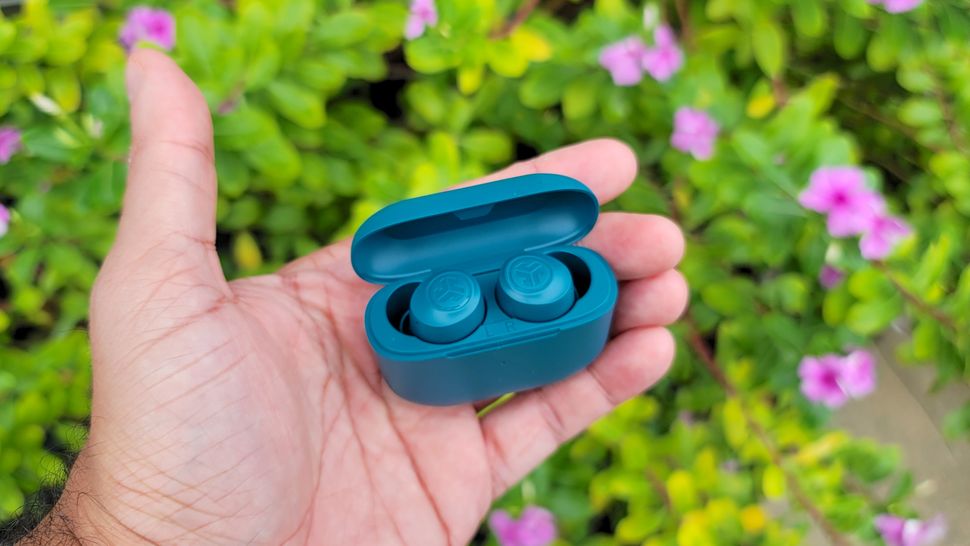 The Go Air Pop are a pretty similar set of cheap wireless earbuds to the JBuds Air, with water resistance, a choice of EQ settings and even a case with a built-in charging cable. Except the Go Air Pop are even cheaper, launching with a nigh-unbelievable MSRP of $20. When we tested the cheapest headphones on Amazon, even the no-name brands didn't produce true wireless models that were this affordable.
Even so, this is much better than bargain bin fare. While you can tweak the EQ, the default sound has plenty of bass, and the lightweight design actually avoids some of the comfort issues we had with the JBuds Air. Battery life is good too: expect about 7 hours of normal use per charge.
Read our full JLab Go Air Pop review.
Best cheap wireless earbuds for sports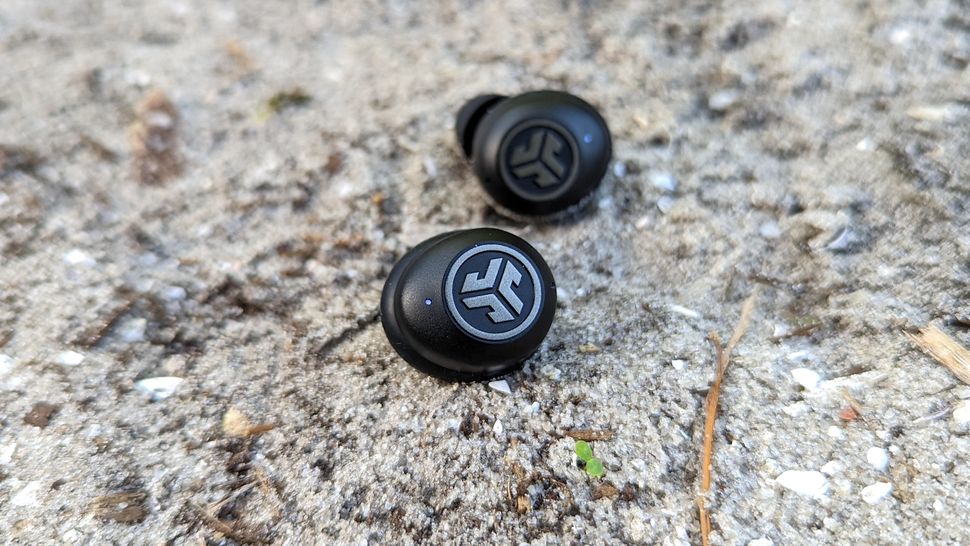 The JLab JBuds Air Pro offer durable construction, instant auto-connect capabilities, and a tiny charging case with integrated USB cable. Although they're not marketed towards active lifestyles, our reviewer found the fit to be stable and the gel tips created a tight seal that kept the buds locked in. He commented that he never had to adjust them while out on runs, and slippage never became a problem.
These aren't the strongest earbuds when it comes to call quality. But with music playback, workout favorites like Jamiroquai's "Shake It On," the 6mm driver produced punchy bass, which intensified in Bass Boost mode and felt like bass drumsticks were striking against my ear drums. Essentially, that is the forceful low end you want to consume before kickstarting a run. There are three EQ modes for those who wish to tinker, and their bold sound, responsive controls, stable connectivity, and respectable playtime in a water-resistant design make the JBuds Air Pro a worthwhile purchase for budget-conscious exercisers everywhere.
Read the full JLab JBuds Air Pro review.
Best for voice calls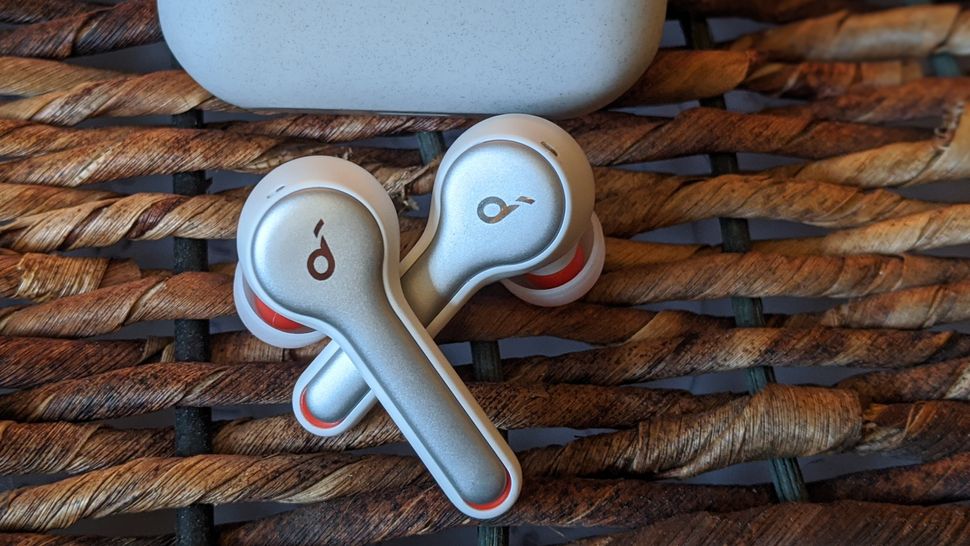 The Anker Liberty Air 2 earbuds share a similar eye-catching design to the AirPods, and are an enticing and affordable alternative. Anker's four-mic system does a solid job with noise reduction and voice recognition and makes them a great buy for use on calls. Bass has more boom than the AirPods, which is something hip-hop and rock fans will appreciate, while the companion app also lets you tweak the sound profile to suit your preference. It's pretty cool to see Anker include wireless charging as well.
Design-wise, the Liberty Air 2 definitely feels more premium than Apple's buds, and the bundled tips provide a satisfyingly secure fit; the more expensive AirPods Pro comes with tips (regular AirPods don't). Our only complaints here are that the charging case feels flimsy and the touch controls could be more responsive.
Read our full review of the Anker Soundcore Liberty Air 2.
Best cheap wireless earbuds: Specs compared
Swipe to scroll horizontally
| Header Cell - Column 0 | ANC | Battery life (rated) | Durability rating |
| --- | --- | --- | --- |
| 1More PistonBuds Pro | Yes | Up to 7.5 hours; 30 hours (charging case) | IPX5 |
| OnePlus Nord Buds 2 | Yes | 5 hours (ANC on); 7 hours (ANC off); 27 hours (charging case with ANC on); 36 hours (charging case with ANC off) | IP55 |
| Sony WF-C500 | No | 10 hours; 20 hours (charging case) | IPX4 |
| Soundcore by Anker Liberty 4 NC | Yes | 10 hours; 50 hours (charging case) | IPX4 |
| Donner DoBuds One | Yes | 6.5 hours (ANC on); 8 hours (ANC off); 26 hours (charging case with ANC on); 32 hours (charging case with ANC off) | IPX4 |
| Edifier 240TN | Yes | Up to 8.5 hours; 25.5 hours (charging case with ANC off) | IP55 |
| JLab Go Air Pop | No | 8 hours; 32 hours (with charging case) | IPX4 |
| EarFun Air | No | 7 hours, 35 hours (with charging case) | IPX7 |
| JLab JBuds Air Pro | No | 9 hours; 36 hours (charging case) | IP55 |
| Anker Soundcore Liberty Air 2 | No | 7 hours; 28 hours (with charging case) | IPX5 |
| Anker Soundcore Life P3 | Yes | 7 hours (ANC off); 35 hours (with charging case and ANC off) | IPX5 |
How to choose the best cheap wireless earbuds for you
Obviously, price is a big consideration when looking for the best cheap wireless earbuds. Many cheap models have listed prices of less than $100, but with sales and discounts at online retailers, you can easily bag a bargain for even less.
Any money you save on your earbuds purchase won't do you much good if you're constantly needing to recharge your audio gear. So pay attention to rated battery life and whether any carrying case comes with the earbuds to provide additional power. You'll also want to see what reviews from both professional testers and people who bought the earbuds have to say about sound quality. That goes for both listening to music via the earbuds as well as fielding phone calls.
How well wireless earbuds fit your ears can vary from person to person. But some models come with additional tips and fins to offer something approaching a customized fit.
How we test the best cheap wireless earbuds
When rating the best cheap wireless earbuds, we look not only at price but also design, sound quality and battery life. We also consider how easy it is to pair earbuds with a smartphone and what kind of controls are accessible through the device.
In terms of audio, we listen to many sample tracks that span a number of genres, including hip-hop, rock, jazz, classical, R&B, and electronic, while assessing volume levels and how easy the earbuds are to drive. Movies, podcasts and video games are also used where necessary. We also make phone calls to assess both call quality and microphone performance.
During the testing phase, our reviewers wear each pair of headphones for hours at a time throughout the course of a week. Reviewers will make note of battery life and how well it matches the rated battery life provided by earbud makers.
Star ratings explained: As with all our reviews, we evaluate the best cheap earbuds based on a five-point system (1 = worst, 5 = best). If a product hits nearly every mark, it's awarded a coveted Recommended badge, while our Best Value award speaks for itself. Only products with truly exceptional performance across the board are awarded an Editor's Choice badge.
For more information, check out our how we test page for Tom's Guide.
Contributions from: Alex Bracetti
More from Tom's Guide