The best sport headphones can help provide music for that motivational boost while in the gym or on the trail. Whether you're lifting weights or running out in the countryside, these wireless workout headphones can give you the push you need to go the extra mile. Sport headphones differ from typical wireless earbuds in that they're designed to withstand more abuse, yet, at the same time, deliver that thumping beat to get you pumped up.
They're sweat- and water-resistant, remain fixed in your ear no matter how vigorous the activity, and their batteries will last the duration of your workout. Many of the best sport headphones also have a mode that allows you to hear the world around you, too, so that you don't accidentally hit — or get hit — by anything as you're exercising outdoors.
What are the best sport headphones?
Based on our testing, we think the best sport headphones for working out are the Jabra Elite Active 75t. They provide amazing comfort and outperform most competitors in several key categories, including battery life, durability, sound, and special features. It is one of the few products to earn a perfect score from Tom's Guide.
Apple iPhone owners have a bigger selection to choose from between the AirPods Pro (another perfect score recipient), Beats Powerbeats Pro, and the all-new Beats Powerbeats 4. All three models produce impressive sound and are a cinch to pair with any Apple smartphone, while boasting their own distinctive features. The AirPods Pro comes with active noise cancellation, whereas the Powerbeats Pro and Powerbeats 4 have longer battery life and a more suitable fit for intense workouts. Apple's H1 chip also powers each device and opens the portal to many cool iOS 13 tricks.
Budget-conscious exercisers who want quality performance at a low cost can look into the $65 Hypersonic True Wireless In-Ear Speakers, wireless buds that combine powerful bass and battery life into a sturdy design. Then there is our former No. 1 choice, the Elite Active 65t, which has been marked down from its original retail value and remains a top pick for bargain seekers.
The best sport headphones you can buy today
An all-around performer that hits every mark, the Elite Active 75t currently stands as the best sport headphones for working out. Jabra somehow managed to scale down the design, while increasing battery life (7.5 hours per charge, 28 hours with charging case) and the IPX rating (IP57), making these buds waterproof, dust- and sweat-resistant. Jabra also sells the buds in a variety of striking colorways, including Copper Black, Grey, Mint, Navy, Sienna, and Titanium Black.
Even with its smaller form, the Elite Active 75t affords great comfort and on-ear stability. Seriously, they didn't move at all while we were working out. You'll also enjoy the same vibrant audio associated with the Elite series, only this time the bass has been fine-tuned to achieve full, detailed sound. You can further customize the audio through Jabra's app, too. While lacking active noise cancellation, they were still very effective at blocking ambient noise. And that is just scratching the Elite Active 75t's near-indestructible surface.
Read our full Jabra Elite Active 75t review.
Do you like the convenience of Apple's AirPods earbuds, but aren't enamored with their design? Apple's Beats by Dre brand offers an alternative with the sporty Powerbeats Pro. The wire-free, sweat-resistant earbuds hook around the ear for stability and use Apple's H1 chip (also found in Apple's AirPods Pro) for seamless integration with iPhones, but their all-black, wrap-around design makes them less noticeable. Updating to iOS 14 gives exercisers the luxury of automatic switching to other iDevices, should they prefer to jump from their iPhone to MacBook Pro while working out from home.
Controls on both buds let you change tracks and volume, summon Siri, and take phone calls. We also found that the Powerbeats Pro delivered well-balanced audio — no bass explosion here, as with other Beats products. With more than 24 hours of battery life (9 hours in the buds and 18 in the somewhat thick charging case), these earbuds are a no-brainer purchase for those who are looking for a set of the best sport headphones that will go the distance. While we're fans of the original lineup, the company's new vibrantly colorful models (Glacier Blue, Cloud Pink, Lava Red, and Spring Yellow) are even better.
Read our full Powerbeats Pro earbuds review.
Apple finally made a version of AirPods that you can wear to work out, making these one of the best sport headphones for iPhone users. With built-in sweat- and water-resistance, interchangeable ear tips and a new Transparency Mode, AirPods Pro are perfect for working out, whether you're in the gym or on the trails.
While there's no companion app to create custom audio profiles, Apple added more audio-focused touch controls, which also work when these earbuds are paired with an Android phone. We also liked the active noise cancelling in the AirPods Pro, great for when you want to block everything out. Transparency Mode, which pipes in ambient noises, is helpful for when you need to be more aware of your surroundings. The newest iOS 14 update brings cool features like spatial audio to the AirPods Pro, giving you a more immersive listening experience when watching movies on the exercise bike.
However, the AirPods Pro's battery life — 4.5 hours, up to 24 with the charging case — is shorter than that of the Jabra Elite Active 75t, so you'll be plugging these in more often.
Read our full AirPods Pro review.
The Jaybird Vista is a remarkable choice for sprinters who want dynamic sound and on-ear stability minus any cables. Underneath the durable, waterproof shell are powerful 6mm drivers that deliver bass-forward sound to fuel workouts. Fit is also customizable with Jaybird bundling a variety of ear tips and fins to accommodate different ear shapes. They're good at passively blocking out sound, but almost too much so; it was hard to hear oncoming traffic when we were out for a run, music blasting.
Battery life is decent at 6 hours on a full charge, though many of its rivals are rated higher. Noise isolation is also great. However, it's a shame Jabra didn't program these buds with a transparency mode to provide listeners better awareness of their surroundings. This exclusion makes the Vista more practical for indoor exercising. Right now, you can score the Vista for $20 less on Amazon, but only in Nimbus Gray. Runners who appreciate abstract designs might want to consider gifting themselves the all-new Planetary Green color.
Read our full Jaybird Vista review.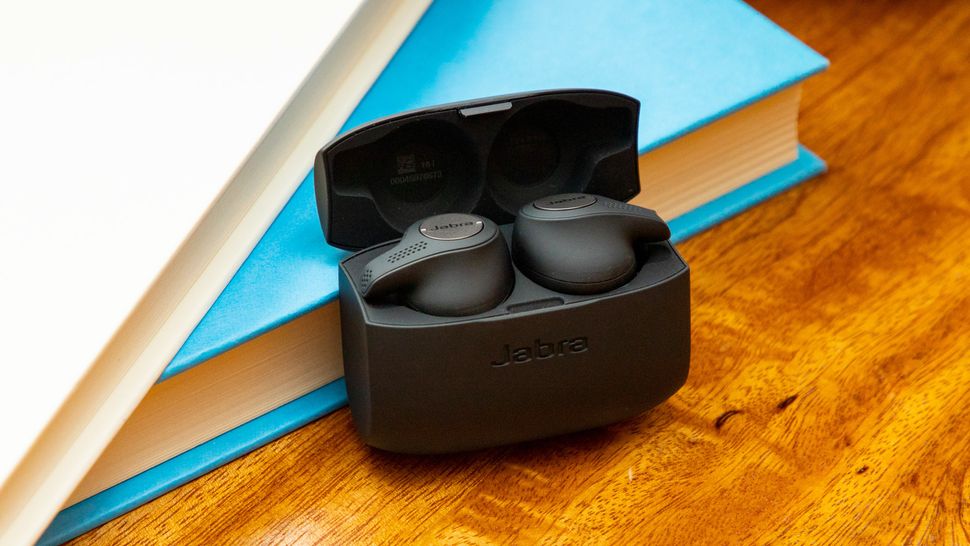 The Elite Active 65t set the standard for true wireless sports earbuds by blending advanced features and superb sound into a compact, water-resistant package. And granted it's an older model, it still performs highly in all major categories. We found that they stayed in place even during the most strenuous exercises and hold up well against sweat to prevent slippage. We also appreciate how Jabra managed to stuff an accelerometer inside the buds for run tracking, meaning the Elite Active 65t can double as an activity tracker for when your Fitbit dies.
The fact they sound just as good as their successor, the Elite 75t Active, also speaks to their quality. You also get access to the Jabra Sound+ app to customize audio and enable different modes like HearThrough for ambient listening. With excellent fit and 15-hour battery life, you're getting superior performance at an amazing value.
Read our full Jabra Elite Active 65t review.
The Powerbeats 4 is practically identical to its cordless sibling, minus one or two features, different colors, and the wire-free design. Does that make it inferior? Hell no. These are still the best sport headphones in its class. They make the most of the H1 processor to give iPhone users terrific wireless performance across the board. Connectivity is instant with all major Apple products, plus the Beats app makes it easier to pair the earphones with Android devices.
But what really makes the Powerbeats 4 a superior upgrade from the Powerbeats 3 are the sturdier aesthetics and improved sound and call quality. The latter is to be expected since Beats uses the same drivers and beamforming mics as the Powerbeats Pro. Comfort could be a little better and the wire becomes annoying after a while, but all is forgiven when considering its $150 price of entry.
Read our full Beats Powerbeats 4 review.
To call the Amazfit Powerbuds an impressive product would be an understatement. It's remarkable to see the amount of functionality jammed into these buds, especially for under $100. They have a PPG heart rate sensor that collects biometric data, which can be saved on the companion app. Speaking of which, the Zepp app has a lot of activity tracking fields (e.g. calories burned, BMI, step count) and personalized settings, from a customizable EQ with multiple presets to workout modes. Then there's the generous playtime (8 hours) you get on a full charge, along with impactful bass response to keep adrenaline levels high.
Comfort may be an issue with some users, as the buds are on the bulky side, and the sensor, which nestles against the ear for stabilized fit, presses against the skin. It would have also been nice if the app worked with other popular running apps; Strava and Relive seem to be the only ones compatible right now. Still, it's impossible to overlook the level of performance you're given for such a low MSRP.
Adidas isn't a brand you think of when discussing sports headphones, but the RPT-01 has the design and features to draw your interest. These on-ear cans share the same sustainable aesthetics as the company's running shoes, wrapped in a stylish, strong mesh fabric and IPX4-rated water-resistance protection. You can even remove and wash the ear cushions and inner headband. Sound quality is where the RPT-01 showcases its dexterity with Adidas launching a companion app featuring multiple EQ settings that are fine-tuned to select music genres and sound great. The controls are inventive as well, from the multi-directional knob that executes multiple commands (playback, calls, power) to the Action button that users can assign to pull up the Siri/Google Assistant or Spotify.
While the ear pads feel gentle on the ears, the headband is a bit aggressive and applies more pressure than necessary to remain fixed atop the skull. We also wish Adidas included a carrying pouch with the purchase.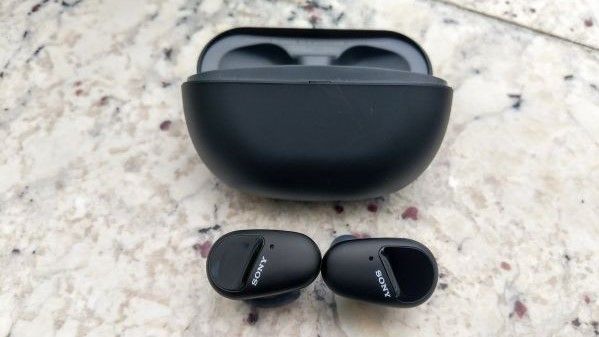 It's taken Sony several attempts to create a noteworthy pair of sport noise-cancelling wireless earbuds, but the WF-SP800N is a huge step in the right direction. This durable, water-resistant model carries over Sony's popular bass-forward profile to deliver lively audio, which can be personalized through the Sony Headphones Connect app by tweaking the frequency levels via built-in EQ or selecting from nine different presets that lend themselves well to specific genres. Battery life is second to the Samsung Galaxy Buds Plus at 9 hours on a single charge, which holds up strong with noise cancelling on.
Speaking of ANC, the earbuds do a much better job of minimizing ambient noise than its predecessor, though the lack of Sony's QN1e processor doesn't provide it the powerful noise reduction or high-res audio performance found on the WF-1000xM3. It's still serviceable for those who want to enjoy distraction-free workouts at the gym. Also, keep in mind that the digital assistant and pairing can act finicky at times.
See our full Sony WF-SP800N review.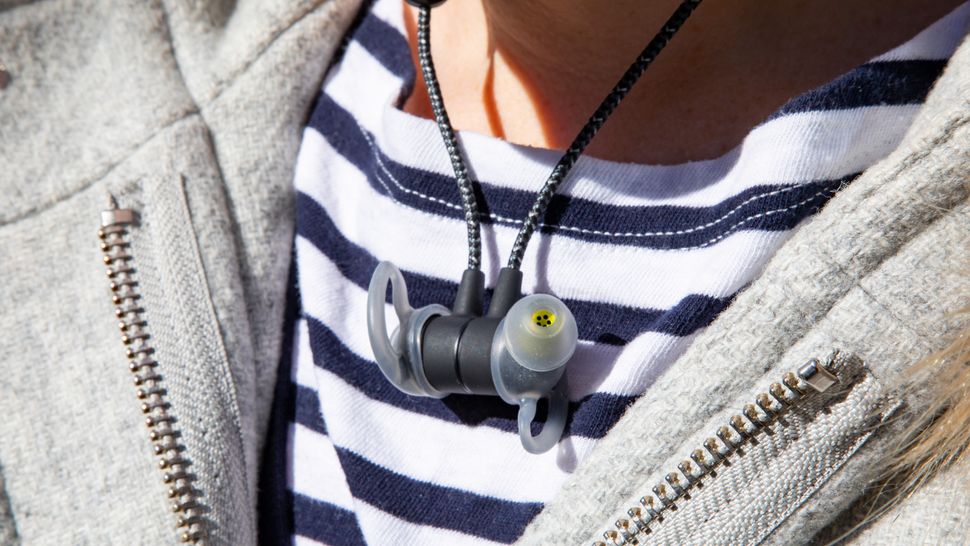 The Tarah Pro look just like Jaybird's other Bluetooth sport earphones, but don't be fooled. This is the set you want hanging around your neck during workouts. It offers 14-hour battery life, which will carry you through a week of workouts, commutes and phone calls to family and friends. We also love its intuitive power management, automatically turning off the earphones when inactive for 15 minutes. A customized audio profile setting in the Jaybird app fine-tunes the sound, so it's perfectly tailored to your ears.
Build quality is the true highlight here, as the Tarah Pro comes with an IPX7 rating, making it waterproof and sweatproof. The fabric cord is extremely tough and won't get damaged easily like the silicone cables on other models. Our only complaints are the lack of a transparency mode and unexpected volume dropout when switching from playback on your mobile device to the remote module.
Read our full Jaybird Tarah Pro review.
How to choose the best sport headphones for you
The best sport headphones offer some form of water or sweat-resistant protection. Some might say they can withstand water and sweat, and some are IP-certified. If you want to know you are protected, look for headphones with at least an IPX4 (or higher) rating.
You'll also want to look at the design of the headphones and consider how you want to wear them while working out. They should not only be easy to wear, but also stay on your head without the need for constant readjustment. For earbuds, look at how many ear inserts and wings the pair comes with, to give you the best fit option. Some people may prefer over-ear or on-ear headphones because they tend to do a better job of blocking noise, but some prefer earbuds for their secure fit and lightweight portability.
For headphones with cables, make sure to check for an inline remote, which will let you easily control your music without pulling out your smartphone. Completely wireless fitness earbuds allow you to control your music with physical buttons or tap gestures on the earpiece rather than a remote. Some headphones are device-specific; make sure you get a pair that's fully compatible with Android and iOS.
If you're considering wireless sport headphones, make sure they have the endurance you need. Some people need headphones with only 6 to 8 hours of battery life to last through a week of workouts, while others might want a device with extended longevity to get through long runs, bike rides, and hikes.
How we test the best sport headphones
When creating our list of the best sport headphones, Tom's Guide tests devices to see how they stand up to vigorous workouts, evaluating both how securely they fit during exercises and how well they handle ambient sound (e.g. noise at the gym, oncoming traffic). Our reviewers also test every feature for app-enabled headphones, along with ease of setup.
During the testing phase, each pair of headphones is worn for 2 hours at a time throughout the course of a week. On occasion, we'll perform further testing when comparing top-rated and popular models for our Face-Off features.
To determine sound quality, we listen to many tracks across multiple music genres, including hip-hop, rock, jazz, classical, and electronic, while evaluating volume, clarity and fullness. Movies, podcasts, and video games are also considered, when necessary.
Once testing is completed, we rate the best sport headphones based on our five-point system (1 = worst, 5 = best). Products that hit nearly every mark are awarded an Editors' Choice badge.