There is a lot to consider when looking for a pair of the best running headphones. What we listen to when we run can massively impact our performance and enjoyment of the workout. So finding a run proof pair of headphones is essential.
Just like the best sport headphones, running headphones must be designed to stay in your ear while you pound the roads or trails and ideally be IP-rated to at least IPX4 (preferable IPX7) in order to withstand sweat and rain.
Being able to listen to your favorite songs or podcasts while getting your miles in is a great way to distract you from wanting to give up or it can motivate you to push yourself further. But you don't want to just pick any old thing that are labelled 'running headphones' online. You'll want to make sure you are spending your money on a pair that will be long lasting and will serenade your runs to a premium quality. This is where Tom's Guide can assist.
We have taken the best running headphones on the market for a spin on a variety of runs and in varying weather conditions to see how they stand to the test. Read on to find the perfect running companion for your ears…
The best running headphones you can buy right now
The Beats Powerbeats Pro might not look like it, but they take strong inspiration from Apple's AirPods headphones. In fact they even use the same Apple H1 chip as the AirPods Pro, so shares the ability to instantly pair with iPhones. And, if you've updated to iOS 14, you can instantly switch to other iOS and Mac devices you might have at home.
That's all well and good, but how do the Powerbeats Pro handle running? Extremely well, it turns out. Those ear hooks keep the buds in place during our strenuous tests, and the sound signature is suitably powerful. The IPX4 means the Powerbeats Pro will stand up to sweat well enough.
Read our full Powerbeats Pro review.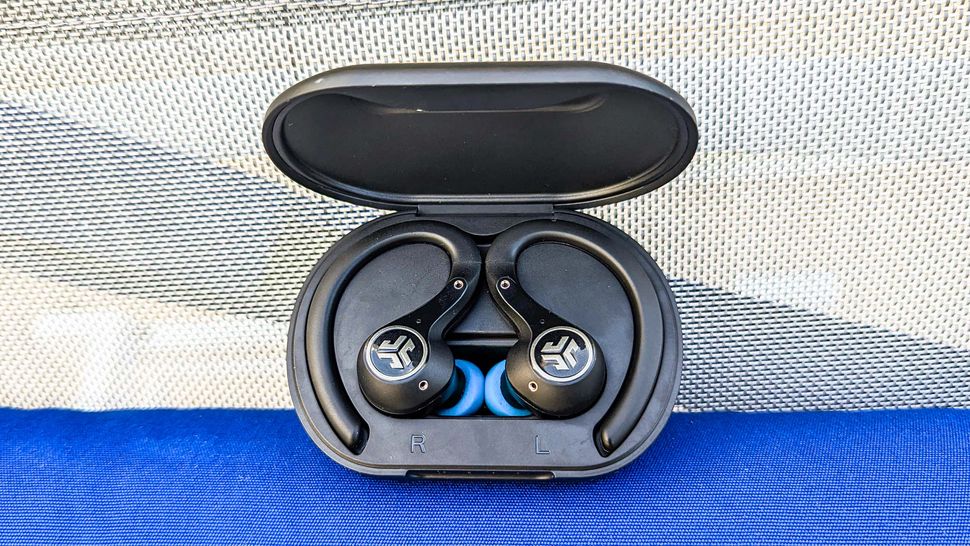 The JLab Epic Air Sport ANC (2nd Gen) are suitable for brand enthusiasts seeking an upgrade, and budget-conscious exercisers that need reliable buds to get through intense workouts. Overall battery life remains remarkably good, and means you can use them for plenty of gym sessions and comfortably leave them in your gym bag before they need a recharge.
JLab's lively sound and a strong transparency mode are preserved. Inclusions like Tile integration and wireless charging are greatly appreciated as well. The only setback is that ANC performance as well as call quality and comfort has fallen behind market leaders, but you can only ask for so much when considering the $99 price point.
Read our full JLab Epic Air Sport ANC (2nd Gen) review.
Bone-conduction headphones are great for running as they leave your ears open to listen for potential hazards. The Shokz OpenRun, orginially called AfterShokz Aeropex, are a good example of the form as you can get right now: they're not too expensive, but are easily one of the best-sounding bone-conduction headphones around, and in our battery testing they lasted far longer than any pair of true wireless earbuds.
As with the best waterproof headphones, the Shokz OpenRun carry an enviable IP67 rating, more than enough to ensure protection against sweat and splashes, and despite the lack of adjustment they fit beautifully. You won't have to worry about these 'headphones' wriggling loose as you're out on a run, and they're comfortable enough to wear for hours without fatigue.
Read our full Shokz OpenRun review.
The Powerbeats Pro are only ranked higher than the Fit Pro because of their more secure ear hook design, which is ideal for running and other sporty activities. Besides that, the Fit Pro are the more superior model in many ways, and a great AirPods Pro 2 alternative for at least one of the Tom's Guide team.
Audio is better balanced and more immersive, thanks to a new transducer and spatial audio support for select Apple Music songs. ANC is just as good as what the AirPods Pro offers, silencing most ambient noise in different environments. Most features tied to the H1 chip are accessible, including automatic switching, "Hey Siri" voice activation, and FindMy to help locate misplaced buds. Most importantly, the wingtips mold perfectly for optimal fit.
Our only real complaint is that Android users don't get to experience many of the same features as iOS users, mainly because these are tied to Apple's H1 chip.
Read our full Beats Fit Pro review.
Still working out with a pair of the original AirPods? It's time to upgrade — the AirPods Pro 2 are wildly comfortable by comparison. The difference is that the silicon tips gently conform to the ear canal rather than force it to open wider for the hard plastic casing. In practice that means you can wear the earbuds a lot longer without having to take them out — allowing for all-day wear without issues.
So why aren't they higher? They may not feel quite as secure in your ear when you're doing more intense athletic activities — we certainly wouldn't wear them while playing sports, for example — however they are safe to be taken to the gym and are among some of the best running earbuds and best workout headphones among the Tom's Guide team.
Read the full Apple AirPods Pro 2 review.
The Elite 8 Active serve exceptionally well for fitness and casual listening. Upgraded with military-standard materials for unbreakable protection, they're built like tanks. They have Jabra's warm sound signature to jumpstart workouts the moment you press play, along with adaptive active noise cancellation, spatial audio, and some of the longest battery life available.
Bass-heavy sonics are part of the Elite 8 Active's sonic signature thanks to the powerful 6mm dynamic drivers. Lows dominated the frequency curve, but there were still some nice sounding mids and highs to digest. Noise cancelation does a fantastic job of reducing unwanted sounds, be it on runs or during video chats. The Elite 8 Active are one of the strongest pairs of workout headphones we've seen, and benefit from solid feature support across both iOS and Android devices.
Read our full Jabra Elite 8 Active review.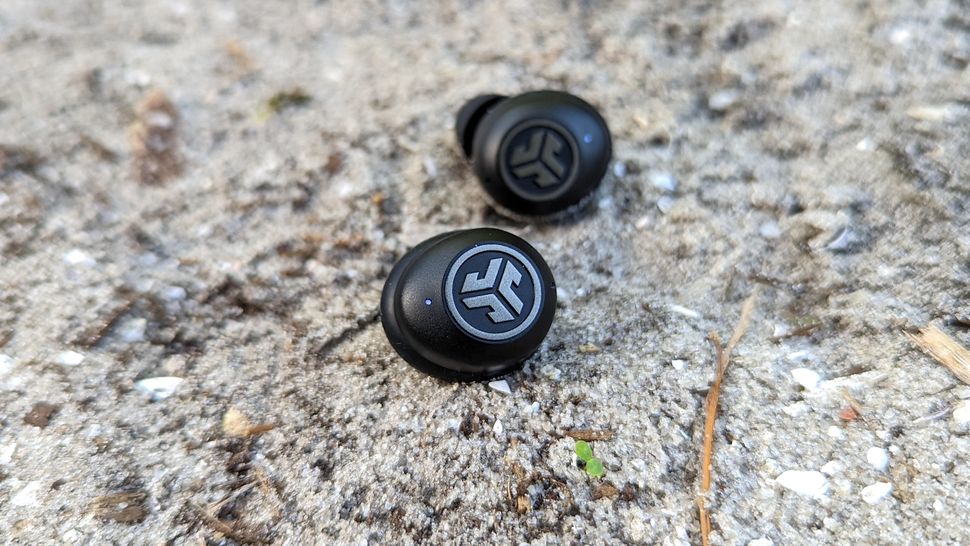 Another entry from JLab, these JBuds Air Pro have a stable fit thanks to the gel tips that create a tight seal to keep the buds locked. They're light weight means your ears shouldn't experience any fatigue during workouts and slippage won't ever be a problem. Battery life is entirely respectable at 9 hours and the JBuds Air Pro have a warm sound signature and will appeal to those who like there pounding running beats to be a bit more bass forward than normal.
For the price you get more than basic functions (playback, call management, digital assistance), but also advanced ones (EQ selection, listening mode activation, volume) that are cleverly assigned on both buds. Input methods consist of single, double, triple, and long taps, which all adds up to an appealing running mate for budget-conscious exercisers.
Read the full JLab JBuds Air Pro review.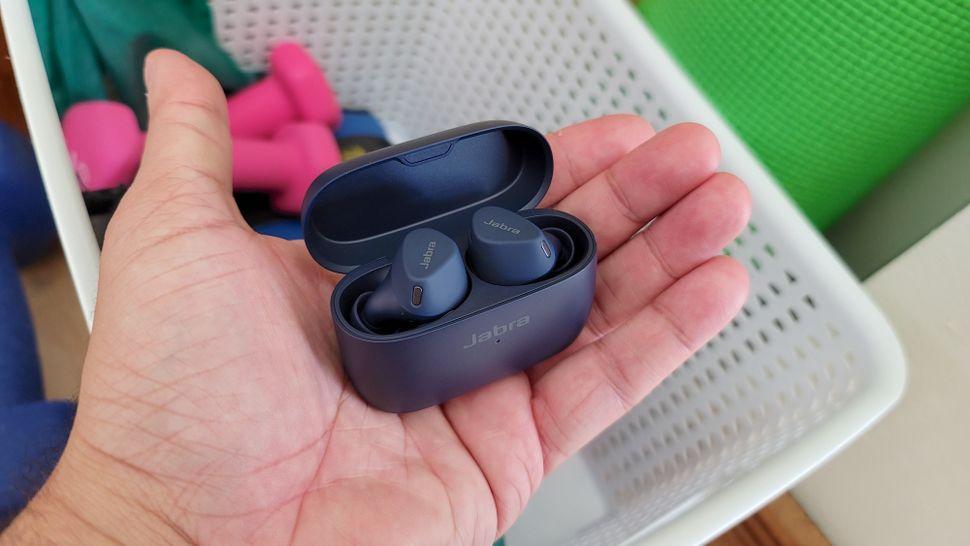 What makes the Elite 4 Active the most enticing model in the Elite Active series isn't the low price point. It's the better ANC and call quality these buds deliver compared to the Elite 7 Active, along with the ability to match big brother's powerful audio performance. Access to the Sound+ app opens the lane for personalized sound and other features like HearThrough, to increase environmental awareness, come in handy when running at night.
Jabra's proprietary EarGels provide a tight seal and keep the buds in place when engaged in lateral and stationary activities. Not once did we feel them slipping out when running outside. Our tester experienced some discomfort when activating the earbud multifunctional buttons, which pushed the buds further into the ear canal. This may not be an issue for all wearers, though, and as such are a worthwhile consideration.
Read our full Jabra Elite 4 Active review.
The original PowerBuds had its own smarts — namely, a built-in heartrate monitor — but the Amazfit PowerBuds Pro take health monitoring to a whole new level. This pair of lively-sounding earbuds can automatically detect when you start running or cycling, and can track your steps or distance without any outside help. Granted, they're not as accurate as one of the best fitness trackers, but how many other headphones have this much of a health focus?
The PowerBuds Pro are also a much-improved set of earbuds in general. While still fairly affordable they've gained some effective active noise cancellation, and you can switch to ambient Thru mode if you want to listen out for traffic when out on a run. As long as you don't mind a looser fit, these could serve well as both your running and everyday earbuds.
Read our full Amazfit PowerBuds Pro review.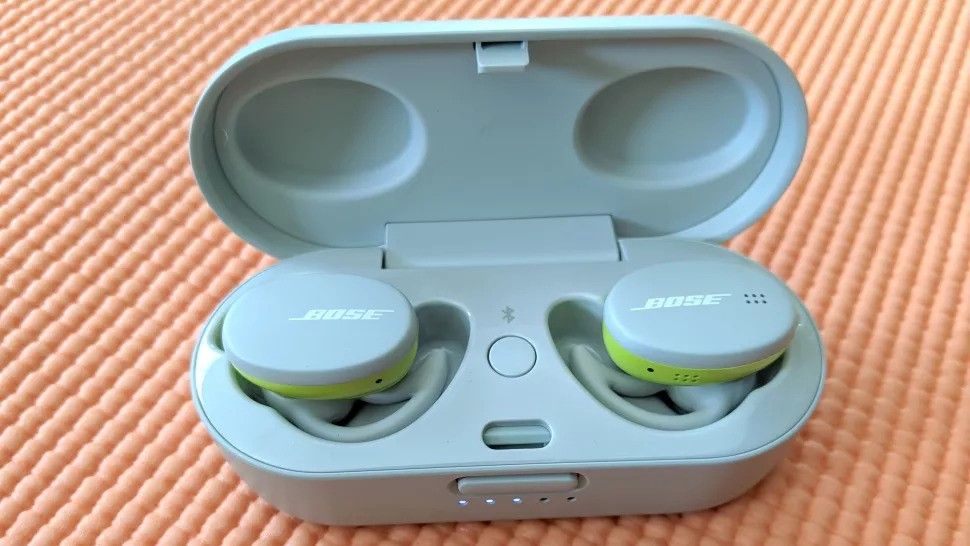 If you're at all familiar with the Bose QuietComfort Earbuds, you might have an idea of what makes these Sport Earbuds so good. This pair don't have the same ANC functionality but adopts a similar winged design that keeps the Sport Earbuds locked securely in your ear canal, no matter how vigorous your running style.
They're also smaller and lighter than the QuietComfort Earbuds, while the detailed sound impresses during exercise and resting alike. IPX4 water resistance adds to the list of fitness-friendly features, and the 5 hours of battery life should be good for almost any exercise session even if it's well short of buds like the JLab Epic Air Sport ANC.
Read our full Bose Sport Earbuds review.
Jabra's line of sporty wireless earbuds never disappoints, and its latest creation are a welcome addition to the series. The Elite 7 Active have a variety of settings that let you personalize these buds to your liking. If it isn't adjusting the ANC levels to control how much noise you want to block out or let in, it's the MySound feature that automatically tailors sound to your ear or creates your own sound profile by manually adjusting the EQ's frequency levels.
The re-engineered EarGel tips created a tight seal that kept the buds stable during runs and when performing floor workouts like ab crunches, planks, and push-ups. An IP57 rating means these buds are suitably sweatproof, and it's great to see a pair of workout buds that can last up to 9 hours with ANC on, some of the longest in the category. The Elite 7 Active's noise cancellation isn't as powerful as other models, nor is the Eartip Fit Test as accurate as the Apple/Beats version. Nonetheless, they are an attractive pair of running earbuds with useful customization.
Read our full Jabra Elite 7 Active review.
How to choose the best running headphones for you
You might prefer an earbud design that hooks over your ear, or sits entirely within your ear. For running, we generally found there's not much inherent difference between the two styles in terms of stability, though if you wear glasses the addition of an ear hook might mean its gets in the way of your specs.
Water resistance: Even if you're averse to running in the rain, we'd strongly recommend a pair of running headphones with certified water resistance to protect against sweat. An IP rating of IPX7 denotes full waterproofing, while IPX4 represents basic moisture resistance; consider what you'll need and what the risks are of your headphones getting seriously wet.
Active noise canceling: A lot of the best running headphones feature ANC, but this isn't necessary for running. In fact you may want to turn if off for better situational awareness near traffic and pedestrians — it will depend on how much you want the absolute best sound quality when exercising. ANC lets you focus on your entertainment but may need to be paused occasionally for safety.
Battery life: Some qualities are universal across all wireless earbuds, like battery life. Consider how long and how often you'll want to wear your headphones for; if you're a regular traveler it can definitely be worth picking a pair with longer battery life, either per charge or in terms of how much the bundled charging case provides. Wireless earbuds can last about 5 to 10 hours and offer extended playtime with their bundled charging cases — always make sure one is included.
Comfort: All running headphones need to be comfortable as well; all of the pairs on this list are fine to wear for a couple of hours at least, though some cope better with extended use than others.
Pricing considerations: Obviously, price is a big consideration when looking for the best headphones. Although there are always exceptions, big-name brands will typically command a bit extra, but generally speaking, the less you spend on a pair of headphones the greater the chance that sound and features will be compromised. Going for a budget option isn't always the best choice, as any money you save on your purchase won't do you much good if you're constantly needing to recharge your audio gear, or the sound quality is poor.
As the saying goes: timing is everything; and right now many of our favorite models are being discounted by online retailers, meaning you can bag a bargain for even less. Bookmark our best headphone deals page to keep track of the latest price drops.
How we test the best running headphones
Like any kind of headphones, we test running headphones by listening to a wide range of music genres — including hip-hop, rock, jazz, classical, and electronic — and will use them for at least one 2-hour session over the course of a week. This lets us both give a fair appraisal of how they sound, and how comfortable they are when worn for long periods.
All the models in this buying guide have good sound, and some also appear in our pick of the best wireless earbuds overall. But the best running headphones do a whole lot more than simply play music to help you push yourself through a tough run. Find out what we listen for during our testing process and how to get the best headphone sound for you.
For running headphones specifically, we'll take them out for a few runs to see how they hold up when exercising. This includes judging how well they stay in place, as especially with small earbuds, a seemingly stable fit when relaxing can easily come undone once you're out for a running or working out at the gym.
Once all our testing is complete, we rate running headphones on a five-point system (1 = worst, 5 = best). The very best running headphones are awarded an Editor's Choice badge.
Contributions from: Alex Bracetti
More from Tom's Guide