Best shoes for Peloton: Quick Menu
Whether you've picked up a Peloton or Peloton Bike+, or a different exercise bike altogether, you'll need a pair of the best shoes for Peloton. Why? The best cycling shoes maximize efficiency and power output on the pedals and clip into the pedals to keep your alignment on top form.
While we pedaled away in shoes made by a variety of leading brands, we looked out for factors like comfort, support, breathability and clip systems. If you're a cycling novice, finding the best cycling shoe for you could feel like a slog. But whether you're a Peloton bike owner or prefer one of the best Peloton alternatives, the right shoe is a game-changer.
The models we've chosen include cycling shoes that clip into the best exercise bikes and the Peloton bike. But before you decide, different exercise bikes support different cleat types attaching to the outsole of your cycling shoe: 2-bolt SPD cleats suit mountain bike riders, and 3-bolt Look Delta cleats are better for road cyclists.
Peloton pedals are equipped for Delta, but you can swap out pedals for another cleat type; we've reviewed the Venzo 3-in-1 pedals which allow you to switch between both systems, so you should always be able to workout in a way that suits you.
The best spin shoes also have ratchet clips, Velcro straps, laces or a combination. Laces are more traditional but ratchet clips are far more popular on newer models as they provide a very secure fit. You'll also need to consider sole stiffness and materials, designs and your budget, which is where we come in. Read on to see how every model fared under our rigorous testing for Tom's Guide, and how we tested.
The quick list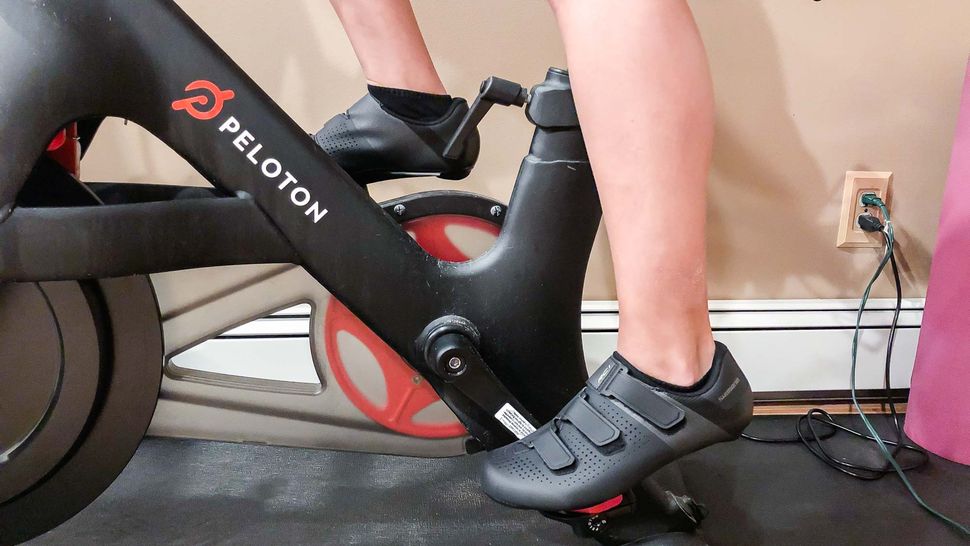 Best shoes for Peloton under $100
After riding for a few months with a number of models, we think the best indoor cycling shoes overall are the Shimano RC1. It's a reasonably priced spin shoe that comes in both mens and women's models. These shoes are lightweight and feature synthetic leather uppers with mesh texture to promote a comfortable fit. They also have three durable hook-and-loop straps across the top of the feet for easy wear and removal.
During our time, we found them to be breathable, comfortable, and easy to wear. They were light but not overly stiff, and three Velcro straps made it easy to get the fit I wanted. Unlike Peloton's shoes, Shimano's shoes don't include clips, which must be purchased separately for $20. The RC1s are designed for Delta cleats, but you can also purchase an adapter so they'll work with SPD cleats, too.
Read our full Shimano RC1 spin shoe review.
Best shoes for Peloton on a budget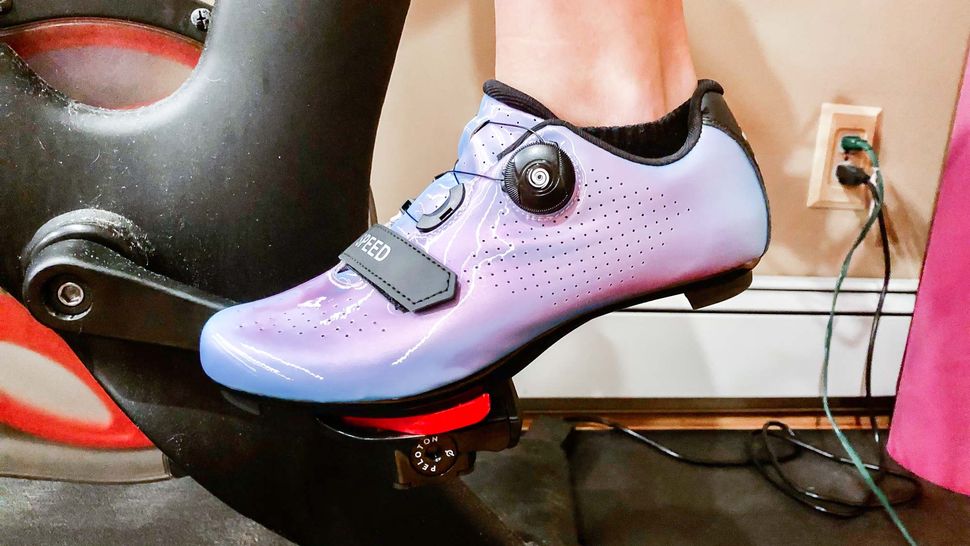 Exercise bikes — especially Peloton's — can be expensive, so one way to save a little bit of money is by picking up less expensive cycling shoes. The Vitatalpa Men's Cycling Shoes are the best Peloton shoes for those on a budget: they're quick-drying, anti-slip, feature breathable mesh, and are lightweight. They come with an adjustable buckle and hook-and-loop straps for easy wear.
There are a couple of things to consider: Vitatalpa's shoes only come in men's sizes, and they don't come with clips. However, they're compatible with both 2-bolt SPD style and 3-bolt SPD-SL style cleats, and come in a wide range of colors.
Read our full Vitatalpa Men's cycling shoes review.
Best shoes for Peloton for beginners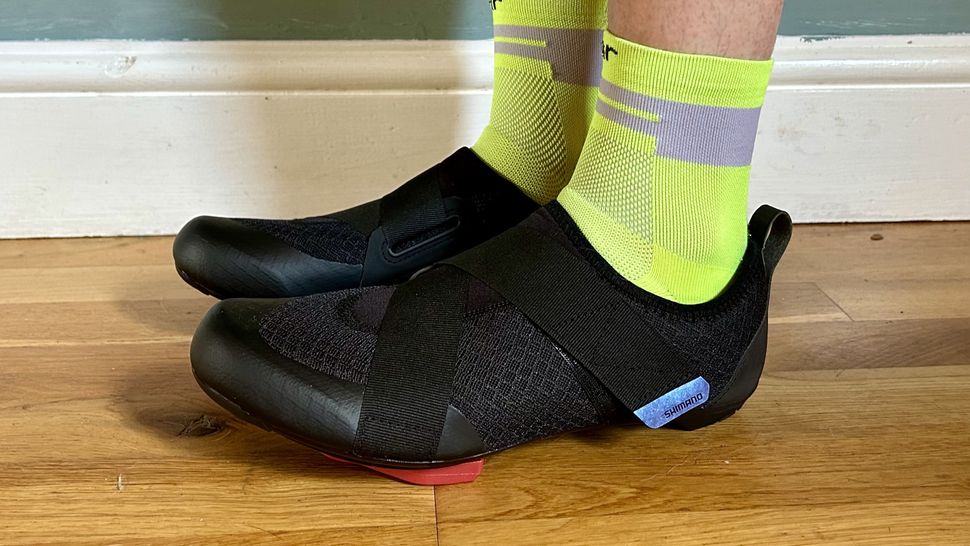 The best way to describe the Shimano IC1 cycling shoes would be to say they are like riding your Peloton wearing slippers. The velcro wrap around fastening makes these shoes seriously comfortable, and super easy to adjust, although you can't make micro adjustments when clipped in as easily as you can with a boa system.
The shoes have a stiffness level of six on Shimano's scale, which goes up to 12. This makes them soft and comfortable, but our tester found they weren't firm enough when he was trying to do an FTP test, or harder efforts.
Compatible with two and three bolt cleat systems, these are a comfortable pair of shoes to buy if you're cycling indoors, but more advanced cyclists might want to opt for something firmer.
Best shoes for Peloton for comfort
The Venzo cycling shoes are compatible with both Delta and SPD clips; if you order the shoes with the former, the clips come bundled, but if you want SPD cleats, you'll have to purchase them separately.
Both the men's and women's shoes feature quick-drying, highly-breathable mesh and synthetic upper and have a low-cut construction for a light, fast fit and feel. We wore these shoes for a month, and they fit perfectly; it felt like my feet were molded to the shoe. These shoes come with three velcro straps; the shoes' tongue is attached to the middle strap, which helps keep it from sliding down while riding, an issue we had with the Tommasos. While not quite as comfortable as the Shimano RC1s, the Venzos quickly became one of our favorite pairs.
Read our full Venzo cycling shoe review.
Best shoes for Peloton by Nike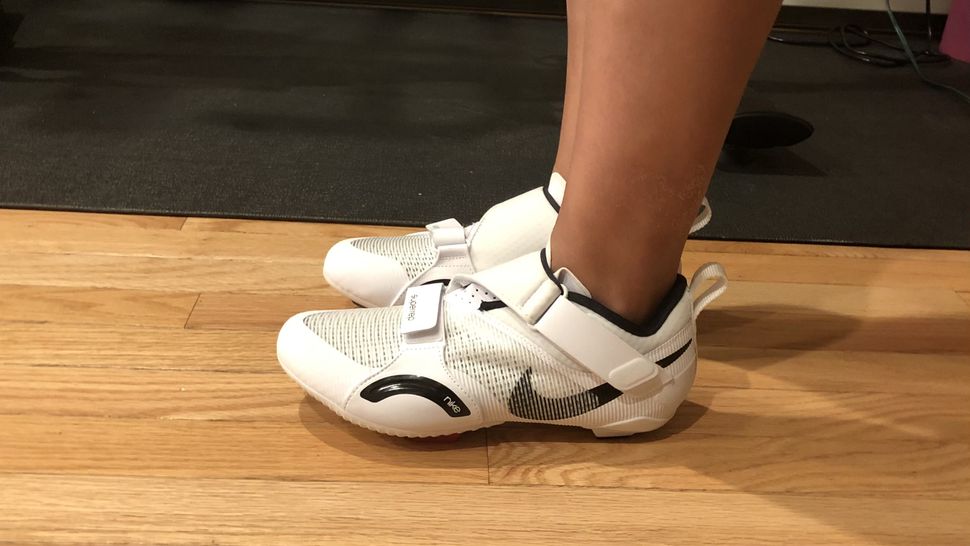 This past spring, Nike came out with the Nike SuperRep cycling shoes, which feature an adjustable hook-and-loop strap allowing you to adjust how tight you want your shoes to fit. The Nike SuperRep shoes are lightweight, have breathable vents, and are compatible with both Delta and SPD clips; like many other spin shoes, you have to purchase the clips separately.
While available in both men's and women's sizes, Nike's shoes received the most mixed reviews out of all brands highlighted in this article. As with other spin shoes, Nike's also tend to run small; most reviews say to size up. One reviewer stated "They are comfortable, flexible and are easy to clip in and out of." However, another made a point to say "I attached my delta cleats and did a 5 min ride. My feet were aching. These shoes do not have enough support. I could feel the pedal."
Read our full Nike SuperRep cycling shoe review.
Best shoes for Peloton for dual clip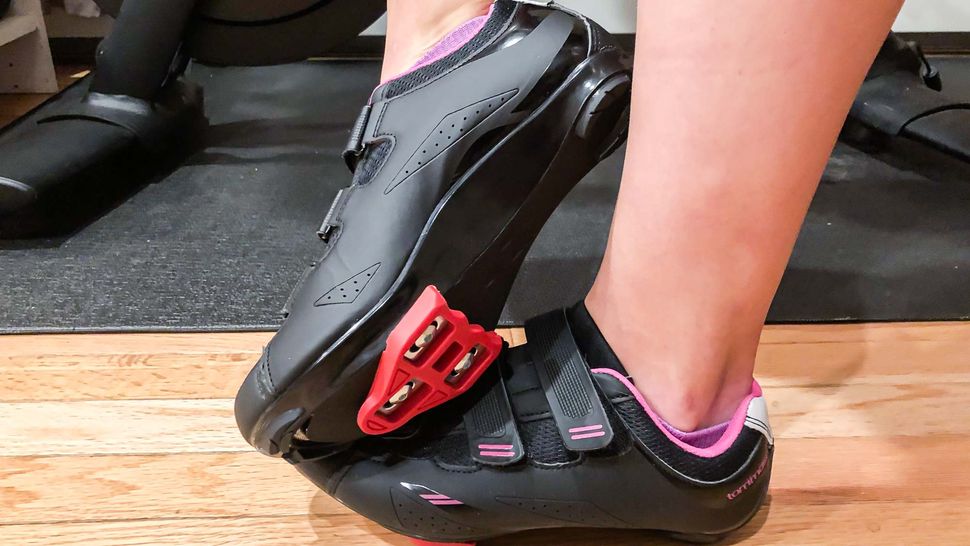 The Tommaso Pista and Men's Strada cycling shoes are more expensive than most of their competitors, but they come with the clips of your choice already installed. Even better, these shoes work with both Delta and SPD clips, so you're not locked into using a Peloton bike.
Both the men's and women's shoes feature well ventilated mesh portions to help cool your feet. Three Velcro straps ensured the shoes were snug, though we found that the tongue would slip down into the shoe, not matter how much we tightened the straps. The tongue also lacks cushioning. Tommaso recommends riders to order their usual size as they fit true to size, though some buyers found they had to order a larger model.
Read our full Tommaso Pista cycling shoe review.
Best shoes for Peloton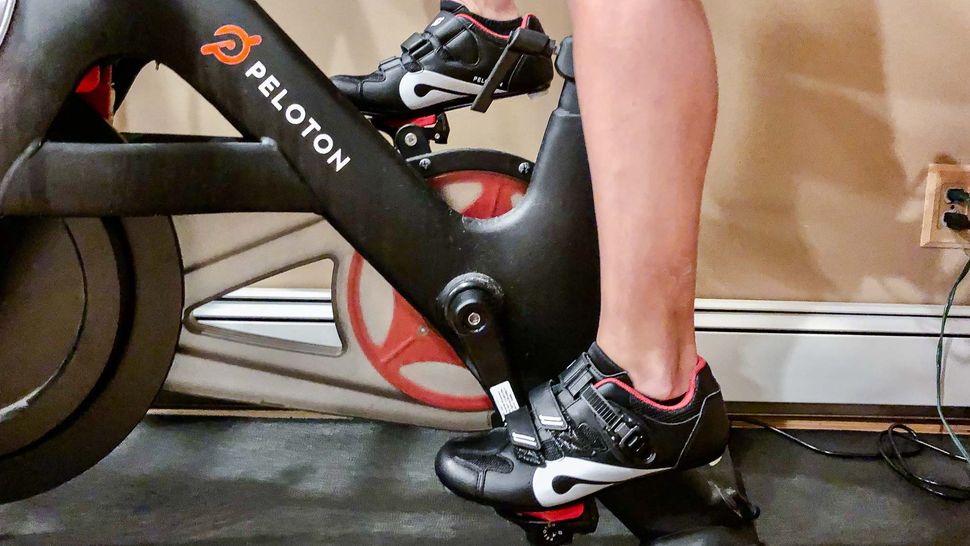 Not surprisingly, the best Peloton shoes overall are those made by Peloton itself, but these spin shoes can be used on other exercise bikes, too. These lightweight, breathable upper and mesh vent Peloton shoes feature a ratchet clip and velcro straps. If you plan on purchasing these shoes with your new bike, Peloton will deliver your shoes with your bike so you'll have them in time for that first ride.
Peloton shoes tend to run true to size; we like that they come with the clips, but you'll have to attach them yourself. We found these shoes to be very well made — they felt like they were built to last. We also liked that the tongue stayed in place while riding. However, at $125 for the pair, they're a bit on the pricey side. But if you're buying them with your Peloton, you can't beat the convenience.
Peloton has recently released a new, more expensive pair of cycling shoes, the Peloton Altos, which have a single velcro strap to make it easier to get the shoes on and off.
Read our full Peloton cycling shoe review.
Best shoes for Peloton for looks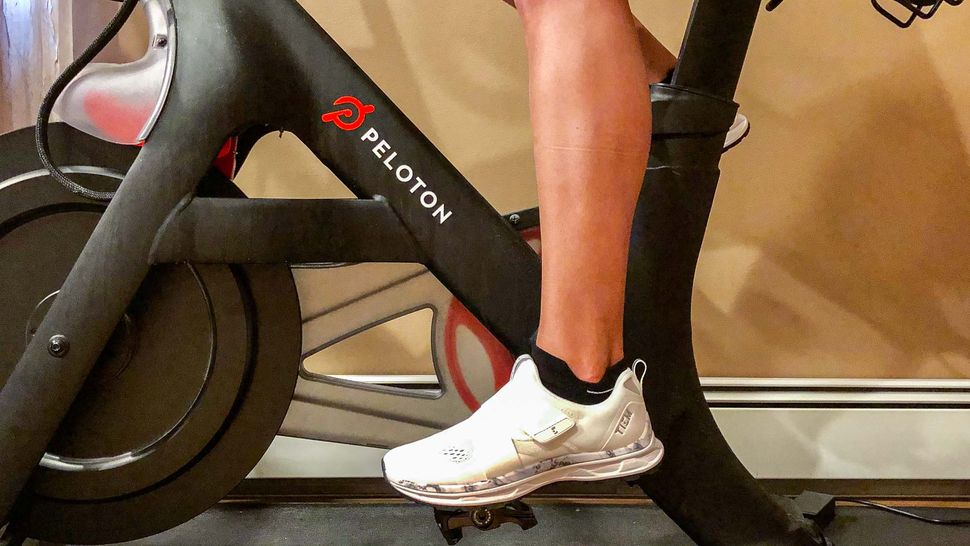 Concerned about your feet complimenting your style while you ride? The Tiem Slipstream spin shoes look more like a pair of traditional sneakers, and feature mesh to allow your feet to breathe throughout your ride and are lightweight. A perk of wearing these sneaker-like shoes is that you can walk in them outside of the class with the clips attached, unlike traditional cycling shoes. And, they're available in six colors.
While the Tiems are compatible with SPD clips, if you want to use them with a Peloton, you'll need to change the pedals on your bike, which is another add-on expense. TIEM recommends customers to size down half a size of what you wear for your regular shoes.
Read our full TIEM Slipstream cycling shoe review.
How to choose the best shoes for Peloton and indoor cycling
Comfort and fit
When purchasing shoes to go along with your Peloton or exercise bike, comfort and convenience are two of the most important factors. Most spin shoes are made to be lightweight and have a velcro strap for easy and fast wear and removal; you don't want to have to stop mid-workout stops to tie your shoe.
Clip compatibility
Just as important is clip compatibility. At the bottom of a spin shoe is a metal clip which locks your foot into the bike's pedals; this clip is typically screwed in, so that you can remove it and attach it to a new pair of shoes when your current pair wears out.
Spin shoes are typically compatible with either the SPD Clip (2-Bolt System), or the Delta Clip (3-Bolt System). Better spin shoes can fit either clip. Either way, it's important to know if the spin shoe you're buying will work with the clip that's compatible with your exercise bike. For example, Peloton bikes come with Delta-compatible pedals, so unless you want to replace the pedals on your bike, too, you'll want to find shoes that work with Delta clips.
Also note that most cycling shoes do not come with clips, so be prepared to purchase them separately and attach them to your shoes. Here's how to attach a clip to your cycling shoe.
Price
Spin shoe prices range from around $50 to $140; high end brands include Nike and TIEM, while budget options include the Vitatalpa brand which is most suitable for someone just starting out on their bike. Higher priced shoes tend to be more durable and made with lighter materials, making them more breathable. As mentioned, most cycling shoes do not come with clips, so expect to budget an additional $10-$20 for your purchase.
Q&A
Do you really need Peloton shoes for a Peloton bike?
Absolutely. As we mentioned, although you can use regular exercise shoes to cycle, clipping in helps to improve power output and cadence efficiency on the pedals. Without a fixed shoe, your foot is more likely to slip or put undue pressure on your ankles, which could negatively impact your cycling efforts.
Finding the best shoes for Peloton could take a few tries, so always make sure the shoe fits comfortably rather than pressing into your foot.
More from Tom's Guide