The best 85-inch TVs prove what you probably already think – that nothing makes an impression quite like a really big TV. Whether it's for enjoying the big game, getting huge with the latest game console, or just enjoying a cinematic experience in your home theater, the sheer size of an 85-inch 4K smart TV will let you get the most immersive viewing experience. An 85-inch TV will blow you away – if you pick the right one.
While not as common as 65-inch or 75-inch TVs, the best TV brands all offer 85-inch TVs with flagship features to match any of the best 4K TVs, such as high-dynamic range (HDR) for great contrast and color and 120Hz refresh rates for crisp motion. They all include smart platforms, with apps for your favorite streaming services so you don't need a separate streaming device. And while 85-inch TVs tend to be more expensive than their smaller siblings, you can sometimes find a great deal to make it worth it.
If size doesn't matter, check out the best TVs of the year
Still shopping? Our TV buying guide has the 9 things you need to know
Before you spend thousands of dollars on an 85-inch TV, make sure you have space for it and can sit far enough away to properly enjoy it. The general guidelines for viewing distance for a 4K 85-inch TV are the TV should be 10-12 feet from where you sit.
85-inch Black Friday TV deals
Black Friday deals are on the way, and there's already a solid array of discounts available. While most sales will be focused on popular TV sizes, like the best Black Friday 65-inch TV deals, but there will definitely be a few sales for big screen sizes. Be sure to check out our Black Friday TV deals page for all the latest sales to make sure you get a great TV in time for the holiday season.
What are the best 85-inch TVs?
We don't usually test 85-inch TVs specifically, but more often focus on the 65-inch versions that have the same or similar features and performance. When a manufacturer makes a great 65-inch TV, we expect the similar 85-inch model will be just as good, so we've based our picks for these TVs on our experience with the smaller versions.
Not all of the best TVs are available in 85 inches, so your choices are more limited if you've decided on this size versus a 65- or 75-inch TV. But there are still some great TVs to choose from.
Our top pick is the Samsung QN90A Neo QLED TV (QN85QN90AAFXZA) – the winner of the 2021 Tom's Guide Award for Best TV. It has every feature you want in a top-of-the-line TV, such as 120Hz refresh rate and HDMI 2.1. Most importantly its Neo QLED screen rivals OLED TVs for intense color and deep blacks, while producing an incredibly bright picture with mini-LED backlighting. That makes it an excellent TV for sunny rooms and watching TV in the daytime. It's also a great TV for gamers since it has low lag time and supports the best features of the latest game consoles.
If you want that same giant screen size without the equally-huge price, then the TCL 4-Series Roku TV (85S435) is our value pick for 85-inch models. It delivers great 4K performance and decent HDR support, not to mention reliably excellent Roku TV smarts, and does it all for less than some smaller premium 4K TVs.
The best 85-inch TVs in 2021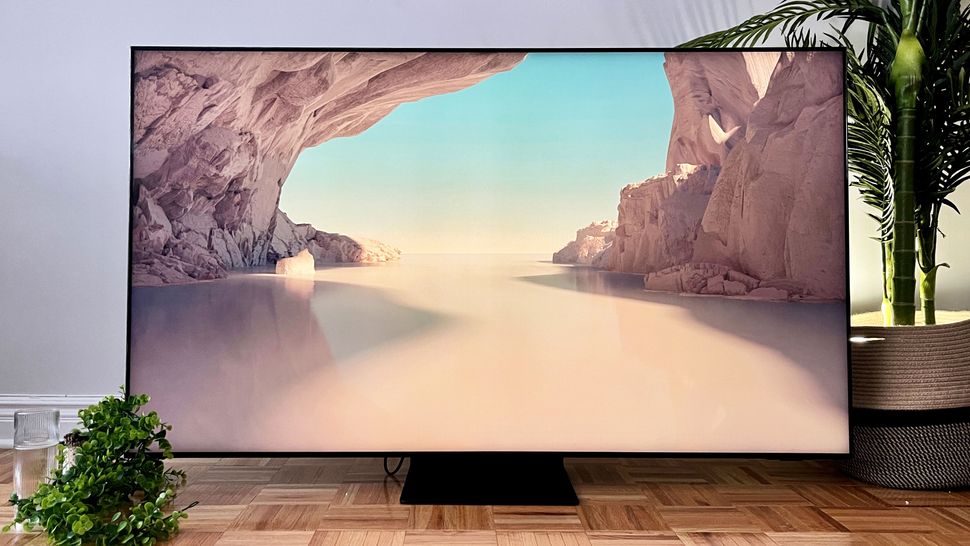 The Samsung QN90A Neo QLED TV combines Samsung's highly refined quantum dot technology with the tight control of mini-LED backlighting, resulting in one of the best TV displays you'll ever see. Brilliant color and unmatched brightness make for superb performance, and Samsung pairs that with a bounty of smart TV functions and genuinely intelligent features, like a solar-powered remote control that eliminates the need to swap out batteries – delivering eco-friendly design and unbeaten convenience at the same time.
The whole thing is packed into a gorgeous 1-inch-thick design that contains a huge array of smart features, potent Dolby Atmos sound and some of the best performance we've ever seen. HDMI 2.1 connectivity comes standard, along with gamer-friendly features and impressive 12.6-millisecond lag time for an unparalleled gaming experience. It's the best 85-inch TV we've seen this year, and the winner of the 2021 Tom's Guide Award for Best TV, and a second award as the best gaming TV of the year.
Read our full Samsung QN90A Neo QLED TV review.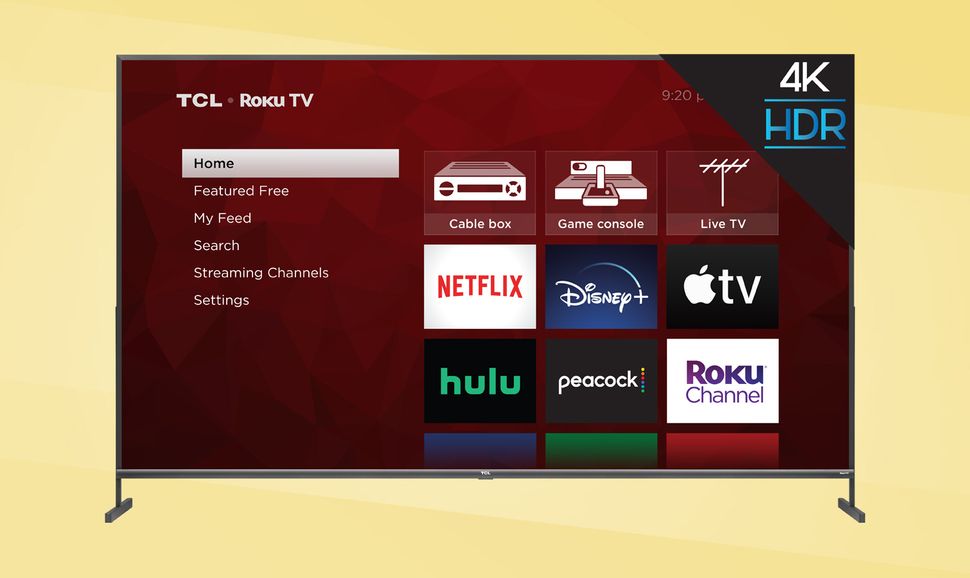 The 85-inch TCL 4 Series Roku TV 85S435 is one of the best TV values you'll find in any size. It has good color accuracy and supports HDR10 — but not Dolby Vision — for improved contrast. It uses Roku's system software, which provides one of the best smart TV experiences available and has plenty of apps to choose from. With a low lag time of 14 milliseconds, this set also will handle fast-paced gaming well. And with a price of $1,599 it's one of the most affordable 85-inch TVs we've seen.
In exchange for the great price, the TCL 4 Series is missing a few features that more expensive TVs deliver. It lacks local dimming, so the HDR performance isn't as good as it could be. It also has weak speakers, with little bass and limited power. If this is going to be your main TV, consider adding a soundbar to overcome the sound issues.
Read our full TCL 4-Series Roku TV (S435) review.
For a basic Android TV with a big screen, we love the Sony Bravia X800H. It may not have QLED or the latest features seen on newer models, but the 2020 Sony can be had for ultra-affordable prices, even in this largest size. Boasting Android TV and all of the attendant features, like integrated Google Assistant and Chromecast, wide app selection, built-in content recommendations and plenty of customization options, it's a solid smart TV at any size or price.
Dolby Vision HDR and Dolby Atmos sound deliver very good performance, and the set produced strong brightness and color quality for being a standard LCD model. Really, our only big problem with the X800H is that the remote is a little clunky. But if you want a quality smart TV for a reasonable price, the 85-inch Sony Bravia X800H is a solid choice.
Read our full Sony Bravia X800H review.
You can have a giant, beautiful TV without getting a second mortgage. The Vizio P-Series Quantum X (P85QX-H1) lists for around $3,000 and you can find it for less than that when it goes on sale. You won't give up much when you save: the P-Series Quantum X produces great colors and contrast thanks to its full-array backlight and Dolby Vision and HDR10+ support. It has more local dimming zones than last year's model, too. Gamers will love its 120Hz refresh rate at 4K on two of the HDMI ports, low lag time and support for VRR, AMD Freesync and Nvidia G Sync.
While Vizio's SmartCast OS isn't as slick as those found in other premium sets, it is better than it used to be. However, one area where the P-Series Quantum X can't compete with the Samsung Q60T or Sony X950H is sound: the Vizio definitely wants for a soundbar to be added to overcome its audio limitations. The P-Series Quantum X also doesn't do well when you're viewing it too far from center.
The Sony X900H Series Android TV hits a sweet spot for features and price in an 85-inch TV. While it can't beat its pricier sibling, the X950H, in terms of picture quality, it still shines with excellent color and contrast thanks to its full-array backlight with local dimming. It supports Dolby Vision and HDR10 and makes the most of those HDR technologies. For gaming, it outshines the X950H: its HDMI 2.1 ports can support ALLM and VRR — or will when a pending firmware update comes through. Paired with a low lag time, this might be the giant TV you want to go with your PS5 or Xbox Series X, if you're okay with waiting for the update.
The Sony X900H Series Android TV isn't quite as bright as some of the TVs higher on this list, but it's still bright enough for most uses. As with other Sony TVs, it employs Android TV as its smart OS, which means you get a ton of apps and Google Assistant built in. It's biggest downside is that the picture quality fades when you view it away from center.
If you're set on a QLED TV but don't want to pay the premium for the Samsung Q90T, the Samsung Q70T 4K QLED TV offers many of the same advantages for considerably less. Its QLED screen delivers vivid colors and deep blacks, and details are particularly crisp. As with other Samsung TVs, it doesn't support Dolby Vision but it does handle HDR10+. And you get Samsung's excellent Tizen smart OS along with support for several voice assistants: Samsung's Bixby, Amazon's Alexa and Google Assistant.
The Samsung Q70T 4K QLED TV uses a dual LED backlight instead of the full array found in the other TVs on this list; as a result it has some issues with viewing angles and dimming at the edges of the screen. Gamers won't be impressed with its lag time, but will appreciate its HDMI 2.1 support.
Read our Samsung Q70T review.
When you really want a huge TV but you can't find $3,000 or more in your bank account, the Hisense H65G Series Android TV is the one for you. With a list price of $1,700 — and currently available for $1,499 — you can fill your room with a screen for the same money that a premium 55- or 65-inch TV would cost. You'll still get very good picture quality; the H65G produces rich contrast and excellent black levels.
What you won't get is great HDR performance because of its limited brightness. The TV also has a 60Hz refresh rate, where most premium TVs crank out 120Hz. It has a relatively high lag time and doesn't support the latest gaming tech, meaning gamers may want to spend more on a TV that has HDMI 2.1. And you'll want a soundbar to overcome its poor built-in speakers. But as far as bargains go, the Hisense H65G Series Android TV is best you'll find in an 85-inch TV.
How to choose the best 85-inch TVs for you
When looking for an 85-inch TV, follow our TV Buying Guide tips. If you put some thought into what you need from a TV, you'll be able to enjoy your purchase for years to come.
Size: First, decide if you're locked into an 85-inch model. You'll find more options in 65- and 75-inch models and often better values.
And remember to fit the TV to the room it's in. For an 85-inch 4K TV, you'll be dealing with a TV that measures 75 inches across, and you'll want to be sitting at least 85 inches from the set to get a good viewing experience. (Learn more in our article What size TV should you buy?)
Price: Expect to pay anywhere from $1,700 to $5,000 for these 85-inch TVs, although you may be able to find some models on steep discount if you buy at the right time, like around the Super Bowl or Black Friday.
Installation: Plan to have at least one extra set of hands around when setting up an 85-inch TV; all the TVs on this list weigh more than 100 pounds and are really large.
But don't rule out wall mounting. The models here will work with standard VESA mounting brackets, including the best TV mounts.
Ports and features: All these TVs have four HDMI ports, which is generally the most you'll find on any TV, and several have at least one port that supports HDMI 2.1, the latest standard. If you plan to use a sound bar, pick a TV that supports HDMI ARC, which lets you connect to the soundbar with a single cable. You may also want a TV that supports Bluetooth so you can listen on your headphones without disturbing people around you.
If you're still narrowing down your TV shopping by brand, price range or screen size, check out our picks for the best TVs in each.
Best TVs | Best 4K TVs | Best smart TVs for streaming | Best TVs for gaming
The best TVs under $1000 | The best TVs under $500
Best TV brands | Best Samsung TVs | Best TCL TVs | Best LG TVs | Best Roku TVs | Best OLED TVs | Best QLED TVs | Best 8K TVs
The smallest smart TVs | Best 43-inch TVs | Best 50-inch TVs | Best 55-inch TVs | Best 65-inch TVs | Best 70-inch TVs
And don't forget to watch out for the latest TV reviews!