The best 85-inch TVs offer a huge upgrade on older TVs, both in size and in pixel quality. Some 85-inch TVs now offer 8K resolution — effectively four times the amount of pixels offered by 4K TVs — but they also come with the latest TV tech like high-dynamic range (HDR) for great contrast and color and 120Hz refresh rates for crisp motion.
Although they aren't as cheap as smaller models, 85-inch TVs can fill your wall with cinema-quality images that the whole house can enjoy.
So which 85-inch TV should you buy? Our go-to answer at the moment is the LG C2 OLED that comes in a 83-inch version. It earned a rare five-star rating based on the exacting Tom's Guide testing process, which includes evaluation of peak brightness, color accuracy, color reproduction and lag time, all using specialized testing equipment. We highly recommend it.
We're currently testing out the LG C3 OLED to see if it lives up to its predecessor's legacy. Be sure to stop back soon to see the results.
The best 85-inch TVs in 2023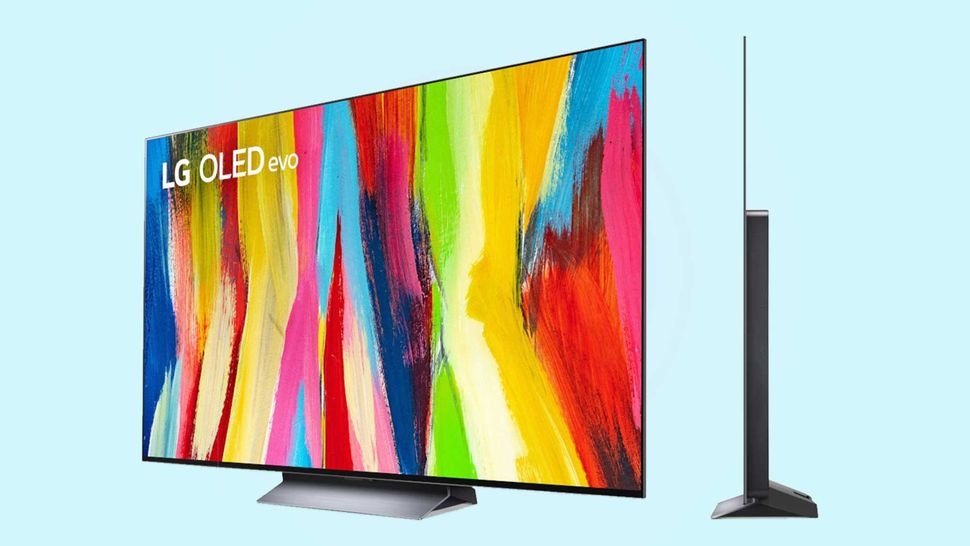 We can't speak highly enough of the LG C2 OLED. Not only is it the best OLED TV thanks to an impressive display panel, but its price feels reasonable compared to some of the significantly more expensive options out there.
What's more, this C series lineup is LG's largest in terms of size options — especially the range-topping 83-inch model. It sports a full array of HDMI 2.1 ports and LG's Evo OLED panel, which was first introduced on the LG G1 OLED TV and now looks to upgrade the C2's performance.
We can't say our test results for this LG C2 OLED TV review showed significant improvement, but to be fair, there wasn't much room to improve. Instead, what makes this one of the best TVs of the year is that it offers fantastic picture quality for the price — exactly what you'd expect from LG's best-selling OLED TV series.
Read our full LG C2 OLED review.
With the Samsung QN95B Neo QLED TV, Samsung once again proves why it's the QLED TV king. Thanks to best-in-class brightness, cable management convenience and impressive performance across most content genres, the QN95B is a tough TV to beat.
At a time when OLED TVs steal most of the hype, Samsung's premium Neo QLED technology stands out in one big way: brightness. By introducing a Mini LED backlighting, the panel can achieve higher levels of brightness without sacrificing depth and gradations of luminance. Samsung pairs that image quality with a bounty of smart TV functions and genuinely intelligent features, like a solar-powered remote control that eliminates the need to swap out batteries — delivering eco-friendly design and unbeaten convenience at the same time.
The whole thing is packed into a gorgeous 1-inch-thick design that contains a huge array of smart features, potent Dolby Atmos sound and some of the best performance we've ever seen. HDMI 2.1 connectivity comes as standard, and it's also a great option for gamers thanks to plenty of dedicated features and an impressive 9.8-millisecond lag time in our testing.
Read our full Samsung QN95B Neo QLED TV review or browse our Samsung promo codes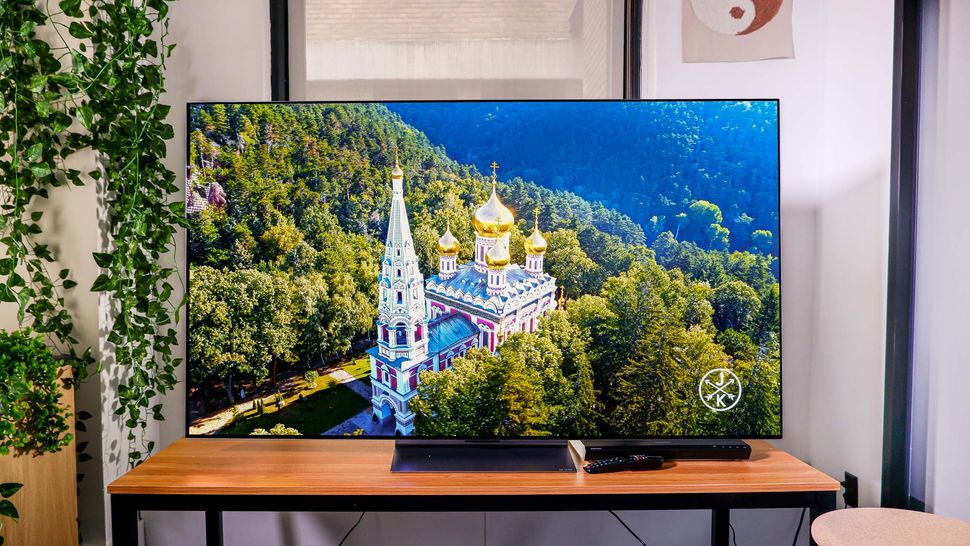 It's more expensive than most other 85-inch TVs on this list, but the 2022 version of LG's premium G-series OLED TVs is here — and it's brilliant. The LG G2 OLED improves upon last year's G1 in almost every regard to up the game when it comes to the screen tech. Brightness has been a long-time OLED shortcoming, but in our testing we found that the LG G2 reached 590.54 nits — way above the G1's 412.05 result. And brightness is just one aspect of its performance that impressed us, with color accuracy, color gamut and lag times all faring well in our testing. And of course you get the deep blacks we've come to expect from OLED.
It's not quite 85 inches like the rest of our entries, but this 83-inch TV's design is also something to behold, with a minimalistic silver frame that gives it a near-bezel-less appearance. It's also well equipped with ports, sounds better than almost any OLED we've ever heard and offers a full-featured smart TV platform that should satisfy most households, without quite being the best. The LG C2, which we're currently testing, may end being a better purchase for most people, but until then this is the best OLED TV you can buy.
Read our full LG G2 OLED TV review
TCL has long been acclaimed for bringing a lot of performance to TVs that don't cost a lot of money. That trend continues with its latest 6-Series Roku TV, the 85R655, which amps up key aspects of its performance—particularly brightness and gaming potential—while keeping the price at $1,999.99. Throw in the super-easy-to-use Roku TV interface and you have a set that more than delivers on its picture promise without busting your budget.
If you're a gamer, or if you can't bear to give up bright and dark details when watching movies or TV shows, you'll find a lot to love about it. Its sound and color performance can't match the top TVs on our list, but they can't stop this set from punching well above its weight where it counts.
So if maximizing your TV-buying dollar is your goal, Roku TV is a small price to pay for a TV that's as packed—and as low-priced—as the TCL 85R655.
Read our full TCL 6-Series Roku TV (R655) review.
The Sony Bravia X95K Mini LED TV, the brand's first set powered by Mini LED backlighting, is our top pick from the Sony 2022 TV lineup. It has the kind of HDR performance you crave on movie night, pairing the set's high luminance and targeted backlight control with plenty of nuance and practical vibrancy. Sony packages it up in a sleek build, complete with multiple stand configurations and a great remote.
In out-of-the-box standard mode, the Sony Bravia X95K Mini LED TV covered 99.89% of the Rec 709 color space, which is a nearly perfect reach to the average viewer with an LED TV. The X95K's best Delta E score came in at an excellent 1.88 in Filmmaker Mode, which isn't surprising as Sony has long emphasized preserving the filmmaker's intent in picture processing. Pretty on-brand for a TV manufacturer that's also a movie studio.
We still believe the LG G2 OLED and Samsung's 2021 QN90A offer slightly better performance for the price, but it's easy to recommend this Sony to anyone shopping for a non-OLED 4K HDR TV.
Read our full Sony Bravia X95K Mini LED TV review.
The Samsung Q80T QLED TV might be from 2020, but it's still one of the best 85-inch TVs out there. Minus the port array sitting on-unit, the Q80T seems every inch as premium as the top-shelf Samsung QN90A from 2021 thanks to a full array backlight, local dimming, Object Tracking Sound and a Quantum processor that intelligently upscales low-resolution content.
Better yet, the Q80T costs a couple hundred dollars less than the QN90A, making it one of the best Samsung TVs to feed your appetite for a big screen.
An added perk of the Samsung Q80T QLED 4K TV is an antireflection layer that makes it a breeze to watch in bright rooms with windows and is a strong performer when it comes to robust colors and contrast.
For the price, brightness, upscaling capabilities, sound and smart features, I'd put the Q80T on your short list.
Read our full Samsung Q80T QLED TV review.
The Hisense U7H is a killer option in this price range — which is exactly what we'd expect from Hisense at this point. It doesn't necessarily beat all the competition, like the TCL 6-Series, in all situations, but as a package deal it's a seriously strong contender — and ultimately, worth buying.
In terms of sound, the Hisense U7H actually delivers solid audio for built-in speakers on a TV in this price range. It offers more bass than you would expect, though still not enough to beat dedicated speakers or a soundbar. Like most built-in speakers, it's somewhat mid-heavy – but not too much so.
If other options on our list are a little too pricey, this 85-inch model is a great mid-range model.
Read our full Hisense U7H QLED TV review.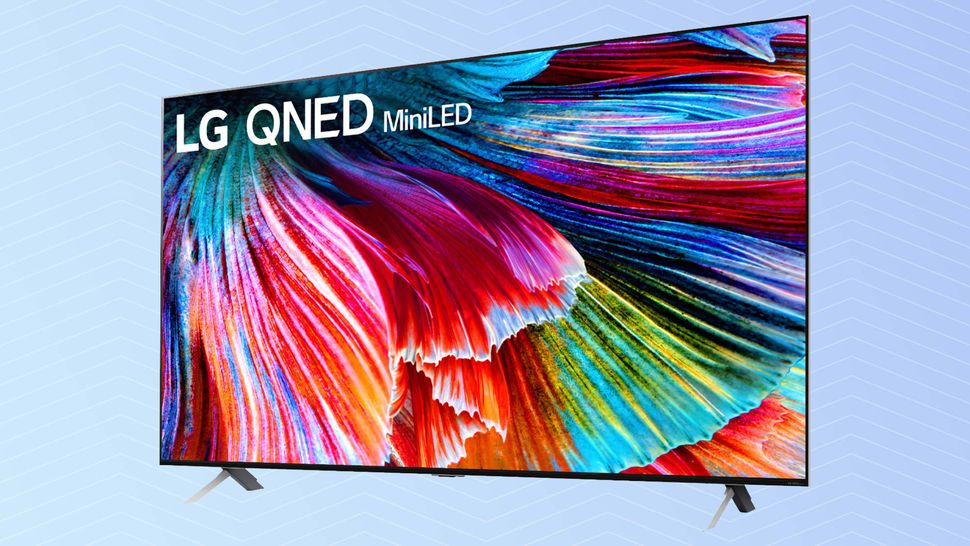 If you're going really big on screen size you may want to go big on pixels, too — and the LG QNED MiniLED 99 Series 8K TV certainly does that. Obviously you'd pay a high price for a TV in this class, but from the inclusion of mini-LED backlight to the union of NanoCell and QLED technologies, you'll be getting a premium TV set too.
Brightness and color accuracy were impressive in our testing, while 8K upscaling allows 4K and even 1080p content to be enjoyed on the ultra HD screen. But we also found the controls to be sluggish and the upscaling to be variable. Plus, bear in mind that an 8K TV is still a tough sell right, largely because 8K content is still pretty much non-existent. Still, this is one of the most affordable 8K sets we've seen and if you want a really big 8K TV this is worth a look.
Read our full LG QNED MiniLED 99 Series 8K TV review.
How to choose the best 85-inch TVs for you
When looking for an 85-inch TV, follow our TV Buying Guide tips. If you put some thought into what you need from a TV, you'll be able to enjoy your purchase for years to come.
Size: First, decide if you're locked into an 85-inch model. You'll find more options in 65- and 75-inch models and often better values.
And remember to fit the TV to the room it's in. For an 85-inch 4K TV, you'll be dealing with a TV that measures 75 inches across, and you'll want to be sitting at least 85 inches from the set to get a good viewing experience. (Learn more in our article What size TV should you buy?)
Price: Expect to pay anywhere from $1,700 to $5,000 for these 85-inch TVs, although you may be able to find some models on steep discount if you buy at the right time, like around the Super Bowl or Black Friday.
Installation: Plan to have at least one extra set of hands around when setting up an 85-inch TV; all the TVs on this list weigh more than 100 pounds and are really large.
But don't rule out wall mounting. The models here will work with standard VESA mounting brackets, including the best TV mounts.
Ports and features: All these TVs have four HDMI ports, which is generally the most you'll find on any TV, and several have at least one port that supports HDMI 2.1, the latest standard. If you plan to use a sound bar, pick a TV that supports HDMI ARC, which lets you connect to the soundbar with a single cable. You may also want a TV that supports Bluetooth so you can listen on your headphones without disturbing people around you.
How we test 85-inch TVs
When it comes to evaluating TVs, we're serious about getting it right. That's why every TV we review is put through a rigorous testing process that measures key standards of picture quality and performance.
Our lab tests involve testing for color accuracy and color gamut using an X-Rite i1 Pro spectrophotometer, an AccuPel DVG-5000 video test pattern generator and SpectraCal CalMAN Ultimate calibration software. These tools are relied on by professional calibrators throughout the industry, and we've paired them with custom workflows to gather the information needed for our reviews. These measurements are taken first in standard mode to simulate the average watching experience, and then taken again in other display modes to find the top color and brightness performance offered by each set.
Our testing measures contrast and maximum brightness, as well as lag time. Using a Leo Bodnar Video Signal Input Lag Tester to test video signal delay, we time how long it takes for content to travel from the original video source to the screen, measured to the millisecond. Shorter response times equate with faster gaming performance, letting us objectively know which TVs are better for gaming.
We use all of these objective test results to make comparisons about quality and performance between different TVs, but our evaluation doesn't end there. We also spend hours with each set, watching shows and movies, and using carefully selected video samples to highlight the strengths and weaknesses of each set and help us tell you which TVs look and sound the best in a real home viewing environment.
And there's more to today's TVs than just viewing, so we also check out the smart TV functions and evaluate everything from the interface to the remote control design. This lets our reviews speak to the technical capabilities of today's smart TVs and how they fit into your connected home.
---
If you're still narrowing down your TV shopping by brand, price range or screen size, check out our picks for the best TVs in each.
Best TVs | Best 4K TVs | Best smart TVs for streaming | Best TVs for gaming
The best TVs under $1000 | The best TVs under $500
Best TV brands | Best Samsung TVs | Best TCL TVs | Best LG TVs | Best Roku TVs | Best OLED TVs | Best QLED TVs | Best 8K TVs
The smallest smart TVs | Best 43-inch TVs | Best 50-inch TVs | Best 55-inch TVs | Best 65-inch TVs | Best 70-inch TVs
And don't forget to watch out for the latest TV reviews!