Best 75-inch TV: Quick Menu
1. The list in brief
2. Best OLED TV
3. Best QLED TV
4. Best value TV
5. Best gaming TV
6. Best mid-range TV
7. Best Sony TV
8. How to choose
9. How we test
The best 75-inch TVs are a big step up in both size and immersion, and can turn your home living room into a full-on cinema experience. If you plan on sitting between eight to 10 feet away from the screen, a 75-inch TV is the way to go.
What makes 75-inch TVs the size to beat? Well, not only are they big, but they typically offer better processors for the best possible smart TV experience and, at higher 4K resolutions, there's more detail in those pictures, too.
The 75-inch class actually includes 75- and 77-inch models, with everything from LCD to QLED and OLED technology available. The good news is that many of our favorite 4K smart TVs from the best TV brands come in the 75-inch size, and deliver everything we love about those top models, but with a larger screen.
At this specific time of year, we're also hard at work finding you the best Cyber Week TV deals, with our deals hub sporting a category dedicated to 75-inch TVs and even larger sizes. Some of the sets below are going for tasty discounts at the moment, including a $400 price cut on the Samsung 75" Q60C 4K QLED TV and an astonishing $900 discount on the TCL 75" QM8 4K QLED TV.
Why trust us? We put each television we review through a series of instrument tests to measure different aspects of performance, like color accuracy, brightness, and more. We use the results as an objective measure to supplement our reviewers' subjective impressions of color, contrast and detail in the tests with real-world content. We then take the best of each screen size and put them into these guides.
Written by
My name's Nick and I look after our guides to the best TVs, best OLED TVs and best 4K TVs. Most of my day is spent watching and evaluating new screens from LG, Samsung, Sony, Hisense, TCL and Vizio. I have 10 years of experience in AV, and before I joined Tom's Guide I was formerly the Senior Editor, TV and AV at TechRadar. I love helping people find the perfect TV, so please feel free to reach out over email or tag me on Twitter and I can help you out. At the moment, you'll find me searching the interwebs for the best Cyber Week deals. In the realms of giant discounted TVs, these include a nice $350 saving on the LG 86" UR7800 4K LED TV and an amazing $750 discount on the LG 77" G3 OLED TV, which is in the conversation as the greatest TV of all time.
The quick list
Here's a quick overview of the best 75-inch TVs you can buy right now based on our testing and reviews. And keep up on scrolling if you want to see our in-depth analysis of all the top TVs for every budget.
Best OLED TV
Cyber Week deals
The astounding Samsung 77" S95C QD-OLED has been slashed for Cyber Week (especially in Britain). You can currently pick it up for a lovely discounted price at Amazon in both the States and the UK.


🇺🇸 Samsung 77" S95C QD-OLED 4K TV (US): $3,997 $3,597 @ Amazon
🇬🇧 Samsung 77" S95C QD-OLED 4K TV (UK): £4,399 £3,490 @ Amazon
Samsung has stolen the top spot from LG in 2023 with the Samsung S95C being the best 75(ish)-inch TV you can buy. It's the company's second shot at QD-OLED, the panel technology that promises a brighter OLED experience thanks to the addition of quantum dots. And though we had some reservations about Samsung's new TV category the first time around, the S95C has upgrades that really move the needle.
HDR brightness is where we found one of the biggest improvements between last year's model and this year's S95C. We tested a 30% improvement, from 1010 nits to nearly 1,370 nits in the same 10% in standard mode with HDR content. That's fantastic for an OLED TV.
For gamers, the S95C measured an excellent 9.2ms lag time, resulting in responsive gameplay across a variety of genres. Meanwhile, the S95C's new 144Hz refresh rate kicks in when connected to a gaming PC. Pair that refresh rate with AMD's FreeSync Premium Pro, and the S95C makes for one of the best gaming TVs.
Read our full Samsung S95C OLED review.
The best QLED TV
Cyber Week deals
The Samsung 75" QN90C has dropped in price for Cyber Week, by decent if not earth-shattering amounts.


🇺🇸 Samsung 75" QN90C Neo QLED 4K TV (US): $2,599 $2,399 @ Best Buy
🇬🇧 Samsung 75" QN90C Neo QLED 4K TV (UK): £2,799 £2,449 @ Amazon
When looking for a 75-inch TV that offers great performance without a super-steep price tag, the Samsung QN90C Neo QLED TV is the QLED TV king thanks to best-in-class brightness and impressive performance across most content genres.
Powered by Samsung's high octane Mini-LED panel, the QN90C promises excellent performance across the top genres. For those who aren't familiar, Mini-LED backlighting delivers high levels of brightness while maintaining realistic color and gradations of luminance. And though the QN90C Neo QLED isn't the most premium of all the 4K Samsung 2023 TVs, it's the one that you'll probably be most tempted to buy.
Its gorgeous 1-inch-thick design contains a huge array of smart features, potent Dolby Atmos sound and HDMI 2.1 connectivity for gamers that measured in at an impressive 9.8-millisecond lag time in our testing.
Read our full Samsung QN90C Neo QLED TV review or browse our Samsung promo codes
The best value TV
Cyber Week deals
The Roku 75" Plus Series QLED 4K TV is currently on sale for Cyber Week at Best Buy. Though as this is already a reasonably cheap set by 75-inch TV standards, the saving is nice, but not colossal.


➡️ Roku 75" Plus Series QLED 4K TV: $999 $799 @ Best Buy
The Roku Plus Series 4K QLED TV marks the streaming giant's first foray into sets after long focusing on software and set-top and plug-in devices — and the move is a successful one. In addition to delivering 75 inches of screen for just $999, these TVs also give you surprisingly good picture quality and sound, two things that are usually the first to go with budget sets.
That doesn't mean the Plus Series is going to supplant higher-end TVs. Its brightness leaves something to be desired, and the restrictions of a 60Hz panel and no HDMI 2.1 ports mean it has a distinctly last-gen feel to it. But if you want to get a good value screen, there's no question that the Roku Plus Series 4K QLED TV is one of the best TVs you can buy.
Read our full Roku Plus Series 4K QLED TV review.
The best TV for gaming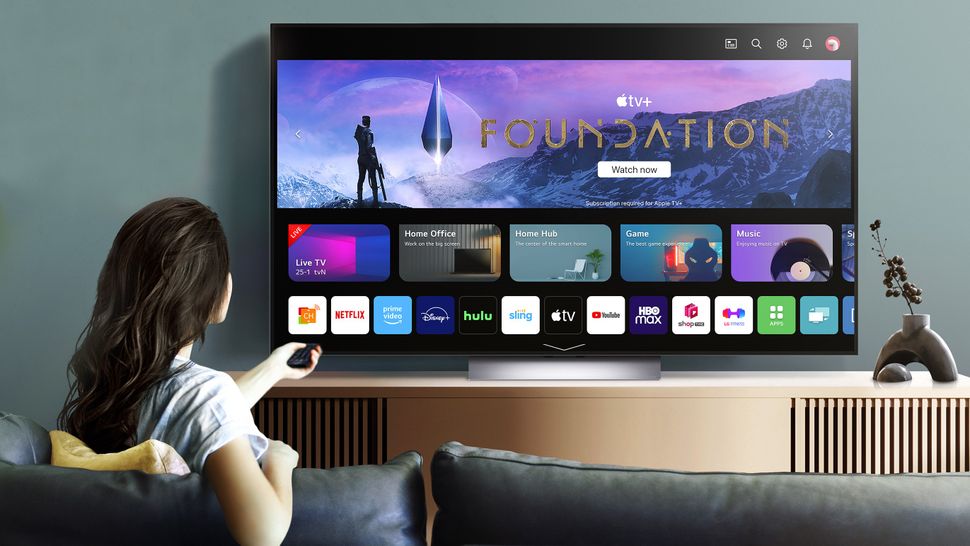 Cyber Week deals
The wonderful LG C3 77" OLED is the best non-Micro Lens Array OLED TV the South Korean firm makes. Currently, you can find it heavily discounted at Amazon either side of the Atlantic.


🇺🇸 LG C3 77" OLED 4K TV (US): $3,499 $2,196 @ Amazon
🇬🇧 LG C3 77" OLED 4K TV (UK): £2,999 £2,699 @ Amazon
The LG OLED evo C3 is loaded with features that make it ideal for watching — or playing — anything your heart desires. You can find TVs with better sound, but there aren't many out there that offer you this much and perform at this level for the same price.
For gamers, features like Variable Refresh Rate (VRR) and Auto Low Latency Mode (ALLM) as well as tweaks such as black and white stabilization, blue light reduction, Dark Room mode, and more offer the best experience. The C3 is rated as Nvidia G-Sync Compatible, and it supports AMD FreeSync Premium. You can even specify the genre of your game, and the C3 will apply settings designed to optimize its picture for it.
According to the Leo Bodnar 4K Lag Tester, which measures the time between when an image is sent from the source and when it appears on the screen, the C3 did quite well with a lag time of 12.9ms, just above our 10ms threshold for a great gaming experience. But when we activated the Boost function from the Game Optimizer, the time dropped even further to a stunning 9.1ms, putting it in direct competition for the best gaming TV you can buy.
Read our full LG C3 OLED review.
The best mid-range TV
Cyber Week deals
Hisense's 75-incher is well worth a look thanks to its full array local dimming features, which vastly improves black levels. You can currently pick it up at healthy discounts in the US.


🇺🇸 Hisense 75" U8K Mini-LED TV: $1,289 $1,949 @ Amazon
🇬🇧 Hisense 75" U8K Mini-LED TV: £1,599 £1,299 @ Best Buy
The Hisense U8K ULED is a boon to anyone who has issues with glare. Even in a room with lots of ambient lighting, colors with deep hues don't lose their saturation and the results are truly mesmerizing.
This TV goes toe-to-toe with the much more expensive Samsung QN90C and beats it in key categories like SDR brightness and color saturation. This is an almost David and Goliath type of tale with Hisense being the perennial underdog.
The only areas that the Hisense U8K didn't perform as strongly in were color accuracy (Delta-E) — which it scored the worst of all four TVs we tested — and input latency. The former means that colors, while vibrant, aren't going to look all that natural. The latter, however, isn't a huge deal as anything lower than 20 milliseconds is considered nearly imperceptible, but it does mean that serious gamers will be better served with one of the other TVs on our list.
Competitors like TCL and Samsung have shown that they can get high brightness from similarly specc'd TVs, but only Hisense has mastered the art of colorful pictures and high brightness at a reasonable price. If you're looking for a high-end TV without the high-end sticker price, the 77-inch U8K absolutely delivers the goods.
Read our full Hisense U8K Mini-LED Google TV review.
The best Mini-LED TV
Cyber Week deals
This large and in charge TV is perfect for PlayStation fans, as it boasts PS5 exclusive features when it detects a signal from Sony's console. Again, you can find delicious discounts on it during Cyber Week at time of writing.


🇺🇸 Sony Bravia "75 X95K Mini-LED TV (US): $2,798 $2,299 @ Amazon
🇬🇧 Sony Bravia "75 X95K Mini-LED TV (UK): £2,999 £2,699 @ Currys
The Sony Bravia X95K Mini LED TV, the brand's first set powered by Mini LED backlighting, is our top pick from the Sony 2022 TV lineup. It has the kind of HDR performance you crave on movie night, pairing the set's high luminance and targeted backlight control with plenty of nuance and practical vibrancy. Sony packages it up in a sleek build, complete with multiple stand configurations and a great remote.
In out-of-the-box standard mode, the Sony Bravia X95K Mini LED TV covered 99.89% of the Rec 709 color space, which is a nearly perfect reach to the average viewer with an LED TV. The X95K's best Delta E score came in at an excellent 1.88 in Filmmaker Mode, which isn't surprising as Sony has long emphasized preserving the filmmaker's intent in picture processing. Pretty on-brand for a TV manufacturer that's also a movie studio.
We still believe the LG C2 OLED and Samsung QN95B offer slightly better performance for the price, but it's easy to recommend this Sony to anyone shopping for a non-OLED 4K HDR TV with a Sony name attached to it.
Read our full Sony Bravia X95K Mini LED TV review.
TV benchmarks: comparison
Swipe to scroll horizontally
| | | | | |
| --- | --- | --- | --- | --- |
| TV | Peak Brightness (tested) | Delta-E (tested) | DCI-P3 Color Volume (tested) | Input Lag (tested) |
| Samsung S95C OLED | 1086.381 nits | 1.3184 | 108.03% | 9.2ms |
| Samsung QN90C QLED TV | 1987.344 nits | 2.2404 | 95.81% | 9.7ms |
| Roku Plus Series | 648.104 nits | 2.6011 | 95.8% | 11.5ms |
| LG C3 OLED | 824.950 nits | 1.3908 | 98.72% | 9.1ms |
| Hisense U8K ULED TV | 2004.59 nits | 4.4614 | 97.82% | 13.2ms |
| Sony Bravia X95K | 1400 nits | 1.8766 | 95.89% | 18.3ms |
Frequently asked questions
How do I find the best Cyber Week 75-inch TV deals?
We've scoured the internet to provide you with the best Cyber Week deals on some of the best 75-inch TVs (or bigger). With that said, the range of gigantic sets above won't be for everyone, whether that's because of budget constraints or other factors.
To help you find the right 75-inch TV for you, it's important to consider what you value most in a television. If it's pure picture quality and you have the cash to spare, OLED really is the best way to go... and it's not close. LED TVs get brighter, but when it comes to contrast, the infinite blacks of OLED tech means the images they output are simply superior.
The majority of modern TVs have functional smart features, and we'd be hesitant in picking a specific brand of television just because of its OS. Considering you can access pretty much every streaming service available through affordable streaming boxes, we wouldn't overly stress about the built-in smart features of a particular 75-inch television you're eyeing up.
Price is a far more important factor to consider when you're about to take advantage of a Cyber Week 75-inch TV deal. If money is no object, you should really be looking at the LG 77" LG G3 OLED on sale for $3,499 at Amazon. Its brightness-boosting Micro Lens Array panel is astonishing.
If you want to keep on top of the best TV deals, make sure you download The Camelizer — a Chrome extension that runs extensive historical price checks on Amazon products.
And the final point to ponder when you're about to take the plunge on a 75-inch TV? Well, there are actually a couple. If you're going to use a TV stand, do your research and make sure your television cabinet can support the weight of your titanic new screen. On the flip side, if you're looking to wall mount your new panel, ensure you buy a quality bracket and in no way try to do the deed on your lonesome — mounting a large TV on a wall is a two person job... minimum.
Follow all of the advice above, and we're confident you'll find exactly the right Cyber Week deal on the 75-inch TV of your dreams.
How do I choose the best 75-inch TV for me?
Knowing what size you want helps in selecting a great TV, but not all 75-inch TVs are the same. Here are some of the other factors to consider when picking the best 75-inch TV for your home.
Size: First, decide if you're locked into an 75-inch model. You'll find more options in 65-inch models and often better values, or you can go bigger with an 85-inch TV.
And remember to fit the TV to the room it's in. For an 75-inch 4K TV, you'll be dealing with a TV that measures at least 65 inches across, and you'll want to be sitting more than 6 feet from the set to get a good viewing experience. (Learn more in our article What size TV should you buy?)
Price: Big screens usually mean big prices, so know your budget, and recognize that you may need to spend a little more to get a better TV. The most affordable 75-inch TVs range between $800 and $1,200, but the majority will be more expensive, between $2,000 and $4,000 for the most premium models. The differences in price may impact other features and the performance of the TV, but you still want to get the best TV for your money. If your budget is strict but you can't settle for performance niggles, consider an older premium TV. You can usually get great deals on them.
Display: There are several different types of display offered on today's TVs, from the most basic LCD panels to QLED panels of various degrees of refinement, and (the best option) OLED. The better the panel, the more expensive the TV, but you definitely want something that delivers a wide color gamut, high color accuracy and strong brightness. Our reviews detail the individual performance of each set, including the results of lab testing those key qualities.
HDR support: If you want the most colors, get one of the HDR sets with Dolby Vision compatibility above. This technology is able to deliver more colors, more contrast levels and increased brightness. It could make a set a bit more costly, but it guarantees you'll still be satisfied with TV as the Dolby Vision format seems to be gaining momentum.
Ports: Another thing to consider is port offerings. Some of the sets above sport 3 HDMI ports, while some have 4. In general, more ports is better, especially if you have a collection of input devices like soundbars or game consoles.
Smart features: All of the TVs on this list are smart TVs, but different brands and smart TV software will have a different ecosystem of apps to choose from and offer a different collection of smart features, like voice interaction and smart home compatibility. Check out our individual reviews to see a discussion of what each TV brings to the table in terms of features and smart capabilities.
How we test the best 75-inch TVs
How we test the best 75-inch TVs
When it comes to evaluating TVs, we're serious about getting it right. That's why every TV we review is put through a rigorous testing process that measures key standards of picture quality and performance.
Our lab tests involve testing for color accuracy and color gamut using an X-Rite i1 Pro spectrophotometer, an AccuPel DVG-5000 video test pattern generator and SpectraCal CalMAN Ultimate calibration software. These tools are relied on by professional calibrators throughout the industry, and we've paired them with custom workflows to gather the information needed for our reviews. These measurements are taken first in standard mode to simulate the average watching experience, and then taken again in other display modes to find the top color and brightness performance offered by each set.
Our testing measures contrast and maximum brightness, as well as lag time. Using a Leo Bodnar Video Signal Input Lag Tester to test video signal delay, we time how long it takes for content to travel from the original video source to the screen, measured to the millisecond. Shorter response times equate with faster gaming performance, letting us objectively know which TVs are better for gaming.
We use all of these objective test results to make comparisons about quality and performance between different TVs, but our evaluation doesn't end there. We also spend hours with each set, watching shows and movies, and using carefully selected video samples to highlight the strengths and weaknesses of each set and help us tell you which TVs look and sound the best in a real home viewing environment.
And there's more to today's TVs than just viewing, so we also check out the smart TV functions and evaluate everything from the interface to the remote control design. This lets our reviews speak to the technical capabilities of today's smart TVs and how they fit into your connected home.
How far should I sit from a 75-inch 4K TV?
For optimal viewing, we recommend sitting around 8 to 9 feet away. You can sit further back if you have the luxury of a larger room but you might start to miss out on the extra detail that a good 4K TV pulls out.
You can read more in-depth details in our article What screen size should you buy .
---
Check out our favorites and top picks for the best TVs in every style, size and price range.
Best TVs | Best 4K TVs | Best smart TVs for streaming | Best TVs for gaming
The best TVs under $1000 | The best TVs under $500
Best TV brands | Best Samsung TVs | Best TCL TVs | Best LG TVs | Best Roku TVs | Best OLED TVs | Best QLED TVs | Best 8K TVs | Best HDMI 2.1 TV | Best TVs with ATSC 3.0 | Best TVs with Chromecast
The smallest smart TVs | Best 43-inch TVs | Best 50-inch TVs | Best 55-inch TVs | Best 65-inch TVs | Best 70-inch TVs | Best 75-inch TVs | Best 85-inch TVs
And don't forget to watch out for the latest TV reviews.