Best 75-inch TV: Quick Menu
1. The list in brief
2. Best OLED TV
3. Best QLED TV
4. Best value TV
5. Best gaming TV
6. Best mid-range TV
7. Best Sony TV
8. How to choose
9. How we test
The best 75-inch TVs are a big step up in both size and immersion, and can turn your home living room into a full-on cinema experience.
What makes 75-inch TVs the size to beat? Well, not only are they big, but they typically offer better processors for the best possible smart TV experience and, at higher 4K resolutions, there's more detail in those pictures, too.
The 75-inch class actually includes 75- and 77-inch models, with everything from LCD to QLED and OLED technology available. The good news is that many of our favorite 4K smart TVs from the best TV brands come in the 75-inch size, and deliver everything we love about those top models, but with a larger screen.
Why trust us? We put each television we review through a series of instrument tests to measure different aspects of performance, like color accuracy, brightness, and more. We use the results as an objective measure to supplement our reviewers' subjective impressions of color, contrast and detail in the tests with real-world content. We then take the best of each screen size and put them into these guides.
Written by
My name's Nick and I look after our guides to the best TVs, best OLED TVs and best 4K TVs. Most of my day is spent watching and evaluating new screens from LG, Samsung, Sony, Hisense, TCL and Vizio. I have 10 years of experience in AV, and before I joined Tom's Guide I was formerly the Senior Editor, TV and AV at TechRadar. I love helping people find the perfect TV, so please feel free to reach out over email or tag me on Twitter and I can help you out.
The quick list
Here's a quick overview of the best 75-inch TVs you can buy right now based on our testing and reviews. And keep up on scrolling if you want to see our in-depth analysis of all the top TVs for every budget.
The full list: Best 75-inch TVs in detail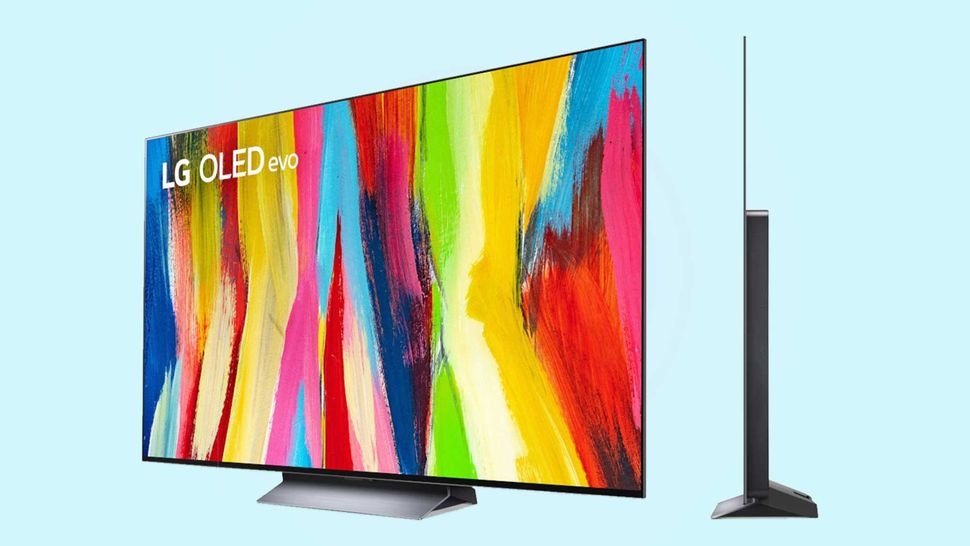 The LG C2 OLED TV is this year's set to beat. Not only is it the best OLED TV thanks to an impressive display panel, but a premium design, maximum versatility and great smart TV platform hit all the high marks, too.
What's more, this C series lineup is LG's largest in terms of size options — the configurations span from 42- to 83-inches, all of which sport full arrays of HDMI 2.1 ports. Most also feature LG's evo OLED panel, which was first introduced on the LG G1 OLED TV and now looks to upgrade the C2's performance.
We can't say our test results for this LG C2 OLED TV review showed significant improvement, but to be fair, there wasn't much room to improve. Instead, what makes this one of the best TVs of the year is that it offers fantastic picture quality for the price — exactly what you'd expect from LG's best-selling OLED TV series.
Read our full LG C2 OLED review.
The best QLED TV
As far as 75-inch TVs are concerned, the Samsung QN95B Neo QLED TV is the QLED TV king thanks to best-in-class brightness and impressive performance across most content genres.
At a time when OLED TVs steal most of the hype, Samsung's premium Neo QLED technology stands out in one big way: brightness. By introducing a Mini LED backlighting, the panel can achieve higher levels of brightness without sacrificing depth and gradations of luminance. Samsung pairs that image quality with a bounty of smart TV functions and genuinely intelligent features, like a solar-powered remote control that eliminates the need to swap out batteries — delivering eco-friendly design and unbeaten convenience at the same time.
Its gorgeous 1-inch-thick design contains a huge array of smart features, potent Dolby Atmos sound and HDMI 2.1 connectivity for gamers that measured in at an impressive 9.8-millisecond lag time in our testing.
Read our full Samsung QN95B Neo QLED TV review or browse our Samsung promo codes
The best value TV
The Roku Plus Series 4K QLED TV marks the streaming giant's first foray into sets after long focusing on software and set-top and plug-in devices — and the move is a successful one. In addition to delivering 75 inches of screen for just $999, these TVs also give you surprisingly good picture quality and sound, two things that are usually the first to go with budget sets.
That doesn't mean the Plus Series is going to supplant higher-end TVs. Its brightness leaves something to be desired, and the restrictions of a 60Hz panel and no HDMI 2.1 ports mean it has a distinctly last-gen feel to it. But if you want to get a good value screen, there's no question that the Roku Plus Series 4K QLED TV is one of the best TVs you can buy.
Read our full Roku Plus Series 4K QLED TV review.
The best TV for gaming
The Hisense U7H is a killer option in this price range — which is exactly what we'd expect from Hisense at this point. It doesn't necessarily beat all the competition, like the TCL 6-Series, in all situations, but as a package deal it's a seriously strong contender — and ultimately, worth buying. The Hisense U7H may not have Mini LED backlighting, but it does offer a QLED panel, and the ever-improving Google TV operating system. And, for the most part, it succeeds in delivering an impressive low-cost QLED TV-watching experience, but there are a few caveats to keep in mind.
It's great for gamers. The fact that it has two HDMI 2.1 ports seems to confirm this, however note that it isn't the lowest when it comes to input lag. Generally, it's considered that a TV with less than 15ms of input lag is good enough for the majority of gaming situations, and the Hisense U7H just breezed under that at 14.6ms. Other gaming-focused features include VRR, ALLM, and Dolby Vision Gaming.
All this to say, the Hisense U7H is a killer TV in its price range. In specific metric, it can get beaten, but as a package, it's much harder to beat. The real competition comes from Hisense's other TVs — the Hisense U8H, which has a demonstrably better image, and the Hisense U6H, which is, of course, cheaper.
Read our full Hisense U7H review.
The best mid-range TV
The big-screened TCL 6-Series Roku TV (75R655) offers enormous value for it's affordable price, giving you a premium 75-inch picture and a great smart TV experience for much less than the competition. Just like the more expensive Samsung Neo QLED, our testing found the R655 delivers amazing quality with mini-LED backlighting in addition to QLED. The result is impressive color and brightness, with some of the best HDR performance we've seen on anything this side of an OLED display.
But TCL keeps delivering more, like THX Certified Game Mode, which makes the 6-Series one of the best gaming TVs available, even for new consoles like the PS5 and the Xbox Series X. From the design's smart touches, like cable management in the stand, to the always-solid Roku TV platform, the TCL 6-Series 75R655 is a great alternative to more expensive QLED TVs from Samsung.
Read our full TCL 6-Series Roku TV (R635) review.
The best Sony TV
The Sony Bravia X95K Mini LED TV, the brand's first set powered by Mini LED backlighting, is our top pick from the Sony 2022 TV lineup. It has the kind of HDR performance you crave on movie night, pairing the set's high luminance and targeted backlight control with plenty of nuance and practical vibrancy. Sony packages it up in a sleek build, complete with multiple stand configurations and a great remote.
In out-of-the-box standard mode, the Sony Bravia X95K Mini LED TV covered 99.89% of the Rec 709 color space, which is a nearly perfect reach to the average viewer with an LED TV. The X95K's best Delta E score came in at an excellent 1.88 in Filmmaker Mode, which isn't surprising as Sony has long emphasized preserving the filmmaker's intent in picture processing. Pretty on-brand for a TV manufacturer that's also a movie studio.
We still believe the LG C2 OLED and Samsung QN95B offer slightly better performance for the price, but it's easy to recommend this Sony to anyone shopping for a non-OLED 4K HDR TV with a Sony name attached to it.
Read our full Sony Bravia X95K Mini LED TV review.
How to choose the best 75-inch TV for you
How to choose the best 75-inch TV for you
Knowing what size you want helps in selecting a great TV, but not all 75-inch TVs are the same. Here are some of the other factors to consider when picking the best 75-inch TV for your home.
Size: First, decide if you're locked into an 75-inch model. You'll find more options in 65-inch models and often better values, or you can go bigger with an 85-inch TV.
And remember to fit the TV to the room it's in. For an 75-inch 4K TV, you'll be dealing with a TV that measures at least 65 inches across, and you'll want to be sitting more than 6 feet from the set to get a good viewing experience. (Learn more in our article What size TV should you buy?)
Price: Big screens usually mean big prices, so know your budget, and recognize that you may need to spend a little more to get a better TV. The most affordable 75-inch TVs range between $800 and $1,200, but the majority will be more expensive, between $2,000 and $4,000 for the most premium models. The differences in price may impact other features and the performance of the TV, but you still want to get the best TV for your money. If your budget is strict but you can't settle for performance niggles, consider an older premium TV. You can usually get great deals on them.
Display: There are several different types of display offered on today's TVs, from the most basic LCD panels to QLED panels of various degrees of refinement, and (the best option) OLED. The better the panel, the more expensive the TV, but you definitely want something that delivers a wide color gamut, high color accuracy and strong brightness. Our reviews detail the individual performance of each set, including the results of lab testing those key qualities.
HDR support: If you want the most colors, get one of the HDR sets with Dolby Vision compatibility above. This technology is able to deliver more colors, more contrast levels and increased brightness. It could make a set a bit more costly, but it guarantees you'll still be satisfied with TV as the Dolby Vision format seems to be gaining momentum.
Ports: Another thing to consider is port offerings. Some of the sets above sport 3 HDMI ports, while some have 4. In general, more ports is better, especially if you have a collection of input devices like soundbars or game consoles.
Smart features: All of the TVs on this list are smart TVs, but different brands and smart TV software will have a different ecosystem of apps to choose from and offer a different collection of smart features, like voice interaction and smart home compatibility. Check out our individual reviews to see a discussion of what each TV brings to the table in terms of features and smart capabilities.
How we test the best 75-inch TVs
How we test the best 75-inch TVs
When it comes to evaluating TVs, we're serious about getting it right. That's why every TV we review is put through a rigorous testing process that measures key standards of picture quality and performance.
Our lab tests involve testing for color accuracy and color gamut using an X-Rite i1 Pro spectrophotometer, an AccuPel DVG-5000 video test pattern generator and SpectraCal CalMAN Ultimate calibration software. These tools are relied on by professional calibrators throughout the industry, and we've paired them with custom workflows to gather the information needed for our reviews. These measurements are taken first in standard mode to simulate the average watching experience, and then taken again in other display modes to find the top color and brightness performance offered by each set.
Our testing measures contrast and maximum brightness, as well as lag time. Using a Leo Bodnar Video Signal Input Lag Tester to test video signal delay, we time how long it takes for content to travel from the original video source to the screen, measured to the millisecond. Shorter response times equate with faster gaming performance, letting us objectively know which TVs are better for gaming.
We use all of these objective test results to make comparisons about quality and performance between different TVs, but our evaluation doesn't end there. We also spend hours with each set, watching shows and movies, and using carefully selected video samples to highlight the strengths and weaknesses of each set and help us tell you which TVs look and sound the best in a real home viewing environment.
And there's more to today's TVs than just viewing, so we also check out the smart TV functions and evaluate everything from the interface to the remote control design. This lets our reviews speak to the technical capabilities of today's smart TVs and how they fit into your connected home.
How far should I sit from a 75-inch 4K TV?
For optimal viewing, we recommend sitting around 8 to 9 feet away. You can sit further back if you have the luxury of a larger room but you might start to miss out on the extra detail that a good 4K TV pulls out.
You can read more in-depth details in our article What screen size should you buy .
---
Check out our favorites and top picks for the best TVs in every style, size and price range.
Best TVs | Best 4K TVs | Best smart TVs for streaming | Best TVs for gaming
The best TVs under $1000 | The best TVs under $500
Best TV brands | Best Samsung TVs | Best TCL TVs | Best LG TVs | Best Roku TVs | Best OLED TVs | Best QLED TVs | Best 8K TVs | Best HDMI 2.1 TV | Best TVs with ATSC 3.0 | Best TVs with Chromecast
The smallest smart TVs | Best 43-inch TVs | Best 50-inch TVs | Best 55-inch TVs | Best 65-inch TVs | Best 70-inch TVs | Best 75-inch TVs | Best 85-inch TVs
And don't forget to watch out for the latest TV reviews.