The best gaming TVs deliver the best performance for the Xbox Series X, PS5 and PC. While these TVs aren't designed exclusively for gamers, they've got the greatest and latest in TV tech so that they can make your favorite games look their best.
Regardless of which console you're playing or if you plan on hooking your gaming TV up to a custom-built gaming PC, you're going to want one that has low latency, a high native refresh rate of 120Hz and crisp 4K resolution. You'll also want to be able to check out the settings on the fly to make adjustments and you don't want it to cost so much money that there's no room in the budget to buy more games.
Ready to find a next-gen TV for your next-gen console or PC? These are the best gaming TVs for PS5, Xbox Series X and more.
The best gaming TVs you can buy today
With the Samsung QN95B Neo QLED TV, Samsung once again proves why it's the QLED TV king. Thanks to best-in-class brightness, cable management convenience and impressive performance across most content genres, the QN95B is a tough TV to beat.
At a time when OLED TVs steal most of the hype, Samsung's premium Neo QLED technology stands out in one big way: brightness. By introducing a Mini LED backlighting, the panel can achieve higher levels of brightness without sacrificing depth and gradations of luminance. Samsung pairs that image quality with a bounty of smart TV functions and genuinely intelligent features, like a solar-powered remote control that eliminates the need to swap out batteries — delivering eco-friendly design and unbeaten convenience at the same time.
Finally, when it comes to lag times, the Samsung QN95B Neo QLED TV proved a great choice for gamers, measuring a fantastic lag time of just 9.8 milliseconds. The Samsung S95B OLED TV scored a slightly lower 9.2 milliseconds, while the LG C2 OLED scored 12.9 milliseconds. If you're looking to leverage the next-gen graphics of the PS5 and Xbox Series X consoles, you'll appreciate the inclusion of variable refresh rate and auto low latency mode.
Read our full Samsung QN95B Neo QLED TV review or browse our Samsung promo codes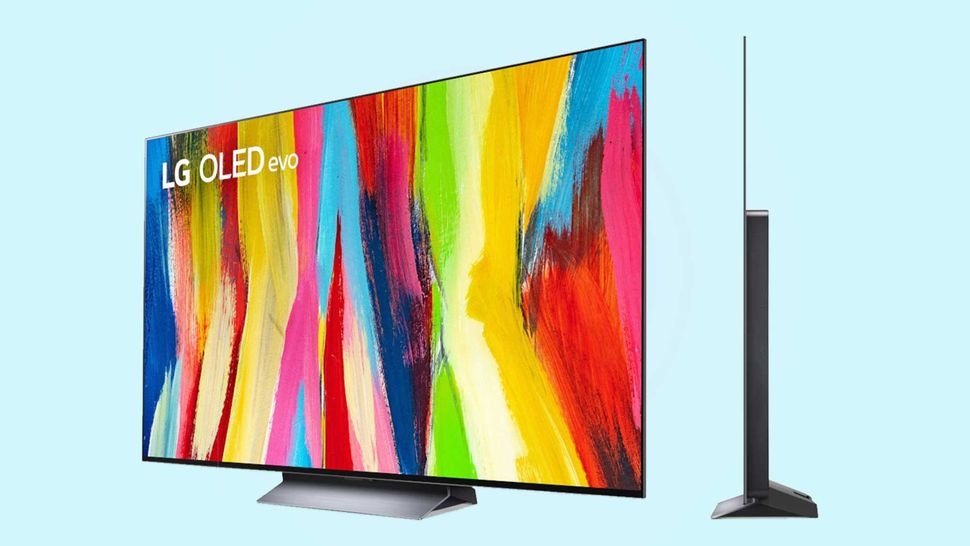 The LG C2 OLED TV is this year's set to beat. Not only is it the best OLED TV thanks to an impressive display panel, but a premium design, maximum versatility and great smart TV platform hit all the high marks, too.
What's more, this C series lineup is LG's largest in terms of size options — the configurations span from 42- to 83-inches, all of which sport full arrays of HDMI 2.1 ports. Most also feature LG's evo OLED panel, which was first introduced on the LG G1 OLED TV and now looks to upgrade the C2's performance.
We can't say our test results for this LG C2 OLED TV review showed significant improvement, but to be fair, there wasn't much room to improve. Instead, what makes this one of the best TVs of the year is that it offers fantastic picture quality for the price — exactly what you'd expect from LG's best-selling OLED TV series.
Read our full LG C2 OLED review.
By any standard, the Sony Bravia XR A95K OLED is a remarkable TV — and often, it's far better than that. This set, which sits at the top of Sony's expansive TV lineup, unites the industry's defining technologies and Sony's own groundbreaking processing and picture enhancements to deliver superlative performance in every area. And our own test results back this up.
The color and brightness on the Bravia XR A95K are dazzling. Unexpected but genuinely useful smart features transform everything from how you interact with the screen, how you make picture adjustments, and even what you do if you lose your remote control. Perhaps most important, this Sony OLED TV looks and sounds like a dream, no matter what you watch on it, making everything a transcendent viewing and listening experience.
So why isn't it higher on our list? Its time of 16.2ms (as measured with a Leo Bodnar lag tester) is quite good, firmly below our 20ms threshold for a satisfying gaming experience. But we'd hope that a top-of-the-line Sony like this one could get the time down to (or maybe even below?) our 10ms threshold of excellence, as is now the rule rather than the exception with Samsung's newest sets.
Read our full Sony Bravia XR A95K review.
Like our top pick, the LG C2 OLED, the C3 OLED looks like a winner and comes with everything you'd want from a TV serving as your home entertainment centerpiece: perfect blacks, thrilling contrast, and rich, accurate colors at every point across the visual spectrum.
In terms of gaming specific features, the LG C3 OLED supports features like Variable Refresh Rate (VRR) and Auto Low Latency Mode (ALLM), plus Nvidia G-Sync and AMD FreeSync Premium if you like to game with your PC in the living room.
Its best feature? When we activated the Boost function from the Game Optimizer, the time dropped even further to a stunning 9.1ms. That's about as good as we've ever seen from a TV before.
So why doesn't it claim the top spot? It's not a marked improvement in terms of performance compared to last year's LG C2 OLED, and other TVs out there might provide an even more scintillating viewing experience depending on what you most care about from your picture.
Read our full LG OLED C3 review.
If you want one of the best gaming TVs on the market, the TCL 6-Series Roku TV (R655) is the best value, hands down. While all modern TVs have a low-latency game mode, the TCL 6-Series R655 has THX Certified Game Mode, which not only strips out the extra video processing that would slow down the response time for the player, it also meets a bunch of other criteria for high-quality images. These stringent requirements look at everything from color quality and refresh rates to rise time, which measures how quickly the TV can handle dark-to-light transitions, essential for fast-paced games.
The 6-Series also supports all of the gaming-oriented features of HDMI 2.1 connectivity, like Auto-Low Latency Mode (ALLM), which switches to game mode as soon as the console is turned on, and Variable Refresh Rate (VRR), which matches the screen to the frame-by-frame output coming from the TV, synchronizing the two for judder-free gaming. All that feature support makes it ideal for handling the 4K, high-frame-rate gaming offered by the likes of the PS5 and Xbox Series X.
Read our full TCL 6-Series Roku TV (R655) review.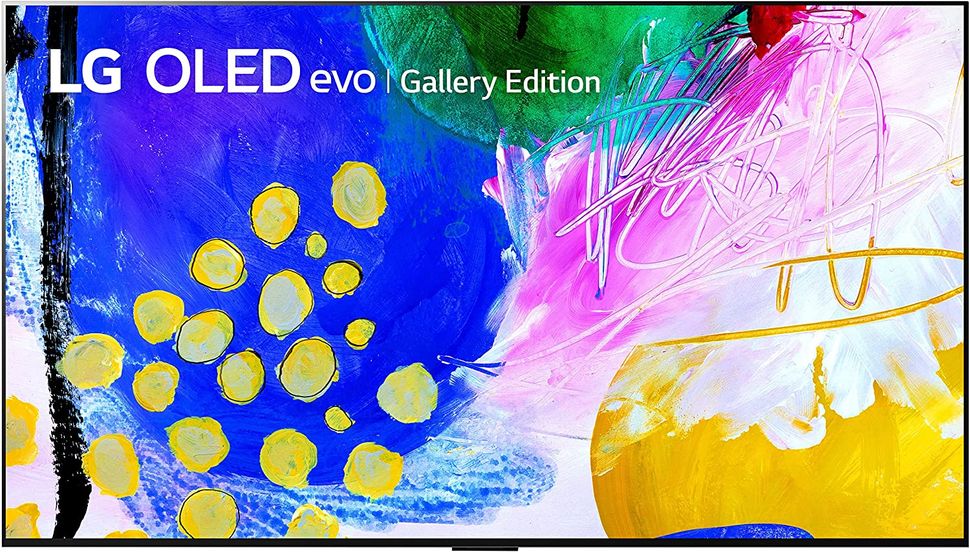 The 2022 version of LG's premium G-series OLED TVs is here — and it's brilliant. The LG G2 OLED improves upon last year's OLEDs in almost every regard to up the game when it comes to the screen tech. Brightness has been a long-time OLED shortcoming, but in our testing we found that the LG G2 reached 590.54 nits. And brightness is just one aspect of its performance that impressed us, with color accuracy, color gamut and lag times all faring well in our testing. And of course you get the deep blacks we've come to expect from OLED.
For gamers, the LG G2 OLED TV's port selection includes four HDMI 2.1 ports, which is expected for LG's OLED TVs at this point but not for all the best TV brands. HDMI 2.1 supports frame rates up to 120 Hz with 4K video, plus an enhanced audio return channel (eARC on HDMI 2). Gaming benefits from HDMI 2.1, too – it's what makes settings like variable refresh rate and auto low latency mode possible. If you're looking to leverage the next-gen graphics of the PS5 and Xbox Series X consoles, you'll want to use these features. The LG G2 supports NVIDIA G-sync, NVIDIA GeForce Now, Google Stadia cloud gaming and AMD FreeSync, too.
So why is it down here? When it comes to lag times, the Gallery Series remains a top option for gaming thanks to its auto low latency mode — it measured a lag time of just 13.1 milliseconds — however the LG C1 has a better score (12.6 milliseconds), making that a stronger gaming TV recommendation.
Read our full LG G2 OLED TV review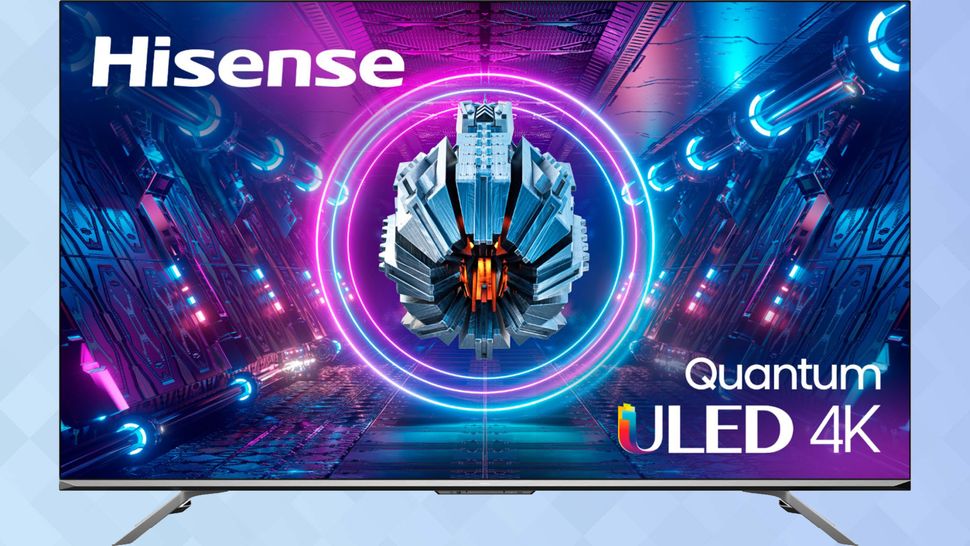 The Hisense U7G Android TV is being marketed as a TV built for gaming, and the specs make it easy to see why: The Quantum Dot display boasts good color and sharp images, the panel's 120Hz refresh rate will handle the most demanding game console output, and a pair of HDMI 2.1 ports offer the best connectivity you can get for high-frame rate gaming.
The good news is that any TV that's good for gamers will usually do pretty well at everything else. Handling both Dolby Vision and HDR10 Plus formats, it's got some of the best HDR support available, and Dolby Atmos sound means it has the audio to match. It impressed us in our testing, and it's more affordable than you'd expect given the feature set. Gamer or not, the Hisense U7G Android TV is a solid 4K smart TV.
Read our full Hisense U7G Android TV review.
How to choose the best gaming TV for you
When it comes to picking the best 4K gaming TV, there are several factors to consider. While the advice in articles like Everything you need to know about buying a TV offer a one-size fits all approach for most TV shoppers, there are some factors that gamers need to consider differently.
Refresh rate: You'll want to check the TV's frame rate, often listed as the refresh rate. Most current TVs will offer a 60Hz refresh rate, which means that the TV refreshes the picture 60 times per second. Given that most current consoles and games top out at 60 frames per second, this is an ideal match. However, the latest systems demand better, with the next-gen PS5 and Xbox Series X consoles offering frame rates up to 120Hz. If you want a TV that will handle next gen gaming, you'll need something that supports 120Hz, as well. However, do bear in mind that not everything you read about refresh rates is true — so check out our TV refresh rates: How to see through the TV industry's biggest lie article for more info.
Lag time: The other major aspect of a good gaming TV is lag time, which encompasses the interval between an image or button press registering on the console and the resulting change displaying on screen. Measured in milliseconds, we recommend sticking to less than 30 millisecond lag times for any gaming, but more competitive gamers will want to find sets with lag times shorter than 20 milliseconds for the best performance.
Screen size: Size is another element to consider. A larger TV will fill your field of vision, making for a more immersive gaming experience. Just don't go too big; you want to be able to clearly see everything on the screen. Our guide answers the old question: What size TV do I need?
Design: One additional point to consider is the physical design of the TV. The thinner the set's bezels, the more immersive gaming and picture will be. Port placement will also be a significant factor is you need to disconnect your game system with any regularity - some TVs have easily accessible connections, but others do not, and your own setup will vary depending upon whether or not you choose to wall-mount your TV.
Smart features: Don't skimp on smart features if you plan to use your new TV outside of gaming. Smart TVs let you use your favorite apps and streaming services, mirror content from your phone or tablet, and provide a blend of online and over-the-air options for cord-cutters.
Price: Budgets play a pretty important role in people's decision making, which is why we include TVs that will support gaming for less than $500. These affordable options prove that you can get a great TV for 4K gaming without spending more than you paid for the console itself. Save a few bucks and go buy the game you really want to enjoy.
How we test the best gaming TVs
We put every TV we review through a series of benchmark tests to measure different aspects of performance, like color accuracy, brightness, lag times and more. We use the results to supplement anecdotal impressions gathered through hours of hands-on evaluation, which includes everything from watching movie clips and streaming Netflix to gaming with the latest console and games.
To test actual gaming capability, we spend time using every TV with an Xbox One X, playing current titles and checking the compatibility of features on each TV. Where it makes sense to do so, we'll also adjust the TV settings to enable all of the features the console offers. In most cases, this doesn't require anything more than switching to the TV's game mode, but in some instances, we'll also need to adjust the TV's input settings to allow the full range of features to be supported, such as higher frame rates and HDR gaming capability.
When evaluating how well-suited a TV is for 4K gaming, we take a fresh look at specific test results, namely refresh rate and lag time, which both play into how well a set will display fast-paced games and handle the responsiveness they require. This is on top of our usual observations about image detail, color quality, brightness and features.
What you need to get your game on
Once you pick one of the best 4K gaming TVs above and your choice of gaming platform, you'll need to get a few details straightened out before you can enjoy high-resolution gaming.
Swipe to scroll horizontally
| Console | HDMI Standard | Resolution and refresh rate |
| --- | --- | --- |
| PS5, Xbox Series X | HDMI 2.1 | 4K @ 120Hz or 8K @ 60Hz |
| PS4 Pro, Xbox One X, Xbox One S | HDMI 2.0 | 4k @ 60Hz |
| Nintendo Switch, PS4, Xbox One | HDMI 1.4 | 1080p and 720p |
You'll also need to check your settings. On the console, enable 4K and HDR content. On the TV, you'll want to check that HDR content is accepted from external devices. For optimal color support, you'll also want to enable higher bit-rates. The specifics will vary from one TV to the next, but most manufacturers have instructions online for getting set up with a console.
Some TVs will have a special gaming mode, which will either need to be manually selected or will automatically switch on when the TV recognizes a gaming source, usually in more premium TVs. This mode will usually offer the lowest input lag, have tailored motion processing settings and will often give the color settings a boost too.
Best gaming TV for PS5 and Xbox Series X
Now that the PS5 and Xbox Series X are here, it's clear that the new gaming systems have capabilities that demand more from TVs. From new connectivity standards to extremely high resolutions, even the best 4K TVs for gaming might come up short when you bring home one of the latest gaming consoles. (That's assuming you got lucky with a PS5 restock or Xbox Series X restock, of course.)
Support for 4K gaming is already significant, and it'll be a growing consideration for manufacturers. Back in 2020, Sony launched its first "Ready-for-PS5" TVs for gaming, and that range has continued to grow. Budget TV brand TCL also announced it was launching the first TV with THX-certified game mode in the same year, and that's still a TV we recommend today, the TCL 6-Series Roku TV (R635).
If you're in the market for a TV to go with one of the newest consoles, there are three key features you'll want to take into account: connectivity, frame rates and resolution.
Resolution: Both the PS5 and Xbox Series X will eventually be able to handle much higher resolutions, with the promise of games playable at 8K Ultra HD or 7680 × 4320 pixels in a future update. While we don't recommend jumping to 8K just yet – and neither console offers 8K support at this time – there's a case to be made for gamers who want to embrace the new higher resolution experience.
Frame rates: Both consoles offer 4K gaming at 120 Hz, doubling or even quadrupling the current frame rates you can get and producing smooth, judder-free gameplay as a result.
Connectivity: To handle the new 8K and high refresh rates offered by the new consoles, both the Xbox Series X and the PS5 use the HDMI 2.1 standard. Since some current TVs still don't support 2.1 connectivity, you'll need to either upgrade your TV and cables, or accept the reduced resolution and frame rates offered over the older 2.0 standard. (Check out the best HDMI 2.1 TVs for every TV we've reviewed that has the faster connection.)
Best gaming TV for Nintendo Switch
The Nintendo Switch does double duty as both a mobile device for gaming on the go as well as a game console that connects to your TV. We love the Switch — our Nintendo Switch review says that it's "a fantastic console for all kinds of gamers" and our Nintendo Switch OLED review is every bit as positive.
But it does have one downside, with the Switch Dock outputting only 1080p resolution to TVs. At a time when 4K gaming is not only possible, but becoming standard on other consoles, it's a bit disappointing to still be gaming like it's 2006. (And current speculation suggest that the rumored Nintendo Switch Pro with 4K may never arrive.) Those more powerful consoles aren't remotely portable, and the Switch offers a great gaming experience whether you're on the subway or on your living room couch.
Does that mean you should pick up a TV with full HD resolution to use with your Switch? Not necessarily. You can pick up some full HD TVs for dirt cheap – we have some full HD TVs you can get for less than $200, but we don't recommend going that route. That may be sufficient for gaming on your Switch, but everything else you want to watch will also be stuck using the lower resolution, and 4K is affordable enough that you should definitely go with a 4K smart TV.
Best gaming TV for PS4 Pro and PS5
The PS4 Pro was the first console from Sony that could game at 4K resolution, with the PS5 following it in 2020. If you have either console, that's reason enough to pick up a 4K TV if you haven't already. The original PlayStation 4 topped out at 1080p, with 4K playback reserved exclusively for photos and videos, not games. Thanks to improved hardware and streamlined rendering, you can enjoy some of the best PS5 games to play in 2022, in glorious 4K.
That said, not all games support 4K so it is worth checking before buying. That doesn't mean that 4K is a waste of time, though, since most current games will offer something better than 1080p, and upscale the results for 4K displays. If you want the best-looking version of a game, the PS4 Pro and PS5 can deliver it.
They also offer support for high dynamic range (HDR) content, which lets games and other media take advantage of the better brightness, color gamut and contrast that new panels can offer. Thanks to this new standard, images offer richer depth and color in games that support it. Although few games at present offer HDR support, the new standard is gaining ground, and more games will include it going forward. Keep an eye out for games that are described as "Enhanced," which indicates that a game offers both 4K and HDR support.

Best gaming TVs for Xbox One X and Xbox One S
Microsoft's Xbox One was a great console already, but with the release of the Xbox One S and the Xbox One X, you can finally go beyond 1080p. The Xbox One S is an evolutionary step forward from the original Xbox One with both 4K and HDR support, but it uses upscaling to present games at their best on ultra-HD TVs.
The Xbox One X, on the other hand, offers native 4K support, meaning that the games are actually rendered at the higher resolution instead of simply being upscaled for the higher-resolution display. In either case, your games will look far better than they did on a 1080p HDTV.
However, you'll want to pay attention to frame rates and how they match up to the refresh rates of the TV you're considering. Most games that can hit 4K resolution will do so at 30 or 60fps, but a growing number can go to 120fps. Check out the best Xbox X games of 2022 for some inpsiration.
The Xbox One X also has Dolby Vision support, offering best-in-class HDR support for the console. While Xbox games aren't yet offering Dolby Vision-based gaming, the console will support the enhanced HDR standard for apps and streaming content, including 4K movies on Netflix and other streaming services.
For those that deliver the full triple threat of 4K resolution, HDR support and 60 fps, you'll want a 4K TV that can do the same. Thankfully, there's no need to shell out extra for the 120Hz premium displays of our top models unless you want that for your non-gaming enjoyment.
Best gaming TV for PC gaming
Even in the PC world, gaming in full 8K resolution is still a rarified experience, reserved for the best gaming PCs out there. The reason is simple: Most hardware can deliver either high frame rates or 4K resolution, but going 8K is still an impressive feat. The latest Nvidia 30-series cards can handle gaming in 4K and even 8K, as can current AMD Radeon RX 5000 and 6000 cards. But these cards can't sustain 8K play for long periods, and the dearth of 8K-enabled games makes it a tough sell, even when you have the gear to do it.
If you're really cooking with these latest cards, or older cards in an SLI or Crossfire configuration, then you'll want a good 4K TV that can show off the eye candy you paid so much for. In that case, you'll need a TV with a higher refresh rate, and that means stepping up to a 120Hz panel.
---
If you've narrowed down your TV shopping by brand, price range or screen size, check out our picks for the best TVs in each.
Best TVs | Best 4K TVs | Best smart TVs for streaming | Best TVs for gaming
The best TVs under $1000 | The best TVs under $500
Best TV brands | Best Samsung TVs | Best TCL TVs | Best LG TVs | Best Roku TVs | Best OLED TVs | Best QLED TVs | Best 8K TVs | Best HDMI 2.1 TV | Best TVs with ATSC 3.0 | Best TVs with Chromecast
The smallest smart TVs | Best 43-inch TVs | Best 50-inch TVs | Best 55-inch TVs | Best 65-inch TVs | Best 70-inch TVs | Best 75-inch TVs | Best 85-inch TVs