Best Cheap TV: Quick Menu
1. The list in brief
2. Best TV under $500
3. Best TV under $400
4. Best TV under $300
5. How to choose
6. How we test
The best TVs under $500 is a sort of promised land for TV buyers. We all want something incredible for our money, but often $500 isn't enough to get you a cutting-edge OLED TV or a high-end QLED from Samsung.
While the sub-$500 TV market isn't as rich in high-end models as we'd like, there's no shortage of perfectly fine TVs that deliver great picture performance for the price. For example, our top picks, the Roku Plus Series and TCL 5-Series QLED TV, combine the category-leading color and brightness of QLED with easy-to-use smart TV interfaces. Both come highly recommended.
Below we've rounded up the best TVs under $500 that manage to find the balance between cost and performance, giving you better-than-basic features and above-average performance. We've even highlighted the best TV under $400 and the best TV under $300, too, alongside the best deals going on right now to give you options that stretch your dollar a bit more.
Why can you trust us? We put this list together after well-over 100 hours of lab testing and eyes-on viewing with the TVs you see below. On top of that, we test dozens more TVs each year and have been at this for over a decade.
Written by
My name's Nick and I look after our guides to the best TVs, best OLED TVs and best 4K TVs. Most of my day is spent watching and evaluating new screens from LG, Samsung, Sony, Hisense, TCL and Vizio. I have 10 years of experience in AV, and before I joined Tom's Guide I was formerly the Senior Editor, TV and AV at TechRadar. I love helping people find the perfect TV, so please feel free to reach out over email or tag me on Twitter and I can help you out.
The best TVs you can buy under $500
The quick list
Best TV under $500
1. Roku Plus Series QLED TV
The best cheap TV
For under $500, you can't do any better than the Roku Plus Series TV. With a good smart interface and HDR color and sound capabilities never-before-seen for its class, it's a surprisingly good budget buy.
Best TV under $400
2. TCL 5-Series Google TV
Best TV under $400
The TCL 5-Series Google TV (S546) wowed us with its solid performance and great value for your dollar. The move to Google TV gives the affordable 4K smart TV a more premium smart TV platform.
Best TV under $300
3. Amazon Fire TV 2-Series
Best TV under $300
The Amazon Fire TV 2-Series will get you a smart TV with a great voice remote and decent features at a bargain price. Unfortunately, that comes with serious tradeoffs, including one of the dimmest displays we've ever tested.
The full list: Best TVs under $500
What if we told you that there's a 55-inch 4K HDR TV that offers surprisingly good picture quality and sound for just $499? You'd be surprised, right? Well, let us introduce you to the Roku Plus Series 4K QLED TV. It marks the streaming giant's first foray into sets after long focusing on software and set-top and plug-in devices — and the move is a successful one.
Despite its price, the Plus Series does not look cheap: A gray, metal bezel surrounds the screen on all sides, measuring less than an eighth-inch on the left, right, and top, and about two-thirds inch on the bottom to allow for a front-and-center chrome Roku logo.
The Plus Series uses quantum-dot LED technology to produce more and more vivid colors and increased brightness. And in everything we watched, we found that the TV lived up to Roku's claims. Picture vibrancy does start fading as you move away from the center of the screen, but it took a fair distance for the display to look unbearable.
All in all, the Plus Series is well-suited to watching just about anything except super-fast action such as sports, thanks to the panel's limited 60Hz refresh rate.
Read our full Roku Plus Series 4K QLED TV review.
Best TV under $400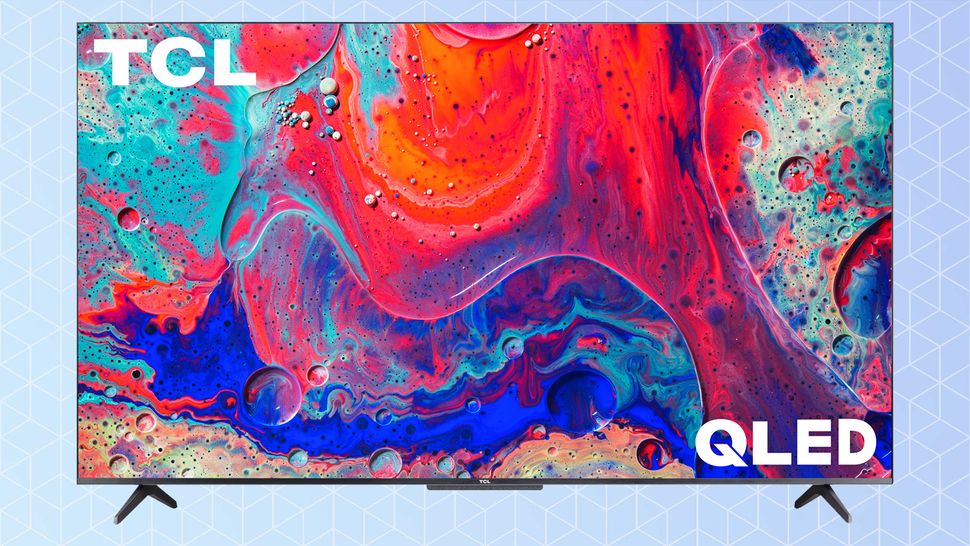 Of course, not everyone is going to want a Roku TV. If you find yourself in that camp, check out the 50-inch TCL 5-Series Google TV. This one wowed us with its combination of smart TV features, solid performance and great value for your dollar. Building on the foundation of the already-good 5-Series, the move to Google TV gives the affordable 4K smart TV a more premium smart TV platform, one that offers personalized and customizable suggestions, a huge assortment of smart features, and deep Google Assistant integration that makes it a viable center for the entire home of connected gadgets.
But it also offers a step up in other aspects of the TV. As we found in our extensive testing, the 5-Series Google TV is a more polished version of the 5-Series TV when it comes to everything from color quality to lag times. And as well as delivering an excellent QLED 4K display, you also get a slick remote control, and a surprisingly wide array of gaming features for a 60Hz TV. For a smart TV that sells for under $500 for most size options, it's easily one of the best TVs on the market.
Read our full TCL 5-Series Google TV (S546) review.
Best TV under $300
The Amazon Fire TV 2-Series is Amazon's cheapest Fire TV offering, and it can get even cheaper if you're a Prime member. The TV costs just $249 for the 40-inch model we tested, but Prime members can currently get it for just $189.
Unfortunately, that's about where the positives end for the 2-Series. Admittedly, its spec sheet was never going to be impressive at the price point, but this may be the worst display we've ever tested due to its limited peak brightness and native 60Hz refresh rate. It's certainly the worst brightness of any display we've tested and in our real-world testing, it barely lived up to its low expectations.
Unless you truly need a TV for less than $250, you're best avoiding the Amazon Fire TV 2-Series. For just $100-$150 more, you could get 4K resolution and far superior brightness.
Read our full Amazon Fire TV 2-Series review.
How to choose the best cheap TV
How to choose the best TV under $500
Scoring a TV for less than $500 means giving up some of the nicer features and design touches for a more affordable price. But you can still get some excellent features without blowing the budget. Here are a few things you can still easily find in your price range.
4K resolution: 4K resolution is so affordable, and the quality so much better than 1080p or 720p, that we always recommend going for 4K. Unless you're on a shoestring budget, getting a proper 4K TV won't even save you much money, but you will notice the difference.
Screen size: You may not always be able to score a premium 65-inch TV for under $500, but you can still get a decent 55-inch model, so don't settle for some dinky 43-inch set unless it's the right size for the space.
HDR support: If there's one feature we recommend, it's high dynamic range (HDR). Even basic HDR support provides better color, brighter highlights and richer shadows, giving you a better picture in every respect. If you can find a set with Dolby Vision, that's even better, but you may pay more for that feature.
Connectivity: More HDMI ports are always better, so you don't find yourself having to awkwardly swap plugs on the TV every time you want to fire up a Blu-ray or jump into a game.
Gaming: For affordable gaming TVs, we recommend looking for sets with higher refresh rates of 60Hz, but the latest Xbox Series X and PS5 consoles can actually go higher. Lag time is another concern, so check out individual reviews to find sets that have a lag time of shorter than 20 milliseconds for the best performance.
What features are worth paying more for?
While budget-friendly TVs are pretty good, there's no denying that spending more will get you some features that you just won't be able to find for less than 500 bucks. If any of the below sound like a must-have for your new TV, consider spending a little bit more.
Screen size: If you're lucky, you will find one or two 65-inch TVs selling below the $500 mark during sales events. And going larger than that will always cost more. If you want something like a 75-inch TV, the only option is to pony up more money.
Picture quality: 4K resolution is great, but today's premium TVs have taken picture quality to new levels of excellence with better color, brightness and contrast, not to mention super-smooth motion handling. If you want the best picture quality, you'll want to consider paying more for technologies like quantum dots, mini-LED and OLED.
Sound quality: Today's budget TVs do a lot of things well, but sound quality usually isn't one of them. We recommend pairing your new TV with one of the best soundbars to get better audio than the tiny speakers crammed into a thin TV chassis could ever produce.
How we test the best cheap TVs
How we test TVs
Evaluating TVs is about more than just kicking back to watch a movie. We lab test every TV, measuring color gamut, color accuracy and brightness to objectively see which sets are the best for these key indicators. We also test for lag time – a key detail for gaming – measuring to the millisecond how long it takes for content to travel from the original source to the screen. We use these results to make numbers-based comparisons about color and display quality.
We also spend time with each set for real-world evaluation and see how our lab results translate into more subjective performance. We also compare sets side by side and view samples from the latest movies, specialized test patterns that highlight strengths and weaknesses of each display, and a range of content across several sources. With that information, we can tell you which TVs look best, sound best and offer the best viewing experience.
Finally, we evaluate the smart TV functions and apps for each TV, looking at everything from the remote control design to the voice interaction.
We put all of that data together with our real-world testing and stack it against the price of the TV. The result is a score that we feel best represents the totality of that model, and how well it stands up against its contemporary rivals. A TV that scored highly five years ago may not score as highly against a newer model, but we do our best to update reviews when newer models become available.
Interested in a specific TV brand, price range or screen size? Check out our picks for the best TVs in each.
Best TVs | Best 4K TVs | Best smart TVs for streaming | Best TVs for gaming
The best TVs under $1000 | The best TVs under $500
Best TV brands | Best Samsung TVs | Best TCL TVs | Best LG TVs | Best Roku TVs | Best OLED TVs | Best QLED TVs | Best 8K TVs | Best HDMI 2.1 TV | Best TVs with ATSC 3.0 | Best TVs with Chromecast
The smallest smart TVs | Best 43-inch TVs | Best 50-inch TVs | Best 55-inch TVs | Best 65-inch TVs | Best 70-inch TVs | Best 75-inch TVs | Best 85-inch TVs