Best 55-inch TV: Quick Menu
1. The list in brief
2. Best OLED TV
3. Best QLED TV
4. Best LG TV
5. Best mid-range TV
6. Best value TV
7. Best outdoor TV
8. How to choose
9. How we test
Looking for the best 55-inch TVs? You've come to the right place. Although some might love the larger screen size that 65-inch, 55-inch TVs offer a great mix of usability features, performance and price. They are, for lack of a better term, the sweet spot for most TV buyers.
As of right now, the best 55-inch TV is the Sony A95K OLED, Sony's first QD-OLED TV. QD-OLED, if you haven't heard the term, combines a quantum dot filter with an OLED screen and offers higher brightness levels and better color saturation than either technology could on its own.
So where do you put one of the top 55-inch TVs? You already have a space in mind most likely, but we often recommend them as living room TVs for folks living in apartments or dorms, or a second set for a bedroom if you plan on laying in bed to watch TV at night. (Not sure which size is right for you? Our 'what size TV should you buy' guide can help.)
There are plenty of options to choose from, but whether you're looking for a premium smart 55-inch TV with incredible picture quality, an outdoor TV that can survive the elements, or a budget set that will save you a bundle, we've got advice backed up by hours of in-house lab testing and in-depth evaluation.
Written by
My name's Nick and I look after our guides to the best TVs, best OLED TVs and best 4K TVs. Most of my day is spent watching and evaluating new screens from LG, Samsung, Sony, Hisense, TCL and Vizio. I have 10 years of experience in AV, and before I joined Tom's Guide I was formerly the Senior Editor, TV and AV at TechRadar. I love helping people find the perfect TV, so please feel free to reach out over email or tag me on Twitter and I can help you out.
The quick list
Here's a quick overview of the best 55-inch TVs you can buy right now based on our testing and reviews. And keep up on scrolling if you want to see our in-depth analysis of all the top TVs for every budget.
The full list: Best 55-inch TVs in detail
By any standard, the Sony Bravia XR A95K OLED is a remarkable TV — and often, it's far better than that. This set, which sits at the top of Sony's expansive TV lineup, unites the industry's defining technologies and Sony's own groundbreaking processing and picture enhancements to deliver superlative performance in every area. And our own test results back this up.
The color and brightness on the Bravia XR A95K are dazzling. Unexpected but genuinely useful smart features transform everything from how you interact with the screen, how you make picture adjustments, and even what you do if you lose your remote control. Perhaps most important, this Sony OLED TV looks and sounds like a dream, no matter what you watch on it, making everything a transcendent viewing and listening experience.
The question with the A95K, then, isn't whether it's one of the best TVs you can buy. It's whether it is the best TV you can buy. In our opinion? Yes, yes it is.
Read our full Sony Bravia XR A95K review.
The best QLED TV
With the Samsung QN95B Neo QLED TV, Samsung once again proves why it's the QLED TV king. Thanks to best-in-class brightness, cable management convenience and impressive performance across most content genres, the QN95B is a tough TV to beat.
At a time when OLED TVs steal most of the hype, Samsung's premium Neo QLED technology stands out in one big way: brightness. By introducing a Mini LED backlighting, the panel can achieve higher levels of brightness without sacrificing depth and gradations of luminance. Samsung pairs that image quality with a bounty of smart TV functions and genuinely intelligent features, like a solar-powered remote control that eliminates the need to swap out batteries — delivering eco-friendly design and unbeaten convenience at the same time.
The whole thing is packed into a gorgeous 1-inch-thick design that contains a huge array of smart features, potent Dolby Atmos sound and some of the best performance we've ever seen. HDMI 2.1 connectivity comes as standard, and it's also a great option for gamers thanks to plenty of dedicated features and an impressive 9.8-millisecond lag time in our testing.
Read our full Samsung QN95B Neo QLED TV review or browse our Samsung promo codes
The best LG TV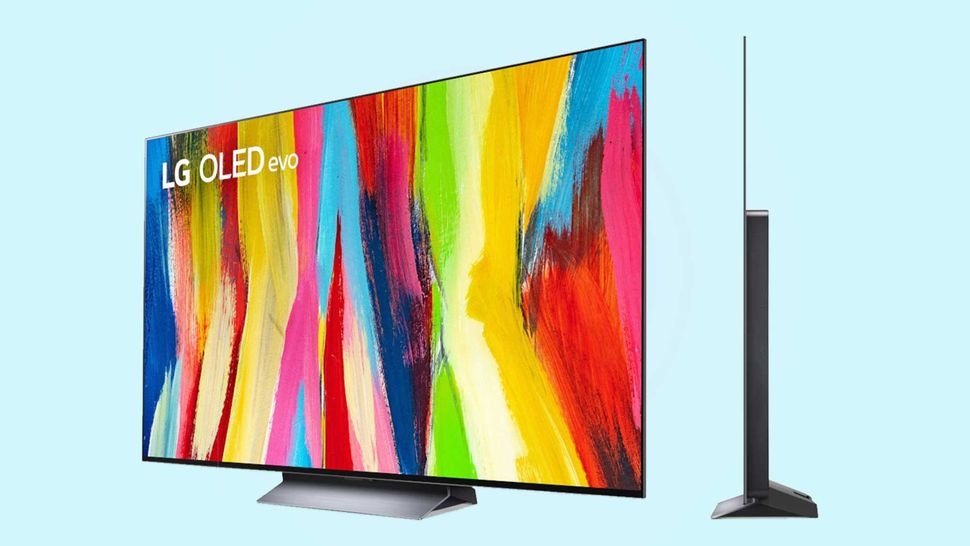 The LG C2 OLED TV is this year's set to beat. Not only is it the best OLED TV thanks to an impressive display panel, but a premium design, maximum versatility and great smart TV platform hit all the high marks, too. The panel itself is impossibly thin, measuring 0.1-inch thick across the top half of the TV. The component compartment extends out on the bottom half of the back chassis, but it's still very sleek overall.
We can't say our test results for this LG C2 OLED TV review showed significant improvement over last year's C1 OLED (found lower on the list) — but, to be fair, there wasn't much room to improve. Instead, what makes this one of the best TVs of the year is that it offers fantastic picture quality for the price.
Read our full LG C2 OLED review.
The best mid-range TV
TCL has long been acclaimed for bringing a lot of performance to TVs that don't cost a lot of money. That trend continues with its latest 6-Series Roku TV, the 65R655, which amps up key aspects of its performance—particularly brightness and gaming potential—while keeping the price affordable. Throw in the super-easy-to-use Roku TV interface and you have a set that more than delivers on its picture promise without busting your budget.
You will have to make a couple of sacrifices to take full advantage of the good deal the 65R655 offers, a set this simple won't appeal to everyone, and there aren't a ton of innovations when compared with earlier 6-Series sets. But in what it does offer over its predecessors and competitors, the 65R655 offers a compelling amount of TV while minimizing most of the compromises. If you're looking for one of the best TVs you can find for less than $1,000, this one is an excellent place to start.
Read our full TCL 6-Series Roku TV (65R655) review.

The best value TV
The Hisense U7H may not have Mini LED backlighting like the TCL 6-Series, but it does offer a QLED panel, and the ever-improving Google TV operating system. And, for the most part, it succeeds in delivering an impressive low-cost QLED TV-watching experience — but there are a few caveats to keep in mind.
In day-to-day use, the Hisense U7H delivered a vibrant and bright viewing experience in all situations. Whether watching in SDR or Dolby Vision, you'll find colors to be stunning and detail to be high. Speaking of details, it's able to upscaling lower-than-4K content pretty well too. 1080p content looked pretty darn close to 4K, and while 720p content didn't quite get there, it was far from distracting.
The fact that it has two HDMI 2.1 ports seems to confirm this, however note that it isn't the lowest when it comes to input lag. Generally, it's considered that a TV with less than 15ms of input lag is good enough for the majority of gaming situations, and the Hisense U7H just breezed under that at 14.6ms. Other gaming-focused features include VRR, ALLM, and Dolby Vision Gaming.
The Hisense U7H is a killer option in this price range — which is exactly what we'd expect from Hisense at this point. It doesn't necessarily beat all the competition, like the TCL 6-Series, in all situations, but as a package deal it's a seriously strong contender — and ultimately, worth buying.
Read our full Hisense U7H QLED TV review.
The best outdoor TV
The new SunBriteTV Veranda 3 didn't need to do much to build on the line's concrete foundation, as the previous model already had impressive-for-the-category 4K HDR picture and sound quality to accompany its sturdy construction aimed at outdoor use (in the shade). But in addition to adding smart features by way of Android TV, it also gained an even better display and good, caveat-free remote control as part of the bargain.
These improvements do not come cheap. Veranda 3 models start just shy of $2,900, which is hundreds of dollars more than the other Verandas. Is it worth it? If you want one of the best outdoor TVs you can buy… then, yeah, it is. It's worth celebrating — and maybe even laying down the cash — when a good thing gets even better. Provided you have a place to put it, of course.
Read our full SunBriteTV Veranda 3 Outdoor TV review.
How to choose the best 55-inch TV for you
How to choose the best 55-inch TVs for you
Our TV buying guide breaks down the key factors that should go into purchasing a new set, as getting a TV is an investment. It's a piece of tech you're likely to own for several years, which is why you want to make sure you're picking the best 55-inch TV for you.
Size: First figure out whether you're locked into a 55-inch set. Just because it's the biggest size that fits on your wall or TV stand doesn't mean that it's right for the room. Similarly, consider if a 65-inch TV would better suit your space.
Price: Expect to pay about $500 for a good 55-inch 4K TV. The Insignia 55-inch 4K Fire TV Edition above is the absolute cheapest we'd recommend based on our catalog of TV testing. But if you have a tighter budget, check out our best TV deals for some alternatives. Keep in mind performance will take a hit in lower price ranges, though.
HDR: If you want the most colors, get one of the HDR sets with Dolby Vision compatibility above. This technology is able to deliver more colors, more contrast levels and increased brightness. It could make a set a bit more costly, but it guarantees you'll still be satisfied with TV as the Dolby Vision format seems to be gaining momentum.
Ports: Another thing to consider is port offerings. Some of the sets above sport 3 HDMI ports, while some have 4. In general, more ports is better, especially if you have a collection of input devices like soundbars or game consoles.
If you've narrowed down your TV shopping by brand, price range or screen size, check out our picks for the best TVs in each.
Best TVs | Best 4K TVs | Best smart TVs for streaming | Best TVs for gaming
The best TVs under $1000 | The best TVs under $500
Best TV brands | Best Samsung TVs | Best TCL TVs | Best LG TVs | Best Roku TVs | Best Google TVs | Best OLED TVs | Best QLED TVs | Best 8K TVs | Best HDMI 2.1 TV | Best TVs with ATSC 3.0 | Best TVs with Chromecast
The smallest smart TVs | Best 43-inch TVs | Best 50-inch TVs | Best 55-inch TVs | Best 65-inch TVs | Best 70-inch TVs | Best 75-inch TVs | Best 85-inch TVs
And don't forget to watch out for the latest TV reviews.
How we test the best 55-inch TVs
How we test the best 55-inch TVs
Testing the best 55-inch TVs is a thorough process. We put every TV through our custom lab test, measuring color gamut, color accuracy and brightness to objectively see which sets are the best for these key indicators. We also test for lag time, measuring to the millisecond how long it takes for content to travel from the original source to the screen. We use these results to make numbers-based comparisons about color and display quality.
We spend hours with each set to see how our lab results translate into anecdotal performance. We also compare competing sets using a range of content across several sources. With that information, we can tell you which TVs look best, sound best and offer the best viewing experience.
Of course, we also consider the smart TV functions and apps for each TV, looking at everything from the remote control design to the voice interaction.