Looking for the best TVs under $1,000? We've got you covered. Whenever we test a new TV for review, cost is one of the most important factors in our verdicts. For that reason, we're able to find great TVs under a grand better than anyone else.
It's been a great 12 months for the best budget TVs and buyers, with a number of exceptional value performers releasing. At the top of the list currently is the LG C3 OLED. Only the 42- and 48-inch versions are available at under $1,000, but both are well-worth considering if you want the best performance per dollar.
Beyond that is the new Samsung QN90C QLED and Roku Plus TV that offer incredible value-per-dollar, with a massive 75-inch version of the latter coming in at under $1,000. It's missing some of the features that the LG C3 OLED has (namely HDMI 2.1 ports and a 120Hz resolution) but it's a very competitive TV for the price.
If you're looking to spend even less, we have a guide to the best TVs under $500 but the $1,000 mark will offer bigger screen sizes and better picture quality than any of the $500 TVs would.
The best TVs you can buy under $1,000
Without a doubt, the LG C3 OLED is the best pick for folks who want the best performance under $1,000. You can find TVs with better sound, but there aren't many out there that offer you this much for the same price.
The LG OLED evo C3 is loaded with features that make it ideal for watching — or playing — anything your heart desires. The 42-inch model sport full arrays of HDMI 2.1 ports and uses LG's evo OLED panel, which was first introduced on the LG G1 OLED TV. With it, the LG C3 hits around 820 nits at peak brightness and covers 98.98% of the UHDA-P3 Color Gamut.
It has its shortcomings (see: sound quality) but it's a great value option.
Read our full LG C3 OLED review.
The Samsung QN90C Neo QLED TV has almost everything you'd expect from a premium 4K Mini-LED TV — outstanding HDR brightness, a good selection of sizes, consistent upscaling, ample support for a variety of content, and more.
For those who aren't familiar, Mini-LED backlighting delivers high levels of brightness while maintaining realistic color and gradations of luminance. And though the QN90C Neo QLED isn't the most premium of all the 4K Samsung 2023 TVs, it's the one that you'll probably be most tempted to buy.
It might not be as inherently exciting as the company's QD-OLED innovations in larger screen sizes — the Samsung S95C still holds the top spot as the best TV we've tested this year — the compact Samsung QN90C Neo QLED TV reminds us why Samsung is still the king of Quantum Dot technology.
Read our full Samsung QN90C QLED TV review.
The Roku Plus Series 4K QLED TV marks the streaming giant's first foray into sets after long focusing on software and set-top and plug-in devices — and the move is a successful one. In addition to delivering a ton of screen for its starting price of $499, these TVs also give you surprisingly good picture quality and sound, two things that are usually the first to go with budget sets.
Despite its price, the Plus Series does not look cheap: A gray, metal bezel surrounds the screen on all sides, measuring less than an eighth-inch on the left, right, and top, and about two-thirds inch on the bottom to allow for a front-and-center chrome Roku logo.
The Plus Series uses quantum-dot LED technology to produce more and more vivid colors and increased brightness. And in everything we watched, we found that the TV lived up to Roku's claims. Picture vibrancy does start fading as you move away from the center of the screen, but it took a fair distance for the display to look unbearable.
All in all, the Plus Series is well-suited to watching just about anything except super-fast action such as sports, thanks to the panel's limited 60Hz refresh rate.
Read our full Roku Plus Series 4K QLED TV review.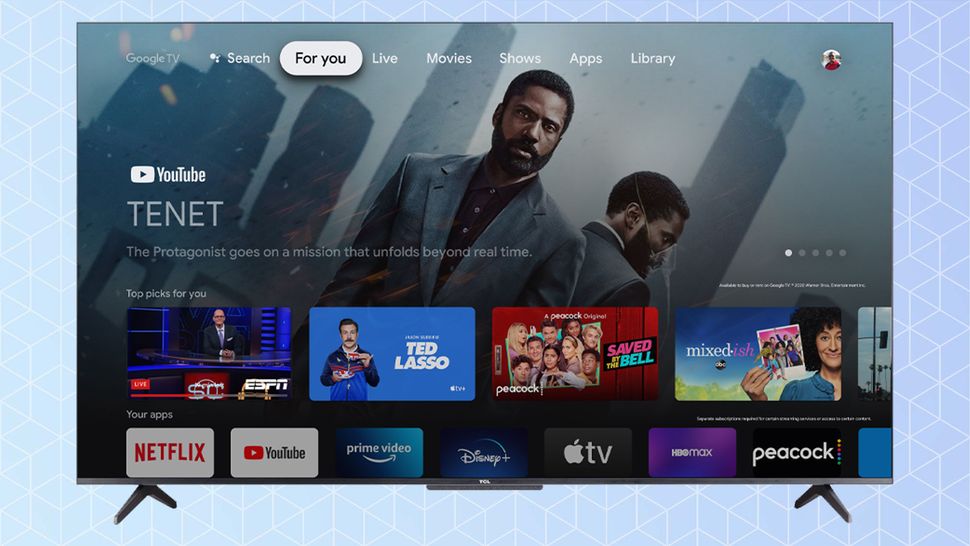 The TCL 5-Series Google TV (S546) wowed us with its combination of smart TV features, solid performance and great value for your dollar. Building on the foundation of the already-good 5-Series Roku model, the move to Google TV gives the affordable 4K smart TV a more premium smart TV platform, one that offers personalized and customizable suggestions, a huge assortment of smart features, and deep Google Assistant integration that makes it a viable center for the entire home of connected gadgets.
But it also offers a step up in other aspects of the TV. From color quality to lag times, the 5-Series Google TV is a more polished version of the 5-Series TV, delivering an excellent QLED 4K display, a slick remote control, and a surprisingly wide array of gaming features for a 60Hz TV. For a smart TV that sells for under $1,000 for most size options, it's easily one of the best TVs on the market.
Read our full TCL 5-Series Google TV (S546) review.
The Hisense U8H Mini-LED TV is all about bringing high-end features to a mid-level price bracket. To wit, it's packing a light sensor for Dolby Vision IQ that can raise or lower the brightness to match the ambient light in the room and a Mini-LED panel that has up to 528 local dimming zones.
Its peak brightness exceeds any TV around that price, and its color reproduction is as good as some of this year's best TVs. Not only does it have some smart-looking specs under its belt, it has some killer additional features — there's two HDMI 2.1 ports that support 4K@120Hz and on-board Google TV 11 with Chromecast Built-in.
As powerful as a TV as this is, Hisense's upscaling and motion processing skills aren't on par with that of LG, Samsung or Sony's, which means some scenes you're going to notice poor motion smoothing and color banding. If those terms don't mean much to you, these issues won't ruin your experience — but they're the reason this TV sits lower on the list than, say, the LG C2 OLED.
Amazon is getting more serious about TV hardware. The company has long offered great streaming sticks on a budget for those in its ecosystem — but last year, it announced the new Omni series, aimed at those who want a complete TV experience, with Alexa and all your favorite Amazon services, from end to end. This year, it's iterating on that concept with the new Fire TV Omni QLED — which brings quantum dot technology to its relatively inexpensive TVs.
The Amazon Fire TV Omni QLED is a solid TV. The image quality is generally good, and it offers a few unique features, like the ambient mode. If you want a native Fire OS experience in a solid-looking TV, the Amazon Fire TV Omni QLED is the way to go.
Read our full Amazon Fire TV Omni QLED review.

How to choose the best TV under $1,000
At the end of the day, the most important aspects of any TV are pretty simple. Find a set that fits your budget, has the main features you want, and then check reviews to make sure it doesn't have any performance issues.
For less than a grand, you can still check off most of the must-have features you've envied on more expensive sets, like QLED for better color and brightness, a full-featured smart TV experience, complete with voice control and smart home integration, and features like Dolby Vision HDR and Dolby Atmos sound. You might have to look at last year's sets, but they're still great and offer fantastic value.
Size: You won't have to compromise on screen size, either. Our recommendations above include great options at 55, 65 and even 75-inch sizes, so your budget doesn't have to prevent you from getting a TV that's just as big as you want. Find the screen size that works best for you in our article What size TV should you buy?
HDR: For the best picture, we recommend getting a set that offers high dynamic range (HDR) support. HDR10 is the base standard, while HDR10+ and Dolby Vision are higher-caliber formats; we recommend opting for for one of the latter when you have the choice, or better still both.
Pay attention to ports: We recommend getting a TV with 4 HDMI ports whenever possible. And even though they do cost more, we prefer TVs that have HDMI 2.1 connections. They offer better gaming features and will keep your TV up to date for much longer.
Smart TV features: Pretty much every TV on the market is smart these days, so don't hesitate to get a smart TV. However, make sure that the operating system of the TV in question has the apps you want because not all of them do. And some platforms offer advanced features like smart home controls and voice assistant capability.
From smart functions to port selection, we offer plenty of advice in our TV buying guide, which explains the ins and outs of features like HDR, different types of display, and even extended warranties. And if you still have questions about smart TV features and capabilities, check out Smart TVs: Everything you need to know.
What features are worth paying more for?
While you can get most of what you want in a smart TV for $1,000 or less, there are a few exceptions.
Bigger screens: If you want to get a really big screen, today's largest TVs go bigger than 75 inches, and as a general rule, anything over the 75-inch mark will be more expensive, and almost always costs more than $1,000. Sometimes a lot more.
OLED: Then there's OLED. As the uncontested premium display technology, OLED screens don't come cheap, and even the most affordable OLED TVs have a regular price that exceeds the $1,000 budget. However, if you watch out for sales, you can sometimes score a deal that will get you the 55-inch Vizio OLED TV (OLED55-H1) for just under the limit, so don't write it off completely.
8K resolution: Even as 8K TVs become more common and start to climb down from the astronomical prices they debuted at, there's still nothing on the market that can be considered affordable. With the cheapest 8K sets still selling for thousands, there's just no way to get that sort of resolution for under $1,000. (The good news? Even if you wanted to spend more, we still wouldn't recommend an 8K TV, so don't sweat it.)
Whether any of these features are important to you comes down to your own expectations and needs, but if you've got your heart set on these premium features, get ready to go beyond the $1,000 mark, because they don't come cheap.
---
If you've narrowed down your TV shopping by brand, price range or screen size, check out our picks for the best TVs in each.
Best TVs | Best 4K TVs | Best smart TVs for streaming | Best TVs for gaming
The best TVs under $1000 | The best TVs under $500
Best TV brands | Best Samsung TVs | Best TCL TVs | Best LG TVs | Best Roku TVs | Best Google TVs | Best OLED TVs | Best QLED TVs | Best 8K TVs | Best HDMI 2.1 TV | Best TVs with ATSC 3.0 | Best TVs with Chromecast
The smallest smart TVs | Best 43-inch TVs | Best 50-inch TVs | Best 55-inch TVs | Best 65-inch TVs | Best 70-inch TVs | Best 75-inch TVs | Best 85-inch TVs
And don't forget to watch out for the latest TV reviews.