The best LG TVs are coveted by cinephiles as some of the best screens money can buy. LG's OLED TVs dominate both sales charts each and every year as well as editor's choice lists – just look at our list of the best TVs.
But even if you know that the brand makes great TVs, it can still be hard to know which models are worth buying – the company's large selection of OLED, NanoCell and LED TVs mean that sorting through them can be a headache.
The good news is that we've had the time to get in a number of the best LG TVs into our labs for testing and from that data – as well as some time spent actually watching shows and movies on the TVs – we can safely say which are the best.
Looking for a definitive breakdown of each model? Check out our in-depth guides to the LG C3 OLED vs LG G3 OLED, LG OLED A2 vs. B2 vs. C2 vs. G2 and the LG C3 OLED vs C2 OLED to see the differences between each of the models.
Written by
My name's Nick and I look after our guides to the best TVs, best OLED TVs and best 4K TVs. Most of my day is spent watching and evaluating new screens from LG, Samsung, Sony, Hisense, TCL and Vizio. I have 10 years of experience in AV, and before I joined Tom's Guide I was formerly the Senior Editor, TV and AV at TechRadar. I love helping people find the perfect TV, so please feel free to reach out over email or tag me on Twitter and I can help you out.
The best LG TVs you can buy
If you want to stick with an LG OLED but still want the brightness that rivals a Samsung QLED TV, yhe LG OLED evo G3 offers the best of all worlds: It's an OLED TV, so you get perfect blacks, infinite contrast, and intense colors, but it also boasts astonishing brightness that guarantees you won't miss out on the full impact of the thrilling HDR effects so essential to movies today.
Even better, it uses LG's thoroughly refined webOS smart platform; it has a good remote control; and it's gorgeous to look at — a true showpiece that will grace your wall as smartly and stylishly as higher-end framed artwork.
If picture quality, ease of use, and/or sheer style matter to you, the LG OLED evo G3 is a top-flight choice. With stunning visuals in every application, an advanced and intuitive smart platform, and a design that is front-to-back as good as you'll find from TVs today, it's an impressive release that would make a glittering addition to your home.
Read our full LG G3 OLED review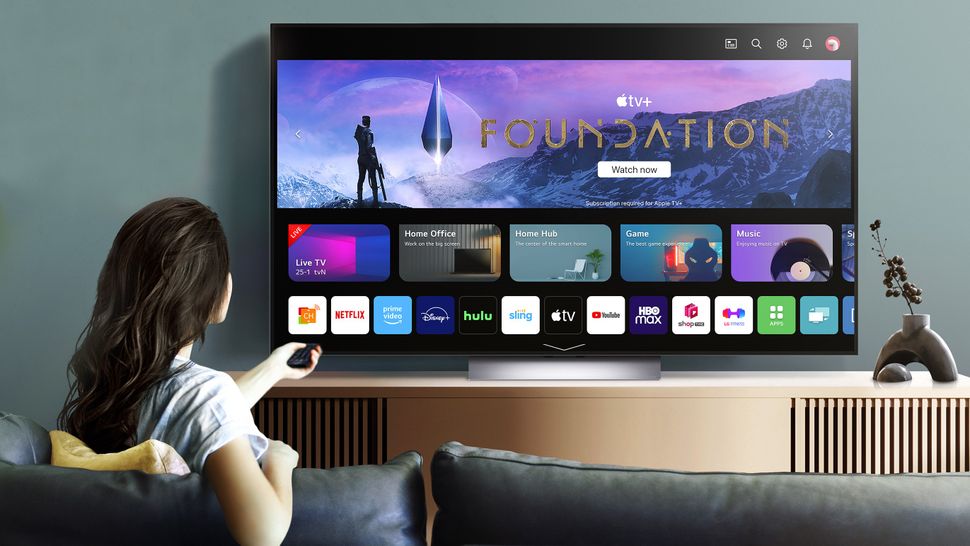 The LG OLED C3 is the latest iteration in LG's vaunted C series of upper-midrange 4K TVs. Previous TVs in the C series, like the LG C1 OLED and LG C2 OLED, have been acclaimed by reviewers (including here at Tom's Guide), industry professionals, and everyday consumers alike for the outstanding picture quality and strong usability they offer at a still-reasonable price.
And with the LG OLED C3 it pulls off the hat trick.
What's more, this C series lineup is LG's largest in terms of size options — the configurations span from 42- to 83-inches, all of which sport full arrays of HDMI 2.1 ports. Most also feature LG's evo OLED panel, which was first introduced on the LG G1 OLED TV. With it, the LG C3 hits around 820 nits at peak brightness and covers 98.98% of the UHDA-P3 Color Gamut.
It has its shortcomings (see: sound quality) but it's an awfully affordably option compared to the flagship OLED TVs in the top two spots.
Read our full LG C3 OLED review.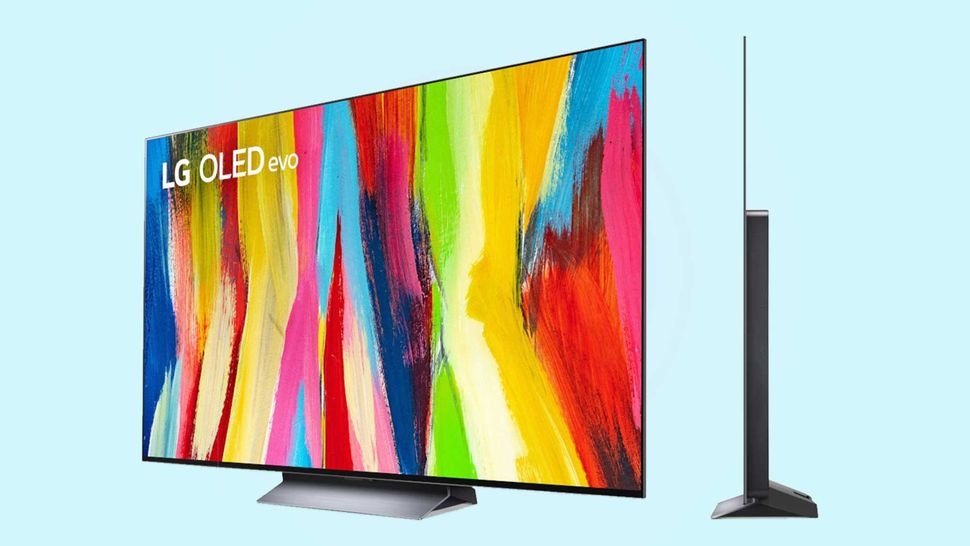 Not all OLED TVs need to be supersized and super-expensive. Take, for example, the affordably priced and very versatile LG C2 OLED.
The LG C2 is available in screen sizes ranging from 42- to 83-inches, all of which sport full arrays of HDMI 2.1 ports. Most also feature LG's evo OLED panel, which was first introduced on the LG G1 OLED TV and now looks to upgrade the C2's performance.
As an alternative to a gaming monitor, the LG C2t offers fantastic picture quality for the price — exactly what you'd expect from LG's best-selling OLED TV series.
Read our full LG C2 OLED review.
No matter their price range, OLED TVs promise near-perfect black levels and exquisite colors, and that's exactly what you're getting with the LG A2 OLED.
To wit, the LG A2 OLED offers a decently sized OLED panel with top-notch color, surprisingly good sound, and low input lag. Its smart platform, webOS, is a clean, well-organized interface for navigating the TV and accessing its features and despite it being paired by only 20-watt, downward-firing speakers, there's no lack of clarity even in hectic scenes where dialogue, action sounds, and music are all blazing at once.
Admittedly, you won't get everything with the A2 that you will with pricier and tonier LG TVs. You'll have to settle for a lower refresh rate, an older HDMI standard, and lower brightness. But considering that it wasn't that long ago that OLEDs were unthinkable at the sub-$1,300 price point — to say nothing of the sub-$1,000 price point at which the smallest model can currently be found — those features might be small prices to pay if all you can pay is a small price.
Read our full LG A2 OLED review.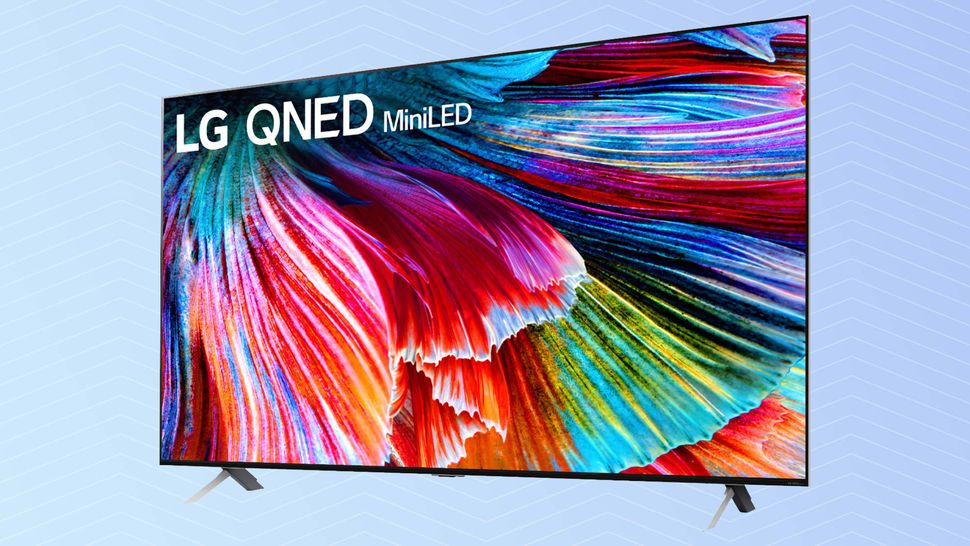 The LG QNED MiniLED 99 Series 8K TV boasts an awesome feature set, from the inclusion of mini-LED backlight to the union of NanoCell and QLED technologies. We were impressed by the brightness and great color accuracy, and the screen size options are ideal for the higher resolution. With webOS 6.0 offering the best smart features available for LG TVs and 8K upscaling allowing 4K and even 1080p content to be enjoyed on the ultra HD screen, it's one of the first 8K TVs we've seen that we recommend… sort of.
For everything the LG QNED MiniLED 99 Series 8K TV offers, it's still a tough sell, largely because 8K content is still pretty much non-existent. That, more than anything else – like the sluggish controls or inconsistencies in upscaling quality – gives us pause in recommending the set, even if it's one of the most affordable 8K sets we've seen.
Read our full LG QNED MiniLED 99 Series 8K TV review.
How much do LG TVs cost?
LG doesn't have one set price for all its TVs, but rather uses a good, better, best model to price out its screens. At the lower end are LG's entry-level OLEDs, UHD TVs and older Nano Cell models that are all relatively inexpensive – usually under $1,000.
At the higher end, the LG G-Series OLED is the most expensive 4K model LG has, with the 55-inch model selling for around $1,800 and the 65-inch set for $2,200. And if you want to get an 8K set, the LG QNED MiniLED 99 Series 8K TV sells for $3,499 for the 75-inch model we reviewed – which is relatively affordable for an 8K TV. Whichever price bracket you're looking at, check out our LG promo codes, and we may be able to save you a little extra on your purchase.
What is OLED?
LG's best TVs are all OLED, and it's easy to see why. They offer superb color and brightness, best-in-class contrast and sharpness, and offer slimmer designs than even the sleekest LCD-based smart TVs. But what is OLED, exactly?
OLED is an abbreviation for Organic Light Emitting Diode, a display technology that uses organic compounds in its pixel structure. (Lest you think you've got a petri dish of bacteria cultures in every OLED TV, the organic compounds in question are electroluminescent materials like organometallic chelates, p-phenylene vinylene and N-vinylcarbazole. No living cultures involved.)
These materials are printed onto glass with a pixel structure that uses red, green, blue, and white points of light to create the individual pixels that make up the 3840 x 2160 pixels that make up a 4K screen. Each one lights up when current is applied, meaning that each pixel lights up individually, a major difference from LCD TVs, which use a larger backlight behind an LCD panel.
Thanks to the unique per-pixel nature of OLED's self-illuminating technology, the displays on LG's best TVs offer infinite contrast with true blacks, delivering sharper looking images, better HDR performance and great overall performance. The latest OLED models also deliver superb color and a wide color gamut, routinely exceeding the sRGB standard, with higher-than-100% scores in our color gamut benchmark tests.
The result is the best TV technology you can presently buy, offering dramatically better picture quality than LCD TVs and even a step up from the best quantum-dot (aka QLED) models being sold.
What is LG webOS?
One of the defining elements of LG smart TVs is webOS, the software platform that delivers all of the apps and smart features. LG has some of the smartest TVs on the market, and webOS is what makes it all work. From the LG Content Store's 200+ apps to the MagicRemote's motion controls, there's a lot to love about LG smart TVs.
Some of the most distinctive features of webOS include support for both Amazon Alexa and Google Assistant voice assistants, a control dashboard for smart home devices and LG Channels, an aggregated list of free streaming services and movies.
LG's webOS may be best known as proprietary software, but it's being licensed to new manufacturers this year. Unlike the still-proprietary Samsung Tizen or Vizio SmartCast, which are only found on TVs from its respective manufacturers, LG will be partnering with manufacturers like RCA, Polaroid and Konka, making webOS a more common sight in the budget TV section of your local Best Buy or Walmart.
Are LG 8K TVs worth buying?
Like competitors Samsung and Sony, LG has a handful of 8K TVs in its lineup of models. The selection of 8K sets includes ultra-expensive OLED models, like the LG Z2 8K OLED, but there are also non-OLED 8K models, like the 75-inch LG QNED MiniLED 99 Series 8K TV, which sells for $3,499, or the smaller 65-inch version that sells for $2,499.
But even with both impressive 8K OLED models and affordable QNED 8K sets, we don't recommend you buy an 8K LG TV – or any 8K TV, for that matter. Without any real 8K content available, the higher resolution of a 7,680 by 4,320 screen isn't worth the extra expense. LG's 8K sets look fantastic, but we're not recommending anybody spend their money on an 8K TV this year. (Find out more in our article Should you buy an 8K TV?)
Interested in a specific TV brand, price range or screen size? Check out our picks for the best TVs in each.
Best TVs | Best 4K TVs | Best smart TVs for streaming | Best TVs for gaming
The best TVs under $1000 | The best TVs under $500
Best TV brands | Best Samsung TVs | Best TCL TVs | Best LG TVs | Best Roku TVs | Best OLED TVs | Best QLED TVs | Best 8K TVs
The smallest smart TVs | Best 43-inch TVs | Best 50-inch TVs | Best 55-inch TVs | Best 65-inch TVs | Best 70-inch TVs | Best 75-inch TVs | Best 85-inch TVs