The best Samsung TVs carry so much clout because Samsung is arguably the biggest name in TVs. With everything from budget 4K LED TVs to premium 8K TVs, there are Samsung TVs for every budget and featuring every level of TV technology.
Samsung's offerings include some of the best TVs we've reviewed due to their ease of use (How to use your Samsung TV), their wide app selection (best Samsung TV apps) and because they're also some of the brightest, most vibrant TVs on the planet. They typically ace our lab tests but face steep competition from the best OLED TVs and other Mini-LED TVs like the Hisense U8K.
That said, deciding on which Samsung TV is right for you can be a challenge. Not sure where to start? Our guide to the best Samsung TVs that have been selected by our expert reviewers and tested in Tom's Guide's labs can help.
Written by
My name's Nick and I look after our guides to the best TVs, best OLED TVs and best 4K TVs. Most of my day is spent watching and evaluating new screens from LG, Samsung, Sony, Hisense, TCL and Vizio. I have 10 years of experience in AV, and before I joined Tom's Guide I was formerly the Senior Editor, TV and AV at TechRadar. I love helping people find the perfect TV, so please feel free to reach out over email or tag me on Twitter and I can help you out.
The best Samsung TVs you can buy now
The Samsung S95C OLED TV is the clear winner when it comes to being the best OLED TV in 2023. It's great for gamers and it's great for home entertainment enthusiasts.
For gamers, we measured the Samsung S95C at 9.2ms lag time with a Leo Bodnar 4K Lag Tester, resulting in responsive gameplay across a variety of genres. Meanwhile, the S95C's new 144Hz refresh rate kicks in when connected to a gaming PC. Pair that refresh rate with AMD's FreeSync Premium Pro, and the S95C makes for one of the best gaming TVs.
For cinephiles, the Samsung S95C offers some of the highest color saturation (141.5% of the Rec 709 color space) and best color accuracy (it has a Delta-E accuracy score of 1.4) of any TV. In terms of brightness, it's 30% brighter than the Samsung S95B OLED and close to double the brightness of last year's LG OLED TVs.
If you want an OLED that wins in nearly every single spec, the Samsung S95C OLED is the only viable option.
Read our full Samsung S95C OLED review.
With the Samsung QN95B Neo QLED TV, Samsung once again proves why it's the QLED TV king. Thanks to best-in-class brightness, cable management convenience and impressive performance across most content genres, the QN95B is a tough TV to beat.
At a time when OLED TVs steal most of the hype, Samsung's premium Neo QLED technology stands out in one big way: brightness. By introducing a Mini LED backlighting, the panel can achieve higher levels of brightness without sacrificing depth and gradations of luminance. While no Dolby Vision is a weird thing for this TV to miss out on, most people can overlook it while they're watching their movies and shows with crisp 4K details, great color and, of course, outstanding brightness.
Read our full Samsung QN95B Neo QLED TV review or browse our Samsung promo codes
When looking for a 65-inch TV that offers great performance without a super-steep price tag, the Samsung QN90C Neo QLED TV is the QLED TV king thanks to best-in-class brightness and impressive performance across most content genres.
Powered by Samsung's high octane Mini-LED panel, the QN90C promises excellent performance across the top genres. For those who aren't familiar, Mini-LED backlighting delivers high levels of brightness while maintaining realistic color and gradations of luminance. And though the QN90C Neo QLED isn't the most premium of all the 4K Samsung 2023 TVs, it's the one that you'll probably be most tempted to buy.
Its gorgeous 1-inch-thick design contains a huge array of smart features, potent Dolby Atmos sound and HDMI 2.1 connectivity for gamers that measured in at an impressive 9.8-millisecond lag time in our testing.
Read our full Samsung QN90C Neo QLED TV review or browse our Samsung promo codes
Samsung's QN900C Neo QLED 8K TV perfectly encapsulates the South Korean company's approach to flagship products, in that it's so stacked with features, some may see it as bordering on overkill.
While other manufacturers have mostly abandoned 8K TV production due to slow adoption from consumers and tighter energy regulations in the EU, Samsung is (for now) refusing to budge, delivering its most advanced 8K television to date in the QN900C.
Want high peak brightness? Samsung's delivered a TV that could inspire you to wear sunglasses indoors. Looking for the ultimate gaming setup with full HDMI 2.1 support? You'd be hard-pressed to find a more robust set of gamer-centric features anywhere else. What about top-notch upscaling, excellent black levels, stunning colors and immersive in-built sound? Tick, tick, tick and tick.
Simply put, if you're looking for the best Mini LED TV out there and can spare the expense, look no further than Samsung's QN900C Neo QLED 8K TV.
Read our full Samsung QN900C Neo QLED 8K TV review.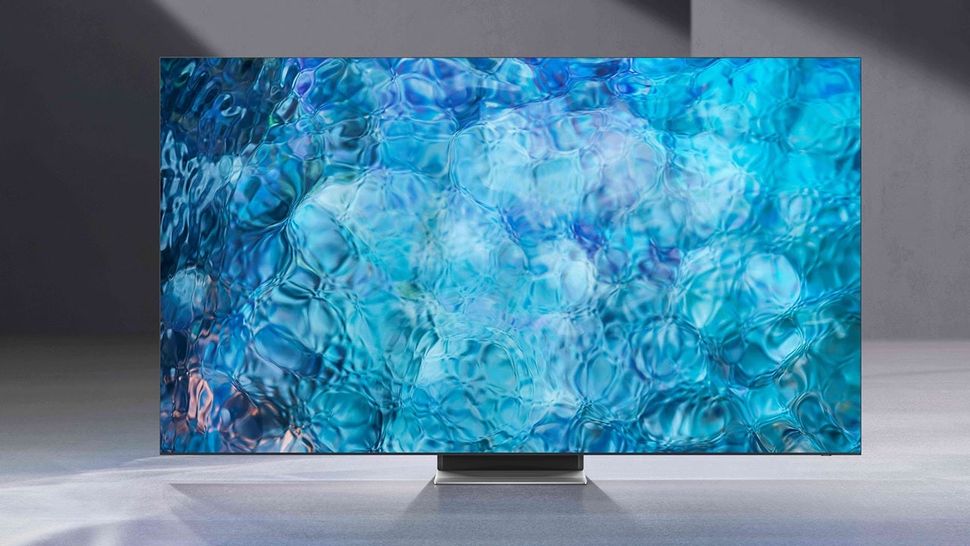 The Samsung 65-inch Class S95B OLED 4K Smart TV (QN65S95BAF or QE65S95B in the UK) is the company's first TV to combine OLED with quantum dots, resulting in a QD-OLED TV that promises the best of both technologies: superior color, brightness, and contrast in a single package.
That marriage is the tiniest bit rocky, though, thanks to its effects on the set's blacks (which should be any OLED set's crowning glory), and the superannuated Tizen operating system that leaves this brand-spanking-new set showing its age right out of the box.
That said, with top-tier picture quality, surprisingly good sound, a forward-thinking remote control, terrific gaming capabilities, and an eye-catching design, it's still an excellent option in 2022.
Read our full Samsung S95B OLED 4K TV review.
The combination of quantum dots and OLED panels has been a game-changer for TVs, with the rich, precise colors and searing brightness of the former an ideal marriage to the flawless blacks and near-infinite contrast of the latter. Though most manufacturers have explored this partnership, few have gone as far as Samsung — and even Samsung has never made as good a case for it as it has with the S90C.
This is an upper-midrange set that looks like it ought to be far more expensive than it is. It plays everything about as well as it could be played. Like almost all of Samsung's recent sets, the S90C boasts impressively low input lag (9.2ms) and with HDMI 2.1 allowing for VRR, ALLM, and up to 144Hz rates, you get just about everything you would ever need from a gaming TV.
Read our full Samsung S90C OLED review
The Samsung Q80B QLED TV may be the middle child in terms of Samsung's overall suite of offerings and its price, but one eyeful and earful of what it can do could deceive you into thinking it's a higher-end set. Utilizing a number of Samsung's most forward-looking technologies, and loaded with attractive features, the Q80B is a set that will easily earn its pride of place in your living room.
That's not to say the Q80B is problem-free. Its picture isn't perfect in every situation; and though every larger size has HDMI 2.1 ports — including the 55-inch, 65-inch, 75-inch and 85-inch models — they're absent on the 50-inch model (which we evaluated), so the set is better for watching than for gaming.
Thankfully, these won't be deal-breakers for everyone, and what you get in exchange will be more than good enough if these things aren't high priorities for you. (And if you can spare the dough and the space, the larger models would even fix the sound issues we had.) If a bright picture with clarion sound is what you care about most, you can easily get it without overspending
Read our full Samsung Q80B QLED TV review.
The Samsung Q60B QLED TV combines quantum dots and LEDs with the aim of improving color and contrast. But the results are mixed with this entry-level model, which doesn't quite distinguish itself. In short, if you want to luxuriate in the beauty of cinematography, this simply isn't the set for you.
But that does not mean it's not a set for anyone. It gets the job done. It sounds good for what it is. And it's shockingly adept at playing video games. These aren't nothing — and, for a gateway TV at a low price, they count for a lot. And, in terms of its sound and gaming prowess, it trumps the less expensive Sony X80K.
That TV looks better all the way around, it's true, but depending on who the TV is for, a small additional investment could easily be worth it. If you don't need or want anything more from a TV, why pay anything more? With the Samsung Q60B QLED TV, you don't have to.
Read our full Samsung Q60B QLED TV review.
How much do Samsung TVs cost?
With so many TVs to choose from, there's no single price point for Samsung TVs. But that also means that there's probably a great Samsung TV that fits your budget, so long as you're willing to be flexible on features and screen size.
Top end 8K and Micro-LED models can range from a few thousand dollars up to the tens of thousands. But Samsung's 4K offerings are far more reasonable. The Samsung Neo QLED 4K TV line ranges between $1,599 for the smallest QN85A Neo QLED model, up to $4,999 for the 85-inch Samsung QN90A, the largest in the Neo QLED family.
Less expensive models, like basic LCD sets and quantum-dot models without Neo QLED's mini-LED backlight start for as little as $549 for the smallest 43-inch model and up to $3,699 for the largest 85-inch QLED model.
Check out the full Samsung 2021 TV lineup for more models and details on pricing and size options.
Before you make a purchase, check our Samsung promo codes page for the latest offers and discounts.
What is QLED?
Samsung's QLED branding is well known in the TV world, but what does it really mean? QLED is shorthand for the combination of quantum dot and LED backlight, pairing LED backlight with nano-scale crystals called quantum dots that respond to light by producing additional light within a certain range of the color spectrum.
By combining these different hues of quantum dots with the triggering effect of the backlight, Samsung is able to boost the color gamut and brightness of the TVs, offering a major improvement over traditional LCD panels with LED backlight.
Samsung isn't the only manufacturer using quantum dots – these days, you can find some excellent QLED TVs from manufacturers like TCL, Vizio and Hisense. But Samsung has consistently offered the best implementation of QLED technology that we've seen, pairing it with refined backlighting control, filtering and other expert touches to deliver the best TV performance short of offering a more expensive OLED display.
Are Samsung 8K TVs worth buying?
Samsung's 8K TV selection is second to none, with multiple model lines delivering 8K picture quality at premium, mid-range and value priced tiers of affordability and features. While every 8K TV is more expensive than similarly-sized 4K models, Samsung's range of 8K QLED TVs offers choice premium features, a range of sizes and even some of the most affordable 8K options on the market.
But the bigger question is whether anyone should buy an 8K TV, and on that issue, we think the answer is no. Check out our article Should you buy an 8K TV in 2022? to learn more about the present state of 8K and why it's not worth buying yet.
How to choose the best Samsung TV for you
When it comes to picking a smart TV, choosing the right brand is only part of the process. Once you've settled on getting a Samsung TV, you'll still need to find the model that's best for you, offering the performance, features and price that meets your needs.
Thankfully, Samsung's QLED TVs offer clearly defined differences between the different model lines.
Swipe to scroll horizontally
Samsung 4K QLED TVs

| Model | Features |
| --- | --- |
| QN90A Neo QLED | Mini-LED backlight, Quantum HDR 32x dynamic tone mapping, Object Tracking Sound, |
| QN85A Neo QLED | Mini-LED backlight, Quantum HDR 24x dynamic tone mapping, upfiring speakers |
| Q80A QLED | Full array backlight, Local dimming, Quantum HDR 12x dynamic tone-mapping, 120Hz refresh rate |
| Q70A QLED | Dual LED backlight, Edge lighting, Quantum HDR tone mapping, 120Hz refresh rate |
| Q60A QLED | Dual LED backlight, Edge lighting, 60Hz refresh rate |
From smart functions to port selection, we offer plenty of advice in our TV buying guide, which explains the ins and outs of features like HDR, different types of display, and even extended warranties. And if you still have questions about smart TV features and capabilities, check out Smart TVs: Everything you need to know.
For the best picture, we recommend getting a set that offers high dynamic range (HDR) support. HDR10 is the base standard, while Dolby Vision is a higher-caliber format. Samsung TVs, however, use Samsung's competing HDR10+ format, instead of Dolby Vision. That's a bit of a shame, considering Dolby Vision is much more popular, but HDR10+ is playing catch up. Slowly.
Port selection is another chief concern. More HDMI ports will let you connect more devices, like game consoles and satellite boxes, and you'll want HDMI2.1 for the latest features. If you have a soundbar, look out for an HDMI port with eARC — it'll give you access to the most advanced audio formats.
According to our guide What size TV should you buy?, you'll want to position the TV roughly the same distance from the TV as the diagonal measurement of the screen size – 50 inches from a 50-inch TV, 65 inches from a 65-inch TV, and so on. So take the room and placement of the TV into account when settling on the best screen size.
---
If you've narrowed down your TV shopping by brand, price range or screen size, check out our picks for the best TVs in each.
Best TVs | Best 4K TVs | Best smart TVs for streaming | Best TVs for gaming
The best TVs under $1000 | The best TVs under $500
Best TV brands | Best TCL TVs | Best LG TVs | Best Vizio TVs | Best Roku TVs | Best Google TVs | Best OLED TVs | Best QLED TVs | Best 8K TVs | Best HDMI 2.1 TV | Best TVs with ATSC 3.0 | Best TVs with Chromecast
The smallest smart TVs | Best 43-inch TVs | Best 50-inch TVs | Best 55-inch TVs | Best 65-inch TVs | Best 70-inch TVs | Best 75-inch TVs | Best 85-inch TVs