The 17 Best Hard Games for the Masochists Among Us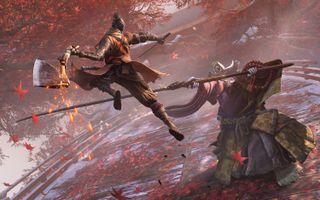 Bring it on!
Calling my fellow masochists! You've got to keep those reflexes in shape for when Sekiro: Shadows Die Twice launches, or if the next F-Zero ever comes out (a sign of the apocalypse, or so Adam Ismail says). Whether you're crazy enough to subject yourself to the pain of Phantom Road, or to jump into battle with the Valkyrie Queen at little-to-no-health, we've got some recommendations to satiate that desire for challenge. These are the best hard games.
Credit: Activision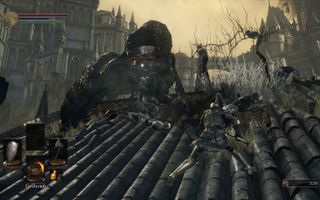 Dark Souls Series
At the risk of exploiting an easy cliché, the Dark Souls series is truly the Dark Souls of gaming. While it's a little glib to compare every single new game that comes out to FromSoftware's venerable franchise, there's a reason why the Souls series is still the gold standard in tough-but-fair action/RPGs. In each Dark Souls' game, you'll create a medieval fantasy warrior (warrior, archer, mage, cleric or some mix of the above) and set off to stop an eerie, fallen kingdom from descending into total entropy. Most enemies can destroy you in a handful of hits; bosses can often best you in a single stroke. Your only recourse is to proceed slowly and carefully, learn every trick the environment can throw at you, and empower your attributes and weapons slowly over time. It's both maddeningly difficult and immensely satisfying. — Marshall Honorof
Credit: Bandai Namco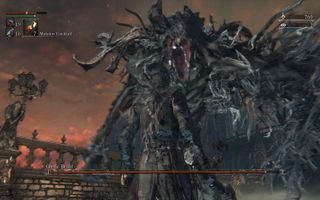 Bloodborne
Is Bloodborne technically part of the Dark Souls' canon? Yes and no. The story doesn't seem directly related, but FromSoftware's Victorian Gothic horror game will have you standing up to monstrously tough enemies, then cashing in their souls (or blood echoes; close enough) to slowly build up your skills and weapons. Like the Souls' games, Bloodborne is tough, dark and opaque, but it's also much faster and more forgiving, letting players regain health if they strike back quickly enough after taking damage. Furthermore, shields are out, and firearms are in — perfect for parrying and riposting enemy attacks. If you've got a PS4, Bloodborne is one of the strangest and most gratifying exclusives you can pick up. — Marshall Honorof
Credit: Sony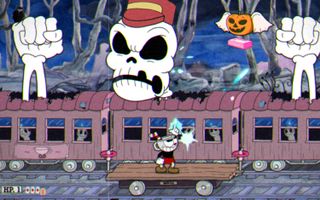 Cuphead
Sure, Cuphead and Mugman's adventures — a finger-guns-ablazing quest to erase the debt of their bargained souls — are tough, but that's almost besides the point. Each level looks like a living, breathing, hand-drawn animated show from the early "Steamboat Willie" days of Mickey Mouse. You'll certainly appreciate the joys you get from looking (and listening, because, wow, the original jazz score on this game) at Cuphead, because it's a punishingly difficult romp through a series of evil anthropomorphized enemies, including a giant slot machine that's angrier than a Las Vegas bouncer. — Henry T. Casey
Credit: StudioMDHR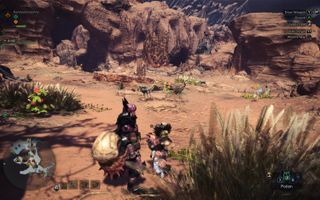 Monster Hunter World
Despite being specifically tailored for newcomers, Monster Hunter World is no pushover. It starts out pretty tame, but it shoves more and more mechanics onto your shoulders as you fight your way to High Rank. And even before you can get a grasp on what end-game build you'll be aiming for, you're tasked with taking on mother-lovers like the Behemoth or Arch-Tempered Teostra (two monsters even a pro-gamer like myself have not beaten yet). Monster Hunter World is incredibly addictive when you get the hang of what you're doing, but like many action RPGs, it's one heck of grind. — Rami Tabari
Credit: Capcom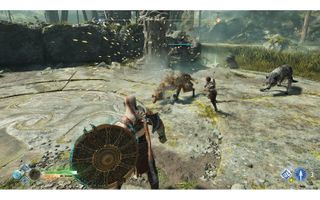 God of War (Give Me God of War)
God of War isn't inherently hard, but when I cranked this baby up to Give Me God of War mode (where you cannot change difficulty midgame), it's easily the best hard game I've ever played in my life. Taking a ton of inspiration from Dark Souls, God of War envelops you in brand-new mechanics that offer tight and intense action, but with a fair delivery.
Essentially, you could beat this whole game without leveling up if you wanted to, so if you die, that's on you. The hardest part, however, was getting past the steep learning curve in the beginning of the game. I died about 10 times on every enemy encounter before I fully mastered the game's mechanics. It's perfect for anyone waiting on Sekiro: Shadows Die Twice to come around, and that's not to mention that you'll be in for one hell of a narrative journey. — Rami Tabari
Credit: Sony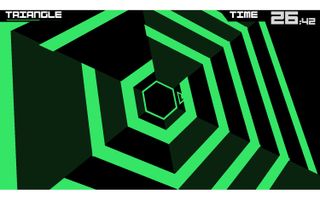 Super Hexagon
Mobile games can often lose their grip on gamers after a few weeks of play, but Super Hexagon is a maddening puzzler that keeps on bringing the pain. Each level starts off fast: as walls based on a hexagonal grid close in around the little triangle you control, which you must tap to dodge the walls, often finding the rare open gaps in said walls. You'll need your eyes glued to the screen and your fingers precisely tuned, or else you'll die, and die a lot. Oh, and make sure you've got headphones in, as the game's pulsing electronic music soundtrack is too good to be muted. — Henry T. Casey
Credit: Terry Cavanagh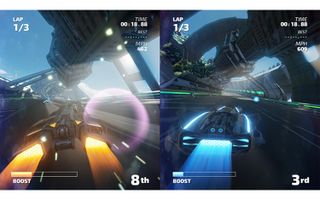 Fast RMX
There is a generation of Nintendo fans growing up today that doesn't know the true meaning of pain, because they've never had to pilot an F-Zero craft on Phantom Road. That's depressing, though at least they have Fast RMX on the Switch to deliver a rough approximation of one of the greatest and most unforgiving racing games of all time. Fast RMX's handling model isn't quite as dart-y as F-Zero GX's, though Sega and Nintendo's legendary GameCube racer wasn't as complicated as Shin'en Multimedia's spiritual successor, with its phase-switching mechanic and dynamic circuits. One thing that hasn't changed, however, is the ferocity of the opposition. Fast RMX's AI is as elastic as a bungee cord; you must turn perfect laps and hit every boost pad at any of the game's three difficulty levels to win, and even then it's not unusual to get blown by on the straights, mere feet from the finish line.— Adam Ismail
Credit: Shin'en Multimedia GmbH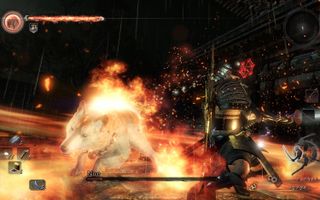 Nioh
The developers behind Ninja Gaiden, Team Ninja, deliver yet another claw-your-eyes-out experience with Nioh, an action RPG that takes inspiration from the developer's previous series as well as Dark Souls and Dynasty Warriors. This is not a simple clone of the aforementioned games, and as a veteran of the Souls series, it was no easy task to get a handle on the game's mechanics.
The combat system is surprisingly deep and complex. Every move in battle is vital to your survival, and there are a ton of additional skills and abilities that you can equip and customize to accommodate your playstyle. While it does offer co-op play, which can ease the burden of being the only target, it's actually harder, as you don't get any checkpoints throughout the level. With Nioh 2 on the way, now is the perfect time to get introduced to the growing franchise. — Rami Tabari
Credit: Sony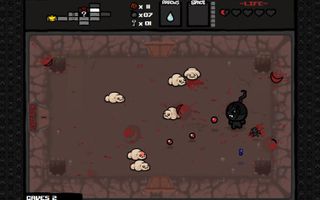 The Binding of Isaac
Roguelikes are already a taxing affair, but The Binding of Isaac's subject matter, ratcheted up the tension. Based loosely on the biblical tale where God commands Abraham to show his devotion by sacrificing his son Isaac, the titular character escapes into the monster-filled basement to avoid his mother. As he battles his way through the randomly generated, top-down dungeon crawler, he happens upon power-ups that play up his unenviable situation. And just when you think you've got the hang of it, you run afoul of the wrong enemy and have to start all over again — sans power-ups. — Sherri L. Smith
Credit: Danny Baranowsky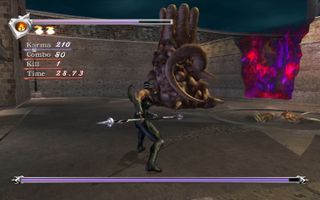 Ninja Gaiden Black
No one ever said that being a ninja would be easy. But man, oh man, no game tested my patience quite like Ninja Gaiden Black and its Master Ninja difficulty. I can't tell you how many times I zigged when I should have zagged, and was quickly dispatched by an enemy that was normally a piece of cake. And, let's be real, the normal difficulty in the original title was already pretty challenging. The game is demanding in that it relies on you performing extensive combos along with dodges and parries with near perfect timing. It's not for people prone to rage-quitting. I feel no shame in admitting that I tapped out on Master Ninja after level three. — Sherri L. Smith
Credit: Tecmo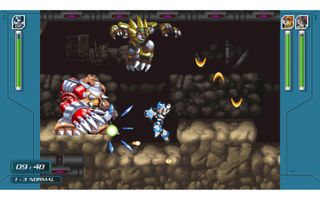 Mega Man X Series
Whenever you pick up a side-scrolling Mega Man game, you know two things about it: You're going to defeat bosses and copy their abilities, and you're going to have to fight for your life every inch of the way. Take the Mega Man X series, for example. In this series, you'll take control of X and Zero: android peacekeepers who hunt down rogue robots called Mavericks. Each animal-themed boss, from Chill Penguin in the first game to Dark Mantis in the last game, can give the Maverick Hunters a run for their money. But that's assuming you can even reach them, through long, difficult stages full of enemies, traps, pits and mini-bosses. However, you'll be able to mitigate some of the difficulty if you can track down each game's well-hidden armor and health upgrades. — Marshall Honorof
Credit: Capcom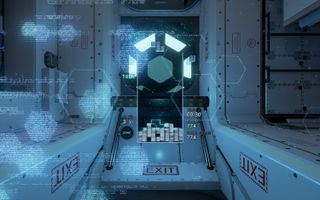 Tetris Effect
With enrapturing visuals and sounds that sync up with your falling blocks, Enhance Games' take on Tetris can be an incredibly serene and relaxing experience. But if you're a hardcore Tetris player, Tetris Effect also has plenty of modes to challenge your reflexes and reaction times. The game's Journey campaign mode can be unforgiving on its hardest difficulty, while modes such as Marathon and the hyperfast Ultra mode offer endless challenge for those looking to dominate the online leaderboards. And with the new Zone mechanic, even the most weathered Tetris pros will have new tricks to master before they can rack up insanely high scores. — Mike Andronico
Credit: Enhance Games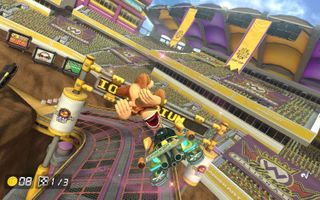 Mario Kart 8 (200cc Mode)
Is Mario Kart unfair? Sure. But it was never hard — until Mario Kart 8 came around. With the introduction of 200cc mode, Nintendo's lighthearted, cutesy racer transformed into something else entirely. At 200cc speed, races end tens of seconds faster than they do at 150cc. And it's not enough to drift and pop out of corners with boost; you have to liberally apply the brake while turning to correct your steering angle, or risk flying off-track into the abyss. Oh, and even if you can keep your adorable little kart on the island, you've still got Mario Kart's notoriously rubber-band-like AI to contend with, itching to hurl their blue shells and lightning bolts at you with every chance they get. Don't be fooled by the cheesy music and sugary visuals — if you're less than perfect, 200cc won't hesitate to punish you. — Adam Ismail
Credit: Nintendo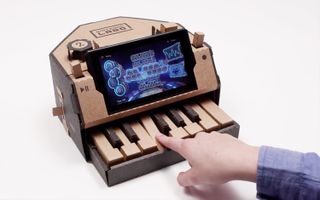 Nintendo Labo Piano
Setting up the Nintendo Labo Piano Kit is — I'm not making this up — one of the most confusing things I have ever done. Sure, Nintendo tries to help you with its interactive guide, but it still carries the same learning curve and exasperation as assembling Ikea furniture. Seriously, make sure you have a few hours set aside.
Then, if turning a pile of cardboard into a working piano wasn't daunting enough for you, there's the game itself. Yes, the Basic Mode is easy — but are you a baby? Didn't think so. In Studio Mode, the keys expand into a five-octave range, you can construct chords, and several knobs do very complicated things. All in all, it's a detailed wonder of modern gaming — but, boy, is it hard. (Actual piano players should ignore this blurb — I'm sure you guys are fine). — Monica Chin
Credit: Nintendo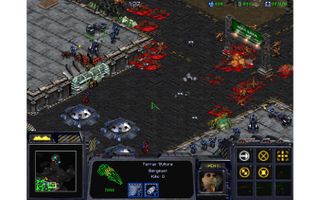 Starcraft
Take the strategy of chess and mix in the mind-games required in poker, and you have the core of what makes Starcraft one of the most complex games ever made. Starcraft (and its follow-up Starcraft II) is so difficult that top machine-learning companies, including Google and Facebook, are researching tens of thousands of rounds to make an AI that can master the legendary RTS. For the uninitiated, Starcraft centers on three races — Terran, Zerg and Protoss — that have dozens of unique units, each with their own abilities. The goal is simple: eliminate the enemy. But doing so requires lightning-fast decision-making, extensive knowledge of strats and builds, and some savvy sleight of hand. Like chess, Starcraft isn't a difficult game to learn and play at a novice level, but it takes specialized abilities and countless hours of practice to reach the upper ranks. — Phillip Tracy
Credit: Blizzard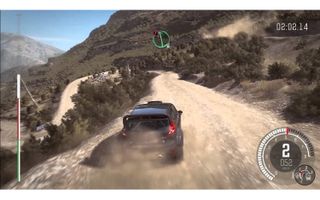 Dirt Rally
Rallying is considered by many to be the most challenging form of motorsport in the world, because it requires drivers to negotiate unknown paths, rife with hidden obstacles in the most treacherous conditions. Dirt Rally captures that spirit of off-road racing by being equal parts phenomenally soul crushing and tantalizingly exhilarating.
The rally stages themselves are modeled after real-world ones that fans of the World Rally Championship are sure to recognize, like Wales' legendary Sweet Lamb ribbon of gravel. But developer Codemasters doubled down on accuracy, modeling every errant bump, water splash and off-camber corner to catch gamers out, just as the real drivers often are. To circumvent those hazards, you'll have to listen closely to your co-driver, whose navigational notes are essential to emerging unscathed. And if you're fearless enough to pilot one of the game's retro death traps, like the Group B monsters of the '80s, all of that becomes exponentially harder — or more rewarding — when you get it right. — Adam Ismail
Credit: Codemasters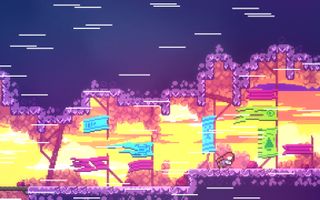 Celeste
The treacherous Celeste mountain is a series of spiky platform-based levels that protagonist Madeline needs to overcome. The game starts simply, tasking you to properly time a double jump and a wall-grip. Oh, and your wall-grip fades pretty quickly, forcing you to hustle up the rare non-spiked walls of the mountain. And you start to get used to dying a lot, as each screen of the game has many difficult jumps you need to time just right.
Soon enough, though, you're evading an evil ghost of yourself, and jumping through blobby bricks that shoot you out at a faster speed, which might kill you, if you hit a wall. That evil ghost version of you, though, is a sign of Celeste's deeper story, as Madeline's only scaling this giant deathtrap because that's how she's dealing with (or. initially avoiding) her own demons. And once you beat the difficult platformer on regular difficulty, you'll want to look for its unlockable B- and C-Side levels. They are opened by finding large cassette tapes, which are at the end of difficult mazes. — Henry T. Casey
Credit: Matt Makes Games