15 Instant Cameras, Ranked from Best to Worst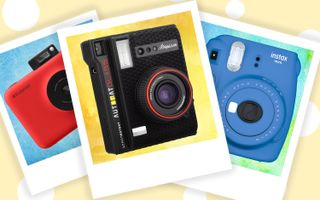 Even as the capabilities of sleek, thin, smartphone cameras expand, there's increasing nostalgia for a past era when the chunky Polaroid instant-film camera was the life of the party.
Unlike with digital cameras, you never know exactly what you're going to get with an instant camera until you see the finished picture. Because film costs money, you'll wind up counting your shots carefully and measuring each shot carefully. But hey, that's instant film — just like in the old days. Do not expect images to look like you shot them with a digital camera or your high-end phone. This is a different technology, with its charm derived from a vintage, imperfect, conceptual look.
We tested more than a dozen cameras — from super-easy-to-use shooters with minimal controls to somewhat complex ones with more options — to get a handle on the best ones for you.
Credit: Tom's Guide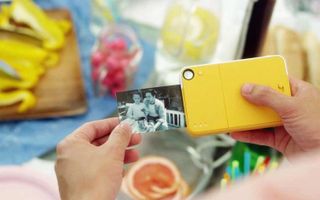 Quick Buying Tips
Instant cameras are not exactly instant. You have to wait at least 90 seconds for the picture to "fill in" to view the finished result, but we often found it took several minutes for the completed image to fully bake, revealing richer color and sharper focus.
Know your film types. Most cameras use the ISO 800 Fujifilm Instax film cartridges, which come in several sizes and varieties, including the Mini (1.8 x 2.4 inches), Square (2.4 x 2.4 inches) and Wide (3.8 x 2.4 inches, more than twice the width of the Mini images). There's also various border colors and either color or monochrome processing.
Zink paper has caveats. A few of the cameras — the Polaroid Snap Touch, the Kodak Printomatic and the HP Sprocket — use Zink thermal paper instead of actual film. Zink uses heat to activate colors in the paper, whereas photo paper has chemicals that are light-activated. We found Zink prints tended to be less vibrant overall.
Credit: Kodak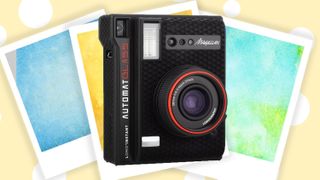 Lomo'Instant Automat Glass
Rating: 4/5
With its 38-millimeter wide-angle, multicoated f/4.5 glass lens, the Lomo'Instant Automat Glass gives you sharper images, better low-light performance and a wider field of view than its competitors. A "Splitzer" gizmo fits over the lens and divides the frame into different sectors, allowing you to split exposures among multiple shots. It also includes a lens for shooting extreme close-ups, up to a foot from your subject. The camera comes with tips on how to take better photos and a box of fiddly accessories to showcase your shots.
Auto mode lets the camera adjust aperture (f/4.5- f/22), shutter speed and flash output. The Automat has a remote built into its lens cap, so you can more easily take group shots or exposures up to 30 seconds. (It has a tripod mount, too.) Zone focusing helps measure the proper distance for the best shot, and we liked its optical viewfinder. The camera and remote use two different batteries (sold separately).
At whatever distance I tried, pictures from the Lomo L'instant Glass Magellan were incredibly sharp. Its size made it convenient to carry around, and it performs well in low-light; it did not even require a lighten mode to take some night shots in the yellow streetlamp of a park. The only issue I had was with the close-up lens, which was a bit stubborn when I tried to remove it.
Photo type/size: Fujifilm Instax Mini (1.8 x 2.4 inches) | Size: 4.8 x 3.9 x 2.9 inches|Weight: 12.5 ounces |Battery: 2 CR2 batteries (3V); 1 CR 2025 (3V) for remote, sold separately
Credit: Lomography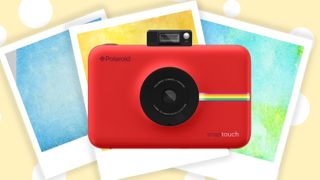 Polaroid Snap Touch
Rating: 4/5
The Polaroid Snap Touch uses Zink thermal photo paper to produce color glossy prints. The camera is small enough to fit into a pocket and comes in an assortment of bright colors. Smartphone users will be immediately comfortable with the Snap Touch's 3.5-inch LCD touch screen. It features three color modes — black and white, color, and vintage sepia and also records 1080p and 720p video, which you can store on a microSD card.
The Snap Touch features a 10x optical zoom and comes with a tripod mount. The camera can pair with your smartphone via Bluetooth and has an app (iOS and Android) that offers additional photographic options, like text, borders, emojis and stickers. Unlike other instant cameras, which will automatically pump out a print even if it's snapped by accident, the Snap Touch lets you preview, choose, print or discard any shot so you waste less precious paper.
Using the Snap Touch's giant LCD screen, I was able to frame images better than I could with the small viewfinders on most other instant cameras. Images shot outdoors during the day displayed true colors and decent skin tones with plenty of detail, though some indoor shots came out a bit dark and muddy, despite the flash. Generally, close-ups looked better than long-distance shots.
The ability to dress up images with emojis and stickers and improve them with filters or digitally enlarge them is a bonus. You can also use the app to print images shot from your smartphone when connected to the camera via Bluetooth. Since the Zink paper is not film, if the paper jams, you can easily open the back of the camera to tap the paper into place and resume printing without causing any damage to the picture.
Photo type/size: Zink (2 x 3 inches), 10 sheets|Size: 5 x 4 x 1 inches | Weight: 7 ounces|Battery: Built-in rechargeable lithium-ion battery
Credit: Polaroid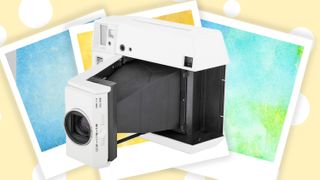 Lomography Lomo'Instant Square
Rating: 4/5
The Lomo'Instant Square features a 95-mm (45-mm equivalent) glass lens that encourages creativity. Its old-school bellows design will be unfamiliar to most, but it folds flat to about one-third of its operational size, making it more convenient to tote.
A variety of manual controls include the ability to take multiple exposures and a long exposure mode that keeps the shutter open for up to 30 seconds. The camera has a self-timer, as well as a remote control that detaches from the camera (and requires its own battery). A tripod mount makes it easier to keep the camera steady during night shots and long exposures.
Also included are four gel filters to give different color casts to your images, cards that show what images will look like at various settings, and clips, stands, glue dots and magnet stickers to display your photos.
Portraits have an evocative quality — clear, with soft flesh tones — while landscapes provided pinpoint detail and pleasing colors, similar those from the Lomo'Instant Automat Glass. Night shots, with and without flash, and augmented with available streetlights, can make a storyteller out of any casual shooter.
The shutter — a square tab on the front — is extremely sensitive, so you have to watch how you hold the camera so as not to fire a shot accidentally. The shots from the glass lens are refreshingly sharp and clear, though focusing through the lens takes some getting used to. The camera has a bit of a parallax effect, so that what you see through the lens is an approximation of what you will actually capture.
Photo type/size: Fujifilm Instax Square (2.4 x 2.4 inches) | Size: 6 x 4.8 x 1.7 inches | Weight: 1.1 pounds | Battery: 2 CR2 batteries (3V); 1 CR 1632 (3V) for remote, sold separately
Credit: Lomography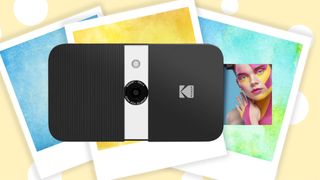 Kodak Smile
Rating: 4/5
This simple and inexpensive digital camera has a number of features we really like: A slide-open mechanism protects the lens and keeps the camera from turning on accidentally; buttons on the back make it easy to navigate menus; and you can review photos on the Smile's small LCD display before opting to print them out.
However, the quality of the prints from the Kodak Smile were a step below other Zink cameras, such as the Canon Ivy Cliq+. Whites turned a bit pinkish, and other colors were muted. Also, the digital images stored by the Smile are on the small side. But for $99, the Smile is a good instant camera.
Read our full review of the Kodak Smile camera.
Photo type/size: Zink (2 x 3 inches) | Size: 4.8 x 3.1 x 0.9 inches | Weight: 16 ounces ounces | Battery: Approx. 40 shots (built in)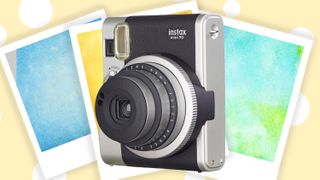 Fujifilm Instax Mini 90 Neo Classic Instant Film Camera
Rating: 3.5/5
With its classic retro style and 60-mm, f/12.7 lens, the Fujifilm Instax Mini 90 is an appealing choice for hobbyists seeking a change of pace. The compact Mini 90 offers more controls than the Instax Mini 9 and the Polaroid 300. An easy-to-read monochrome LCD readout keeps track of your settings and film counter, while the Mode button lets you cycle through different scenarios (such as sports or landscape).
A self-timer lets you time one or two shots at 10-second intervals either to let you be part of the photo or to create a double exposure. The Mini 90 has an electronic macro setting for more creative shots, as well as two shutter buttons to make it easier to snap portraits or landscape photos. Unlike with some other instant cams, you can turn the Mini 90's flash on or off.
The Instax Mini 90 was among the easiest cameras to use because of its digital readout and the flexibility of the buttons that let you choose and combine the camera's various shooting modes. Its small size made it easy to handle, too.
In Macro mode, the viewfinder automatically adjusts to show a better preview of your shot. The lighten/darken button, which operates like exposure compensation, made it easy to expose two shots on the same sheet of film.
My favorite daytime and macro shots — which were sharp and had deep, vivid colors — were taken in late-afternoon sunlight under bright conditions. Night shots came out well, both indoors and out. The Party mode worked well without the flash, especially when augmented by a fairly strong outside light source; with the flash, subjects were well lit.
Photo type/size: Fujifilm Instax Mini (1.8 x 2.4 inches) | Size: 4.4 x 3.6 x 2.2 inches | Weight: 10.4 ounces | Battery: 1 lithium metal battery (included)
Credit: Fujifilm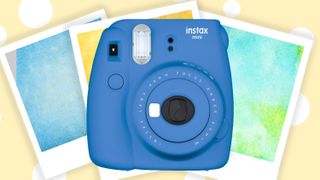 Fujifilm Instax Mini 9
Rating: 3.5/5
The Fujifilm Instax Mini 9 comes in a variety of bright colors: Cobalt Blue, Flamingo Pink, Ice Blue, Smoky White and Lime Green. Combined with a smooth, curved design and a dotted hand strap, it looks a bit toy-like. Still, it is exceptionally easy to use.
An included close-up lens accessory snaps on with an audible click. From there, an LED lamp on the side of the lens guides you on where to adjust the exposure. A high-key option lightens images and assists in exposing darker environments. The camera automatically lights up on the mode that's best for your shot, but you have to rotate the lens to the right place before taking the shot and be sure to keep the proper distance from your subject.
The default 60-mm f/12.7 lens has a minimum focusing distance of about 2 feet, while the close-up lens lets you focus from approximately 1 foot away. Because of the camera's automated functions, there are limited customizable settings. The close-up lens made focusing tricky; you have to center the focus circle just slightly to the upper right of the subject.
The camera's shutter speed is fixed at 1/60 of a second, and the flash fires no matter what. In bright light, if I moved the camera or my feet ever so slightly, the camera often chose a different exposure setting. With distance and lighting problems solved, the Instax Mini 9 shot clear images with pleasing, fairly accurate color, with especially good results in broad daylight. Unlike with some cameras, there is no tripod mount or bulb setting, so if you shoot in low light, you must rely on the camera's auto flash.
Photo type/size: Fujifilm Instax Mini (1.8 x 2.4 inches) | Size: 4.5 x 4.6 x 2.6 inches | Weight: 10.8 pounds |Battery: 2 AA batteries, included
Credit: Fujifilm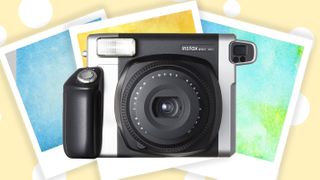 Fujifilm Instax Wide 300
Rating: 3.5/5
The Fujifilm Instax Wide 300 is a bulky beast. It has a 114-mm, f/14 lens and uses only Instax Wide film for a picture that's more than twice the size of the Mini's — ideal for capturing landscapes or groups of people. While the camera has a digital readout, it has fewer controls than the Mini 90.
It includes a snap-on close-up lens, as does the Mini 9, which is just as easy to lose. The camera's auto flash optimizes the lighting according to distance, and you can choose the fill-in flash with a flash-on LCD button.
The best thing about the Instax Wide 300 is the size of its pictures: They are big. And despite the camera's weight, its handgrip makes it comfortable to hold. Daylight images were bright with accurate color, though the focus was a bit soft. The default focus distance is almost 9 feet, much farther than those for the Mini 9 or the Mini 90. Unlike some Instax cameras, the Wide 300 lets you twist the lens one way to focus from 3 to 9 feet and the other way to capture images from 9 feet and up.
The Wide 300's powerful flash is a real help when shooting photos at night, especially when the subject is close, and a handy tripod socket lets you anchor the camera for a steadier shot. A combination of the infinity setting, the auto flash and a light source produced bright images at night within the shooting range. However, the Wide 300's flash fires automatically in some situations, which can overexpose some photos.
Photo type/size: Fujifilm Instax Wide (3.8 x 2.4 inches) | Size: 6.6 x 3.7 x 4.7 inches | Weight: 1.4 pounds | Battery: 4 AA batteries, included
Credit: Fujifilm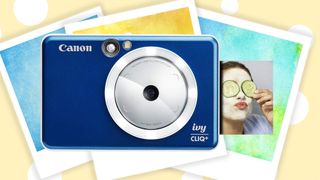 Canon Ivy Cliq+
Rating: 3.5/5
The Canon Ivy Cliq+ not only takes photos and prints them on Zink paper, but it can also connect to your smartphone and print photos from your mobile device, too. We liked the Cliq+'s clean, simple design and thin size, which made it pretty easy to fit in a pocket. Surrounding the lens is a circular mirror, for all those selfies you plan to take.
We liked the quality of the images printed from the Cliq+, but didn't like the fact that we couldn't review the photos we took with the camera, nor select those we wanted to print. At $159, this is a pretty pricey instant camera, too.
Read our full Canon Ivy Cliq+ review.
Photo type/size: Zink (2 x 3 inches) | Size: 4.8 x 3.2 x 0.8 inches|Weight: 9 ounces |Battery: Approx. 40 shots; built in/rechargeable
Credit: Canon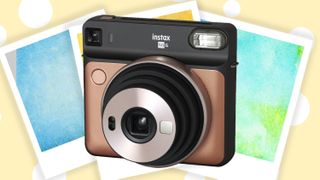 Fujifilm Instax Square SQ6
Rating: 3.5/5
Fujifilm's Instax Square SQ6 is the company's first fully analog square cam with a 65.75-mm lens. With a choice of three colors — blush gold, graphite gray and pearl white — it has a subtle grippy exterior housed in a black frame. The camera features three focusing ranges: macro (1 to 1.6 feet), auto (1.6 to 6.6 feet) and landscape (6 feet and up).
Auto exposure control calculates the brightness to adjust the shutter speed and flash, but the SQ6 gives you plenty of flexibility, including flash suppression and various shooting modes. Whichever one you pick, the camera will make its own internal adjustments. The package also includes three color filters — orange, purple and green — that can be fitted over the flash to add a color cast to your photo.
The camera also includes a self-timer and a tripod mount. As with the Instax Mini 90 Neo Classic, you get some control over your images — including flash and double exposure — but this camera gives you much larger square prints.
With the Automatic setting, the SQ6 captured accurate color and skin tones, though the image was not super sharp. As I got closer to the subject, the skin tones were truer, even with the flash on.
I managed to blow a shot by accidentally hitting the shutter button and ruined another shot when changing double exposure settings. Low-light performance was somewhat disappointing, as I found the images a bit soft in medium light without the flash.
Photo type/size: Fujifilm Instax Square (2.4 x 2.4 inches) | Size: 5 x 4.7 x 2.3 inches | Weight: 13.9 ounces | Battery: 2 CR 2 batteries, included
Credit: Fujifilm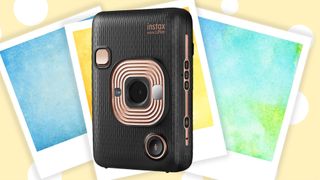 Fujifilm Instax Mini LiPlay
Rating: 3/5
The Fujifilm Instax Mini LiPlay does something no other instant camera can: Record video to go along with your photos. When you take a picture with the LiPlay, you can press a second button to record a 10-second audio clip; that clip gets uploaded to the cloud, and a small QR code gets printed on the photo. If you then scan the QR code, you can play back the recording.
It's clever, but too complicated for what's supposed to be a simple device. Plus, the LiPlay's on-screen menus were confusing to navigate. And, the camera's bulbous size made it less portable than other instant cameras.
The photos that the LiPlay printed out were great, and when you connect the camera to your smartphone, you can also print out photos from your mobile device. But the audio-plus-still photo feature is just too gimmicky.
Read our full review of the Fujifilm Instax Mini LiPlay.
Photo type/size: Instant Film (2.1 x 3.4 inches) | Size: 5.8 x 4.1 x 3.4 inches | Weight: 9 ounces | Battery: Up to 100 shots; built in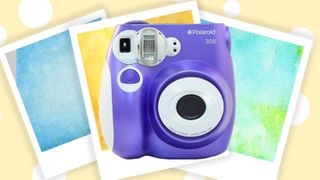 Polaroid 300 Instant Camera
Rating: 3/5
Unlike the Polaroid Snap Touch, which delivers instant prints on Zink thermal paper, the Polaroid 300 is a fully analog camera, which prints and ejects your film immediately in the same manner as the Fujifilm Instax and Lomo cameras. If you buy the Polaroid-branded film cartridges, you'll find that the only difference between them and the Fuji paper is the name on the package.
The Polaroid 300 is fairly compact — similar to the Fujifilm Instax Mini 9 — and has a sporty woven wrist strap. Available in black, blue, red and purple, it's designed as a fun party camera. When the camera is idle for 5 minutes, it goes into an energy-saving mode to conserve the four AA batteries.
Shooting with the Polaroid 300 is easy. The camera has only a few simple settings, and your only task is to make sure that you line up the camera and measure the distance accurately.
The images from the Instax Mini 9 and the Polaroid 300 were roughly comparable. But the Mini 9 offers a bit more flexibility and control with the close-up lens and the high-key light setting, and it directs you to the best exposure. With the Polaroid 300, you're on your own. The image quality was fairly soft both indoors and outdoors, though the camera was better at capturing colors outside in sunny conditions, similar to the Mini 9.
Photo size: Fujifilm Instax Mini (1.8 x 2.4 inches) | Size: 4.8 x 4.7 x 2.8 inches | Weight: 11.3 ounces | Battery: 4 AA batteries, included
Credit: Polaroid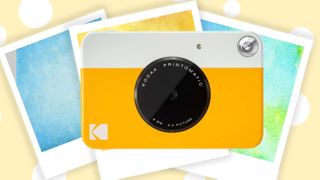 Kodak Printomatic
Rating: 3/5
Kodak's name lives on in this Zink camera, which, in addition to printing out your snaps, saves a digital copy of your photos. It's available in the company's trademark yellow and white, though you can also get it in black, blue, gray or pink.
The camera has a minimalist simplicity. There's a shutter button on top, a power button next to the viewfinder in the upper-left corner, and a slider that lets you switch modes from color to black and white. On the bottom of the camera is a mini USB port for recharging the battery, as well as a microSD card slot to store your photos digitally.
The Printomatic has a 10-megapixel sensor with a wide-angle, f/2 lens that takes decent pictures in well-lit situations. The viewfinder shows more of a scene than you'll get with the print, which cropped the edges a bit, so make sure the subject is centered. As with other Zink cameras, the print quality was a bit muted compared with shots on real photo paper.
The digital files (3680 × 2760 pixels) saved by the Printomatic were good, provided that there was plenty of natural light. The camera's flash fires whether you want it to or not, so if you take a photo too close to a subject, they tend to get washed out. Overall, though, we like that you get both analog and digital copies of every photo you take.
Photo type/size: Zink (2 x 3 inches) | Size: 7.5 x 6.1 x 2.3 inches | Weight: 10.6 ounces | Battery: Lithium ion, included
Credit: Kodak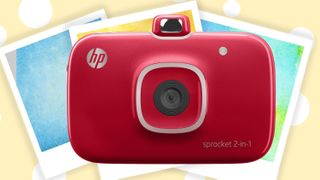 HP Sprocket 2-in-1
Rating: 3/5
Similar to the Kodak Printomatic, the HP Sprocket is a camera and Zink printer in one. It has a friendly, rounded design, with a glossy, white finish and copper accents. (A red version of the camera is also available.) Like the Printomatic, the Sprocket can connect to a mobile app, so you can print photos taken with your smartphone. A built-in rechargeable battery is good for about 40 prints.
The top of the camera has a viewfinder that pops up when the Sprocket switches from printer to camera mode. The front of the viewfinder is also mirrored, so you can use it to frame selfies. Other features of the camera include a timer button next to the shutter, a microSD card slot for saving digital copies of your photos, and a tripod mount.
Photos taken with the Sprocket's 5-MP camera were average at best. As with many other instant cameras, images taken in well-lit settings came out well, but quality became inconsistent in less-controlled scenarios.
Prints from the Zink printer could have been better. The quality was uneven, the colors had a mottled appearance and skin tones were rarely accurate.
Photo type/size: Zink (2 x 3 inches) | Size: 4.8 x 3.1 x 1.14 inches | Weight: 6.7 ounces | Battery: 500-mAh lithium polymer (built in)
Credit: HP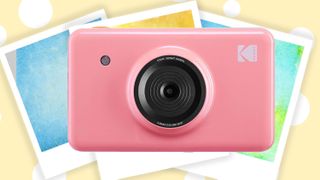 Kodak Mini Shot
Rating: 2/5
The Mini Shot is similar in size and shape to the Kodak Printomatic — and also comes in a variety of colors, including yellow, blue, pink and purple — but the Mini Shot has a small, 1.7-inch LCD instead of a viewfinder. The Mini Shot's display was very slow to refresh, and its resolution was so low that it was difficult to tell if subjects were in focus.
Similar to the Polaroid Snap Touch, the Mini Shot has Bluetooth, and connects with a smartphone app to let you add borders and effects to your photos, and print photos from your phone. However, there's no way to know how much paper is left, and the camera doesn't store digital copies of your photos.
Like most instant cameras, the Mini Shot struggled in dim settings but performed fairly well when there was plenty of ambient light.
The printing process takes an aggravatingly long time, as the paper has to move in and out of the camera four times (cyan, magenta, yellow and a finish laminate), during which time you can't use the camera for anything else. The internal battery is good for about 20 prints and takes about 90 minutes to fully recharge via the camera's USB port.
Photo type/size: Photo paper (2.1 x 3.4 inches) | Size: 5.2 x 3 x 0.9 inches | Weight: 8.4 ounces | Battery: 620-mAh lithium, (built in)
Credit: Kodak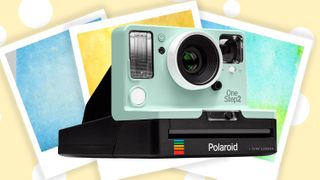 Polaroid OneStep 2
Rating: 2.5/5
The Polaroid OneStep 2 Viewfinder i-Type camera derives its style from the instant cameras of old, but it has a modern twist. Available in either a white or a graphite case, the OneStep 2 is literally point-and-shoot, augmented by a powerful auto flash (which you can disable by pressing it at the same time as the shutter button) and an enhanced optical viewfinder alongside a 106mm fixed-focus optical-grade polycarbonate and acrylic lens.
The lithium-ion battery lasts about 60 days on a single charge. The camera also has a self-timer, tripod mount and slide-based exposure adjustment.
The print itself is a generous 3.1-inch square. You have to load the film just right, or the LED lights will not show all the shots as available. After each shot, the film emerges from the camera covered with a thin film shield, and as you remove the picture, the covering snaps back into the camera body.
The film, which Polaroid recommends you store in the fridge before using, takes much longer to develop than Fujifilm Instax stock, which goes from blank to image in as little as 90 seconds. The OneStep image takes between 10 and 15 minutes to fully form on paper, and you must keep the picture face down, shielding it from the light as it cooks.
That creates two problems: You can't readily see if the picture came out the way you liked, and if you're outdoors or moving around, keeping the photo still and face down for that long is a challenge. The color film also costs more than the Instax boxes and contains only eight shots versus 10 for Instax, for a cost of $2 per shot.
While some images from the OneStep showed deep color and a respectable amount of detail, it was harder to get a good-quality shot from the Polaroid camera than from its competitors.
Photo type/size: Color or black and white i-Type film or Polaroid 600 film (3.1-inch square) | Size: 5.9 x 4.3 x 3.7 inches | Weight: 1 pound | Battery: Lithium-ion battery, 1,300 mAh (included)
Credit: Polaroid