Wondering what are the best cameras for your budget? Don't worry, we've got you totally covered.
Before you take the plunge and get shooting though, you need to decide what it is that you want and, perhaps more importantly, what you need. Cameras come in a variety of different form factors, sizes and prices, ranging from $100 for casual cameras all the way up to $10,000 for pro-level bodies.
Here, we've focussed on the lower end of that price range, listing the best cameras up to $2,500. That's not to say, however, that for that money you won't get a fantastic camera. Indeed, many camera bodies up to and at the $2,500 are more than enough even for professional use, so will certainly suit enthusiasts. Within this budget, there are also still a huge range of options, allowing you to select the perfect camera for your needs, whether it be a full frame mirrorless camera which allows you to swap lenses; a DSLR which operates in a similar way and provides similar benefits with a few key differences; point and shoot cameras which feature a lens built in and fit in your pocket; instant cameras for a retro look and experience; or action cameras that will deliver incredible video.
Each model on this list has been tested extensively and evaluated by Tom's Guide experts to rate its image and video quality, features, handling and value for money. So you can rest assured that our opinions and recommendations are reliable, and will help find the best camera for you.
Whether you're after one of the best action cameras, best DSLRs, best mirrorless cameras, or best cameras for vlogging, all you have to do now is read on.
The quick list
The best cameras you can buy today
We've split this list into the best mirrorless, DSLR, compact, action and instant cameras. There's no way of getting around it, DSLRs are no longer the priority for manufacturers, who have mostly pivoted to mirrorless. As such, it's now increasingly difficult to find DSLR models, so the list is pretty short. However, there are still some to be found, so we've included a few of the best.
The best camera for beginners
The Canon EOS R50 is our pick for the best camera for beginners. It's small and lightweight to come with you wherever your new photography or vlogging passion takes you. Meanwhile, it's well built, so it should last until you're ready to upgrade in the future.
It delivers beautiful stills, 4K video in 30p, natural colors straight out of camera, and Canon's ferocious autofocusing system. Indeed, it's the AF which really seals this camera as the best for beginners, as Canon has essentially packed into the R50 an (only slightly) slimmed down version of the AF found in its high end professional bodies — which is epic. There's also a flip out screen for vlogging, a dedicated product mode for demos and great vlogging and beginner kit options.
As with any beginner camera, there are a few compromises. It's a little pricey for a beginner body, and this is because realistically it isn't aimed at total newcomers. However, we think the features the R50 packs warrant the extra spend over the actual Canon entry-level body, the EOS R100, which is very basic. It could do with a few more direct controls on the body and when shooting at maximum resolution, the camera did start to overheat. None of these things change the fact that this is still a really great starter camera that will last you a while!
Read more in our Canon EOS R50 review.
The best camera for stills enthusiasts
The Fujifilm X-T5 is the best mirrorless camera for enthusiast photographers. It may look and feel retro, but under the hood it boasts Fujifilm's latest 40.2 MP X-Trans CMOS 5 image sensor and X-Processor 5 pairing. The high resolution sensor delivers outstanding image quality and leaves plenty of flexibility for cropping or large-format printing. With so many megapixels to play with, a manual shutter speed of 15 fps and electric shutter speed of 20 fps is impressive. However, in testing, the X-T5's buffers filled very quickly due to the lack of CFExpress ports, so you wont be able to utilize those faster shooting rates for long. Nevertheless, with a deep-learned AI autofocus system, the X-T5 will be able to keep up with even fast-moving subjects.
The ISO range is expandable to 51,200, and while its noise suppression is effective (it has to be when packing this many pixels onto an APS-C sensor), it does lead to an artificial smoothing effect and a loss of detail in images shot at higher sensitivity. Still, we came away with usable images even at ISO 12,800. Strong light metering and a range of Fujifilm's beautiful color simulation profiles helps the X-T5 offer users a quality result without the need to be a post-production master, while its compact and lightweight design and 5-axis IBIS make it an excellent option for on-the-move shooting. Video performance is decent, offering up to 6K at 30p and 4K at 60p, but this camera is primarily designed for demanding enthusiasts and professional photographers — and there it excels.
Read our full Fujifilm X-T5 review
The best hybrid camera for advanced users
The original Canon EOS R6 long held the position of the most expensive camera on our best mirrorless cameras list. And the Canon EOS R6 Mark II continues that legacy. That said, while it's pricey, you get a lot for your money, The R6 Mark II is a camera designed for serious enthusiasts and professionals, with a feature set to match.
The EOS R6 Mark II is a professional hybrid camera, meaning it's designed for both stills and video. Its relatively modest megapixel count of 24.2 means it won't be the best for large photography printing jobs, but on the flip result in larger photosites (essentially pixels) than on a higher resolution sensor and therefore better low light performance. For video, there's 4K at 60p in 10-bit color, HDR PQ and C Log 3 available, all of which provide greater post-production flexibility for pro filmmakers.
Canon's deep-learned AI autofocus is just phenomenal, and can track human eys and faces, animals and vehicles, making this a versatile tool for different genres of photography.
If we're nitpicking, we'd have liked to see Canon's highest level BSI (Back Side Illuminated) sensor equipped, and pro users might have liked an OLED top panel display, as you'd find on the similarly priced APS-C Fujifilm X-H2S, and the EOS R5 (this camera's bigger sibling). However, if you have the budget, this is the camera to get.
Read our full Canon EOS R6 Mark II review.
The best camera for content creators
If you're a vlogger or content creator looking for best camera for YouTube or Social media content creation, look no further than the Fujifilm X-S20. It was really difficult choosing between this and the Sony a6700 for this category, but in the end we think the award has to go to the Fuji, thanks to its higher resolution video, wider range of vlogging features and, most importantly, lower price.
The X-S20 shoots beautiful 6.2K video at 30p, which is great for producing high quality vlogging content. There's also 4K/60p if you want to shoot in 60fps, which is better for faster paced content. There's a fantastic AF system with modes for people, faces, eyes, animals, and even vehicles, plus IBIS for smooth handheld footage. There are numerous specific vlogging features, too, including a vari-angle screen, a dedicated Vlog mode on the dial (which provides access to a touch screen menu with key vlogging features), a background defocus mode and a product priority mode (which changes AF to deprioritize faces — great for product demo vlogging). These aren't huge features, but they make the X-S20 a much easier camera than the Sony a6700 for less experienced vloggers who want an easy to use production tool. The lower price also helps with attainability.
What's more, while the X-S20 will be easier for newcomers, that doesn't mean it lacks the specs for more advanced users either — it's just as capable as the a6700.
If you're also interested in stills, the X-S20 takes beautiful photos, as you'd expect from a Fuji camera. For stills only, though, we'd recommend the Fuji X-T30 II or Fuji X-T5. If you already have an X-S10, the X-S20 is a decent upgrade, but only if you'll be shooting lots of video, where its beefed up battery and video specs will be most noticeable.
Read our full Fujifilm X-S20 review.
The best advanced camera for video
The Lumix S5IIX is the best advanced camera for video in our price bracket. Costing under $2,000, this camera will offer enthusiasts and semi-pro videographers all they need to produce professional quality video for their projects. Heck, it should even be more than enough for pro filmmakers too.
The Lumix S5II and S5IIX (they are separated only by a few additional video features on the S5IIX, some of which can be added to the base S5II via a paid firmware update) are the successors to the legendary Lumix S5, and follow very much in its footsteps. The S5IIX features a huge range of video resolutions and formats, compression types and bitrates, allowing users to customize their content to workflow, quality and storage requirements.
The camera features Panasonic's incredible IBIS system to keep everything stable when shooting handheld, and most importantly uses Panansonic's latest AF system — this is now a combined phase and contrast detection system, fixing one of the main issues on the original S5. As a mirrorless hybrid, it also takes beautiful images with lovely color rendition and all the benefits of a full frame sensor in regards to depth of field and low light performance.
Drawbacks? There are very few and we almost awarded this camera 5 stars. The AF is still a little spartan versus rivals in terms of detection modes — this is primarily why the R6 Mark II is still the better tool for hybrid advanced users and pros. There's no CFExpress port for fast data speeds when not shooting to SSD or external recorder — this is something you'd find on the Lumix GH6. And the 370-shot battery life isn't when compared to rivals. That said, for the money, this camera is phenomenal.
Read our full Panasonic Lumix S5IIX review.
The best mirrorless cameras
Here we've rounded up the other best mirrorless cameras (if they aren't already in the sections above). You can read more in our roundup of the best mirrorless cameras.
If you want to produce high quality video for YouTube or social media without breaking the bank, the a6700 is a fantastic choice. This camera packs incredible autofocus, 4K video oversampled from 6K at 60p, and can shoot 120fps slow motion at 4K. It's built beautifully, can take lovely photos and also gives you access to the huge number of Sony E-Mount lenses. There's also an awesome Auto Framing mode which gives solo shooters the effect of having a camera operator follow them through frame.
The EVF isn't the best in the price range, and there's no focus joystick on the back, which is a pain for photography. If you're relying on your video camera for any paid work, then the single UHS-II card slot is a big issue, as you won't have a backup of your footage or photos if your SD card goes kaput.
The main rival of the a6700 is the Fujifilm X-S20. We think the Fuji just pips the a6700 for vlogging, thanks to its Product Priority Mode and other vlogging features, as well as its lower price. These make it more attainable for newcomers to video, as well as those with more experience. The Fuji also shoots higher resolution video than the Sony at 6.2K versus the a6700's 6K oversampled 4K.
There are a couple of reasons to buy the Sony over the Fuji though. If you shoot a lot of slow motion, the a6700 features 4K/120fps recording for high resolution slow motion. The Fuji shoots at a higher 240fps, but only up to Full HD. There's also a larger range of lenses for Sony (although only by a small margin and you certainly won't be short of lenses with the Fuji). If you're already invested in the Sony E-Mount, this will obviously be the camera for you.
Read our full Sony a6700 review.
The Fujifilm X-T30 II is one of the best mirrorless cameras you can pick up for under $1,000. We loved the original Fujifilm X-T30, as it offered many of the same features as higher end cameras in the Fuji lineup. Given the formula was such a good one, we can forgive the X-T30 II for not being too much changed from its predecessor.
The X-T30 II offers stunning image quality to match its beautiful retro looks, performing well in most lighting conditions, thanks to its brilliant X-Trans CMOS 4 sensor and X-Processor 4 combo.
The X-T30 II is an ideal mid-range choice for enthusiast photographers wanting beautiful, artistic imagery, as it comes packaged with 18 of Fuji's legendary film simulation profiles. It's lightweight, built extremely well and offers a respectable 1.62m dot LCD (upgraded from the 1.04m dots screen in the original) and decent 3.62m dot EVF.
There's an awfully annoying Q button on the back, though, and video performance is limited thanks to a lack of IBIS, and a cap of 30p and 30-minutes when shooting in 4K. If your main purpose is video, check out the Sony a6600 instead, as the X-T30 II is first and foremost a camera for photography.
Read our full Fujifilm X-T30 II review.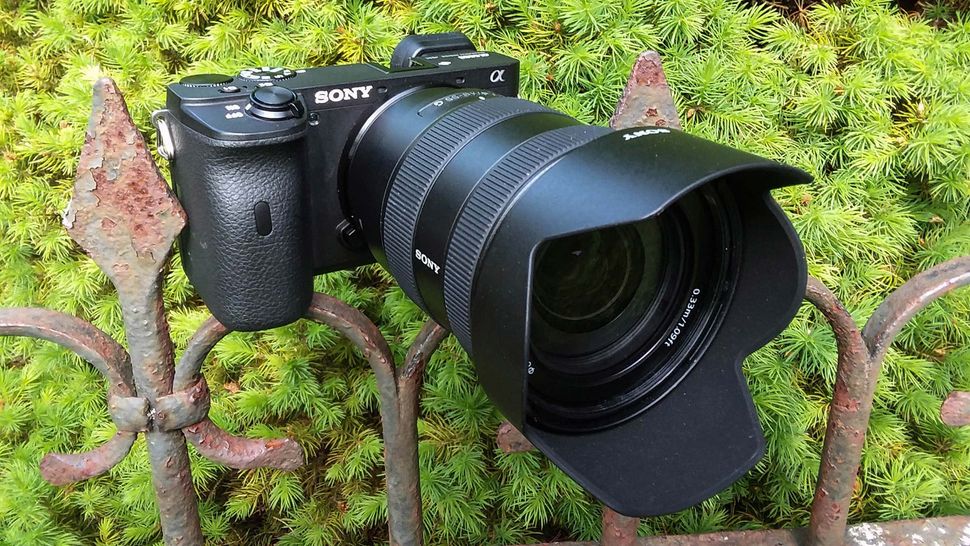 If you can't quite stretch to an a6700, the Sony a6600 still has a lot to offer: an excellent processor that delivers a wide ISO range (100-32,000), AI-enabled eye autofocusing in both still and video, 5-axis in-body image stabilization, 4K/60 fps video, and a speedy 11 fps shooting speed. Top that with a battery that can last up to 720 shots, and you've got one of the best camera options for the price.
In our Sony a6600 review, we were impressed with the image and video quality, as well as the camera's handling. It's made of a solid magnesium-alloy frame, and is both dust and moisture-resistant. It has a large, bright electronic viewfinder, as well as a 3-inch touchscreen that flips up a full 180 degrees and down 74 degrees. If you don't want to pay full freight for one of Sony's full-frame a7 cameras, the a6600 is the one to check out.
The a6600 is now ageing a little, though, and has been succeeded by the a6700. There are also other APS-C mirrorless cameras that boast stronger video credentials, such as the Fujifilm X-T5. Nevertheless, the a6600 is still a decent video performer, especially if you're already a user or a fan of Sony.
Read our full Sony Alpha a6600 review.
The EOS R10 is aimed at casual and intermediate photographers and can be had for around $1,000 with a kit lens. However, we've seen this camera go for much less than that on offer, potentially making this a great choice for beginners too.
The Canon EOS R10 is super lightweight and relatively compact — ideal for a street or travel camera. Our Cameras editor Peter Wolinski spent a few days using it and was impressed with its autofocus system, which can track both human and animal eyes. This makes it great for anyone who likes taking photos of animals and wildlife, too.
The EOS R10 also offers some impressive video features, shooting 4K/60p — a rare feature in its price range — and offering up to 10-bit color for a wide color gamut. The R10 doesn't feature IBIS or a 720-shot battery like our best mirrorless camera for video, the Sony a6600. But if your budget can't stretch to the Sony, the R10's 4K/60p and superb autofocus make it an ideal tool for aspiring video-creators stepping up from a smartphone.
However, the EOS R10's lightweight design causes the body to feel cheap in-hand. Currently Canon's RF-S lineup of bespoke APS-C lenses for their mirrorless R-System, is also lacking, meaning you'll have to settle for non-native full frame RF lenses if you want fast maximum apertures or prime lenses.
Read our full Canon EOS R10 review.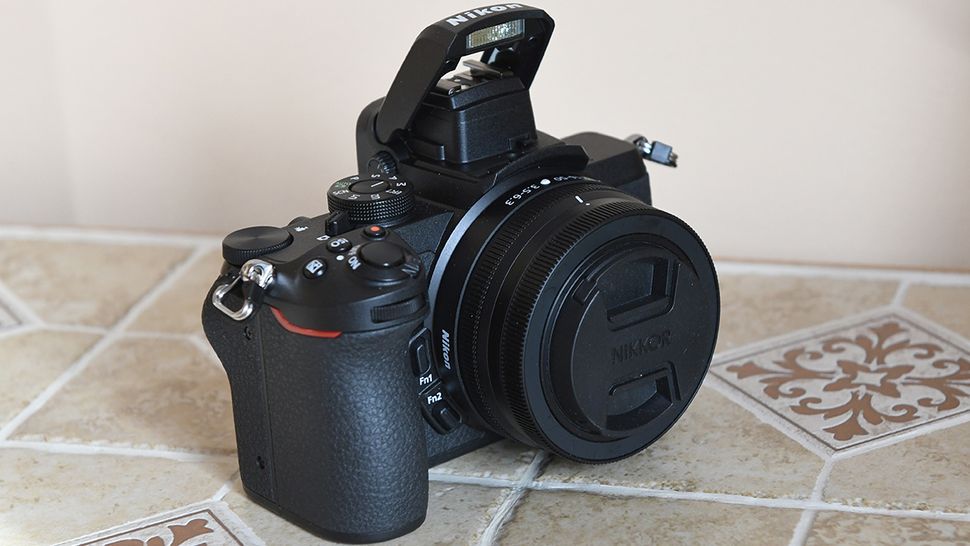 The Nikon Z50 isn't a full-frame mirrorless camera like the Z6 and Z7 models, but it's available at a much cheaper price of around $850 (body only) and comes in a much smaller package, making it a great choice for Nikon fans who don't want to spend upwards of $1,000.
It offers a solid feature set including a 3.2-inch touchscreen that flips down by 180-degrees and a sharp 3-inch electronic viewfinder, and its 20.9MP stills are detailed and colorful. It's a fine performer in low light, too, handling noise well up to ISO 6400. The lack of in-body image stabilization counts against it, but otherwise it's an impressive option in an increasingly crowded space.
Read our full Nikon Z 50 review.
The best DSLR cameras
With the exception of Pentax, most manufacturers have now turned away from DSLR and now focus on mirrorless cameras. However, you can still find DSLRs, so we've rounded up the best here.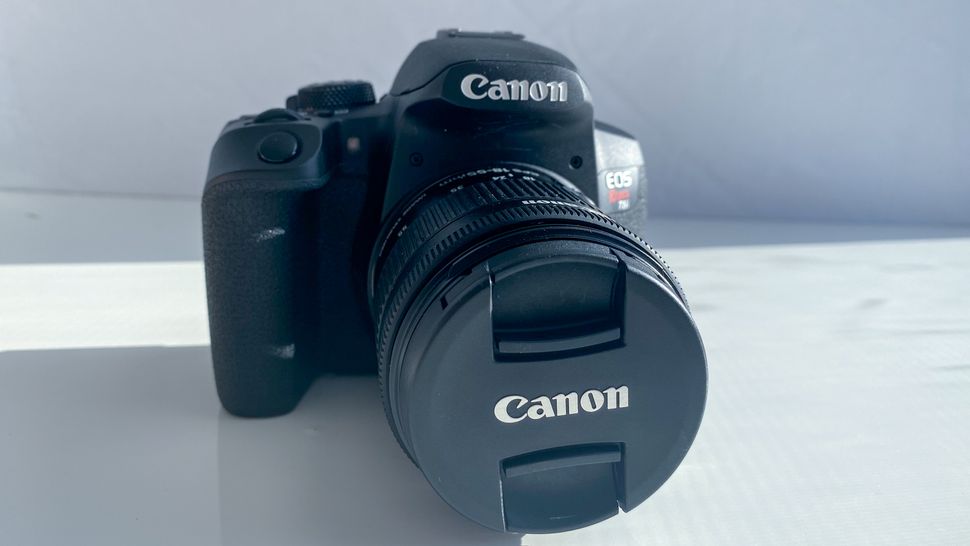 DSLRs are no longer the priority for most camera manufacturers, save Pentax. However, if you're still a DSLR lover at heart, most casual photographers will find the Canon EOS Rebel T8i to be the best camera for them if they're looking for them. Like its predecessors, the T8i takes excellent photos and has a number of handy built-in guides to help newbies learn the ins and outs of the camera.
The EOS Rebel T8i can also shoot video at a resolution of 4K; while the framerate is capped at 24 fps, it should suffice for those who want to capture higher-quality movies. It also has a microphone jack for better audio and can even shoot vertical video, ideal for social media.
You'll need to bear in mind though, that Canon have completely stopped development of their DSLR system and EF lens mount in favor of the mirrorless R-System and RF lens mount. As such, while you can still pick up lots of EF lenses easily both new and second hand, you should consider whether a Canon DSLR is the best long term option.
Read our full Canon EOS Rebel T8i review.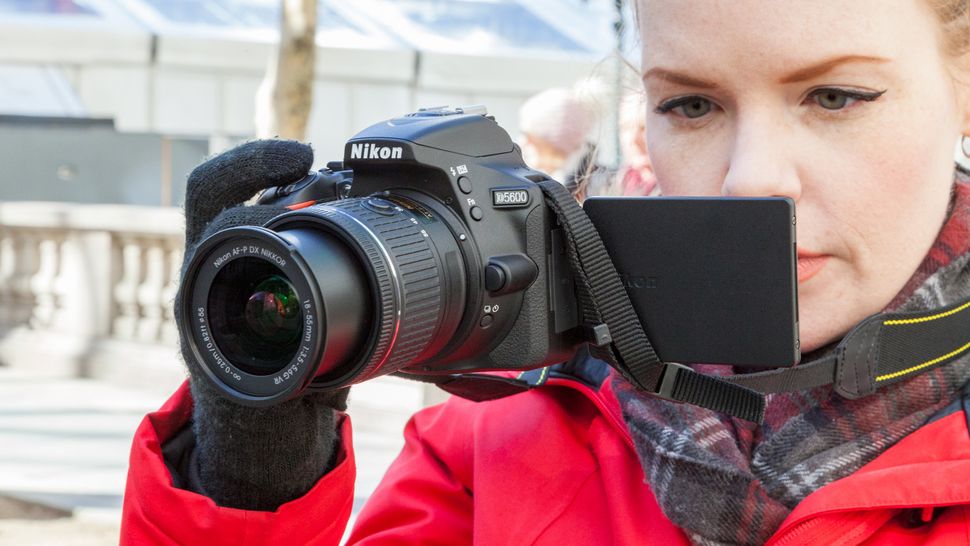 Sporting a 24-megapixel sensor, 3.2-inch swiveling touchscreen and compatibility with a huge range of lenses, the Nikon D5600 is the best camera for most people looking for a Nikon DSLR. In our tests, we found it took great photos, and has a nice wide usable ISO range. We also liked its battery life; rated at 970 shots, we were able to easily make it through a day's worth of shooting. With Nikon's traditional d-pad and a number of dials and knobs, it's great for experienced photographers looking for full-featured manual controls, while still including a number of assisted shooting modes to help teach and educate beginners.
One of our quibbles with the D5600 is that it can only capture video at a maximum resolution of 1080p/60 fps. However, that's not unreasonable for a camera at this price, and it has a dedicated microphone jack. All in all, it's a great kit.
Read our full Nikon D5600 review.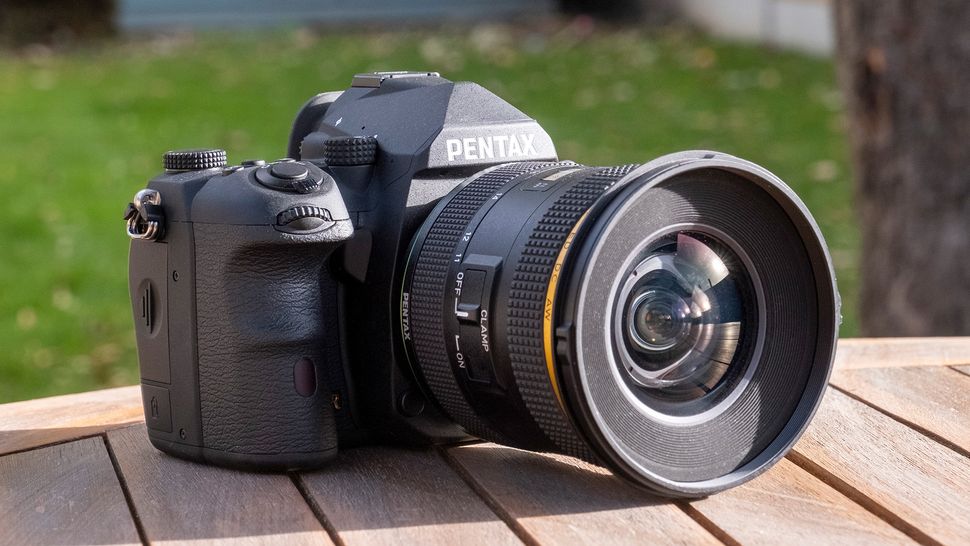 The Pentax K-3 III is the newest DSLR on the block, and it's a very good one — albeit with a few irritations. On the plus side, image quality from the new 25.7-megapixel APS-C sensor is outstanding, serving up bags of detail and accurate colors. Noise is supremely well controlled, and together with 5-axis in-body image stabilization that helps you get great shots in low light. Build quality is also excellent, with full weatherproofing, and there are plenty of manual controls; it's a fine camera to use.
Against that, autofocus can miss the mark at times and 4K video is only available in cropped mode. It won't rival the best mirrorless cameras in those regards, but as a straight still shooter it's an excellent addition to Pentax's line-up.
Read our full Pentax K-3 III review.
The best compact cameras
These cameras have a built-in retractable zoom lens, will fit right into your pocket, but still offer great photo and video performance. Here are our favorites.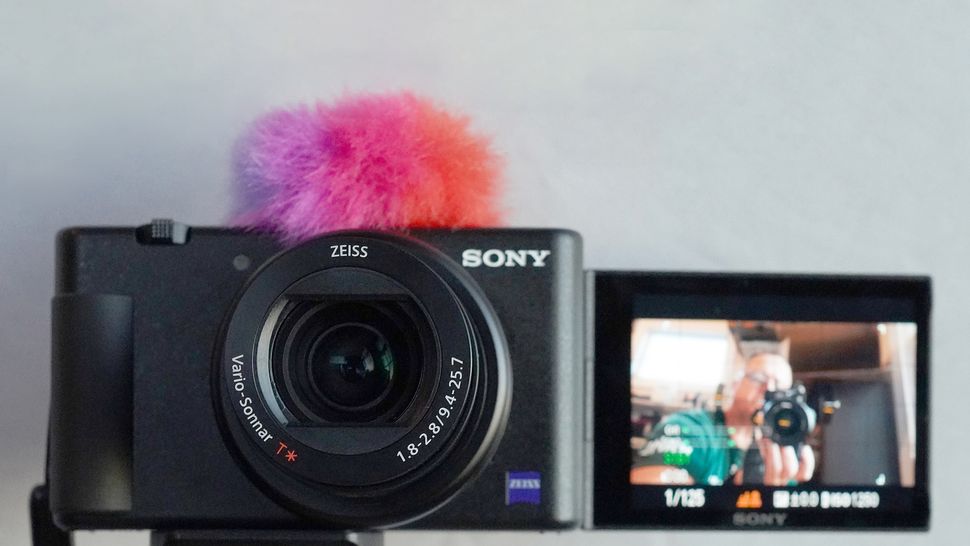 The Sony ZV-1 is the only entry in our best camera list that's aimed squarely at vloggers — and if filming yourself for videos on YouTube or similar is important to you, then it's well worth considering.
Although based on Sony's RX series of high-end point-and-shoot cameras, it comes with a number of features to make vlogging that bit easier. For instance, it has a swiveling touchscreen LCD screen that opens on the side rather than vertically, so it doesn't get in the way while filming. And it has several specialist modes, including one that smooths out skin and one that swiftly switches focus from person to product. There's also a directional mic and an included wind muff to improve audio performance.
Autofocus is generally good and the 4K video and 20MP stills are high quality too, but image stabilization isn't the best — if you're shooting on the go, a DSLR or mirrorless camera on a gimbal will be a better bet. Still, it's well priced and can also act as a webcam thanks to a firmware upgrade.
Read our full Sony ZV-1 review.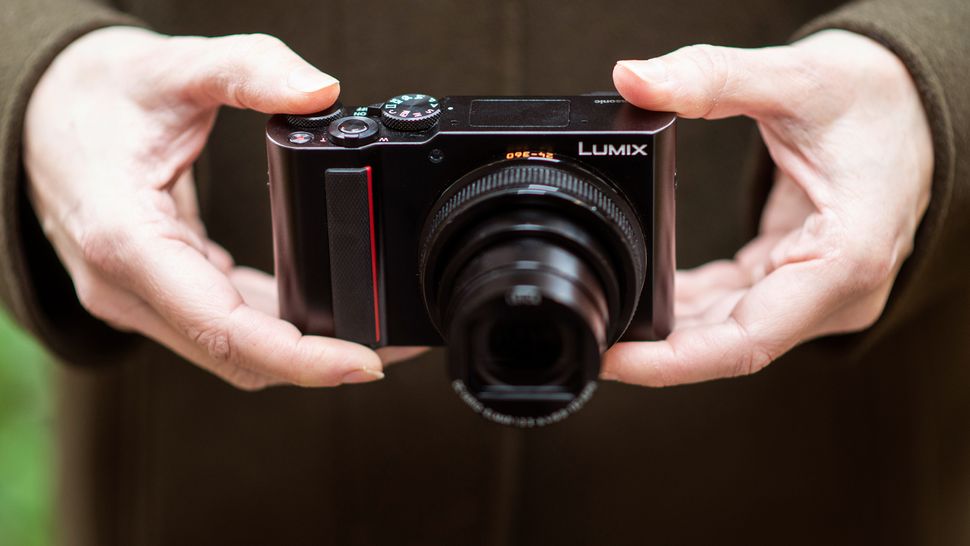 Packing a fantastic, sharp 20-MP 1-inch sensor and 15x optical zoom lens in a pocket-friendly body makes the Panasonic Lumix ZS200 as the best camera for those who want to take great vacation photos, but don't want to schlep a larger mirrorless or DSLR around. This camera measures just 4.4 x 2.6 x 1.8 inches and weighs 12 ounces, so you can stuff it in a pocket with ease.
The ZS200 has plenty of physical controls for its size, and still manages to pack in an electronic viewfinder — a must for those days when the sun washes out the camera's non-swiveling 3-inch touchscreen. We found that the ZS200 performed well in a variety of situations, including low-light photography; we were able to shoot as high as ISO 6400 without image noise becoming too much of a distraction. While there's no hot shoe, the camera does have a pretty robust built-in flash. And, the ZS200 can record 4K video as well, which should get you some really nice vacation home movies.
Read our full Panasonic Lumix ZS200 review.
The best action cameras
Action cameras will go anywhere with you and record the whole adventure in high quality video. These are our favorites, but check out our guide to the best action cameras to see more.
The GoPro Hero12 Black is the best action camera you can buy. While it's largely unchanged from its predecessor, it costs $100 less than the Hero11 did at launch — something we were happy to see given such a moderate specs boost.
Video performance has been boosted over the Hero11, despite having the same resolution sensor: the Hero12 shoots 5.3K/60p versus the Hero11's 5K/30p, for higher resolution, smoother footage. There's now also support for bluetooth headphones, so you can use your wireless earbuds to record clean audio without the need for a separate microphone.
Water resistance is the same, as are the design, screens and dimensions. Horizon stabilization and image stabilization are again unchanged, but these were fantastic in the Hero11 anyway, so that's no bad thing. Unfortunately, premium editing features are again locked behind a paid subscription.
Read our full GoPro Hero12 Black review.
If you're after something small, you can't really beat the Insta360 Go 3 — a tiny, thumb-sized action camera that builds upon the great reputation of its predecessor, the Go 2.
The Go 3 offers up to 2.7K video at 30fps, as well as FreeFrame video, where you can change the aspect ratio of your footage after shooting. It's water resistant down to 16 feet small enough to take pretty much everywhere. What's more, Insta360 offer a range of awesome accessories to allow you to use the tiny Go 3 in pretty much any scenario you can imagine. It's truly designed to go on any adventure with you.
Thanks to the new Action Pod, which replaces the Go 2's case, the Go 3 is now a bonafide vlogging tool — featuring a flip up screen and up to 170 minutes of battery life.
However, the size of the Go 3 means some sacrifices have had to be made. There's no removable storage, no external microphone support and no 4K video. As such, if you're looking to shoot professional-grade video, you'd be better off looking at the GoPro Hero11 Black, which costs a similar amount of money at the expense of size.
Read our full Insta360 Go 3 review.
The best instant cameras
Point, shoot and print. These cameras shoot stylish photos that are ready to display straight away. Here's our favorite, but check out our best instant cameras page to see more.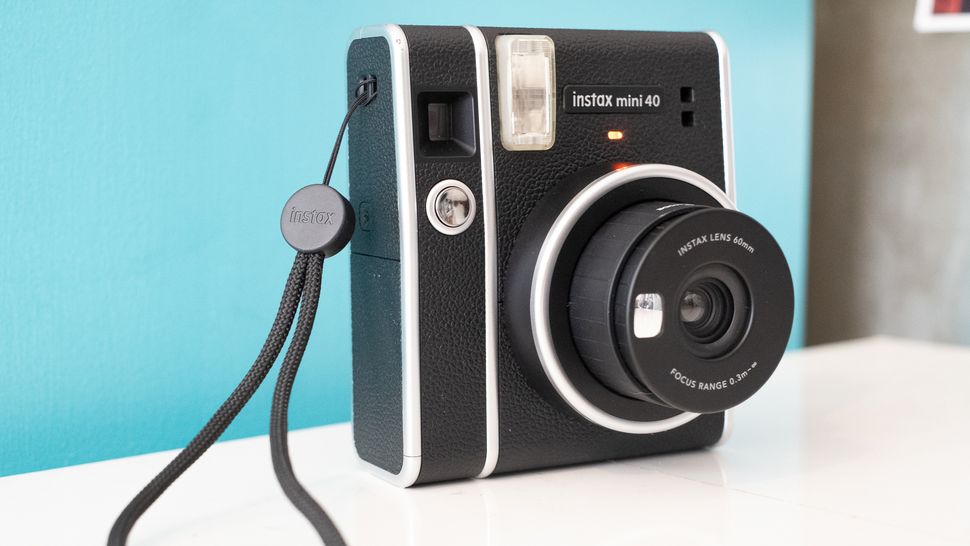 The Mini 40 is more than just an instant camera — it's an instant camera in a seriously cool retro body. Alright, so that alone isn't enough to make it worthy of recommendation, but the fact that you'll actually want to take it out and show it off certainly doesn't hurt. Fortunately, Fujifilm hasn't forgotten the really important stuff here: the Instax Mini 40 is incredibly simple to use and takes lovely photos, with vibrant colors and good exposures.
While it lacks the bells and whistles of some instant cameras — there's no smartphone app and it can't double as a printer, for instance — it's not without any features either. So, you do get a selfie mode, plus a constantly firing flash that gives it better skills in low-light conditions. At less than $100, it's the kind of camera you could treat yourself to for a holiday or special occasion and have lots of fun with.
Read our full Fujifilm Instax Mini 40 review
How to choose the best camera for you
There are a lot of factors that go into choosing the best camera for you. The first question you should ask yourself is what do you plan to shoot? If you're doing more portrait photography, and don't plan on moving the camera around a lot, a DSLR may be the best way to go. If you're looking for something more mobile, a mirrorless camera is probably a better bet. Be sure to check out our DSLR vs. mirrorless camera guide, which goes into detail about those two camera systems, and also scroll down for a bit more info about all of the options.
It's important to be realistic about your abilities and your intended use, as you can easily spend thousands of dollars on equipment that you don't need, or don't know how to use. Before making a purchase, it's also worth your time to go to a camera store to see how a particular model feels in your hands, and how comfortable you are holding it.
What different types of camera are there?
DSLRs
DSLRs — or digital single-lens reflex cameras — use a mirror to reflect light from the lens on to the sensor, and as a result are bigger and heavier than mirrorless cams. But they're still a great choice for beginners and enthusiasts alike, thanks to the ability to swap out lenses, good handling, sturdy build quality and excellent battery life. Some are also quite cheap these days, and they also benefit from large lens and accessory lineups. Canon and Nikon are the main players, with Pentax another option. Prices can range from a few hundred dollars to several thousand, but you can get a good one for as little as $450.
Here's our guide to the best DSLR cameras.
Mirrorless
These do away with the mirror of a DSLR but have the same advantage of being able to change the lens. As camera makers have switched to mirrorless they tend to get the latest tech, so they are often faster and have better autofocus and video options, plus features such as in-body stabilization. They're smaller and lighter, too, but battery life is not as good and there aren't as many lenses. Canon and Nikon both make mirrorless cams now, but the biggest player is Sony. Fujifilm, Olympus and Panasonic are all alternatives. Prices are similar to DSLRs.
Here's our guide to the best mirrorless cameras.
Point-and-shoot cameras
Also known as compact cameras, they can't swap lenses but are much smaller and lighter than either DSLRs or mirrorless cams. Some are small enough to fit in a pocket and they make great travel cameras. This is a broad category, with many different options; you can choose one for under $100 that you use simply as an alternative to a smartphone, or spend $1000 and get something with a big sensor and that takes photos to rival those from a DSLR. Sub-categories include tough cameras that you can use underwater or in extreme conditions and bridge cameras, which have a large body and very long zoom range.
Here's our guide to the best point-and-shoot cameras.
Instant
As the name suggests, instant cameras give you a physical photo as soon as you press the shutter (or a few seconds afterwards). They're basically what the old Polaroid cameras were, but updated — and indeed, Polaroid still makes some of the best. Many of them use different film formats that vary in size, so make sure you choose one that fits your needs. And also look out for extra features such as app integration and a flash.
Here's our guide to the best instant cameras.
Action cameras
These tend to be focused more on video than stills, although they will all do both. GoPro is the main player here (check out our guide to the best GoPro cameras for more), but all are designed to capture your daring exploits in (ideally) 4K footage.
Here's our guide to the best action cameras.
Cameras vs smartphones: Do you even need a digital camera?
These days, almost everyone has a very capable camera in their pocket, in the form of a smartphone. So is there still a need for a dedicated camera in 2023? To an extent, that depends on what type of camera you're talking about.
The best camera phones have now reached a level that would have seemed impossible a few years, with the likes of the iPhone 13 Pro Max and Samsung Galaxy S21 Ultra packing multiple lenses, large sensors (for a phone) and advanced software tricks. People can and do take incredible photos with their phone every day, and in some situations there really is no need for a dedicated camera.
But some types of camera still have key advantages over a phone. DSLRs and mirrorless cams, for instance, are still capable of taking better images than a smartphone in many situations.
That's partly due to sensor size — even the biggest smartphone sensors are many times smaller than those in an enthusiast DSLR. And because sensor size plays a key role in how much light a camera gathers, that has a massive effect on the overall quality of an image.
Lenses are another factor: while smartphones may have one or two wide-angle lens plus one telephoto lens, mirrorless cams and DSLRs have a choice of dozens, each optimized for its specific focal length or task.
Instant cameras can also do something that smartphones can't, while rugged cameras also have an advantage in one specific area (namely that they won't break if dropped down a mountain). With compact cameras, it's a different matter though, and unless you're looking for a really long zoom range, a smartphone may now be a perfectly good alternative.
Of course as the old adage has it, the best camera is the one you have with you — so either way, just make sure you get out there and use it.
How we test the best cameras
Regardless of the type of camera we review, they're all subjected to a similar testing regimen: we use them in a variety of settings, including low light, outdoors, indoors and more. We also photograph a number of subjects, such as people and pets, to see how well the camera captures skin tones. If a camera comes with a kit lens, we generally use that lens with the camera, to more closely emulate the same experience as consumers purchasing the camera.
In addition to still and video quality, we also rate the camera based on its ease of use: are the physical controls easy to access, and are the menus logically laid out? Finally, we evaluate the camera's battery life and other features, such as wireless control. Once we've done all that, we're in a position to decide whether a model deserves to be on our best camera list.
Next: The Fujifilm X-E4 wasn't the camera I wanted — but I am so glad I bought it.
Be sure to check out all of our camera picks:
Best DSLR cameras | Best action cameras | Best waterproof cameras | Best point-and-shoot cameras | Best instant cameras | Best mirrorless cameras | Best cheap cameras | Best GoPro camera | Best GoPro accessories | Best drones | Best 360 cameras | Best iPhone lenses | Best iPhone tripods |DSLR vs. mirrorless | Best Nikon accessories | Best Sony a6000 accessories | Best ring lights | Best ring lights for phones | best cameras for vlogging

The best apps and software for editing, managing, and sharing your photos:
Best photo organizer apps | Best photo storage sites | Best photo editing software | Best photo editing apps | Best photo collage apps