The best action cameras are essential for capturing your daring exploits. After all, if nobody sees what you've been up to, how will they know you really did it?
The cameras in our list all have special skills that make them ideally suited for the task. Most are ruggedized to protect them against the elements, as well as from drops, spills, and falls. And unlike other types of cameras, action cameras are also small and compact — which makes them easy to stuff in a bag, or to mount on a helmet, motorcycle, bike, skis, or even your dog.
More than that, though, the best action cameras should be able to record your activities to their fullest. That means they should be able to capture excellent video no matter if you're high up on a mountain or diving deep below the ocean. They should offer a variety of shooting modes, and be easy to use, even when you're wearing gloves. Due to their nature, some of the best action cameras are also among the best cameras for vlogging, so if that's something that interests you then they're well worth bearing in mind.
What are the best action cameras?
Not surprisingly, GoPro makes a number of the best action cameras, starting with its most recent, the GoPro Hero10 Black. The Hero10 can record video in 5K/60 fps and has a front-facing display, which lets you frame yourself more easily when taking selfies. Plus, you can remove its front lens to add different filters.
More significant is the Hero10 Black's improved motion stabilization. Dubbed HyperSmooth 4.0, it lets you shake the camera as much as 45 degrees, and can still even things out for you, too. Other great features include improved night shots, time-lapse, and scheduled recordings.
Read on for more picks of the best action cams.
The best action cameras you can buy today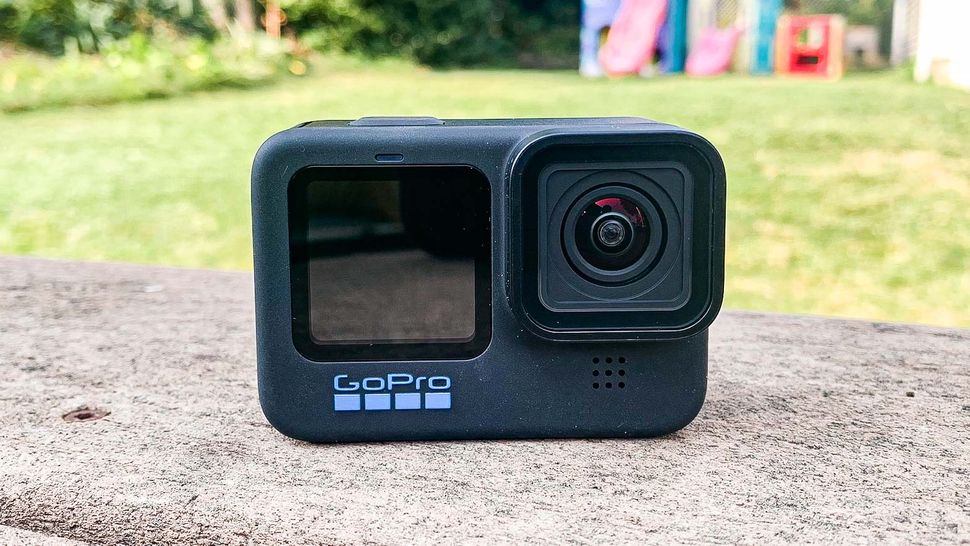 While the outside hasn't changed from the Hero9 Black, the GoPro Hero10 Black sports a new and improved processor on the inside, which translates to video recording as high as 5.3K/60 fps, as well as 2K video at 240 fps, and 4K video at 120 fps. On top of that, it has a larger 23MP image sensor, and manages to shave off a tiny bit of weight.
What's most impressive is the Hero10's upgraded image stabilization; you can now tilt the camera as much as 45 degrees and it will still smooth things out for you. However, this puts a serious dent on battery life, which is unchanged from the Hero9. But, you can use the same battery, as well as the same accessories, as before.
Update (10/25): GoPro has released a firmware update that will allow the Hero10 Black to record longer clips in situations where there's limited airflow to cool the camera. The company says that users will be able to record up to 63-minute clips at 4K/60 fps.
Read our full GoPro Hero10 Black review.
The Insta360 One RS makes our list of the best action cameras, but it's also one of the best 360 cameras too. That's because this innovative camera has a modular design that lets you swap out its wide angle 4K camera for a 360 lens or a camera with a 1-inch sensor. Its video stabilization is excellent, but not quite up to the same par as the GoPro Hero10.
We like that the One RS' display can be turned around so you can frame yourself in videos, but its small size relative to the GoPro makes it much more difficult to navigate on-screen menus. And, like older GoPros, you'll need to use a frame to mount it to anything. But, this is one versatile action camera.
Read our full Insta360 One RS review.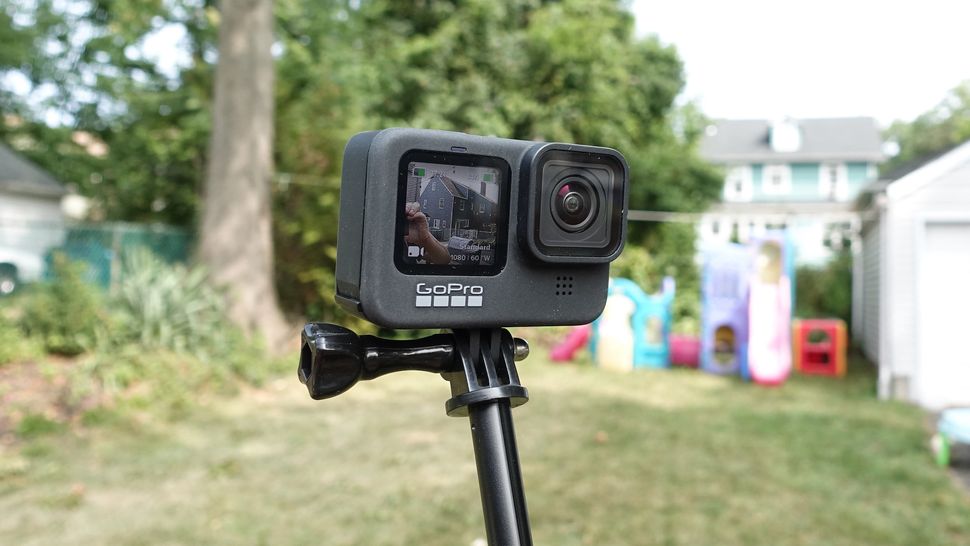 With the GoPro Hero9 Black, GoPro not only took the criticism of the Hero8, but also added a much-needed feature: A front-facing display. This small screen now shows a live preview, making it much easier for selfie artists and bloggers to frame themselves in photos and videos.
In addition, the Hero9 has a removable lens, so you can once again add filters, such as GoPro's new Max Lens Mod, which enables you to take really wide and stabilized video. It can also shoot at resolutions up to 5K, and its larger battery will perform better in colder temperatures. Our one criticism is that it's pretty heavy, so you'll notice it if you attach it to a helmet.
Read our full GoPro Hero9 Black review.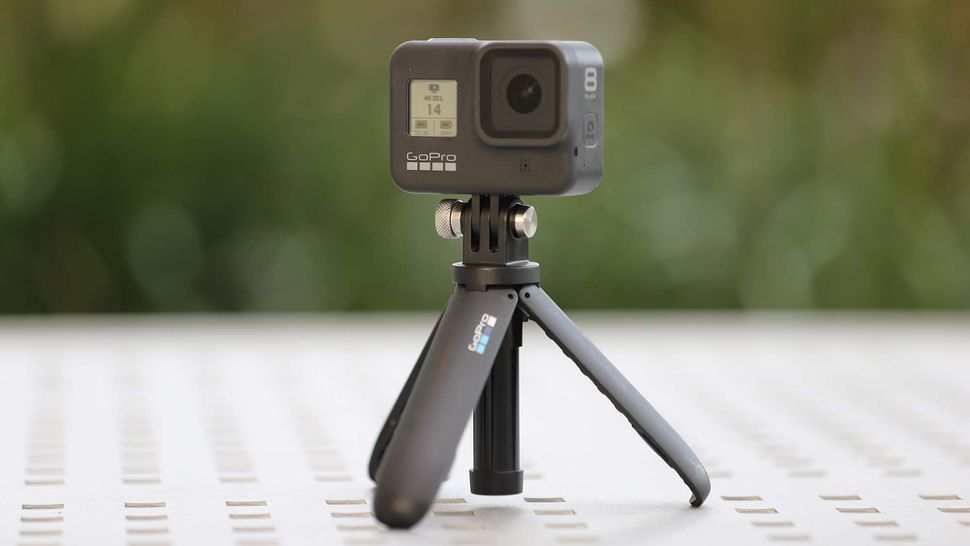 Surprise, surprise: The GoPro Hero8 Black, is one of the best action cameras. GoPro redesigned the camera to make it smaller, and you no longer need to use a case if you want to attach it to accessories, such as a tripod or helmet mount.
The redesign also allows for new add-on "Mods," which increase the functionality of the camera through external mics, lights, and more. Unfortunately, it also means that existing cases and lens adapters no longer work.
Inside, GoPro has improved the motion stabilization to make the footage from the Hero 8 the smoothest we've seen from an action camera, and the overall quality remains as great as ever. The Hero8 Black has also been updated to work as a webcam, and its HyperSmooth 2.0 video stabilization works with more video settings.
Read our full GoPro Hero 8 Black review.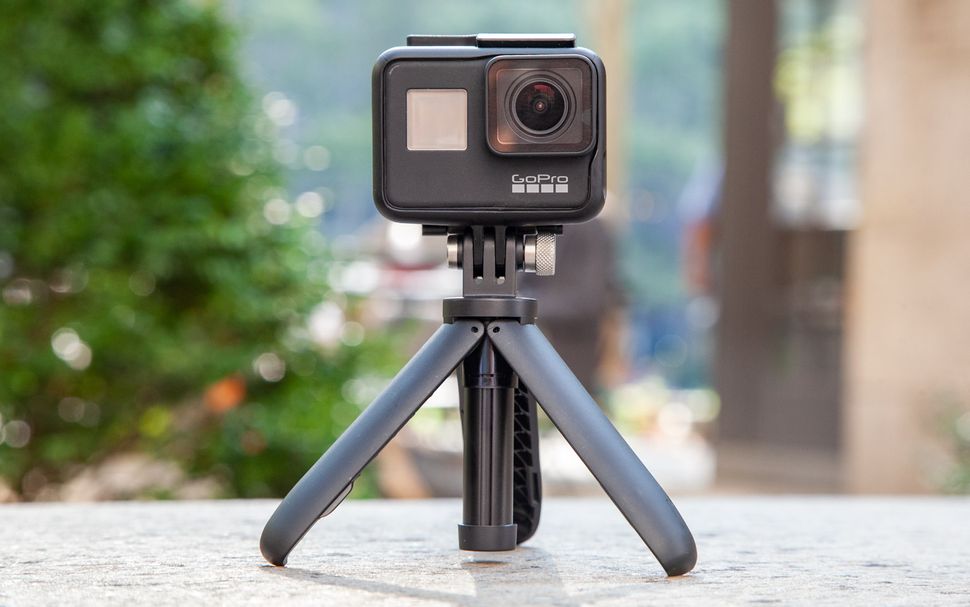 GoPro's Hero7 Black was the first of GoPro's action cameras to include the ability to record 4K video at 60 fps. Like earlier models, it's waterproof to 33 feet, has a rear 2-inch color touch-screen LCD, and voice control. While not as effective as the Hero 8, the Hero 7's image stabilization is still excellent. Plus, it can livestream to Facebook using the GoPro app.
Because of its older design, the Hero 7 Black needs to be inserted into a case of some kind if you want to mount it to anything. Now that the Hero 8 is on the market, GoPro has discounted the Hero7 Black, and you may be able to find even better deals on the camera through online retailers.
See our full GoPro Hero 7 Black review.

If you're trying to use an action camera to take videos of yourself, you have to sort of guess where you are in the frame, as you can't look at the screen on the rear of the camera and yourself at the same time. The DJI Osmo Action solves that dilemma, as it has a color screen on its front, which makes it much easier to frame yourself in photos and video.
This durable camera also has very good electronic image stabilization, and it also can shoot 4K/60 fps HDR video. Unfortunately, you can't use HDR and image stabilization at the same time, and there's no way to livestream video from the camera. Still, for selfie enthusiasts, the front-facing camera alone could be worth the price.
Read our full DJI Osmo Action review.
If you want a really, really small action camera then look no further than the Insta360 Go 2 — a wearable camera designed to capture life's most important moments. The original version impressed us with its video and photo quality, but was just too tricky to control. The second version fixes that, mainly thanks to a clever charging case that doubles as a remote.
Image quality has also been improved, and the electronic image stabilization works really well — it's just a shame that video footage maxes out at 1440p and that battery life is limited to 30 minutes without the case, or 150 with it. But those drawbacks aside, the Insta360 Go 2 is a good option for those who want something smaller than the average action cam.
Read our full Insta360 Go 2 review.
The Olympus Tough TG-Tracker looks more like a mini-camcorder than a traditional action camera, which is both good and bad. It's much larger than a GoPro-style camera, so it's too bulky to mount to, say, a helmet. However, the TG-Tracker has a nice, expansive flip-out touchscreen, so you can easily view what you're recording.
It also has a 60-lumen light that helps illuminate darker scenes, image stabilization and is waterproof to a depth of 100 feet—three times that of the GoPro. The TG-Tracker also tracks temperature, elevation, depth, latitude/longitude, distance traveled, barometric pressure and speed, so you can capture more than just amazing videos.
Read our full Olympus Tough TG-Tracker review.
How to choose the best action camera for you
When it comes to action cameras, GoPro is the dominant brand, and with good reason: It makes the best action cameras around, and has been for a number of years. With few exceptions, if you're thinking of buying an action camera, you should look to GoPro first, and look for the camera that best fits your budget.
In the past, we've tested a number of sub-$100 action cameras, but have found them to be average to middling at best. It's worth spending a little bit more for a reputable brand.
After that, it's a matter of choosing the specs that you want. Most action cameras will record 4K video, but only the newer models will support frame rates of more than 30 fps.
Another feature that's becoming standard is electronic image stabilization—key for when you're filming bumpy exploits, like mountain biking. However, the newer the model, the more sophisticated its motion stabilization will be, which means smoother video for you.
Action camera design has progressed to the point where most are water-resistant to around 33 feet; if you want to go any deeper, though, you'll need to get a case.
Because of the popularity of GoPros, most competing action cameras and third-party accessory makers have adopted the GoPro-style mount, two semicircular tabs that slot into add-ons such as selfie sticks, waterproof cases, and helmet mounts.
How we test action cameras
We've got to be honest: It's a lot of fun testing action cameras, because it lets us get outdoors and go biking, skiing, swimming, and more. While we're out enjoying what Mother Nature has to offer, we put the action camera through its paces. We see how well it records video in a variety of lighting conditions; if it has features such as HDR, we see how it handles both light and dark areas in the frame. If the camera has motion stabilization, we take it over bumpy terrain to see how well it smooths things out.
During the review process, we also take a look at the camera's ease of use. As you're going to be using it in less-than-ideal environments, it should be easy to turn on and off, and start recording, even when you're wearing gloves. And, while an intuitive on-screen interface is important for any device, it's even more crucial with an action camera, as it has such a small display.
Be sure to check out all of our camera picks:
Best cameras | Best DSLR cameras | Best waterproof cameras | Best point-and-shoot cameras | Best instant cameras | Best mirrorless cameras | Best cheap cameras | Best GoPro camera | Best GoPro accessories | Best drones | Best 360 cameras | Best iPhone lenses | Best iPhone tripods |DSLR vs. mirrorless | Best Nikon accessories | Best Sony a6000 accessories |Best ring lights | Best ring lights for phones | best cameras for vlogging

The best apps and software for editing, managing, and sharing your photos:
Best photo organizer apps | Best photo storage sites | Best photo editing software | Best photo editing apps | Best photo collage apps