Best action cameras: Quick Menu
1. The list in brief
2. Best overall
3. Best GoPro alternative
4. Best modular cam
5. Best older GoPro
6. Best tiny cam
7. Best budget cam
8. Best budget GoPro
9. How to choose
10. How we test
The best action cameras are essential for showing off your daring exploits. Adrenaline aside, what's the point of jumping off the side of a mountain on skis if nobody is going to see you do it?
All of the action cameras on our list have features which make them the perfect companion for adrenaline junkies. Most are designed to be rugged and withstand extreme conditions, water and impacts. They're also compact, which makes them easy to pack into baggage and to mount anywhere they're needed.
We've tested loads of action cameras in a range of conditions, and think the best action camera is the GoPro Hero12 Black. This action camera is pretty chunky, but has a large 1/1.9-inch sensor with a unique 8:7 aspect ratio, as well as horizon leveling and motion stabilization for silky smooth video. The Hero12 Black also costs $100 less than its predecessor the Hero11 Black cost at launch, despite having new features like bluetooth headphone connection and improved stabilization. This price puts the Hero12 in the same ballpark as DJI's Osmo Action 4, making that camera feel a little overpriced in comparison.
The GoPro Hero12 Black isn't the only camera you should consider, though, so we've rounded up the best action cameras below to help you make the right choice.
The quick list
Here's a quick overview of the action cameras you can buy right now based on our testing and reviews. And keep up on scrolling if you want to see our in-depth analysis of all the top action cameras for every requirement.
Best overall
The best action camera overall
The GoPro Hero12 Black is the best action camera overall. It's only a modest improvement over the Hero11, but costs $100 less at launch. There's 5.3K/60p, fantastic image and horizon stabilization, and now support for bluetooth headphone mics.
Best GoPro alternative
The best GoPro Alternative
The DJI Osmo Action 4 is the best GoPro alternative if you're looking for a traditional action camera, featuring a large sensor, 4K/120fps and water resistance to 59 feet. We particularly love the range of accessories DJI offers.
Best modular cam
The best modular action camera
The Insta360 One RS combines a traditional action camera form with the benefits of a 360 camera. Its modular design lets you switch out to a 360 camera, to record everything around you using Insta360's great 360 mode.
Best older GoPro
The best older GoPro
Despite no longer being the flagship, the GoPro Hero11 Black is still an incredible action camera: beautiful 5.7K video, image stabilization and water resistance to 33 feet. Thanks to the Hero12, the Hero11 Black is now cheaper than ever.
Best small cam
The best small action camera
If you're looking for a tiny, go-everywhere action camera, the Insta360 Go 3 is perfect. Strap it to your bike, your hat or even your cat and it'll record in stabilized 2.7K. There's no expandable storage though, and no external mic input, so it's more suited to casual adventurers.
Best budget cam
The best budget GoPro alternative
If you don't want to fork out the premium for a GoPro Hero 11, the DJI Osmo Action 3 is a great alternative for a little less. It shoots 4K up to 120fps and is waterproof down to a whopping 52 feet — almost 20 more than the GoPro.
The full list: the best action cameras in detail
The GoPro Hero12 Black is the best action camera you can buy. While it's largely unchanged from its predecessor, it costs $100 less than the Hero11 did at launch — something we were happy to see given such a moderate specs boost.
Video performance has been boosted over the Hero11, despite having the same resolution sensor: the Hero12 shoots 5.3K/60p versus the Hero11's 5K/30p, for higher resolution, smoother footage. There's now also support for bluetooth headphones, so you can use your wireless earbuds to record clean audio without the need for a separate microphone.
Water resistance is the same, as are the design, screens and dimensions. Horizon stabilization and image stabilization are again unchanged, but these were fantastic in the Hero11 anyway, so that's no bad thing. Unfortunately, premium editing features are again locked behind a paid subscription.
Read our full GoPro Hero12 Black review.
The best GoPro alternative
The DJI Osmo Action 4 is the best GoPro alternative if you're looking for a classic action camera. It's a moderate step up from the Osmo Action 3, packing a bigger sensor for improved low light performance, plus beefed-up image stabilization.
The biggest advantages the Action 4 has over a GoPro Hero12 Black are its larger sensor, much deeper 59-foot (18m) waterproof rating, and the huge range of awesome mounting options and accessories available. Sure, GoPro offers accessories, but can you get a bite mount to hold the camera between your teeth when surfing? Didn't think so.
However, the GoPro Hero12 Black still has the Action 4 beat in some key areas, such as image stabilization performance, maximum resolution and app features. Given the Hero12 Black costs a similar price at launch, the Osmo Action 4 feels a little overpriced, so if you don't need the underwater rating or accessories it's difficult to recommend it over the GoPro. Similarly, with the Osmo Action 3 still available, most of the key features of the latest model can be had for much cheaper (see our best budget camera section for more info). On paper though, the Osmo Action 4 is still the best GoPro alternative.
Read our full DJI Osmo Action 4 review.
The best modular action camera
The Insta360 One RS makes our list of the best action cameras, but it's also one of the best 360 cameras too. That's because this innovative camera has a modular design that lets you swap out its wide angle 4K camera for a 360 lens or a camera with a 1-inch sensor. Its video stabilization is excellent, but not quite up to the same par as the GoPro Hero10.
We like that the One RS' display can be turned around so you can frame yourself in videos, but its small size relative to the GoPro makes it much more difficult to navigate on-screen menus. And, like older GoPros, you'll need to use a frame to mount it to anything. But, this is one versatile action camera.
Read our full Insta360 One RS review.
The best older GoPro
The GoPro Hero11 Black has a large 1/1.9-inch image sensor with an 8:7 aspect ratio. This squarish format lets you capture expansive views, but more importantly, gives you much more flexibility when editing the video afterwards. In the GoPro Quik app, you can output your video in a number of formats, including the TikTok-friendly 9:16 ratio.
What also makes the Hero11 Black great is its superior image stabilization — you can literally rotate the camera all the way around, and it will keep the horizon level. New shooting modes also let you capture star trails and try your hand at light painting, and GoPro's Quik app makes editing your videos a real pleasure.
Read our full GoPro Hero11 Black review and check out our GoPro Hero11 Black vs GoPro Hero11 Black Mini comparison.
The best tiny action camera
If you're after something small, you can't really beat the Insta360 Go 3 — a tiny, thumb-sized action camera that builds upon the great reputation of its predecessor, the Go 2.
The Go 3 offers up to 2.7K video at 30fps, as well as FreeFrame video, where you can change the aspect ratio of your footage after shooting. It's water resistant down to 16 feet small enough to take pretty much everywhere. What's more, Insta360 offer a range of awesome accessories to allow you to use the tiny Go 3 in pretty much any scenario you can imagine. It's truly designed to go on any adventure with you.
Thanks to the new Action Pod, which replaces the Go 2's case, the Go 3 is now a bonafide vlogging tool — featuring a flip up screen and up to 170 minutes of battery life.
However, the size of the Go 3 means some sacrifices have had to be made. There's no removable storage, no external microphone support and no 4K video. As such, if you're looking to shoot professional-grade video, you'd be better off looking at the GoPro Hero11 Black, which costs a similar amount of money at the expense of size.
Read our full Insta360 Go 3 review.
The best budget action camera
The DJI Osmo Action was the first action camera to feature a front-facing screen, which made it incredibly easy to frame yourself in shots. It was such a clever feature, in fact, that GoPro soon copied it.
The DJI Osmo Action 3 still has that front display, only now it's also a touchscreen. The Osmo 3 also has a novel magnetic mounting system, which makes it much easier to attach and remove the Osmo 3 from, say a helmet than GoPro's cameras.
However, the Osmo Action 3 still trails GoPro when it comes to video resolution: a max of 4K/60 fps, versus 5.3K/60 fps for the Hero11 Black. The Action 3 also takes smaller stills (12MP vs. 27MP) and you have fewer options when it comes to video aspect ratio.
Then again, the Osmo Action 3 is significantly less expensive than the GoPro, and delivers quality video, excellent image stabilization, and great battery life. For many, the tradeoff in price will be worth it.
Read our full DJI Osmo Action 3 review.
The best budget GoPro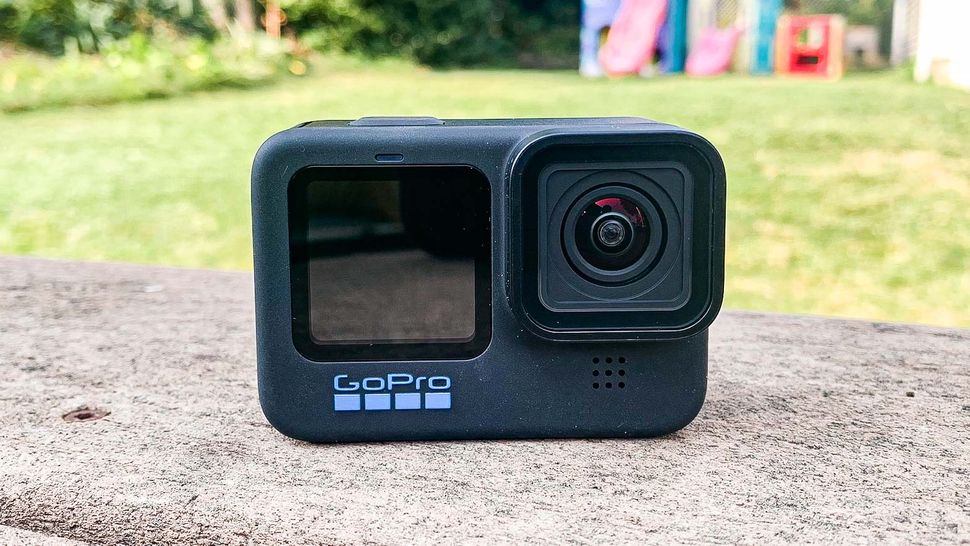 With the release of the Hero12 Black, the GoPro Hero10 Black is now the cheapest GoPro you can buy, with the Hero9 having been discontinued. The Hero10 supports video recording as high as 5.3K/30 fps, as well as 2K video at 240 fps, and 4K video at 120 fps. On top of that, it has a large 23MP image sensor, and manages to shave off a tiny bit of weight over its predecessor.
What's most impressive is the Hero10's image stabilization; you can tilt the camera as much as 45 degrees and it will still smooth things out for you. However, this puts a serious dent on battery life. But, you can use the same battery, as well as the same accessories, as the earlier Hero9.
Read our full GoPro Hero10 Black review.
How to choose the best action camera for you
When it comes to action cameras, GoPro is the dominant brand, and with good reason: It makes the best action cameras around, and has been for a number of years. With few exceptions, if you're thinking of buying an action camera, you should look to GoPro first, and look for the camera that best fits your budget.
In the past, we've tested a number of sub-$100 action cameras, but have found them to be average to middling at best. It's worth spending a little bit more for a reputable brand.
After that, it's a matter of choosing the specs that you want. Most action cameras will record 4K video, but only the newer models will support frame rates of more than 30 fps.
Another feature that's becoming standard is electronic image stabilization—key for when you're filming bumpy exploits, like mountain biking. However, the newer the model, the more sophisticated its motion stabilization will be, which means smoother video for you.
Action camera design has progressed to the point where most are water-resistant to around 33 feet; if you want to go any deeper, though, you'll need to get a case.
Because of the popularity of GoPros, most competing action cameras and third-party accessory makers have adopted the GoPro-style mount, two semicircular tabs that slot into add-ons such as selfie sticks, waterproof cases, and helmet mounts.
Due to their nature, some of the best action cameras are also among the best cameras for vlogging, so if that's something that interests you then they're well worth bearing in mind. How to use your GoPro as a webcam
How we test action cameras
We've got to be honest: It's a lot of fun testing action cameras, because it lets us get outdoors and go biking, skiing, swimming, and more. While we're out enjoying what Mother Nature has to offer, we put the action camera through its paces. We see how well it records video in a variety of lighting conditions; if it has features such as HDR, we see how it handles both light and dark areas in the frame. If the camera has motion stabilization, we take it over bumpy terrain to see how well it smooths things out.
During the review process, we also take a look at the camera's ease of use. As you're going to be using it in less-than-ideal environments, it should be easy to turn on and off, and start recording, even when you're wearing gloves. And, while an intuitive on-screen interface is important for any device, it's even more crucial with an action camera, as it has such a small display.
Be sure to check out all of our camera picks:
Best cameras | Best DSLR cameras | Best waterproof cameras | Best point-and-shoot cameras | Best instant cameras | Best mirrorless cameras | Best cheap cameras | Best GoPro camera | Best GoPro accessories | Best drones | Best 360 cameras | Best iPhone lenses | Best iPhone tripods |DSLR vs. mirrorless | Best Nikon accessories | Best Sony a6000 accessories |Best ring lights | Best ring lights for phones | best cameras for vlogging

The best apps and software for editing, managing, and sharing your photos:
Best photo organizer apps | Best photo storage sites | Best photo editing software | Best photo editing apps | Best photo collage apps