The Samsung Galaxy A54 has arrived to immediately stake a claim as one of the best cheap phones you can buy, if not one of the best Android phones overall. But is it the right phone for you?
If you're not about to pay flagship prices for your next phone, the Galaxy A54 certaintly makes a strong argument for why it belongs in your pocket. It has an attractive price that's competitive with other midrange smartphones, but it still manages to deliver on the key features smartphone users demand, no matter how much they're willing to pay for a device.
Here's a closer look at the reasons why the Galaxy A54 is worth buying, along with a trio of arguments for why you should take a pass on this particular phone.
Reasons to buy the Samsung Galaxy A54
An improved main camera
Samsung's not messing around with the main camera on the Galaxy A54. Instead of equipping its budget phone with a "good enough" sensor, the phone maker turned to the same 50MP shooter that it uses for the Galaxy S23, a phone that costs $350 more than the Galaxy A54. The result is that anything shot with the A54's main lens can more than hold its own against some of the best camera phones.
To illustrate that point, we had a camera face-off between the Galaxy A54 and the Google Pixel 6a, which not only costs as much as Samsung's latest device but also has been our recommendation for the best budget camera phone. The Pixel 6a remains an excellent choice for capturing images, but the Galaxy A54 matched or beat it in several head-to-head tests.
In this photo of some breakfast tacos, for example, the Galaxy A54 does a much better job handling the ambient light streaming in from a window behind the plate of food. As a result, its photo its much brighter, with colors of the various taco fillings standing out more than they do in the backlit Pixel 6a shot.
Similarly, the Galaxy A54 took the more impressive night photos, such as this one of a mural painted on the side of a building. There's less of a darker cast in the Galaxy A54 photo so individual colors and details emerge that are lost in shadows in the Pixel 6a's effort.
The Galaxy A54 isn't the perfect budget camera phone, as the Pixel 6a beat it in other tests, particularly when we tried out the portrait modes on the respective phones. But if you opt for the Galaxy A54, you're not going to be disappointed with the cameras.
Solid battery life
Another area where the Galaxy A54 delivers is battery life. Thanks to a 5,000 mAh cell, the phone lasts longer on a charge than many devices in its price range.
We test the battery life of phones by having them surf the web continuously over cellular until they run out of power. The Galaxy A54 beat the average smartphone's time by half-an-hour when it held out for 10 hours and 20 minutes on our test. But that result came with the display's adaptive refresh rate turned on — with the screen set to a less power hungry 60Hz rate, the Galaxy A54 lasted 11 hours and 46 minutes, placing it on the best phone battery life list.
The iPhone SE 2022 barely lasted 9 hours when we tested it, and the Pixel 6a did even worse. Granted, those phones have smaller batteries, but you certainly won't have to worry about searching for a place to charge when you're carrying around the Galaxy A54.
A bright, colorful display
The Galaxy A53 display featured a maximum brightness of 800 nits, but Samsung decided to brighten things up for its successor. The Galaxy A54 boasts a max brightness of 1,000 nits, and based on our testing, it gets pretty close to that number.
Using a light meter, we recored a maximum brightness of 854 nits. That not only outshines the A53 and its 693-nit reading, it's also brighter than both the Pixel 6a and iPhone SE. And it's bright enough so that you can see the Galaxy A54's 6.4-inch display outside without any difficulty.
Colors really come through on the Galaxy A54, too, and they're extremely accurate, according to our testing. I certainly had no complaints about picking out details as I streamed Cocaine Bear, a film well known for its nuances and intricacies.
Extensive software updates
Samsung offers the best phone support of any Android device maker, with four years of Android OS updates guaranteed along with five years of security support. That policy extends to devices like the Galaxy A54.
That means even after Android 14 becomes available — it launches later by the end of summer, but we imagine it won't land on the A54 until later in the year — you'll still have three more OS updates waiting for you. That extends the life of your device, and when you're paying for a midrange phone, you want to do everything possible to wring as much value out of your handset as you can.
Fun colors
I'm going to be honest — I find the purple shade of my Galaxy A54 review unit just a delight to look at. In a world packed with black and white phones, the Awesome Violet shade, as Samsung calls it, really pops. And I like that the color extends to the side band of the phone, including its volume rocker and power button.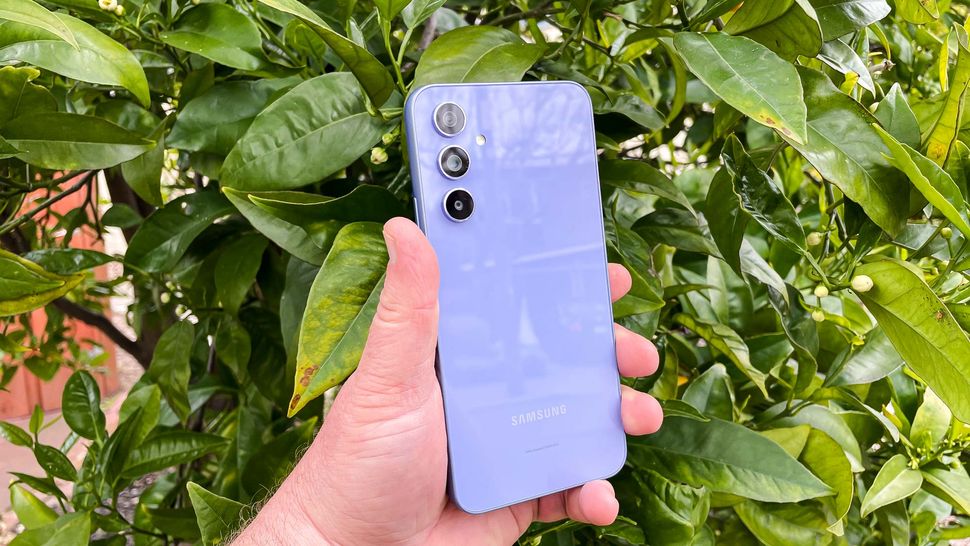 Violet not your favorite color? You have three others to choose from including lime as well as the more conventional graphite and white shades. The Galaxy A54 is just a good looking device with an appearance that disguises its budget pricing.
Affordable price
About that price — the Galaxy A54 costs $449, the same price Samsung charged for the Galaxy A53. It also happens to be what you'd pay for the Pixel 6a, at least before Google started discounting phone to clear some space for the upcoming Pixel 7a.
Speaking of that phone, rumors suggest the Pixel 7a is getting a price hike. And while it's only supposed to cost $50 more, that means the Galaxy A54 will be the less expensive option. If you're watching your pennies, that's a pretty big deal, especially considering how many premium features Samsung included despite the sub-$500 price.
Reasons to skip the Samsung Galaxy A54
The Exynos 1380 chipset underwhelms
We weren't that imressed with the Exynos 1280 chipset that powered the Galaxy A53 last year, so we were excited to hear that Samsung planed to turn to a more powerful option for the Galaxy A54. According to the phone maker, the Exynos 1380 was supposed increase CPU performance by 20% over the Exynos 1280 while also boosting GPU performance by 26%.
To be fair, the Exynos 1380 did deliver gains over its predecessor in our benchmarking, though just barely in some cases. More to the point, the Galaxy A54's benchmark results continue to lag behind the Tensor G1-powered Pixel 6a.
Swipe to scroll horizontally
| | | | |
| --- | --- | --- | --- |
| | Samsung Galaxy A54 | Pixel 6a | iPhone SE |
| CPU | Exynos 1380 | Tensor G1 | A15 Bionic |
| Geekbench 5 (single core/multicore) | 781/2664 | 1057/2918 | 1718/4482 |
| 3DMark Wild Life Unlimited (fps) | 16.9 | 41.7 | 50 |
| Adobe Premiere Rush (Mins:Secs) | 1:12 | 0:49 | 0:27 |
That's not exactly encouraging for two reasons. First, nobody really expects blazing performance from Google's Tensor silicon, which puts more of its focus on AI-driven features powered by the chip's machine learning core. Even more troubling, the Pixel 6a is about to give way to the Pixel 7a, and that phone is supposed to run on a newer Tensor G2 chipset. Expect the Galaxy A54 to fall even further behind the competition. in terms of performance.
Those noticeable bezels
No one expects edge-to-edge displays on a budget device. Still, when I sat down to watch streaming videos or play games on the Galaxy A54's screen, the bezels surrounding the phone stood out, with the one at the very bottom of the display looking extra chunky.
Perhaps this is something I'm more inclined to notice as I look at a lot of different phones and bezels have become less prominent in recent years, so that when one is there, it really sticks out to my eye. Or to put it another way, if you're upgrading from an older budget phone, the ring around the Galaxy A54's screen may not bother you at all.
But let me assure you, that bezel is there and it makes things feel hemmed in, especially when you're using the Galaxy A54 in landscape mode. I don't think that's a feeling I should get when using a phone with a 6.4-inch display.
What about the Pixel 7a?
We've mentioned the Pixel 7a, which is likely to make an appearance at Google I/O 2023 on May 10 and could go on sale immediately according to one Pixel 7a release date rumor. And since that possible launch date isn't that far off, you might want to hold off on a Galaxy A54 purchase just to see what Google has planned for its low-cost device.
After all, as past Pixel A phones have proven, Google knows its way around making a compelling budget device, particularly when it comes to mobile photography. With rumors claiming the Pixel 7a could add upgraded cameras, a 90Hz refresh rate and even wireless charging — that latter feature is still missing from the Galaxy A54 — your patience could be rewarded by waiting for the Pixel 7a.
We've got a Galaxy A54 vs. Pixel 7 comparison that looks at how these phones could stack up against each other. But we wouldn't be able to say for certain until Google makes its Pixel 7a announcement official.
More from Tom's Guide