It may be hard to believe, but it's already time to start thinking about Android 14. While the feature set is rather humble and very developer-focused at the moment, we think the new version could potentially introduce some nice quality-of-life improvements.
If you're an Android phone user and not a developer, there's not a lot about Android 14's developer previews that pertains to you at this point — though there are some new interesting features in the works that'll sit in the spotlight at a later date.
The second Developer Preview is out now and you can install it on a Pixel 7, Pixel 7 Pro, Pixel 6, Pixel 6 Pro, Pixel 5a, Pixel 5 and Pixel 4a 5G. The software is not ready for general use. It's meant for developers to start testing their apps on devices running Android 14.
Android 14 news (Updated March 21)
Android 14: Platform stability
Since Android 14 Developer Preview 1 launched in February, we weren't surprised to see Developer Preview 2 to land in early March. That's because, according to the timeline above, Google appears to plan for the first Android 14 beta to launch in April.
That's a month before Google I/O 2023, assuming that Google sticks to its usually pattern of holding that event in May. That leads us to believe that the first beta won't have a lot of the new features yet, as Google will likely save those for an announcement at I/O.
The company looks to plan for platform stability by the end of July. We'd guess the final release will land in August, just like Android 13 did last year.
Android 14: New features
Android 13 was a modest release in terms of features, and while Google highlighted only the sections that follow, members of the Android community have discovered several new Android 14 features of note.
App cloning
It appears that Google will finally add support for native app cloning in Android 14. This allows you have two separate instances of a single app on your phone, allowing you to have two accounts logged in simultaneously.
Other Android phone makers have let you do this for a while, but we're still glad to see Google consider it. Bear in mind that, at the moment, it's not ready for prime time.
Predictive back gesture
Android 14 won't shake up the back gesture, but it looks like it'll enhance the core feature. In what many call a predictive gesture, if you swipe and hold for back in Android 14, it will bring up a preview of the page you're heading back to you.
Guest Phone app access
If you have a guest user profile on your device, you can grant them access to your Phone app. They'll be able to see your call history, but they can make calls themselves. This is handy if you're letting someone borrow your handset.
Secondary admin users
If you have secondary users on your device, you can raise them to admin-level permissions. This could be useful for things like tablets that multiple people in the household use.
Background app installation page
In a major blow to carrier and manufacturer pre-installed bloatware, Android 14 will feature a background apps installation page where you can see everything that was downloaded to your device without your permission. Furthermore, you can remove them here.
New game controller support
Android 14 will add support for the PlayStation DualSense Edge and SteelSeries Stratus Plus controllers. If you're serious about Android gaming — and why wouldn't you be, given the power of the Snapdragon 8 Gen 2 — you'll be able to use these high-end peripherals later this year.
Health Connect app
In 2022, Google announced that it had partnered with Samsung to create a new Health Connect app. This would act like a hub where users could keep their health data and share it with other apps at their leisure. If you're familiar with Apple Health, it sounds like Health Connect will act similarly.
Android 14 looks to incorporate this app at a system level.
More powerful photo picker
Android 13 introduced an iOS-style photo picker, where you could tell apps which photos they were allowed to access. The problem was that not all apps cooperated, still requiring full access to your gallery to function.
In Android 14, that should come to an end as Google enforces the new photo picker. Even if an app requires full access to your photos, Android 14 will still let you pick which ones you want to share.
Hearing aids page
In a win for accessibility, Android 14 adds a dedicated hearing aids page. This will make setting up the devices a lot easier. It'll even feature a toggle for compatibility with older hearing aids in case they don't work with Android 14.
Android 14: Customization
Better font scaling
Android 14 will introduce 200% font scaling for accessibility purposes. Of course, as anyone who deals with standard scaling models knows, blowing things up that big might lead to awkward cutoffs, making text annoying to read.
That's why Google has introduced a non-linear scaling curve that helps text wrap better on a phone's display. What does this mean? As you can in the example image above, Android 14 will dynamically adjust only the text that needs to enlarge. Headings, for example, are already large enough in most cases and thus won't scale.
Improved per-app language preferences
Android 14 looks to improve a developer's ability to dynamically adjust the languages displayed in Android's per-app language settings. Most importantly, this means that developers can adjust their apps' languages based on region, A/B tests, and server localization parameters.
For the user, this just means a more seamless implementation of alternative languages in your favorite apps, building the work in previous Android versions.
Grammatical Inflection API
If you speak a language with grammatical gender, Android 14 will improve support for it. For languages where gender is crucial, unlike English, this improvement will allow apps to display proper gender based on the user viewing the content.
The Grammatical Inflection API will handle the hard work. Developers just need to implement in their apps and add the proper translations.
Setting regional preferences
You'll be able to fine tune your regional preferences in Android 14, including setting items like units of measurement and which day of the week starts in your calendars. This is meant for people abroad, such as an American in Europe.
Separate notification and ringtone volume sliders
As spotted in the Android 14 Developer Preview 2, Google may be bringing back a long-requested audio feature — separate volume sliders for ringtones and notifications. That way users would be able to choose how loud or quiet one of these sounds will be, without necessarily having to keep the volume for both equal.
Android 14: Privacy and security
Runtime receivers, safer implicit intents and dynamic code loading
Android 14 will prevent internal intents that don't specify a package. This should prevent malicious apps from intercepting intents, thus improving security. And apps in Android 14 must declare if their receiver is "exported" or "unexported."
Apps that use dynamic code loading must make the files read-only, thus theoretically improving security drastically.
These changes should not affect most users in any front-facing way.
Block installation of older apps
It seems like there's a news story every week about Android malware, so Google is going to tackle that problem once again in Android 14. Since malware targets older SDKs, the Play Store will block apps that target lower than SDK 23. Google determined that a lot of bad actors targeted SDK 22.
Luckily, SDK 22 is rather old (introduced with Android 5.1 Lollipop in 2015), so this shouldn't affect the best Android apps in any meaningful way.
Passkeys
Android 14 aims to replace passwords for good. It introduces an API to allow apps to use encrypted passkeys, thus greatly improving security. This should mean users can sign in more easily to apps with things like biometric security, as well as make for a more secure experience as passkeys aren't susceptible to phishing attacks and scams like passwords are.
As such, Android 14 could be the first nail in the coffin of traditional passwords.
Android 14: Improving background task management
Thus far, Android 14 places a large emphasis on system resource efficiency and improving battery life. This should also improve system health and make the user experience smoother.
JobScheduler and Foreground Services
Google says that some background work in Android is far too complicated. For the user, this doesn't mean too much on the surface, but it could relate to background efficiency, meaning that the system is taxing itself more than it needs to. That could lead to reduced battery life for your phone.
Android 14 will be stricter about what tasks can run in the foreground, such as user-facing applications and processes. With more things forced to run in the background, that should theoretically improve efficiency. If you haven't noticed, that seems to be a core component of Android 14.
Two of Android's core APIs, Foreground Services and JobScheduler, see some new features in Android 14. One is a new functionality for user-initiated data transfers, with Android making those uploads and downloads much easier, especially if there's a constraint (such as downloading on Wi-Fi only).
Developers will further have to declare what foreground service types their apps use to better delineate what services will run in the background versus the foreground.
Optimizing system broadcasts
Android 14 will introduce optimizations to the system's internal broadcast system to improve efficiency and battery life. A lot of these improvements shouldn't affect apps or the user, but Google specifically mentions context-registered broadcasts.
These basically queue up broadcasts for cached apps for when they come out of the cached state. This ought to improve how many background resources the broadcasts use. Android 14 will even bundle repeated broadcasts into a single one for when the app resumes from cache.
Exact alarm permissions
You might be wondering what exactly an exact alarm is. Think of your clock or calendar app that sends you a notification about an upcoming event, timer, or alarm in the morning. These apps can use Android's exact alarm system, but that can tax the system resources.
So in Android 14, apps that aren't a calendar or clock will need to request a special permission at first boot before it can set exact alarms. Google wants developers to use this permission carefully and instead consider more efficient scheduled alternatives instead.
Non-dismissable notifications
Android 14 hopes to improve on the annoyance on non-dismissable notifications. Basically, they'll go away while your device is unlocked and return when it's locked. Important items like system and policy notifications will remain, however.
Android 14: Working with all display sizes
Continuing the work done in Android 12L and Android 13, Android 14 will push developers to ensure that their apps work across all display sizes and form factors going forward.
To facilitate this, Google has created window size classes, sliding pane layout, Activity embedding, box with constraints and more. Android 14 Developer Preview 1 introduces these to help developers start getting things ready for all kinds of devices, including foldables and tablets.
Android 14: App compatibility
Android 14 Developer Preview 1 brings some 300 OpenJDK 17 classes with more to come in future releases. This should help improve app quality thanks to new record classes and string and pattern matching.
Most users won't notice this, but it should make developers' offerings better.
---
Android 14: What we want to see
Android 13 was a pretty solid release since it focused on incremental updates and improvements. Android 12 was a major launch with the new Material You system, so we're glad to see Google continue to clean things up.
However, there are a few things we'd like to see.
Split Wi-Fi and mobile network toggles
We'll keep this one simple. In Android 12, Google combined the Wi-Fi and mobile network toggles into one Quick Settings tile. This annoyed many users, us included, and it remained in Android 13 despite the outcry.
We want Google to split these in Android 14, just like some phone makers have done in their skins.
Bring back lock screen widgets
We'll admit, iOS 16 inspired this wishlist item. If you didn't know, on an iPhone, you can now add lock screen widgets. It adds more functionality to iOS. You'd be forgiven for forgetting, but Android once had this capability.
While the stock Android lock screen is pretty great with how much information it shows, it would be nice to add other things to it. We would just want something more seamless than what we got back in the Android KitKat days.
Native stacked widgets
Speaking of widgets, Google has some catching up to do with Samsung and Apple. We're talking about stacked widgets, where you can, as you might expect, stack widgets on top of each other and scroll through them.
This is an iOS feature by default and Samsung has started working on it with the Galaxy S23. Of course, you would be limited on this since a lot of Android widgets are lot more interactive than those found on iOS. So this could challenge Google a fair degree, but we want to see it all the same.
Custom fonts and icon shapes
In Android 11, Google allowed to change the font and icon shape on Pixels. But since Android 12, that functionality went away. Simply put, we want it back. You can do it on other phones like the OnePlus 11, so its absence on a Pixel is especially notable.
A Dynamic Island competitor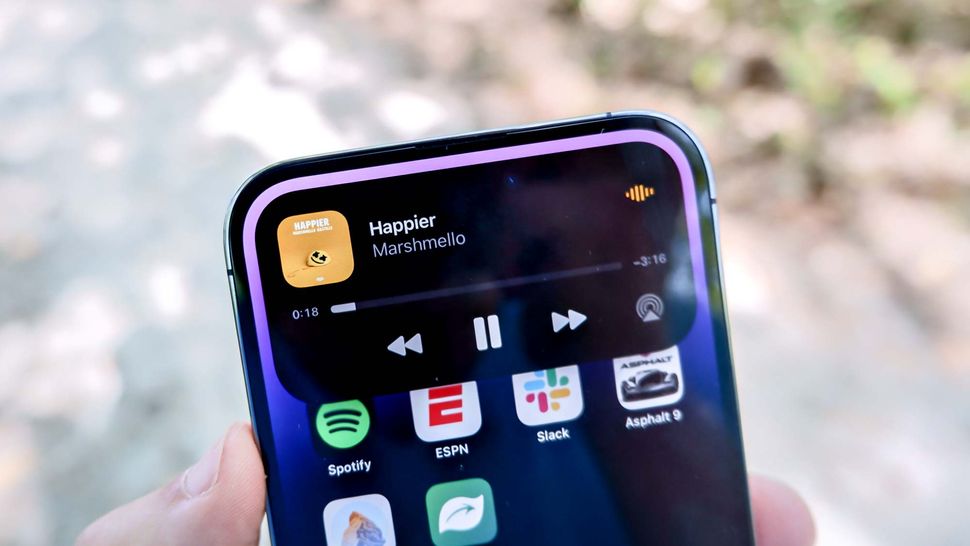 Finally, after using an iPhone 14 Pro, we really want to see Google implement some sort of Dynamic Island competitor in Android. While notification banners do work better a lot better on Android than on iOS, they don't dynamically expand and show live information such as sports scores or the location of your Uber.
Visually, Google could make notifications have black backgrounds that expand from the hole-punch front cameras so that they blend almost seamlessly like on the iPhone 14 Pro. Functionally, we could get more live information from these notifications.
For example, if you have music playing on an iPhone 14 Pro, you long-press the Dynamic Island and it'll expand out into a media player, making it easy to pause or skip songs. You can also quickly see timers without leaving your current screen. The possibilities for Android could be practically limitless.