The Galaxy Z Flip 5 is on its way, with the new flip phone likely to make its debut this Wednesday (July 26) at Samsung's Galaxy Unpacked event in South Korea. And it's safe to say, there's a lot more attention on this year's model than there has been for past foldable launches.
That's because Samsung is finally facing some competition in the foldable space, with Motorola in particular challenging the Galaxy Z Flip with its latest Motorola Razr+ phone. In our Motorola Razr+ vs. Samsung Galaxy Z Flip 4 face-off, in fact, Motorola's newest flip phone beat out the current version of Samsung's handset. So the Galaxy Z Flip 5 has some catching up to do if it wants to top the ranks of the best foldable phones.
Based on the rumors surrounding the upcoming phone, Samsung certainly seems to be putting some effort into re-establishing its Flip as the go-to device when you want a flip-style foldable. From a couple big design changes to a much-requested new feature, here are the biggest possible changes coming to the Galaxy Z Flip 5.
A new hinge for the Galaxy Z Flip 5
If you believe the rumor mill, both the Galaxy Z Flip 5 and Galaxy Z Fold 5 are in line to get a new waterdrop-style hinge. As we've heard it described by various leakers, the hinge allows part of the phone's display to roll inside the main body when shut.
There are a couple of purported benefits to this approach, both aesthetic and practical. We've heard that the new hinge could make the crease that appears across the display of Samsung's phones less prominent. Certainly, that's been an issue on the Galaxy Z Flip, where you can feel the crease as you drag your finger across the Z Flip 4's open screen. Apparently, this hinge also lets the phones stay flat when opened, another nice improvement.
Samsung's phones might also become thinner and more portable thanks to the waterdrop hinge. Certainly, that's a goal for Samsung, as no less a source than TM Roh, the president of the company and head of its mobile business, promsied that the next version of Samsung's foldables will be "slimmer and lighter than our previous generations" when promoting the upcoming Galaxy Unpacked event.
A larger cover screen for the Galaxy Z Flip 5
The outer case of the Galaxy Z Flip 4 features a 1.9-inch display that's useful for showing the time and incoming notifications. It also serves as a viewfinder should you snap a selfie with the Z Flip 4's exterior camera. As you might guess, though, 1.9 inches doesn't leave a lot of space to work with.
That became readily apparent once we got our hands on the Motorola Razr+. That phone offers a 3.6-inch cover display, which is actually larger than the screen size of the original iPhone from back in 2017. Needless to say, a screen that big lets you get a lot more done without requiring you to ever open the phone.
Samsung must see the value in that, as rumors suggest the Galaxy Z Flip 5 will get a larger cover display of its own. Rumors point to a 3.4- to 3.5-inch panel, but no matter what the eventual measurement turns out to be, that's more of a work area than what we saw from the Galaxy Z Flip 4.
The biggest remaining question is to what extent you'll be able to run full apps on the Galaxy Z Flip 5's expanded cover display. That's something you can do with the Motorola Razr+, but a recent report suggested that Samsung's phone would only be able to run widgets, potentially limiting the number of apps that will work on the display as well as what you can do with them.
A new chip
It's no big leap of faith to claim that the Galaxy Z Flip 5 is going to run on new silicon. Upgrading the chipset that powers a flagship phone is just something device makers do every year. And we have a pretty good idea of what silicon Samsung's going to use for this phone.
Past Galaxy Z Flip models have featured the very best Qualcomm chipset available. This year, that would be the Snapdragon 8 Gen 2, which Samsung already uses in its Galaxy S23 phones. We expect the Galaxy Z Flip 5 to follow suit.
That has implications beyond just performance, though the Snapdragon 8 Gen 2 has proven to be quite a powerhouse in other Android phones, even beating the A15 Bionic inside the iPhone 14 on some graphics tests. But Qualcomm's chip is also a marvel when it comes to power management as several devices running on the Snapdragon 8 Gen 2 have landed on our best phone battery life list.
That's significant in the case of the Galaxy Z Flip 5, as past models have struggled to last a long time on a charge. The Galaxy Z Flip 4 turned in a time of 8 hours and 33 minutes on our battery test. While that was much better than its predecessor, it's still roughly 1.5 hours behind the average smartphone. We're eager to see if the more efficient Snapdragon 8 Gen 2 helps the Galaxy Z Flip 5 turn in the best battery test result ever for a Samsung foldable.
Camera improvements
Besides battery life, the cameras on the Galaxy Z Flip 4 leave the biggest room for improvement. While the Galaxy Z Fold 4 saw an upgrade to its cameras, the Flip continued to use the same dual 12MP lenses for its rear camera array as before.
It sounds as if that's unlikely to change with the Galaxy Z Flip 5, though we have heard reports that Samsung could go with a larger sensor on the main camera in an effort to capture more light. Another report in Korean publication Chosun Ilbo claims that the upcoming Flip "will feature "clear improvements in camera and battery life matching the level of the Galaxy S23," so we hold out hope there's a surprise upgrade here that slipped under the radar.
New Galaxy Z Flip 5 colors
Every phone update introduces a new round of color options, so what's likely to replace the Bora Purple, Graphite, Pink Gold and Blue colors of the Galaxy Z Flip 4?
The latest Galaxy Z Flip 5 color rumors suggest we're in line for four options. Graphite is staying, one leaker claims, and it'll be joined by Lavender, Mint and Cream. That's light pink, light green and beige to you and me. Another report lists four other possibilities — Blue, Green, Platinum and Yellow — as potential colors sold only at Samsung.com.
DeX mode for the Galaxy Z Flip
DeX mode lets you plug your Samsung phone into a display, essentially turning it into a portable computer with a desktop-style interface. But that's not been an option for Galaxy Z Flip devices.
A Sammobile report from May claims that's about to change. A source claims that DeX mode is coming to the Galaxy Z Flip 5, addressing a long-standing complaint about lack of DeX support for that phone. However, that's the only place we've seen this claim, making it far form a certainty ahead of the Galaxy Z Flip 5 launch.
What's the Galaxy Z Flip 5 price?
Unlike the Galaxy Z Fold 5 where pricing rumors have been all over the place — you can find people who will tell you Samsung's other foldable will be cheaper or more expensive than the current model — it's been pretty quiet on the pricing front for the Galaxy Z Flip 5. That's led many to assume that the cost won't change from the current $999 asking price for the Galaxy Z Flip 4. And there's certainly plenty of incentive for Samsung to maintain a sub-$1,000 foldable.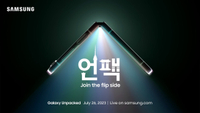 Get a $50 credit on Galaxy Unpacked preorders
Samsung will let you reserve a spot to preorder whatever gets announced at Galaxy Unpacked 2023 on July 26. Between now and July 25, you can sign up with your name and email address at Samsung's website or through the Shop Samsung app.
Regardless of the price, you can already save some money on the Galaxy Z Flip 5 — or anything Samsung announces at Galaxy Unpacked — by registering to preorder the device. Give Samsung your name and email address, and you're eligible for a $50 credit on anything announced July 26 should you decide to follow through with a preorder.
if you'd rather have a non-folding Samsung phone, like the Samsung Galaxy S23 Ultra, be sure to check out our Samsung promo codes page to see what deals are available.
Galaxy Z Flip 5 outlook
From what we've heard, the biggest changes surrounding the Galaxy Z Flip 5 seem to be the new hinge and the larger outer display. Both changes would make for a Galaxy Z Flip that's easier to carry around and to use on the go. But don't overlook the significance of the Snapdragon 8 Gen 2 chipset, which could dramatically improve battery life for Galaxy Z Flip.
More from Tom's Guide