The Samsung Galaxy Z Flip 5 is likely coming this summer to follow one of the best foldable phones. Galaxy Z Flip devices do have a lot to offer, delivering a compact design you can slip in your pocket and a big screen when unfolded, plus a Flex mode that lets you take photos and hold video calls hands-free.
There was a lot to like about the Galaxy Z Flip 4 when it launched last year, but it still left plenty to be desired. Especially where battery life and camera quality are concerned. We haven't heard many rumors yet, but what we've heard so far suggests that Samsung will be adding some much-needed upgrades to the Galaxy Z Flip 5, including a larger external display
Competition in the foldable space is heating up, and Samsung needs to step up its game if it wants to continue leading the charge. So here's everything we know about the Samsung Galaxy Z Flip 5 so far, including rumors, leaks and what we'd like to see.
Samsung Galaxy Z Flip 5 latest rumors (updated March 20)
Samsung Galaxy Z Flip 5: Possible price and release date
It's a little soon to know for sure when the Galaxy Z Flip 5 will launch. Samsung is usually fairly consistent with its release scheduling, with one flagship launch in the winter and another in late summer. Since the Galaxy S23 series just arrived, we're likely to see the Galaxy Z Flip 5 arrive in late summer — roughly a year after the launch of the Galaxy Z Flip 4.
The Galaxy Z Flip 4 had a release date of August 26, and the phone was announced at the Samsung Unpacked event August 10. If Samsung followed a similar pattern this year, we could see the Z Flip 5 announced August 9 and go on sale August 25, but that's just speculation.
We're similarly in the dark about pricing, but we hope that the Galaxy Z Flip 5 will come in at roughly the same price point as its predecessor. Especially since Samsung didn't raise the price when it launched the Galaxy S23 series earlier this year. If that's also the case with the Z Flip 5, we can expect the phone to start at $999 / £999 / AU$1,449.
Samsung Galaxy Z Flip 5: Design and Display
While there haven't been any specific rumors about the Z Flip 5's display, it's safe to assume it'll be keeping the same basic shape as previous Z Flip devices. That means a clamshell design that opens up to reveal a larger phone 6.7-inch screen.
Ross Young claims that Samsung will introduce a new hinge design this year, with the goal of making that display crease look less visible. The new "waterdrop" display could allow a portion of the interior screen to roll inside the phone itself — preventing the display from creasing. Young also claims that the phone will be built with lighter materials.
A bunch of rumors point towards the Galaxy Z Flip 5 finally getting a larger external display. That feature had originally been rumored for the Z Flip 4, only for the device to arrive with the same 1.9-inch display as before. So this would be a very welcome upgrade.
We don't know the specifics, but leaker Ross Young claims that the new display will be larger than 3 inches, which is a reasonable upgrade in itself. Ice Universe believes that the display will be larger than the 3.6-inch external display on the Oppo Find N2 Flip, although he later gave the exact measurement as a smaller 3.4 inches. They also believe that the display will be roughly square-shaped, and could encompass the phone's camera module.
There's been no word in the main display itself, but we're not expecting many changes from last year. The Galaxy Z Flip 4 came with a 6.7-inch AMOLED Full HD display, with an adaptive 1-120Hz refresh rate. The only serious improvement there would be a switch to QHD resolution, but we'll just have to see what happens.
If you want a taster of what this new Galaxy Z Flip could look like, these renders could help illuminate things.
Samsung Galaxy Z Flip 5: Cameras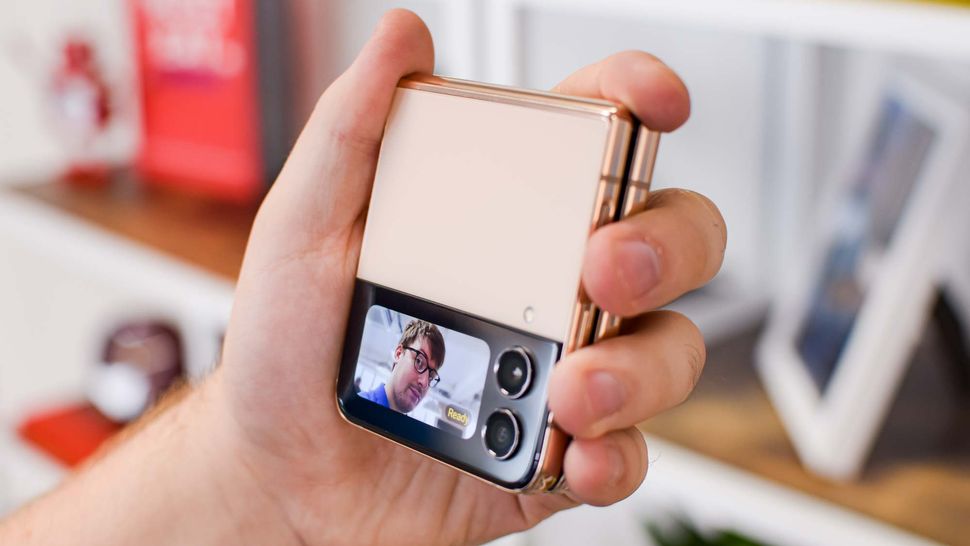 We have no word on what sort of camera setup we can expect on the Galaxy Z Flip 5, but we're hoping for a more significant upgrade this year. After all, the cameras on the Z Flip 4 were only marginally better than those on the Z Flip 3. Not that the cameras was terrible, but there's an awful lot of room for improvement.
Last year we saw the Z Fold 4 offer better camera parity with the S22 range, and we'd like the same to happen with the Z Flip 5. After all, the Galaxy S23 (and S22 before it) has a 50MP main sensor, which sounds a lot more impressive than the 12MP offering the last two Z Flips have come with.
Assuming the Galaxy Z Flip 5 borrows a lot of the Galaxy S23's camera features, we would also expect better Nightography performance, better video stabilization and other upgrades.
The Galaxy Z Fold 5 is rumored to come with a 108MP camera, and while we don't expect the Z Flip 5 to get that same treatment, it could be indicative that the phone will get a much needed boost to its camera hardware.
Samsung Galaxy Z Flip 5: Performance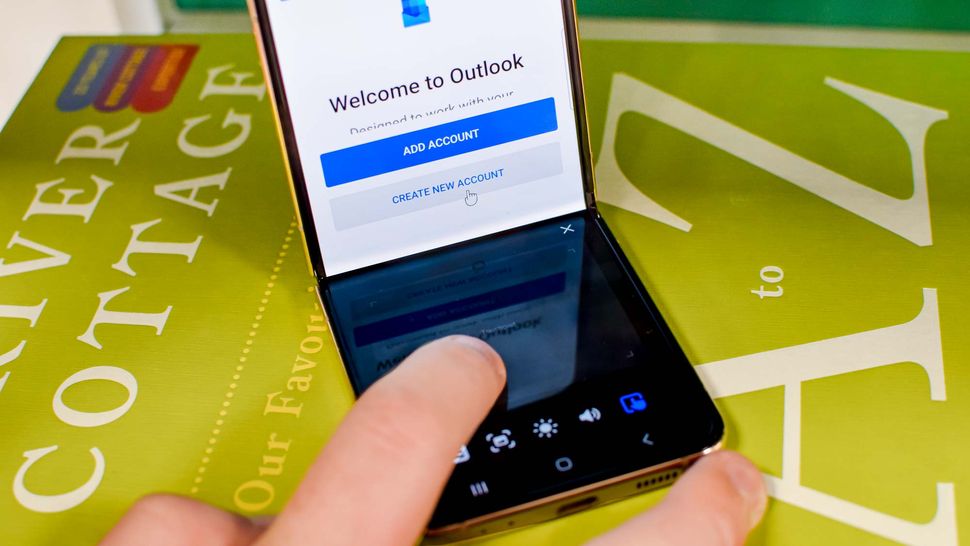 There haven't been any rumors about what chips might be powering the Galaxy Z Flip 5 just yet. But there's pretty good odds that the phone will come with the Snapdragon 8 Gen 2 for Galaxy.
Snapdragon 8 Gen 2 benchmarks were good, but the Samsung Galaxy S23 Ultra benchmarks were even better. So we'd like to see Samsung's overclocked performance available on the Z Flip 5.
While the Snapdragon 8 Gen 3 is slated to launch later this year, in lieu of a Gen 2 Plus, that's likely to happen long after the launch of the Z Flip 5.
SamMobile also claims that the Z Flip 5 and Z Fold 5 will offer UFS 4.0 storage on devices with at least 256GB of storage. That means users will be able to enjoy faster read/write and data transfer speeds on the 256GB and 512GB models. Sadly, the fact UFS 4.0 isn't available on 128GB storage means that particular Z Flip 5 model will likely be stuck with UFS 3.1 storage just like the 128GB Galaxy S23.
UFS 4.0 offers 4,200 MBps read speeds and 2,800 MBps write speeds, far faster than the 2,100 MBps and 1,200 MBps speeds of UFS 3.1. It also offers 23.2 Gbps per lane speed, twice that of 3.1, and uses roughly 46% power in the process. That's a pretty hefty boost in storage performance.
Samsung Galaxy Z Flip 5: Battery and charging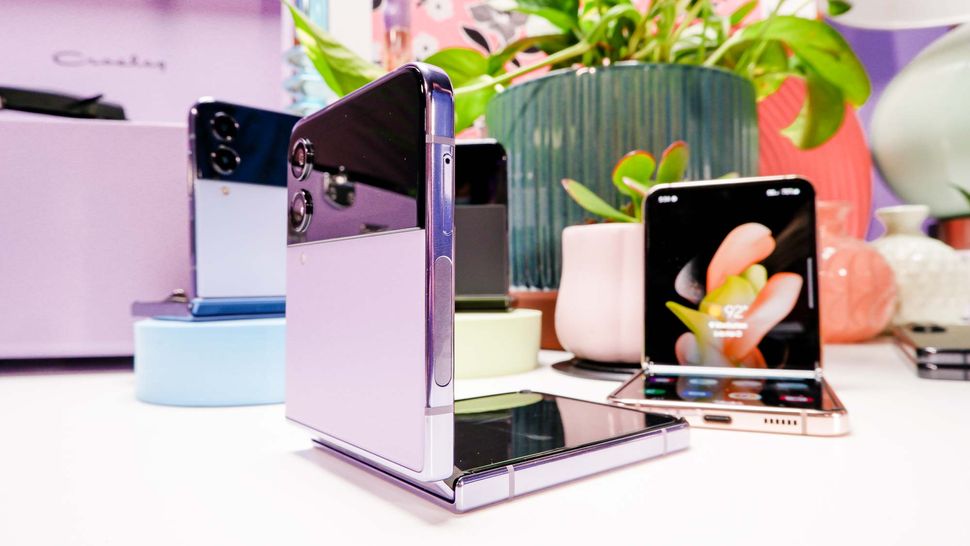 It's clear that the Galaxy Z Flip 5 also needs to make a significant improvement to battery life. The Z Flip 4's 3,700 mAh battery lasted 8 hours and 33 minutes in our testing, a figure that rose to 8 hours and 57 minutes when the screen was set to 60Hz.
This year Samsung has proven its ability to better optimize battery performance on the Galaxy S23. The phone was able to last 10 hours and 27 minutes after a 200 mAh boost to battery capacity — and it gives us hope that something similar could happen to the Z Flip 5.
While we'd like to see a boost from 25W charging, which has been Samsung's go-to speed for far too long, we're not hopeful. Certainly not after the Galaxy S23 came along with the same 25W wired charging speeds. The same is likely true for the 15W wireless charging speed.
Samsung Galaxy Z Flip 5: What we want to see
Better battery life
While the Galaxy Z Flip 4 offered a major battery boost from the Galaxy Z Flip 3 (8h33 vs 5h43), that's still a pretty weak offering. Especially considering the $999 starting price. So the most obvious upgrade to give the Galaxy Z Flip 5 is an even stronger battery life — be it from a larger battery pack or better power optimization via the Snapdragon 8 Gen 2 chip. If the Galaxy S23 can gain a few more hours with just 200 mAh, so could its foldable counterpart.
Galaxy S23-tier cameras
We may never get Galaxy S Ultra-level photography on a Z Flip device, but there's no reason the camera performance couldn't rival the one found on the standard Galaxy S23. At the very least we should be snapping pictures worthy of a $999 (or more) price tag. If Samsung wants to charge premium prices for its foldables, then it's going to need to offer premium photography performance to go with it.
Less obvious display crease
While Samsung may not be able to completely eliminate the display crease on a foldable phone, it should be doing everything it can to minimize it. After all, a honking great bar in the middle of your screen is a big distraction, and tends to ruin the aesthetic of the phone. Considering other phone makers have launched foldable devices without such obvious creases, Samsung's going to need to step up if if it wants to stay in first place.
Bigger and better cover display
Rumors suggest that the Galaxy Z Flip 5 will come with a larger cover screen. After all, phones like the Motorola Razr 2022 offer far more versatile access to apps on the cover screen, and Samsung would be wise to do the same. Te Cover display will never replace the main screen, but the more it can handle the less we'll need to flip the screen open.