Update: The July 26 Galaxy Unpacked event has come and gone, but don't fret if you missed it. You can get a recap of everything that was announced in our Samsung Galaxy Unpacked live blog. Meanwhile, be sure to check out our hands-on impressions of every product Samsung announced at Unpacked:
Here's our preview of Galaxy Unpacked, saved for posterity.
It's Samsung Galaxy Unpacked day at long last, with the action due to start in just a couple of hours from Samsung's home in Seoul, South Korea. Thanks to the rumor mill, we have a pretty good idea already of what we're about to say, but Samsung itself has already hinted that today will be all about foldables.
We should see the Galaxy Z Fold 5 and Galaxy Z Flip 5 appear as Samsung's habitual yearly updates to its larger and smaller foldables. But other potential products could join those foldables on stage too — everything from tablets to smartwatches to additional smartphones.
Rumblings about the next Samsung product launch line-up have picked up volume over the last few months as we get closer and closer to the event itself. Here's what we know so far about Samsung Galaxy Unpacked 2023.
Samsung Unpacked 2023 latest news (Updated July 26)
What is Samsung Galaxy Unpacked?
Galaxy Unpacked is Samsung's name for product launches involving its lineup of mobile devices like phones, tablets, smartwatches and audio gear. While there can be multiple Unpacked events in a given year, there are two you can basically guarantee — one in early spring to usher in the new Galaxy S flagship phones and a second one in late summer. Previously, the second Unpacked of the year centered around the Galaxy Note phablet series, but in recent years, Samsung's used it to show off new foldable phones instead.
The first Galaxy Unpacked of the year took place in February, with Samsung introducing the Galaxy S23 phone lineup along with new Galaxy Book 3 laptops highlighted by the Galaxy Book 3 Ultra and Galaxy Book 3 Pro 360. Samsung has released other products since then — the midrange Galaxy A54 chief among them — but nothing apparently big enough to warrant a full Unpacked event.
What is the Galaxy Unpacked date?
After confirming earlier this summer that there would be a Galaxy Unpacked event in late July, Samsung has now set a time and date. Galaxy Unpacked 2023 will take place today, Wednesday, July 26, with the action commencing at 7 a.m. ET/4 a.m. PT/12 p.m. BST.
Why the early hour for U.S. audiences? The event is taking place in Seoul, South Korea — the first time that's happening.
"Hosting Unpacked in Seoul holds great significance both as it is a city that has become an emerging epicenter of innovation and culture as well as the foldable [phone] category," said Samsung's TM Roh in an announcement that removes any mystery about what products are on the agenda for Unpacked 2023.
Regardless of what Samsung announces at the show — more on that in a moment — you can already stake out your place in line to preorder your Samsung devices. Between today and tomorrow, if you sign up with your name and email address at Samsung.com or at the Shop Samsung app, you qualify for a $50 credit on whatever gets announced tomorrow.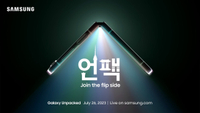 Get a $50 credit on Galaxy Unpacked preorders
Samsung will let you reserve a spot to preorder whatever gets announced at Galaxy Unpacked 2023 on July 26. For today, you can sign up with your name and email address at Samsung's website or through the Shop Samsung app. Or check out our Samsung promo codes page if you'd rather have a non-folding phone.
The July 26 date marks an early start for Unpacked, which usually happens in August. Why move up Galaxy Unpacked? Korean publication Chosun Ilbo's report claims it's part of a Samsung strategy to get more phone revenue into its September quarter, since an expedited launch date would give the company a full month of smartphone sales. But the arrival of devices like the Google Pixel Fold and Motorola Razr+ means that there's more competition for the title of best foldable phones. As a consequence, Samsung could be more eager to get its new devices out in order to take on fledgling rivals.
Can I watch the Galaxy Unpacked 2023 event online?
Samsung plans to live stream the event at its online newsroom and on its YouTube channel. Enjoy the embedded feed below or consult our guide on how to watch Galaxy Unpacked for more about tuning in.
What will get announced at Galaxy Unacked 2023?
There are two near-certainties for the Galaxy Unpacked 2023 coming up this summer — 1) Samsung's going to show off updated foldables, per Roh's comments about the Korean setting for the event; and 2) Samsung's probably going to show off something else.
In a subsequent blog post from Roh posted a week before Unpacked, the Samsung executive said the next generation of Samsung foldables would be the thinnest and lightest ever made; he also implied that wearables and tablets would be a part of the Unpacked announcements, too.
There are enough Galaxy Z Fold 5 rumors floating around to make us fairly confident that Samsung has an update in the works for its most expensive foldable phone. And with the number of rival phones growing — the OnePlus V Fold could also reach the market in the second half of the year, joining the Pixel Fold — Samsung has every reason to show us a new Fold of its own.
The Galaxy Z Fold 5 is in line to get a Snapdragon 8 Gen 2 for Galaxy chipset, and if that silicon's performance in the Galaxy S23 is anything to go by, Samsung's foldable phone should get boosts to both performance and power efficiency. (That last improvement would be extremely welcome, given the Galaxy Z Fold 4's disappointing battery life.) It's unclear if camera improvements are planned, though the Galaxy Z Fold 4 got a pretty serious upgrade to its outer cameras.
The biggest change could be to the phone's design. While the Galaxy Z Fold 5 is expected to retain the basic design where the phone opens up like a book to reveal a larger tablet-sized screen, rumor has it that the new version is going to be thinner and lighter than before. Samsung is also reportedly developing a new hinge that's more durable than past versions, and if leaked photos are to be believed, there won't be any gap between the two sides of the Galaxy Z Fold 5 when the phone is closed shut.
The best part is that we could see a possible price decrease for the Z Fold 5, at least according to one leaker. If that happens, it would give the Galaxy Z Fold 5 a leg up on the Pixel Fold, which debuted at the same $1,799 price as the current Galaxy Z Fold. However, an alleged price leaks has the Galaxy Z Fold 5 will starting at €1,999, which is a €100 more than the Galaxy Z Fold 4. That's just pricing for Europe, so the U.S. could side-step a price increase, but it's not a promising sign for the lowering of foldable phones prices.
Like its larger and more expensive sibling, the Galaxy Z Flip 5 is expected to upgrade to a Snapdragon 8 Gen 2 for Galaxy chipset. And it could also benefit from that improved hinge being developed for the Z Fold 5, which could result in a less visible crease across the Flip's interior display.
It's the outer display of the Galaxy Z Flip 5 that may garner the most attention though. The current version of the Flip features a 1.9-inch cover display, but rumors, such as a leak a little more than a week ahead of Galaxy Unpacked, suggest that's going to increase to 3.4 inches on the Galaxy Z Flip 5. The end result could be a display that lets you get more done without having to flip the phone open. Leaked Galaxy Z Flip 5 images show what that design could look like.
A report in Chosun Ilbo also cites a Samsung insider who predicts that camera performance and battery life for the Galaxy Z Flip will feature "clear improvements... matching the level of the Galaxy S23," with software enhancements responsible for those gains.
Samsung might use the Galaxy Unpacked 2023 event to introduce us to some new tablets. That's according to the WinFuture report on the alleged July 26 date of the big event. WinFuture has also posted Galaxy Tab S9 images.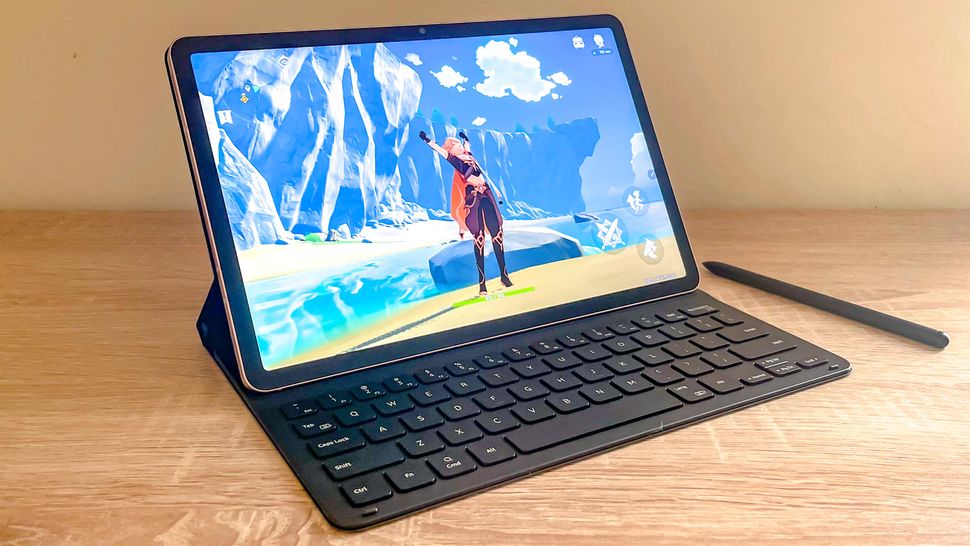 We expect there to be multiple Tab S9 models — a base version, a Plus version and an Ultra edition. All three are likely to run on the Snapdragon 8 Gen 2 chipset. All three models could wind up with OLED panels too, which would be an upgrade for the base Tab S9 model over the Galaxy Tab S8.
It's likely the Galaxy Tab S9 tablets will look a lot like their predecessors, though renders for the Plus model hint at camera upgrades inspired by the Galaxy S23 phones. That would mean a 50MP main camera for the tablet.
With Samsung using its summer Galaxy Unpacked event to show off new smartwatches in recent years, it's only natural to assume that the Galaxy Watch 6 could be on tap for this upcoming launch event.
One reason to be less confident about the Galaxy Watch's spot on the Galaxy Unpacked agenda, though, is that neither report predicting a July 26 event mention the possibility of a new Galaxy Watch. Rumors about the Galaxy Watch 6 have also been pretty sparse compared to Samsung's foldable phones and tablets.
However, a claimed specs leak for the Galaxy Watch 6 would seemingly make its launch at Unpacked seem more likely. The leak touted an OLED display, a new chip and larger watch sizes. Added to this tipsters have claimed that larger batteries will find their way into the new Watch models. And with long-standing rumors that the Galaxy Watch will one day add support for blood glucose monitoring, perhaps this will be the year that happens.
Samsung mixed reality headset
Here's a long shot for the Galaxy Unpacked event this summer, but we thought we'd mention it. At February's Galaxy Unpacked, executives from Qualcomm and Google joined Samsung on stage to talk about a joint effort to build a new mixed-reality platform. We doubt any product resulting from this partnership is ready for prime time, but there's always a possibility of an update six months later to let us know about the progress Samsung is making in this area.
Another reason Samsung may be eager to talk up mixed reality at the event: Apple is widely expected to be showcasing its own VR/AR headset a month earlier at WWDC 2023. Talking about its own efforts with Qualcomm and Google ensures that Samsung won't be left out of the metaverse conversation.
Look, we don't believe that Samsung has a Galaxy S23 FE in the works, not with the Galaxy A54 fitting in nicely among the best Samsung phones and enjoying all those rave reviews about how it balances price with premium features. But we can't deny that some rumors suggest an FE model will join the Galaxy S23 lineup this year, with most release date claims pointing to a roll out in the latter half of 2023. And new renders at least keep the possibility of a Galaxy S23 FE appearing soon at the back of our minds.
Samsung might use the Galaxy Unpacked event to preview the Galaxy S23 FE, though the company could just as easily launch its slightly scaled-back flagship phone later on. Or it could forget the matter altogether and not release another FE model. Given that one rumor claims the Galaxy S23 FE won't feature the Snapdragon 8 Gen 2 chipset, maybe that's for the best.
Galaxy Unpacked 2023 outlook
Now that we're just a couple days out from Galaxy Unpacked, expect a flurry of last minute leaks. Stay tuned to Tom's Guide for updates on all of Samsung's plans.
More from Tom's Guide