Samsung's next Galaxy Unpacked product showcase kicks off today (July 26), where we expect to see a clutch of new devices and get a feel for what's next for Samsung, And you can follow our Unpacked 2023 live blog for all the latest updates.
There's been no shortage of rumors leading up to the July 26 event. Based on what we've heard, Samsung's latest foldable smartphones — the Galaxy Z Fold 5 and Galaxy Z Flip 5 — are likely to take center stage at Galaxy Unpacked, joined by the Galaxy Tab S9 series of tablets. All of these are expected to come packed with the new Snapdragon 8 Gen 2 processor. There could be a Galaxy Watch 6, too, along with other possible surprises.
Read on to find out how to watch the Samsung Galaxy Unpacked summer livestream.
When is Samsung Galaxy Unpacked?
Samsung will hold its Galaxy Unpacked event a little early this year. Normally, the second of Samsung's two Unpacked product launches happens in August, but this year's edition is taking place on July 26 at 7 a.m. ET / 4 a.m. PT / 12 p.m. BST.
Why so early? Because the event itself is being held in the city of Samsung's main headquarters, Seoul, South Korea, in a first for its Galaxy Unpacked series. Unpacked will begin 8 p.m. local time in Seoul.
How can I watch the Samsung Galaxy Unpacked livestream?
We're going to assume you haven't scored an invite to the actual Unpacked event. Not to worry — you've got a couple of options for streaming Samsung's summer showcase.
You can watch Galaxy Unpacked from Samsung's website or on Samsung's YouTube channel. Samsung even has a dedicated feed for Galaxy Unpacked, and we've embedded it below.
If history is any guide, that feed is going to remain dormant until a couple of hours before Unpacked's start time on Wednesday. Then it will go live with a countdown to the 7 a.m. ET event.
How do I preorder Galaxy Unpacked products?
If you're already set on buying whatever Samsung announces on July 26, you can get in line to place an order for it now. As with past Unpacked events, Samsung is letting shoppers sign up at Samsung.com or through the Shop Samsung app so that they can preorder devices after they're unveiled.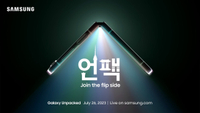 Get a $50 credit on Galaxy Unpacked preorders
Samsung will let you reserve a spot to preorder whatever gets announced at Galaxy Unpacked 2023 on July 26. Between now and July 25, you can sign up with your name and email address at Samsung's website or through the Shop Samsung app.
You're able to reserve a spot for potential preorders through July 25, and you'll get a $50 Samsung credit in exchange for your name and email address. That credit can be applied to preorders, and there's no commitment, so you can back out if you change your mind later.
What should I expect from Samsung Galaxy Unpacked?
We've already got a pretty good idea of what products and announcements will take center stage when Galaxy Unpacked kicks off on July 26 — with everything from new foldable phones to tablets and smartwatches expected to make an appearance.
Galaxy Z Flip 5 and Galaxy Z Fold 5: With Galaxy Z Fold 5 and Galaxy Z Flip 5 updates looming, we're almost certain to see new foldable phones. Samsung's invitation even features the Flip.
The Galaxy Z Fold is rumored to get a top-of-the-line Snapdragon 8 Gen 2 for Galaxy chipset and a larger tablet-sized screen. If leaked photos are to be believed, Samsung could literally close the gap with the Z Fold 5 by switching to a waterdrop hinge design. That would eliminate any space between the two sides when the phone is closed shut and lessen the appearance of a crease when the phone is unfolded.
Meanwhile, the Galaxy Z Flip 5 is expected to upgrade to a Snapdragon 8 Gen 2 for Galaxy chipset and an improved hinge design. Leaked Galaxy Z Flip 5 images suggest the outer display could see the biggest upgrade, jumping from a 1.9-inch cover display on the Galaxy Z Flip 4 to 3.4 inches on the Flip 5. The end result could be a display that lets you get more done without having to flip the phone open.
Expect both phones to have a slimmed down profile. Earlier this week, Samsung president TM Roh promised that "slimmer and lighter" versions of the company's foldables were on the way.
Galaxy Watch 6: Lately, Samsung has used its summer Galaxy Unpacked event to showcase new smartwatches, so it's only natural to assume we'll see its latest and greatest wearables in the coming week. That said, rumors about the Galaxy Watch 6 have been pretty sparse compared to Samsung's foldable phones and tablets.
A purported specs leak for the Galaxy Watch 6 touted an OLED display, new chip and larger watch sizes. Other rumors we've heard about the Galaxy Watch 6 series suggest a possible move to a curved glass display, larger batteries, potential support for blood glucose monitoring and a feature for detecting irregular heart rhythms. The rotating bezel could also make a comeback, though renders indicate the fan-favorite navigation feature may be exclusive to the Galaxy Watch 6 Classic.
Galaxy Tab S9: Samsung is likely to show off the Galaxy Tab S9 series at Unpacked as well. We expect there to be multiple Tab S9 models — a base version, a Plus version and an Ultra edition. All three are likely to run on the Snapdragon 8 Gen 2 chipset, and the base Tab S9 could also sport an OLED display and larger battery.
Whatever happens, you can bet this summer's Galaxy Unpacked will be one of the keystone tech events of the year. And for all the latest news, make sure to check back with Tom's Guide as we'll bring you all the action, analysis and reactions from Unpacked.
More from Tom's Guide