As more companies release foldable phones, it's increasingly becoming tougher to stand out from the crowd. After two underwhelming models under its belt in the U.S., Motorola is back with its third-generation device — the Motorola Razr+.
From a cursory glance, the latest Razr already looking to be a bigger, more substantial offering than any of its predecessors backed with a larger external display and a stylish look that will definitely turn heads. There's a lot riding on the Razr+, but there's no denying how Motorola is positioning this device as the phone for content creators. It's certainly making a case for being one of the best phones this year.
As you'll see in my Motorola Razr+ review, Motorola took an already gorgeous design and made it better. Along with a larger, more usable exterior display, the Razr+ is more than just another fancy camera phone for self recordings — it also conjures up a new way of interacting with our phones.
I was also surprised by how well the Razr+ held up against newer rivals, like in my Samsung Galaxy Z Flip 5 versus Motorola Razr+ face-off, which details how these two foldable stack up in all of the important categories. Believe me, I was shocked at which came out on top.
Motorola Razr+ review: Specs
Swipe to scroll horizontally
| | |
| --- | --- |
| Price | $999 / £782 / AU$1,469 |
| Colors | Infinite Black, Glacier Blue, Viva Magenta |
| Inner display | 6.9-inch OLED, FHD+, 165 Hz |
| Outer display | 3.6-inch OLED, 144Hz |
| Rear camera | 12MP main (f/1.5), 13MP ultrawide (f/2,2) |
| Front camera | 32MP (f/2.4) |
| Chipset | Snapdragon 8 Plus Gen 1 |
| RAM | 8GB |
| Storage | 256GB |
| Battery | 3,800 mAh |
| Wired charging | 30W |
| Wireless charging | 5W |
| Dimensions | 6.7 x 2.9 x 0.27 inches (open), 3.48 x 2.9 x 0.59 inches (closed) |
| Weight | 6.63 ounces |
Motorola Razr+ review: Price and release date
Priced at $999, the Motorola Razr+ is fighting against other top-tiered flagships, putting itself in direct competition with the Galaxy Z Flip 4. There are some outstanding deals going on right now for the Razr+, like one that lets you fetch the phone for as little as $180 through AT&T.
Razr+ preorders are currently available right now, but you'll be able to buy the Motorola Razr+ in stores and other online retailers starting on June 23. There's only a single 256GB storage option, with three color options to choose from: Infinite Black, Glacier Blue, and Viva Magenta.
Motorola Razr+ review: Design
You can definitely tell that Motorola put a lot of effort into making the Razr+ a more polished foldable. As you'd expect, it's incredibly pocketable when it's folded up — I found it easy to stow away a closed-up Razr_. Even better, I love the stylish contrast of the polished metallic frame paired with the vegan leather casing of the rear, though I'm eager to know how the leather will hold up over time as I've seen other similar materials deteriorate.
The hinge mechanism is also solid, allowing the Razr+ to remain flush when it's opened up. While critics are quick to point out the crease on the display when it's powered off, I really didn't find that distracting, especially because you barely notice it when the phone's turned on. Another minor but important design aesthetic that nitpickers will enjoy is how there's no gap in between the display when it's closed.
Flaunting a razor thin 0.27-inch (6.9-mm) frame and 6.65 ounce (188.5g) weight, the Razr+ is easy to hold and operate. Around the right side, the dedicated power button doubles as the fingerprint sensor, which I found reliable at unlocking the phone.
It's worth noting that the Razr+ features an IP52 rating. That means it has a water repellent design meant to withstand minor splashes, but not submersion.
Given all the design challenges for a phone that follows a long tradition of taking pride in being really thin, Motorola's third-gen foldable is an aesthetically pleasing package. Frankly, there's no better looking foldable than the Razr+.
Motorola Razr+ review: Display
I was most surprised by the utility of the Razr+'s external 3.6-inch pOLED display. It has a 1:1 screen aspect ratio with a 1066 x 1056 pixel resolution, making it extremely sharp and detailed. In fact, that's the same pixel density as the main display!
I was able to run many apps (and games) through the external display and easily typed messages with its on-screen keyboard. That's because the size of the layout was nearly identical to the keyboard with the main display, which made it a breeze using swipe gestures one-handed.
Due to the limited real estate, there were some apps that didn't scale as properly when I ran them on the outer display. That wasn't a problem for most of the native apps, like Gmail and Google Maps, but surfing the web with Chrome was problematic with the limited view. One game I tried playing on the external display looked squished, so don't expect everything to look right.
Despite that, I appreciate how there's plenty of ways to personalize the external screen of the Razr+ — including a handful of clocks, animated wallpapers and much more to choose from.
Moving over to the main 6.9-inch FHD+ OLED display, I have little to complain about. For starters, its peak 1,084 nit brightness made it visible in direct sunlight. By comparison, the Samsung Galaxy Z Flip 4 topped out at 772 nits.
And of course, the Razr+ screen has all the hallmark qualities that I love about OLED panels — like wide viewing angles with minimal distortion and punchy looking colors. It's perfect for watching videos and playing games, thanks to its fluid 165Hz refresh rate.
In the time I've been using the Motorola Razr+, putting it inside of my backpack and pockets, neither display picked up any scratches. You can thank the Corning Gorilla Glass Victus that's covering both displays, which is reassuring because I've had other phones scratch after just a few times in my pocket.
Motorola Razr+ review: Software
When setting up the Razr+, there's a point when you're given the choice of using Android's gesture based navigation or the traditional 3-button navigation. The decision is actually important with this phone because some of Motorola's own gesture based actions are contingent on using the 3-button navigation. Apparently, some of Motorola's gestures conflict with Android's native gesture navigation.
For example, one-handed mode is only accessible with Android's gesture navigation — while split screen mode for two apps to run simultaneously is available with the 3-button navigation. On the one hand, that's annoying because there's no way of getting them all, but I also found Moto's gestures incredibly useful.
Luckily, staple gestures like twisting the phone twice to launch the camera and the chopping gesture to turn on the flash are still accessible regardless of the navigation mode you pick.
Currently, the Motorola Razr+ is running Moto's custom interface on top of Android 13. It's also expected to receive three years of software updates, which is a far cry from the support other Android phones get. It's not a huge deal breaker for those upgrading every couple of years, but I can see how it poses a problem for others.
Beyond that, the software had everything I needed to carry out work stuff and personal use. The minimalist interface closely mimicked stock Android, evident in how the Razr+ leveraged Google Photos instead of a separate gallery app.
The software experience even goes deeper with features like Motorola's Flex View mode, which is showcased best by the camera app. When the Razr+ is folded halfway, the interface shifts so that the controls are shown on the bottom screen, while the top is reserved for the viewfinder.
Additionally, I also liked how I could continue to use apps between the main and external displays. For example, I could start the Instagram app on the external display, then open up the phone to continue with the main screen — and vice versa. These features may not seem profound among other things, but having them adds to how the Razr+ goes above and beyond other phones.
Motorola Razr+ review: Cameras
One of the biggest challenges for Motorola is to prove that its Razr+ belongs in the conversation as one of the best camera phones. Unfortunately, with average performance, it just can't measure up to the cameras on the Google Pixel 7 or Apple iPhone 14 Pro. Instead, it's more or less the same with its average performance.
Don't get me wrong, I absolutely love the level of utility the Razr+ offers paired with the external display. The dual-camera system consists of a 12-megapixel main camera with an f/1.5 aperture lens accompanied by a 13-megapixel ultra-wide f/2.2 lens that doubles as a macro camera. I know that triple-camera systems have become the norm amongst flagships, but I'm not terribly distressed about not finding an optical zoom lens here.
The Razr+ cameras do a good job under ideal conditions, producing good looking details and natural colors. In high contrast scenes, I would've preferred for the Razr+ to boost the shadows to draw out a little more detail from the shot. Meanwhile, the ultra-wide camera allowed me to capture more of the scenery, but details were a bit softer.
I never really cared much about macro cameras until I tried out the macro mode with the Razr+. It really did open me to a whole new world of shooting for me because of the details I was able to uncover. However, I recommend shooting in bright conditions and having a steady hand. This is necessary to prevent ghosting with your shots, which causes photos to be out of focus due to slight jitters of the hand and slower shutter speeds.
Unfortunately, the Motorola Razr+'s camera performance still suffers under low-light. Even switching to its specialty Night Vision mode, I found focusing unreliable — resulting in softer looking images. When the focus did manage to lock on, it still produced muddy looking details and greenish colors. It's no better with the ultra-wide camera, so I would recommend using it when there's some soft of ambient lighting around to brighten the scene a little. As you can see above, the Samsung Galaxy Z Flip 4's night mode produced a brighter image with more detail.
In the comparison shot above between the Motorola Razr+ and Samsung Galaxy Z Fold 4, the Razr+'s camera did nicely to deliver the same amount of detail as its rival. However, I prefer the more natural color tones from the Galaxy Z Flip 4 versus the greenish hue of the Razr+.
With the help of its external display, I found it much more convenient to capture selfies using the rear cameras of the Razr+. While framing the shot was a lot easier with Motorola's foldable, I like the better contrast out of the Galaxy Z Flip 4.
Being a content creator, I also found the Razr+ invaluable for vlogging and recording self shots with the help of the external camera. In the past, recording myself was relegated to inferior front-facing cameras, but now I'm able to rely on the main cameras of the Razr+. This was extremely helpful with the framing, allowing me to worry less if I'm actually in the shot or not — and simply focusing on what I'm talking about on camera.
Speaking of recording, the Motorola Razr+ offers up to 4K recording at 60 FPS. Similar to its still shot performance, the best results I achieved were with the main camera under bright conditions. Annoyingly, I found that you couldn't switch from the main camera to the ultra-wide one after you start recording. It's strange, especially when it's doable when dialing it down to 1080p.
Thanks to its foldable display, there are all sorts of ways to manipulate the Motorola Razr+ to capture content. And you know what? This is what makes the Razr+ attractive to content creators such as myself. For example, you can fold the display halfway and hold the phone like an old-school pocket camcorder. Additionally, I love how you can simultaneously have both displays turned on while recording video — giving your subjects a preview of the framing.
While I absolutely love the utility of the Razr+ when it comes to recording video, it needs a manual video mode to make it more competitive. That's because the Samsung Galaxy Z Flip 4 has one.
Motorola Razr+ review: Performance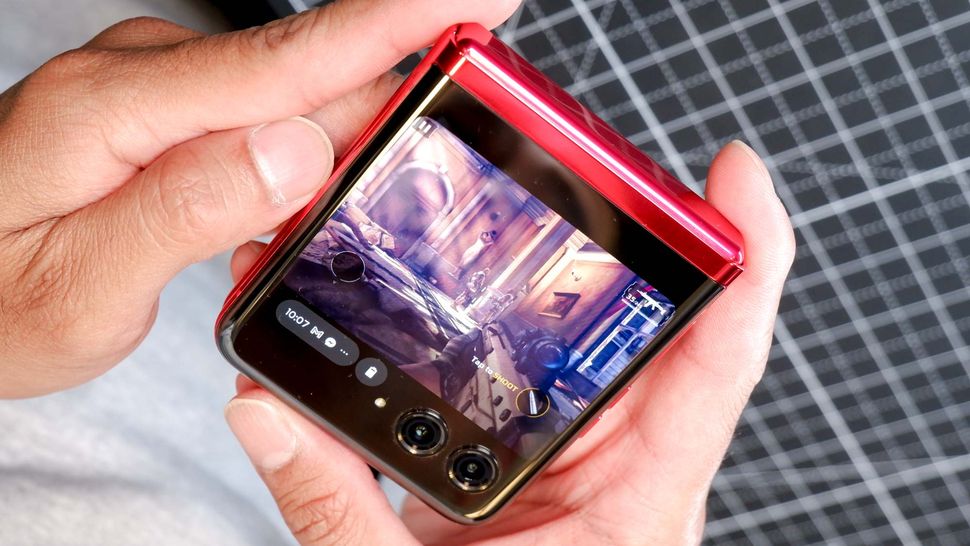 Powered by Qualcomm's Snapdragon 8+ Gen 1 processor paired with 8GB of RAM, the Razr+ was a champ handling all basic functions. Launching apps and scrolling through the interface were all accompanied by fluid movements — while graphically intensive gaming titles like Modern Combat 5 ran smooth as well.
I rarely found the phone stuttering with its performance, apart from playing Ages of Origin, which I suspect was related more to internet congestion than the Razr+'s graphics processing performance. Running our barrage of benchmark tests also validated my experience with the Razr+, as it produced similar results against the Galaxy Z Flip 4 with GeekBench and Basemark.
The Razr+ yielded average scores of 1320 and 4134 respectively on GeekBench 5's single-core and multicore tests, while the Galaxy Z Flip 4 wasn't too far behind with scores of 1291 and 4015. There's also very little disparity when we ran 3DMark Wild Life Unlimited benchmark, with the two foldables holding steady at 66 frames per second. And finally, they both took 40 seconds to render a video with Adobe Premiere Rush.
The elephant in the room is without question the processor, which some folks will point to as being outdated. Newer flagships like the Samsung Galaxy S23 series employ the newer Snapdragon 8 Gen 2 chipset. (That same chipset is likely to power the Galaxy Z Flip 5 coming out later this summer.) While I'm not opposed to sticking with an older chip, I can understand the concern when comparisons are drawn. But in all seriousness, I care more about the real world performance of the phone — regardless if it's last year's chip or not.
Motorola Razr+ (2023) review: Battery life and charging
Even with its razor thin profile, there's a 3,800 mAh battery stuffed into the Razr+ chassis. It's a smidge larger than the one in the Samsung Galaxy Z Flip 4, but I didn't notice a tremendous difference with its battery life.
I'd say battery life is pretty average for a clamshell foldable, lasting me one day of normal usage — getting down to 20% capacity right before bedtime. Running our own custom battery test, it actually outlasted the Galaxy Flip 4 by an hour by reaching a time of 10 hours and 9 minutes. That's a little bit better than the average smartphone performs, whether its display folds or not.
Motorola Razr+ review: Verdict
For Motorola, it's been a bumpy ride the last couple of years trying to prove to the world that the Razr line is still a force to be reckoned with. Well, it seems like the third time's a charm for the storied phone maker.
Aesthetically, the Motorola Razr+ gets everything right: it's got a larger external screen, a stylish paint job, and no gaps in between the display when the phone's folded over. And while some decisions made me question the phone's value against its rivals, such as sticking with last year's chipset, the Motorola Razr+ is a resoundingly versatile phone that adds useful features you won't get in normal slabs.
Snatching the Razr+ at full price may be a tough sell when you consider what else you can get at $999, but the phone's being treated to some irresistible deals from the get-go to make it more attractive. It's not the perfect foldable, but it's definitely a marked improvement and sets the standard for all other clamshell foldables coming out the rest of the year.