We've got a week to go before Galaxy Unpacked gets underway, but we're getting a clearer picture of what's going to be announced at the July 26 event. And this time, the information's coming straight from a top Samsung executive.
TM Roh, Samsung's president and head of mobile, posted a Galaxy Unpacked preview today (July 18), seemingly revealing all the products Samsung plans to show off next week. Naturally, it's foldables that are getting the most attention, as we already knew based on the explicit reference to foldable devices in Samsung's Galaxy Unpacked announcement.
But Roh's blog post is getting even more specific, stating that "we've innovated to make our latest foldables slimmer and lighter than our previous generations" in an apparent reference to the upcoming Galaxy Z Fold 5 and Galaxy Z Flip 5.
The portability of Samsung's foldables has come into sharp focus in recent weeks, particularly after the release of the Google Pixel Fold. That foldable phone resembles the current Galaxy Z Fold 4, but it's slightly thinner — 0.2 inches thin when opened compared to 0.25 inches for Samsung's foldable.
Roh doesn't mention the Pixel Fold by name, but does seem to acknowledge the importance of making Samsung foldables thinner. "A difference of millimeter in a device's thickness may not sound like a big change, but every gram and millimeter in a foldable device requires an engineering breakthrough. It demands craftsmanship with passion. When done well, the benefit to users is huge," he wrote.
Both the Galaxy Z Fold 5 and Galaxy Z Flip 5 are rumored to be getting a new waterdrop-style hinge. Among the reported benefits of this new design is the possibility that the new Samsung foldables will be thinner and more portable than before.
Roh has more than just a more streamlined design on his mind though. He also wrote that the new phones will deliver "literally, the most flexible camera experience in Samsung Galaxy."
It's hard to square that claim with rumors about the Galaxy Z Fold 5 and Galaxy Z Flip 5, since not many people are predicting significant camera upgrades for either phone. It's possible that Roh is referring to the ability of Fold and Flip users to position the phones' cameras in unique ways — say, using the more powerful rear lenses to shoot a selfie. But that's typical of any of the best foldable phones, not just ones from Samsung.
More than just smartphones at Unpacked
We are expecting more than just the Galaxy Z Fold 5 and Galaxy Z Flip 5 next week, and Roh seemingly confirmed the other devices that will be getting stage time at Galaxy Unpacked. The Samsung executive specifically references both Samsung tablets and wearables in setting the stage for next week's announcements.
"Samsung Galaxy Tab and Wearables are designed in the same spirit [as Samsung foldables]," Roh wrote. "They work with each other harmoniously in an ecosystem that opens up a powerful connected experience, serving as a seamless extension of your needs, priorities and unique personality."
We've heard chatter that both the Galaxy Watch 6 and Galaxy Tab S9 are likely candidates to share the stage with Samsung's new foldables. Roh's references would seem to confirm that guess.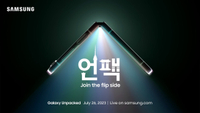 Get a $50 credit on Galaxy Unpacked preorders
Samsung will let you reserve a spot to preorder whatever gets announced at Galaxy Unpacked 2023 on July 26. Between now and July 25, you can sign up with your name and email address at Samsung's website or through the Shop Samsung app.
Regardless of what Samsung announces next week, you can already reserve your pre-order for the new products at Samsung's website or by using the Shop Samsung app. Register your name and email address with samsung by July 25 — the day before Unpacked — and you can get a $50 credit toward purchasing any of the products Samsung unveils.
Alternatively, if you'd like to snag a deal on a non-folding Samsung phone be sure to check out our Samsung promo codes page.
Galaxy Unpacked takes place a week from Wednesday on July 26 in South Korea. The event gets underway at 7 a.m. ET/4 a.m. PT/noon BST with a live stream hosted by Samsung.
More from Tom's Guide