Quick Menu
1. The list in brief
2. Best overall
3. Best features
4. Best on a budget
5. Best compact
6. Best customization
7. Best storage
8. How to choose
9. How we test
One of the best standing desks can be the perfect upgrade for your workspace regardless of whether you're working from home or in the office. Standing desks give you additional flexibility as you can sit or stand while working and they can even help improve your health too.
If you've been experiencing issues with back pain or just want to improve your posture instead of being hunched over at a computer all day, a standing desk could be right for you. Likewise, you may find that using a standing desk throughout the day can help with your productivity since you can alternate between sitting or standing depending on the task at hand.
To make choosing the right desk for you a little easier, we've built and tested a number of standing desks to bring you the best models for your home office, whatever your budget may be. Want to try before you buy? Here are 3 ways to try out a standing desk before you buy one.
The quick list
Below you'll find everything you need to know at a glance about the best standing desks you can get today. Whether you want a compact standing desk for a small space or even one with drawers for storage, there's something here for every budget.
The best standing desks you can buy today
The best standing desk overall
The Vari Electric Standing Desk stood out immediately for its gorgeous work surface, which not only looked better than the rest, but was thicker, too. We especially liked its chamfered edges, and the fact that Vari throws in two hooks — so you can hang your purse or a set of headphones — as well as a coaster to protect its surface. What's more, the company also offers a range of accessories, from power strips to cable-management trays to monitor arms, to fully outfit your desk.
If you're not particularly enamored with the reclaimed wood of our review model, the company offers a variety of other materials, including white, butcher block, black, and darkwood. While not as varied as other standing desks on this page, each option was very attractive. Our model also came with a programmable control panel that let you set four preset heights for the desk, and had a small LCD readout that displayed its height. It's a feature you can get with most standing desks, and it's one worth picking up.
What especially impressed us about the Vari desk was the ease with which we were able to put it together. It took about 15 minutes total to get everything assembled, about half the time as other standing desks we tested. If you're not particularly handy, this is definitely the standing desk for you.
Read our full Vari Electric Standing Desk review.
Best standing desk for features
The Flexispot E7 Pro Plus is a dual-motor, electric standing desk that packs in plenty of premium features for the price. Besides a metal cable management tray that makes it easy to run wires up to the top of the desk, it's keypad also has a USB port so that you can charge your smartphone, tablet and other devices while working.
Flexispot makes it easy to customize the E7 Pro Plus with plenty of different desktop materials to choose from and a range of desktop sizes that go all the way from 48 x 24 inches up to 80 x 30 inches. Although building the desk isn't as easy as putting the Vari Electric Standing Desk, the assembly process is pretty straightforward and all of the tools you'll need are included. With a maximum height of 48.4 inches and minimum height of 22.8 inches, the E7 Pro Plus can accommodate a wide range of users.
Read our full Flexispot E7 Pro Plus review.
The best budget standing desk
The Fezibo Electric Standing Desk is a great option for people who want to upgrade to a standing desk on a tight budget. To reach its low price of just over $200, Fezibo had to make some cuts which is why this desk has a single motor and lacks the child lock settings you'll find on more expensive models. Still though, the Fezibo Electric Standing Desk can support up to 176 pounds (79kg) and has a maximum height of 46.9 inches and a minimum height of 27.5 inches.
While the Fezibo Electric Standing Desk is our new budget pick, during testing it felt sturdy at all times and was still relatively quiet even with a single motor. We also like how there's a hook at the back of the desk that can be used for hanging your headphones, cables or other accessories. Also, there is a cable management tray available but you will need to purchase one separately.
Read our full Fezibo Electric Standing Desk review.
The best compact standing desk
The Branch Duo Standing Desk is Branch's second standing desk and features a number of improvements over its predecessor such as a frameless design that leaves extra space for an optional desk drawer. There's also a new OLED control paddle that reminds you when it's time to stand up. Branch even offers an optional cable management tray that affixes to the back of the desk.
Besides these new improvements, one of the best things about the Duo standing desk is that in addition to a 48 x 25-inch version, there's also a much more compact 36 x 24-inch model which is great for smaller workspaces. Branch also used reusable inserts for this desk so that it's easy to disassemble if you have to move. The Duo Standing Desk pairs well with the new Branch Verve Chair too.
Read our full Branch Duo Standing Desk review.
The best standing desk for customization
We'll admit, we weren't the biggest fans of the walnut veneer that came with our Uplift V2 standing desk. Fortunately, Uplift offers its desk in a variety of surfaces, from laminate to bamboo to solid mahogany; there's even a whiteboard option, in case you like the idea of writing on the desk itself.
Like the Fully Jarvis, the Uplift can support up to 350 pounds, the most among the standing desks we tested. It also took roughly the same amount of time to assemble as the Jarvis — while not overly long (about half an hour), it was still more involved than the Vari standing desk. Ultimately, the Uplift is a very good standing desk, but not our favorite model.
Read our full Uplift V2 standing desk review.
The best standing desk for storage
The Realspace Smart Electric Height-Adjustable Desk sets itself apart from the other standing desks on this list in a few ways. Not only is it a smart standing desk you can control with an app or your voice using Google Assistant or Alexa but it also has fairly large drawers for storage and three USB ports on the side for charging your devices. The Realspace smart standing desk comes pre-assembled for the most part and you just need to install the legs and its keypad which took about half an hour..
The built-in drawers give you more than enough space to store a laptop and other accessories. However, the design of the Realspace smart standing desk limits the amount of weight it can hold to 88 pounds. This should be more than enough for most people's needs but if you want to use a bulky gaming PC and multiple monitors, you'll be better off with one of the other standing desks on this list like the Uplift V2 or the Fully Jarvis Bamboo.
Read our full Realspace Smart Electric Height-Adjustable Desk review.
How to choose the best standing desk for you
Although the best standing desks share many similarities, there are a few factors that you should consider before buying one which we'll go into more detail below. Getting the right standing desk for your space and needs the first time will be a lot easier than building one, finding out it isn't for you and then having to return it.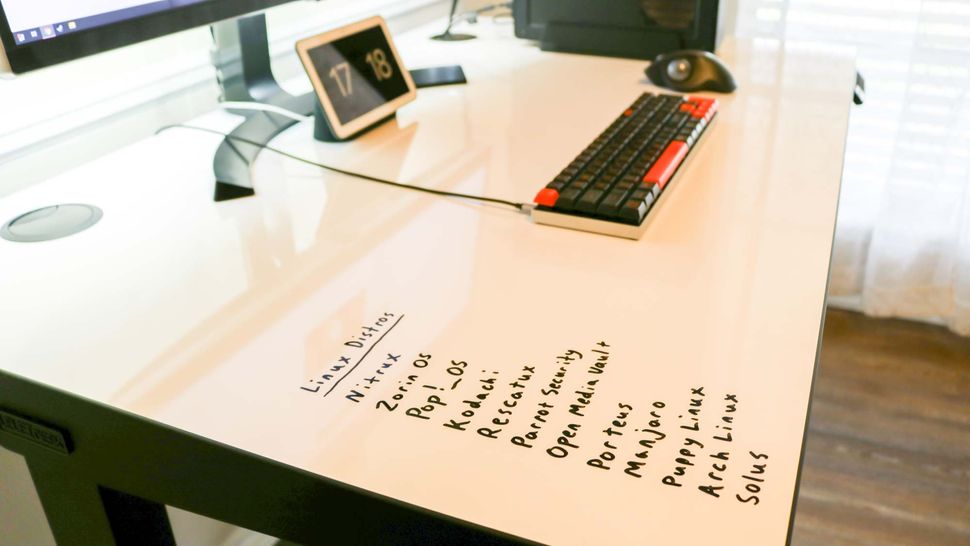 Surface material
Pretty much every standing desk can be ordered in a variety of materials, with prices to match. Laminate surfaces — that is, a veneer of wood overtop a core — tend to be the least expensive, while solid-core desks made from oak, maple, mahogany or some other wood type will cost more. Bamboo desks straddle the middle, and are not only a good compromise, but are very durable.
Stability
The higher you raise a standing desk, the greater potential there is for it to wobble or fall over, especially if there are a lot of heavy items on it. If you can, it's worth checking out a standing desk in person, raising it to its maximum height and then rocking it back and forth to see how it manages.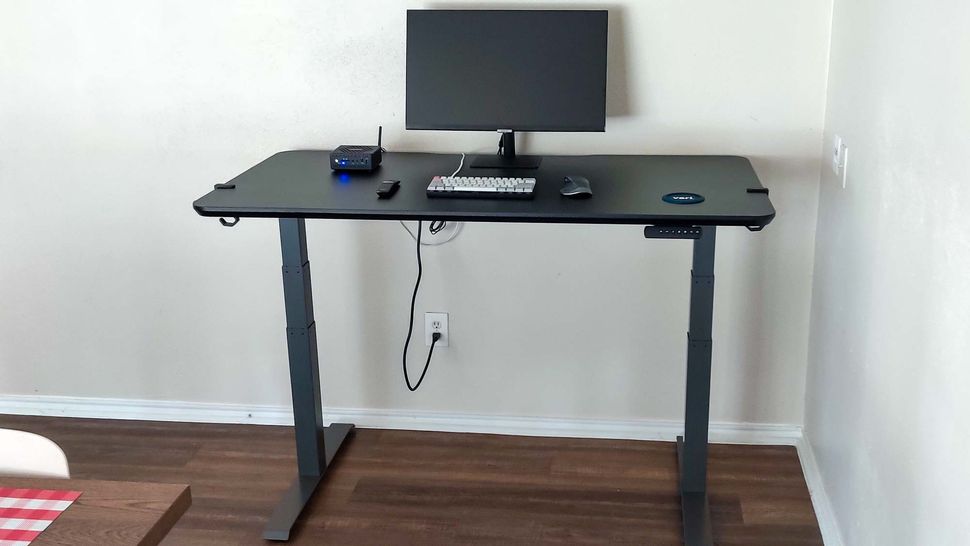 Minimum and maximum height
This is the range with which the standing desk's height can be raised or lowered. Most will fall between 25 inches to around 50 inches; better desks will have a wider range, though the difference will usually only be a few inches on either end.
Maximum weight supported
If you're planning to use your standing desk to hold more than just your computer — maybe you like dancing on tables — then you'll want to pay attention to its maximum supported weight. Smaller, less expensive desks won't be able to hold as much weight as more expensive models.
Ease of assembly
When it comes to putting together a standing desk, all you need is a screwdriver and a little patience. All of the models we tested came with the requisite screws, Allen wrenches, and clear instruction manuals. Still, some desks are easier to put together than others, and most — especially those with larger tops — will require a second person to help.
Motorized or non-motorized?
How much work do you want to put into raising and lowering your standing desk? The vast majority of standing desks are motorized, meaning all you have to do is press a button to change the height of the desk. However, if you want to save some money — and you don't plan on moving the desk much — then you might want to check out a non-motorized desk. These will have a hand crank that you'll have to turn. You won't need arms like Arnold Schwarzenegger, but you will have to do a little work.
Customization options
Apart from the surface size and material, the better standing desk companies will also offer a variety of ways in which you can customize your desk. These can include attachments such as cable-management trays — the one accessory that you should get with a standing desk — different controls to raise and lower the desk, different leg types and more.
How we test standing desks
How we test the best standing desks
To determine which standing desks are the best, we called in the top models as well as a few budget-friendly options. From here, we then went through the process of assembling them, noting how long it took to put each one together, how easy the instructions were to follow and if any extra tools were required for assembly.
After each desk is assembled, we then test their stability by raising them to their maximum height and rocking them back and forth. For electric standing desks, we listened to see how loud their motors are, took note of how smoothly they go up and down and see whether or not they can be raised and lowered with a full cup of coffee without spilling a drop.
We also evaluate each desk based on aesthetics as after all, your new desk should look nice in your home office. However, since many standing desks can be configured with different surfaces from laminate to hardwood tops, colors and more, we also took into account how customizable each desk is when determining its final rating.
Finally, we factored in the price of each desk. While the standing desks we test differ when it comes to features and design, we try and configure them to best match each other so we can compare how much each would cost if it were the same as the others.
For more information on how Tom's Guide rates and reviews, check out our how we test page.
What about standing desk converters?
If you're thinking of upgrading to a standing desk, then you may have come across standing desk converters during your research. Like a standing desk, a standing desk converter allows you to work while standing or sitting with plenty of room for a laptop, monitor and any other accessories you may need. However, you don't have to replace your existing desk.
For those who work in an office or even if you're a student in a dorm, a standing desk converter may be a better choice as most companies and colleges don't want you replacing their furniture. Standing desk converters are also more portable which means you could technically pack one in the back of your car and bring it to and from work or school.
Although standing desk converters are usually cheaper than buying a standing desk outright, they can still get quite expensive and cost anywhere between $100 to $400 dollars. Another downside is that if you find out you don't really like standing while working, your standing desk converter becomes a giant paperweight. For this reason, you're better off putting that money into a nice standing desk or even a budget one and upgrading later on.
Also, here are 3 ways to try out a standing desk before you buy — and why you should.