The best gaming keyboard can make a huge difference when you're playing games on your PC but also when you're working on your computer. This is because gaming keyboards are built better and come with more features than your typical office keyboard.
The best gaming keyboards use mechanical keys for better responsiveness and accuracy. However, they usually come with software suites that allow you to reprogram keys, tweak their RGB lighting and more. Gaming keyboards may be more expensive but they provide both a better typing and gaming experience which can help justify their higher price.
To help you find the best gaming keyboard for your budget that will work with your available desk space, we've rounded up our top picks that also pair really nicely with the best gaming mouse or the best wireless gaming mouse. Also, you might want to brush up on how to clean a mechanical keyboard before investing in one. Once you make the switch to one of the best gaming keyboards though, you might find it difficult to game or even type using anything else.
The best gaming keyboard you can buy today
Why you can trust Tom's Guide Our expert reviewers spend hours testing and comparing products and services so you can choose the best for you. Find out more about how we test.
The Corsair K70 RGB Pro continues Corsair's proud tradition of making nearly flawless K70 keyboards. This model is comfortable and offers a fantastic typing experience, thanks to authentic Cherry MX key switches. It's gorgeously designed and beautiful to look at, thanks to extensive RGB lighting options. But, most importantly, it works wonders in-game, as it parses every command quickly and accurately. You can even set up custom profiles for each one of your favorite games, then select a lighting pattern to go along with it.
From its discrete media keys to its game mode, which prevents you from accidentally tabbing out of a game, the K70 RGB Pro is a delight all around. If you can stomach its high asking price, it's just about the best gaming keyboard you can buy.
Read our full Corsair K70 RGB Pro review.
The Logitech G413 SE is one of the cheapest mechanical gaming keyboards you can get from a major manufacturer. It's either "no-frills" or "bare-bones," depending on how you look at it. This full-size keyboard has no extra keys, no software features and only one shade of backlighting. On the other hand, it has no wasted space, no extraneous bells and whistles, and doesn't cost a whole lot.
With tactile Long Hua switches, the keyboard has a distinctive tactile feel, which is suitable for both gaming and touch typing. Beyond that, the big draw of the keyboard is that it has minimal bezels, and squeezes a full keypad and a numpad into a relatively small frame. If you want a brand-name gaming keyboard without spending too much, the Logitech G413 SE is the one to get.
Read our full Logitech G413 SE review.
The Razer BlackWidow V3 Pro is a wireless take on an old favorite from Razer. The BlackWidow design has proven itself again and again over the years, combining mechanical key switches with a comprehensive design and full RGB lighting. The V3 Pro also offers two types of wireless connectivity: 2.4 GHz USB and Bluetooth. The battery life is a bit short if you crank the lighting all the way up, but much longer if you're willing to turn it down.
It's worth noting that Razer's proprietary key switches aren't our favorites, and that the wrist rest feels surprisingly flimsy for such an expensive device. But if you want a fully wireless PC gaming setup and don't mind spending some money for the privilege, the Razer BlackWidow V3 Pro looks fantastic, and boasts great in-game performance, too.
Read our Razer BlackWidow V3 Pro impressions.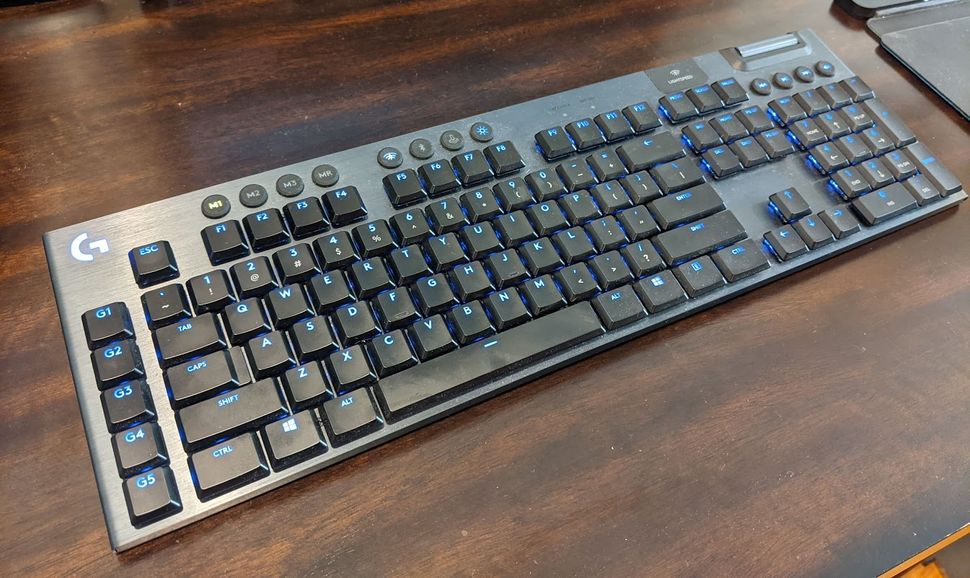 Only time will tell for sure, but I believe that the Logitech G915 represents the future of gaming keyboards. Just as gaming mice and headsets have become increasingly wireless over the past few years, the G915 demonstrates how keyboards can take the same route without sacrificing aesthetics or performance. The G915 is a gorgeous, ultra-thin gaming keyboard that connects to computers via either USB dongle or Bluetooth. There's no lag; there are no dropped signals. It's just as quick and responsive as any wired peripheral.
Thanks to low-profile key switches and full RGB lighting, the G915 is both comfortable and visually striking. Its only real downside is that it costs a lot of money. But when you consider that it will save your desk from unsightly wires and last for many years, it could be a great investment.
Read our full Logitech G915 review or view our Logitech promo codes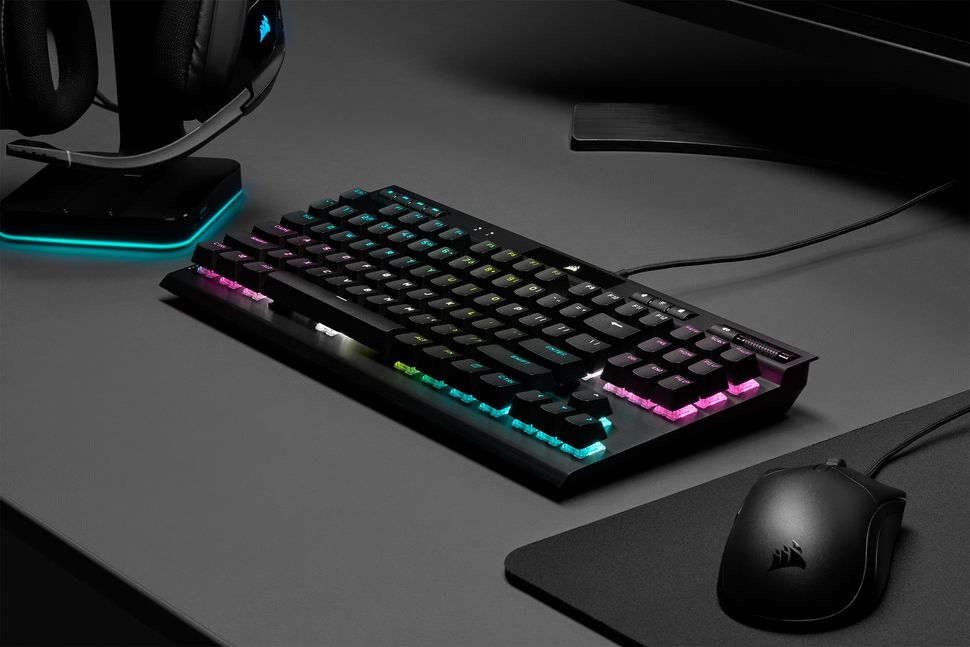 The Corsair K70 RGB TKL Champion Series is a mouthful, but it's also one of the best gaming keyboards you can buy. This is particularly true if you're in the market for a TKL, or tenkeyless, model. Like its full-size counterpart, the Corsair K70 Mk.2, the K70 RGB TKL features authentic Cherry MX keys, a gorgeous design and robust software. You can customize intricate lighting patterns, set up profiles for individual games or even reprogram any key you choose. It's a versatile system.
Like other Corsair keyboards, the K70 RGB TKL is pretty expensive. Furthermore, while its discrete media keys come in hand, their nonstandard configuration makes them a little more difficult-to-use than what you'd find on a full-size model. Aside from that, though, the Corsair K70 RGB TKL is a nearly flawless device.
Read our full Corsair K70 RGB TKL Champion Series review.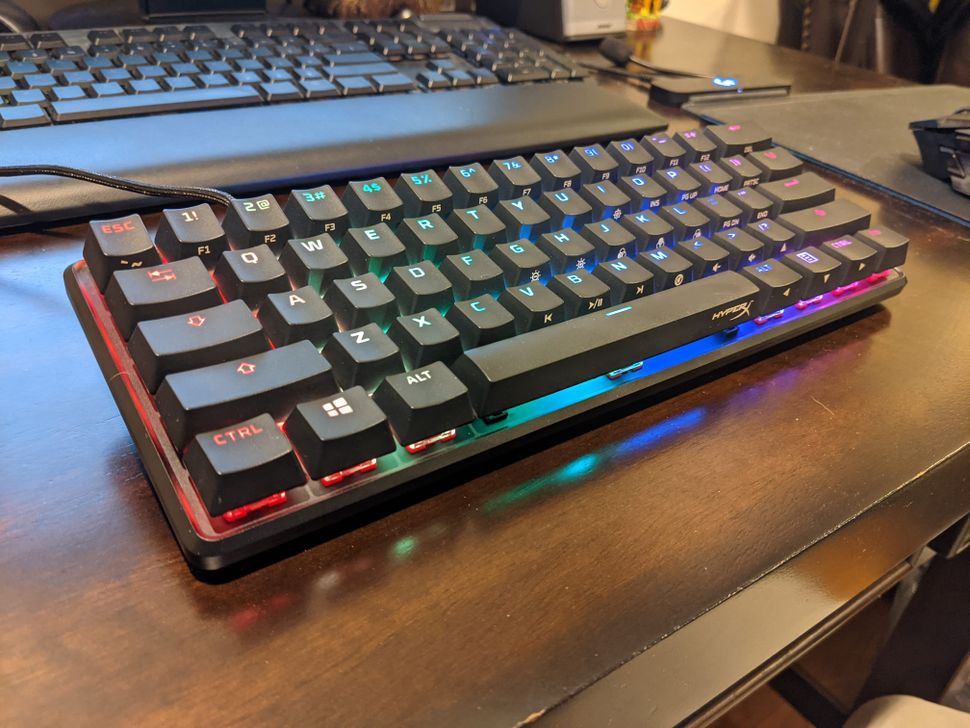 The HyperX Alloy Origins 60 demonstrates that mini keyboards can be perfectly good for gaming. This 60% keyboard doesn't have a numpad, a function row or arrow keys, but if you can live with learning some button shortcuts, it's a fantastic way to streamline your gaming experience while saving some desk space. Furthermore, the Alloy Origins 60 employs comfortable HyperX Red key switches, and offers a full array of RGB lighting.
Granted, the Alloy Origins 60 might be a tough sell if you're not already committed to a mini keyboard design. Touch typists will find a lot of their favorite buttons missing, and the keys switches are a little louder than you'd expect. Still, as mini gaming keyboards go, this is one of the better ones.
Read our full HyperX Alloy Origins 60 review.
If you want a gaming keyboard that could easily double as an office model, look no further than the Razer DeathStalker V2 Pro. This minimalist peripheral is one of the sleekest gaming keyboards we've ever reviewed, combining an elegant physical design with comfortable mechanical key switches and full RGB lighting. It looks fantastic — understated, but not quite plain.
Apart from that, the DeathStalker V2 Pro works beautifully in-game, just like most of Razer's high-end keyboards. The wireless functionality is also flawless, supporting both USB and Bluetooth modes, and offering a fair amount of battery life. While the DeathStalker V2 Pro isn't cheap, it could be the centerpiece of your gaming setup — or your work-from-home setup.
Read our full Razer DeathStalker V2 Pro review.
The Corsair K100 Air Wireless is one Corsair's first-ever full-size wireless mechanical keyboards, and it's not quite what we expected. Rather than simply adapt its winning K70 design, Corsair tried something different, using ultra-low-profile mechanical key switches and slim keycaps. The result is an incredibly thin and lightweight machine, which still offers a comfortable typing experience and a full media bar.
The K100 Air Wireless' striking design is perhaps the most compelling reason to get it, but it also works fantastically as both a gaming peripheral and a typing tool. The battery life can also be quite good, provided you're willing to turn the RGB lighting down — or off entirely.
Read our full Corsair K100 Air Wireless review.
The Razer Huntsman V2 is an excellent, no-nonsense mechanical gaming keyboard. It's a full-size model with minimal bezels, and a multifunctional dial in the media bar. Beyond that, it offers two different types of key switches, a comfortable wrist rest and full RGB lighting.
Beyond that, the Huntsman V2 offers the standard suite of Razer keyboard features, including a programmable software suite. There's also USB passthrough, so you can easily connect your other gaming peripherals. The device performs beautifully in-game, and is even a little cheaper than some of Razer's other comparable models.
Read our full Razer Huntsman V2 review.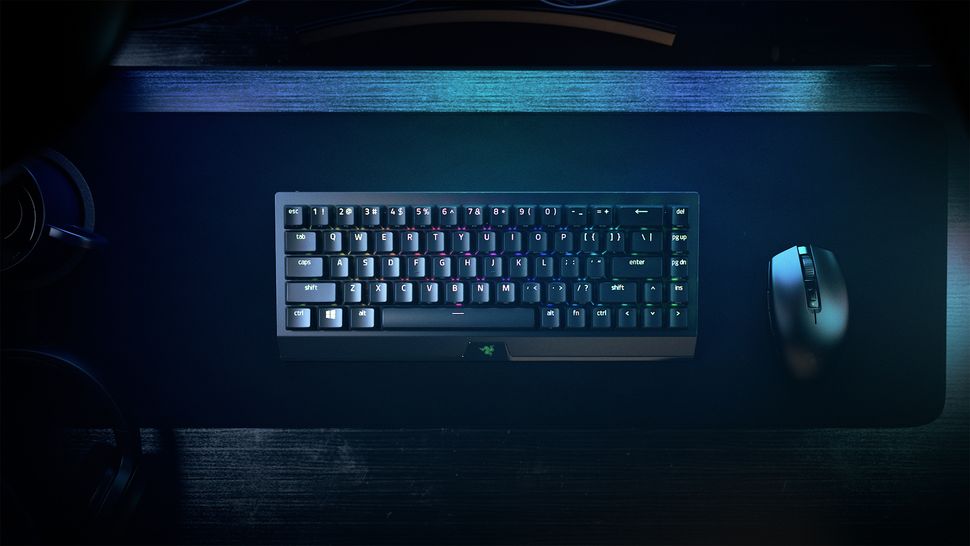 The Razer BlackWidow V3 Mini Hyperspeed is one of the best mini gaming keyboards you can buy. Unlike smaller models, the V3 Mini Hyperspeed features a 65% profile. That means you won't have to sacrifice discrete arrow keys or a dedicated delete button. That's great news for touch typists. For gamers, the V3 Mini Hyperspeed features comfortable Razer Green or Yellow switches, as well as full RGB lighting, which you can sync with your other Razer gear.
Granted, the BlackWidow V3 Mini Hyperspeed is extremely expensive, considering its size. As a wireless keyboard with powerful lighting capabilities, you can also run through the battery pretty quickly, at least on default settings. Still, if your desk space is limited, the BlackWidow V3 Mini Hyperspeed is good for typing, good for gaming and good for saving room.
Read our full Razer BlackWidow V3 Mini Hyperspeed review.
How to choose the best gaming keyboard for you
There are three things to consider when trying to find the best gaming keyboard for your setup: Design, features and price. All three are interconnected, however — keyboards with more complex designs and fancier features cost more money. Simpler keyboards are cheaper. There are no special tricks here.
The first thing you'll want to determine is whether you want a full-size or tenkeyless keyboard. This is a pretty simple decision: Full-size keyboards have separate number pads on the right, while tenkeyless models don't. If you do a ton of productivity work, a numpad is worthwhile; if not, you can eschew it and save a few bucks.
During this time, you should also consider what kind of switches you'd like, if you're buying a mechanical model. Cherry MX is generally the gold standard. The most common types of Cherry switches are Red, which is quiet and linear, Brown, which is quiet and tactile, and Blue, which is noisy and tactile. Other switch manufacturers generally offer similar styles, although the color coding may be different.
Some features cost more money than others. RGB lighting can tack a few dozen bucks onto a gaming keyboard's price tag, and wireless connectivity can make a peripheral even more expensive. I personally like both of these options, but they're not necessarily worth the money if you're not worried about the aesthetics from your setup. After all, wireless keyboards don't necessarily offer a huge advantage, as keyboards are stationary devices.
How we test gaming keyboards
To determine the best gaming keyboard, we run each keyboard we review through a variety of tests. The first, and most important, test is to play through a number of different games, and see how the keyboard holds up. I usually like to try at least one FPS, RTS, RPG and MMO apiece, since these are the genres that benefit most from a good keyboard. (You can generally get away with a controller for most action/adventure titles.)
After that, we take a deep dive into a keyboard's software suite, evaluating how easy (or difficult) it is to reprogram keys, set up macros, adjust lighting and create profiles for games. Particularly intuitive software gets high marks; convoluted software can lose some points, even if it's very robust otherwise.
Finally, we make sure to use a keyboard for productivity for at least two or three days. Most gamers don't swap keyboards in and out; what they use for gaming, they'll need to use for work and general computing as well. The better a keyboard is at everyday tasks, the better its recommendation.