This Hulu Live vs YouTube TV vs Sling vs DirecTV Stream face-off compares four of the top live TV streaming services, which differ in key ways. Even though two of these cable TV alternatives have settled on a higher price than the others — $70, which may be too steep for some — one still tries to offer a lover price (even though it recently raised rates by $5 per month). The good news, though, is that they're all rather ubiquitous, available on most of the best streaming devices.
If you're thinking of cutting the cord, the right live TV streaming service will enable you to watch everything you want and not worry about what you left behind with cable.
Hilariously, YouTube TV's finally getting one feature that was normal on cable (and found in DirecTV Stream, Sling TV and Hulu with live TV) for more about how it's trying (and failing) to catch up. A clock.
There are also two other competitors that this guide doesn't go over, so if you're curious about how Philo and fuboTV stack up, we've got you covered. Check out our explainer on cutting the cord with streaming services that replace cable.
In simpler terms? Our Sling TV review shows that it can pay to be the cheapest. YouTube TV has the best price in the pricier tier of services and a great app. Hulu's offering boasts original content and bundles in Disney Plus and ESPN Plus. And DirecTV Stream... is best for certain sports fans.
Of the four, we only recommend the first three: As our DirecTV Stream review shows, it is still not quite there yet on pricing — especially when its exclusive-to-streaming regional sports networks are locked behind its $90 per month tier. That said, we can't begrudge those who chose it for MLB live streams. For example, the Red Sox vs Yankees live streams may be on some channels, but New Yorkers need YES for one game of that series.
But overall, this buying decision is complicated as we were once limited to just cable, then a couple of services, and now your options for streaming live TV have grown significantly over the last year, as you can see in our Hulu with Live TV review and our YouTube TV review.
Hulu's count of originals may not be as high as the best Netflix shows, but its original programming (we loved The Bear) is constantly buzzy. YouTube TV may not have those shows, but some will just pick it because it's constantly advertised (it even has its own button on the Chromecast with Google TV remote), plus it's got 4K streams, downloadable shows and movies and unlimited simultaneous streams (for an extra fee).
YouTube TV is the service that's got the best app, while Sling's aiming to win you over with quality explains how that service's continues to make a compelling case with its low pricing. And then there's DirecTV Stream, which isn't exactly beloved, and costs more than any of the others to start.
But when it comes time to decide between the best streaming services, cord-cutters probably can't forget about the money they're spending on non-live services. Apple TV Plus and Disney Plus are on the cheap end, but they add up over a year.
Hulu Live vs. YouTube TV vs. Sling vs. DirecTV Stream
Swipe to scroll horizontally
| | | | | |
| --- | --- | --- | --- | --- |
| | Hulu with Live TV | YouTube TV | DirecTV Stream | Sling TV |
| Starting Price (per month) | $70 | $65 | $69 | $40 |
| Channels (in entry-level package) | More than 76, including Disney Plus and ESPN Plus | More than 85 plus YouTube Red Originals | 75 | More than 30 |
| DVR | Yes (Unlimited) | Yes (Unlimited) | Yes (Unlimited for new subscribers only) | Yes (50 hours by default) |
| On-Demand | Yes | Yes | Yes | Yes |
| Device Support | Amazon Fire TV and Fire TV Stick, Amazon Echo Show, Android, Apple TV, Chromecast, Computers, iOS, LG Smart TVs, Nintendo Switch, Roku, Xbox One, Xbox 360, PS4 | Android, Apple TV, Chromecast & Chromecast-enabled TVs, Computers, iOS, Roku, Xbox One, Smart TVs, PS4, TiVo Stream 4K | Amazon Fire, Android, Apple TV, Chromecast, Chromecast-enabled TVs, Computers, iOS, Roku | Amazon Fire, Android, Apple TV, Chromecast, Chromecast-enabled TVs, Computers, iOS, Oculus Go, Roku, select LG and Samsung Smart TVs |
| Simultaneous Streams | 2 | 3 (Unlimited option available in $84.99 per month package) | Unlimited (at home) 3 (out of home) | 1 (with Orange), 3 (with Blue) 4 (in the $55 per month Orange/Blue) |
Pricing and availability
The majority of these competitors have risen to at least $65 per month (if not more), while one is still affordable, meaning this is going to be one of the key places where you might make your decision in our Hulu Live vs YouTube TV vs Sling vs DirecTV Stream face-off.
Once $50 per month, YouTube TV (opens in new tab) jumped to $65 this past summer -- a price hike YouTube revealed in a blog post that reminded us that it's adding 8 ViacomCBS channels (BET, CMT, Comedy Central, MTV, Nickelodeon, Paramount Network, TV Land and VH1). During the chaos of YouTube TV vs Disney fight, YouTube TV gave out a $15 discount to make up for the loss of channels, which lasted less than two days. But let's be honest, YouTube TV is still $5 cheaper than Hulu's offering (though Disney Plus bundled in might be enough to convince you to go Hulu).
And while YouTube TV had a very rocky 2021, its platform issues (on Roku) have been solved and seem like a thing of the past. In fact, we've just learned that the Chromecast isn't the only device with stellar YouTube TV integration: the TiVo Stream 4K now has full integration with the YouTube TV guide, making it easy to jump straight to your shows and channels.
Hulu with Live TV recently got even pricier with a $5 price bump, to $70 per month. This price hike came with two perks: Disney Plus (currently $8 per month) and ESPN Plus (normally $10 per month) are now included. But what if you don't want either? This kind of frustrating situation could make one wonder how to cancel Hulu.
If you want the ad-free Disney Plus in your Hulu + Live TV account, you'll spend $5 more per month to get it later this year, as that service bundle goes to $74.99 following Hulu's Oct. 10 price jump and Disney Plus' Dec. 8 price jump. New subscribers will only see two bundles: the $70 per month bundle with ad-supported versions of Disney Plus, Hulu and ESPN Plus and the $83 per month bundle that has ESPN Plus and the ad-free versions of Disney Plus and Hulu. A new Hulu + Live sale for new and eligible returning subscribers offers $20 off for your first three months (opens in new tab), savings of up to $60, and we could also save you a little extra with one of our Hulu promo codes.
Hulu's got more than 60 channels, placing it in the middle of the pack, but matching YouTube TV in price will make people wonder how much they want to pay for Hulu Originals, when they could simply get more channels. Those price hikes are still not so high, though, that you should reconsider cable TV.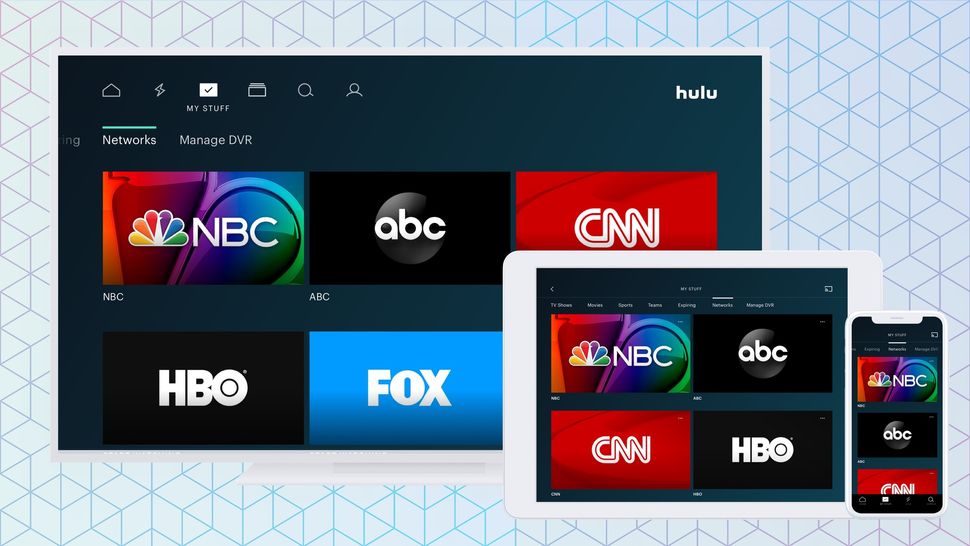 The YouTube TV base plan now includes more than 85 channels -- an increase of at least 15 channels from when it cost $50 per month. YouTube TV may be working on a package to rival Sling's customizable options, as the company notes "we are working to build new flexible models for YouTube TV users."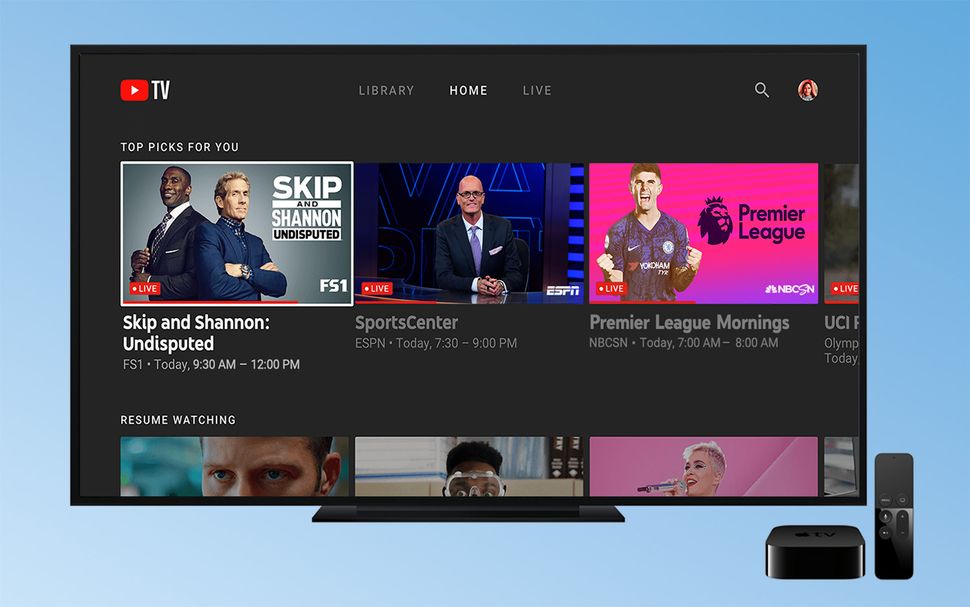 The most affordable option is Sling TV, which starts at $40 per month (formerly $35) for more than 30 channels. You can get your first month at 50% off, thanks to a current Sling TV sale, though get it while you can, these discounts often change at the drop of a hat. You can also check for other active discounts on our Sling TV promo codes page Two of Tom's Guide's streaming coverage team just chose Sling TV (opens in new tab) as their way to cut the cord: Henry T. Casey and Kelly Woo. Kelly chose Sling because it's the best value, and Henry picked it for channels and functionality.
DirecTV Stream's pricing keeps jumping around — and it's getting worse. While its entry-level package is still $69 for 75, which has it close to YouTube TV. Choice (90+ channels) is now $89.99 per month ($5 more), while the Ultimate ($105 per month) and Premier ($149 per month) plans are $10 more than before. DirecTV sometimes puts those on sale, we've recently seen Choice at $79, Ultimate at $94 and Premier at $139. You'll need Choice or above for the regional sports networks that makes DirecTV Stream a must for some.
YouTube TV offers six login accounts, but only three concurrent streams so while you can share it with your whole family, you might need to ask who's using it. Its $19.99 per month 4K Plus add-on pack will bump you to unlimited concurrent streams, provided they're all on your home Wi-Fi network. Hulu with Live TV is slightly below that, starting with six profiles and two concurrent streams.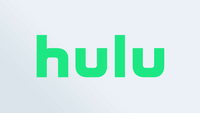 (opens in new tab)
Hulu (opens in new tab) is the only one of these options with strong original programming (sorry YouTube TV).
Sling TV's entry level Orange package ($40 per month) offers one stream at a time, while its $40 Sling Blue includes three streams at once and its $55 Orange + Blue service allows four streams at once. Right now, you can get 50% off your first month of Sling TV (opens in new tab). For more details, check out our What Is Sling TV? page.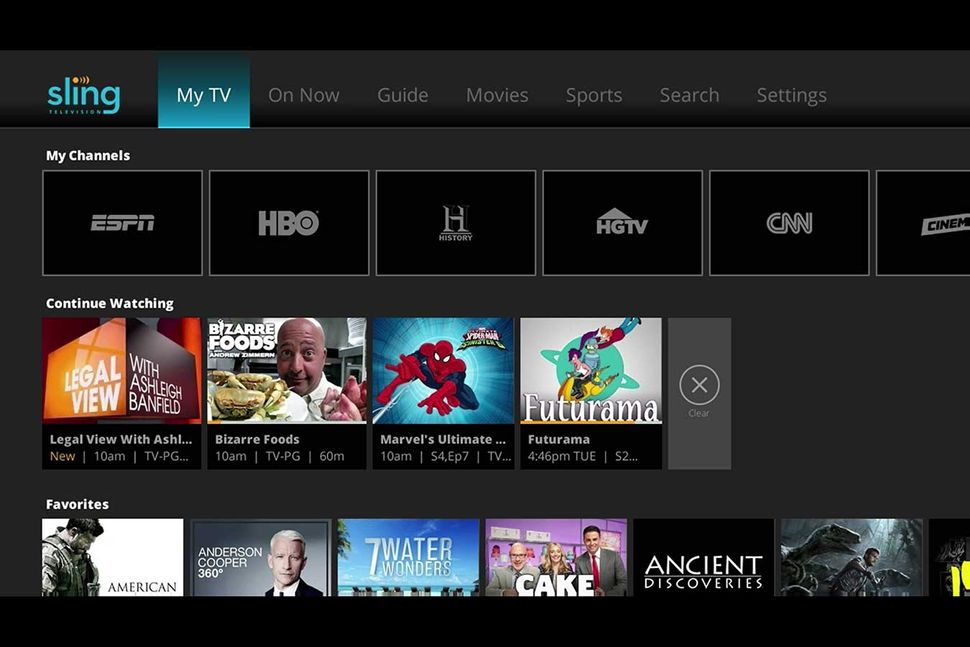 Verdict: Sling TV is the cheapest, and YouTube TV's increasing price and channel count keep it as the best dollars-to-channels ratio.
Supported devices
YouTube TV started off on a scant few devices but that's changed. It's now available for Apple TV, Roku boxes, sticks and TVs, Google Chromecast, Android devices and TVs running Android TV, iOS devices, Xbox One, Apple TVs via AirPlay and smart TVs from LG and Samsung. It's also got tight integration with the TiVo Stream 4K.
Just one thing about Roku. It's had recent issues with YouTube, which almost saw both YouTube TV and YouTube leave alltogether. Fortunately, Roku and YouTube solved their differences. Just don't confuse YouTube TV with the company's other paid subscription service: our YouTube Premium vs YouTube TV guide can help explain the difference.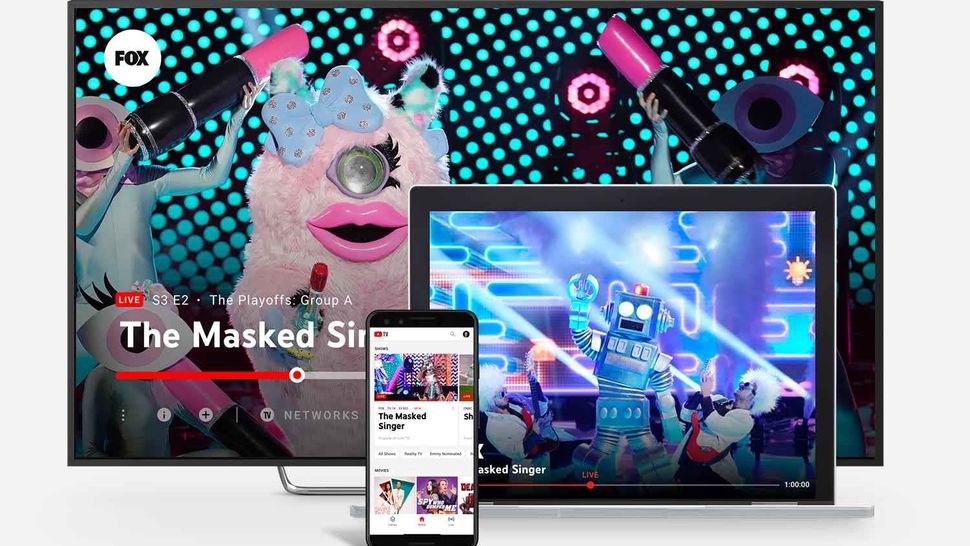 Hulu with Live TV is available on Amazon Fire TVs and Fire TV sticks, Android devices, Apple TV, Chromecast, iOS devices, LG Smart TVs, Macs, PCs, Rokus and the Xbox One. Hulu is also the only of these competitors to be available on the portable Nintendo Switch console.
DirecTV Stream and Sling TV are available on Chromecast, 4th Gen Apple TVs, Amazon Fire TV devices, Roku, Android and iOS. DirecTV Stream also works on its own DIRECTV STREAM hardware (priced as high as $120 for new devices or $49.99 for certified and restored). Sling is also on select LG Smart TVs and the Oculus Go, compatible Samsung Smart TVs (including 2016 and 2017 models) and the Xbox One.
Verdict: Device availability is pretty even, and Hulu and YouTube have done a lot to catch up.
4K and streaming quality
When you're cutting the cord, you're leaving cable for what you hope is a very good alternative. Unfortunately, a Sling TV buffering issue made the NBA Playoff live streams hiccup for some. Sling claims this is fixed, but nobody wants to deal with it.
YouTube TV just launched its 4K Plus pack, which costs $19.99 per month on top of the $64.99 YouTube TV package. Those who sign up early will get half-off for their first year, bringing it to $9.99 per month. That said, there's not much 4K content at the moment, so the other 4K Plus pack feature, offline downloads, will be the main feature of note here. And if you're interested in saving for offline, check out our guide for how to download YouTube videos on iPhone, Android, Mac and PC.
Similarly, YouTube TV is finally adding 5.1 surround sound streaming, but the content that supports it is few and far between.
Verdict: YouTube TV's 4K and surround sound are still too early for this to make a huge difference, due to a lack of content — and we hope Sling's buffering problems are a thing of the past
Broadcast TV
One of YouTube TV's biggest features is live streams of the major broadcast networks (ABC, CBS, FOX, NBC and The CW). Hulu with Live TV is the competitor that stacks up the best here, offering all of those except for The CW. Sling used to have a way for some to get all of their locals for free, but Locast just shut down its services, grounding that for now. Just know that Sling's local channels availability can be a little sparse once you leave big metropolitan areas.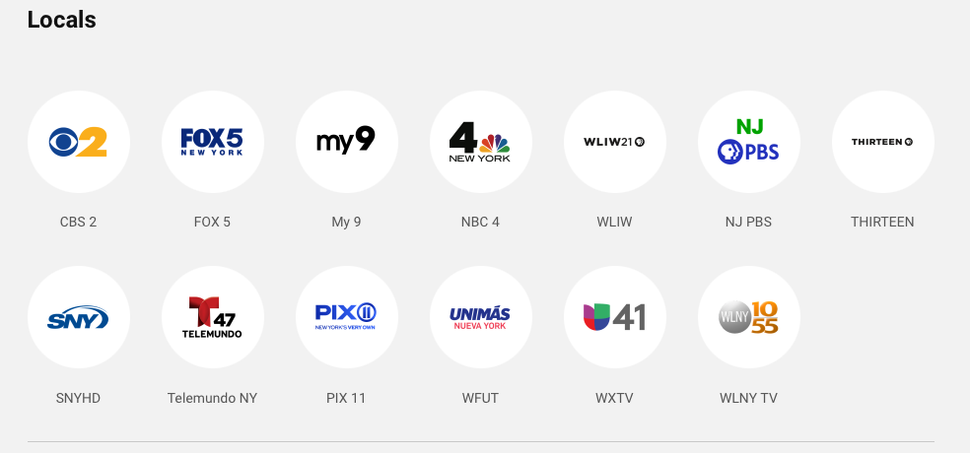 Sling TV's $40 per month package includes live streams of Fox and NBC, while DirecTV Stream has local channels from the likes of ABC, CBS, Fox and NBC, with other channels as available. DirecTV Stream added 250 local PBS stations in February 2022.
YouTube TV includes Telemundo for Spanish-speaking audiences. Sling TV no longer offers Univision, though that channel is available on DirecTV Stream, which provides Video On-Demand access to Telemundo with live streams again varying by region.
CBS All Access — available starting at $6 per month — provides live streams of your local CBS station, along with access to a trove of on-demand movies and TV shows. Its current big show is Star Trek: Picard.
It should be noted that you can get local stations by simply buying an HD antenna for your TV, though that won't provide DVR or on-demand options (more on those later) to save shows for later.
Verdict: YouTube TV looks great for cord cutters worried about losing network TV channels, as does Hulu with Live TV (if you don't need The CW).
Live sports
The most recent changes to this aspect seem temporary. Hulu has lost regional sports networks from Sinclair Broadcast Group, which include regional Fox Sports channels, the YES Network and Marquee. Similarly, YouTube TV just lost its deal for NESN, which makes a new headache for fans of the Boston Red Sox and Bruins.
Hulu with Live TV and YouTube TV offer many of the same live sports channels you can find on its competitors, including ESPN, ESPN2, ESPN 3, ESPN News, ESPN U, SEC ESPN, Fox Sports, FS1, FS2, the Big Ten Network and the NBC Golf.
Sling normally has some of those ESPN channels, but lost them thanks to a contractual walkout with Disney. Sling TV got ESPN back 48 hours after it lost it. This happened with YouTube TV and Disney last year, and it was also resolved in 2 days time.
YouTube TV just added NFL Network on top of its coverage of March Madness, MLB Postseason games, nationally televised NBA games, the NBA All-Star weekend events, NBA Playoff games, the PGA Championship and UEFA soccer. And while you're watching the game, YouTube TV apps on select devices will show you stats about the game you're watching, so you can see the score and more during commercials.
The one sports channel that Hulu with Live TV and YouTube TV offer that nobody else does is CBS Sports.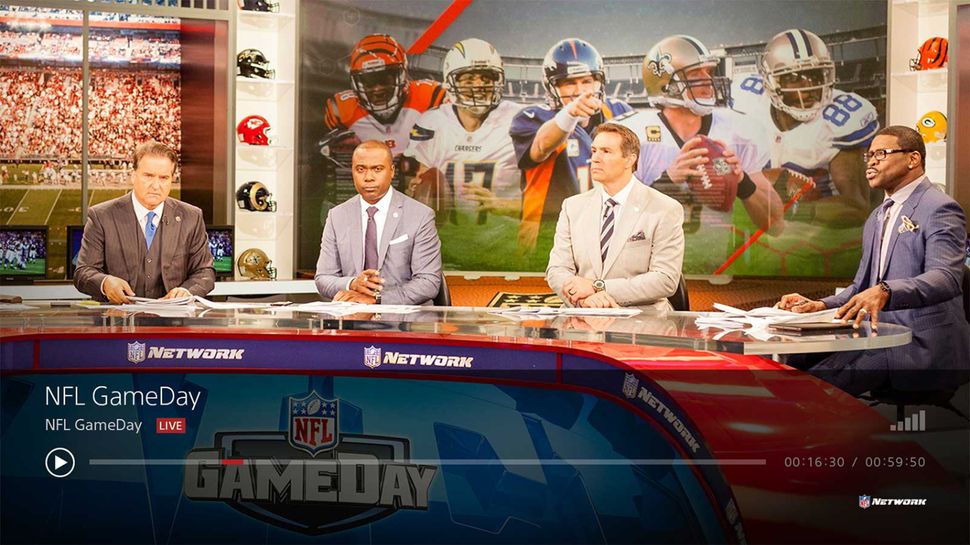 As for what you're missing, NFL fans will probably want to check out Sling TV's $25 per month Blue package, which has NFL RedZone from the NFL network as well as many Fox Sports channels. The new YouTube TV Sports Plus package is a $10.99 per month add-on that packs NFL RedZone, Fox College Sport, GolTV, FOX Soccer Plus, MAVTV, TVG and Stadium.
Sling TV also offers NBA League Pass as a $29 per month upgrade, allowing basketball fans to watch out-of-market games they'd normally miss. If you just need to follow one team, Sling TV subscribers can pay an extra $18 per month for Team Pass, which includes live regular season games, full game replays and audio broadcasts for one out-of-market team.
DirecTV Stream finally earned itself some applause by adding the following regional sports networks (entries marked with an * have never been on any streaming service):
AT&T SportsNet Pittsburgh
AT&T SportsNet Rocky Mountain
AT&T SportsNet Southwest
Mid Atlantic Sports Network (MASN)
New England Sports Network (NESN)
Root Sports Northwest
DirecTV Stream places the MLB Network in its $110 per month Choice deal. You'll need its $124 monthly package called Xtra, to add NBA TV and the NHL Network.
If you're a sports fan first, above all other media, you'd be smart to consider FuboTV. Its entry-level package costs $54.99 per month, and while its first month is no longer discounted, the service offers a free 1-week trial period to see if it's right for you. Its value proposition is much stronger, with 85 channels included. TNT isn't one of those channels, which stinks for watching NBA live streams.
This guide doesn't compare FuboTV against the rest of the field, but YouTube TV may get a feature that is currently a FuboTV exclusive. Over on Fubo (only on Apple TV), you have Multiview, which lets you split your screen between up to four channels at once.
YouTube TV is reportedly working on a "Mosaic Mode" that lets you split your TV into four quadrants as well.
Verdict: Football aficionados will want Sling, though YouTube TV is becoming a compelling challenger -- and while Fubo seems more than capable now that it has ESPN, it's still lacking a little
Cable channels
The $69 per month you'd spend on Hulu with Live TV gets you a decent selection of cable TV channels, such as Bravo, Cartoon Network, Food Network and the History Channel. And fortunately it's finally gotten the Viacom channels such as Comedy Central, BET, MTV and VH1. Looking for more horror to watch? Check out our best scary movies on Hulu roundup to sate that need.
YouTube TV ($65) costs a little less, but is a more complete cable replacement. Now that it's adding the Viacom channels to the likes of USA, FX, FXX, FXM, TBS, TNT, E!, Bravo, Syfy, National Geographic, Oxygen and the Disney channels, it could become the defacto option for those who can afford to pay a little more. Of those channels, USA, E! and many others almost dropped off of YouTube TV when they had a spat with NBCUniversal, which has since been resolved. YouTube TV lost the Disney-owned ESPN and FX networks temporarily on Dec. 18 when a contract failed to be negotiated. The channels came back on Dec. 19.
Sling TV's $40 per month packages gives you other channels such as Comedy Central, History, Food Network, IFC, the Travel Channel and A&E, as well as upstarts such as Viceland.
DirecTV Stream's $69 per month deal includes many of those, as well as MTV, Nickelodeon and VH1.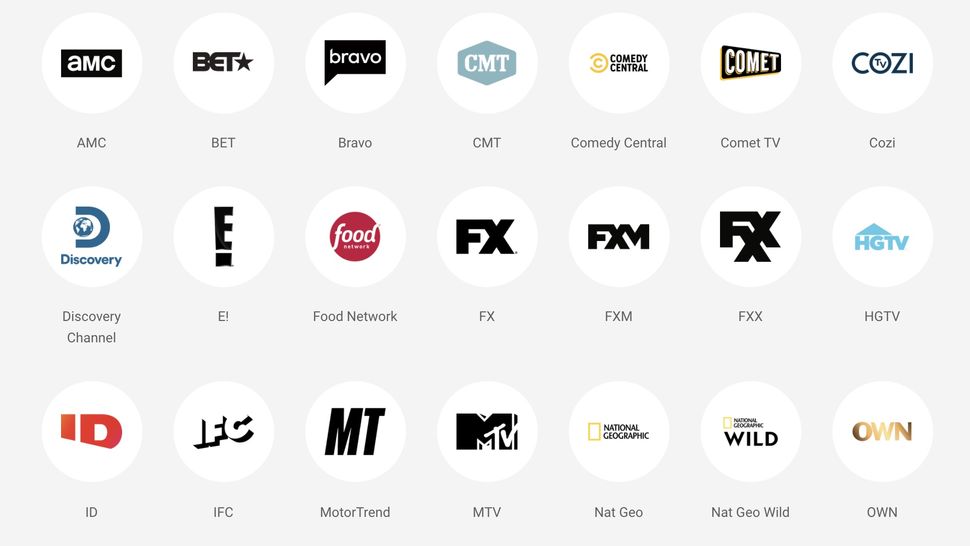 In terms of cable news, YouTube TV includes CNBC, CNN, Newsy, Fox News and MSNBC. DirecTV Stream's entry-level packages offers all of those channels, save for Newsy, and Sling TV's $40 Orange package gives you CNN, BBC World News, Newsy and Bloomberg, and its $40 Blue package has those, plus Fox News, MSNBC and HLN.
If you'd rather just buy one channel and not a whole package, consider Amazon Channels, an ala carte alternative to subscription services.
Verdict: YouTube TV was offering the most-complete-looking array of programming, but the loss of Disney-owned channels screws that up. You can learn more with our YouTube TV channels guide, which packs all the full details about that service.
DVR and on-demand
Hulu and DirecTV are finally joining YouTube in the Unlimited Capacity section of cloud DVRs. All three now let you record as much content as you want, for free.
YouTube TV, Hulu and DirecTV Stream recordings take 9 months to expire.
YouTube TV and DirecTV Stream also offer On Demand content, though not for all shows. YouTube TV just improved its DVR, allowing you to skip ads in programming recorded on CBS, Smithsonian and Pop TV.
Sling TV finally added its cloud DVR to its standard package, so you no longer need to spend $5 extra for saving shows. This tier is called Cloud DVR Free, and includes 50 hours of storage. Cloud DVR Plus is the next step up, and includes 200 hours of storage for $5 per month. And we've got all the info on how to record shows on Sling TV.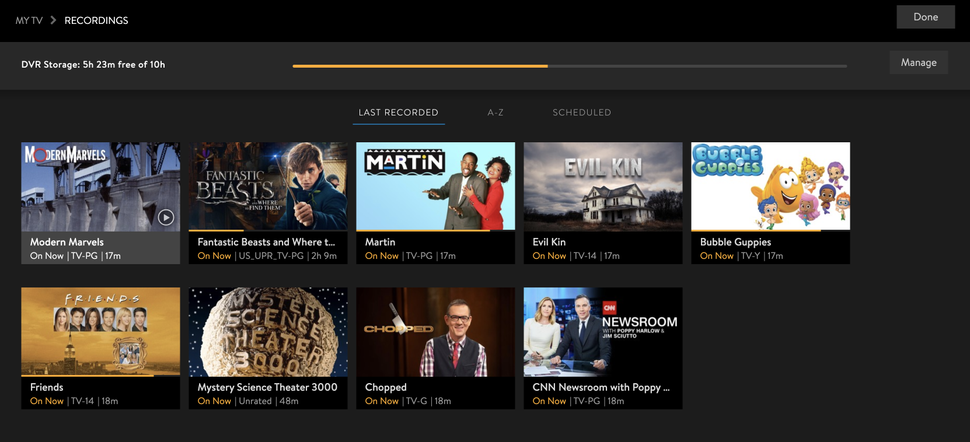 Verdict: YouTube TV and Hulu are the best for those who can plan ahead and record. Sling's DVR is close behind, based on pricing for 200 hours alone.
Bottom line
The Hulu Live vs YouTube TV debate is real because the two are increasingly similar top contenders, but they no longer share the same starting price. YouTube TV's $5 cheaper monthly price might be the difference maker for you — unless you're also a Disney Plus subscriber. But what if you want a cheaper way to figure out how to watch live TV online? We guess you're leaning to Sling — and not to DirecTV Stream.
Those who prioritize original programming should pick Hulu with Live TV, which now includes both Disney Plus and ESPN Plus. Many, though, see Sling's customization and lower entry fee, as the best way to cut the cord. If you always dreamed of an ala carte TV future, you're better off with carving out your own version of Sling TV. Check out our guide to cable TV cord-cutting for more help.