15 Download Managers & Accelerators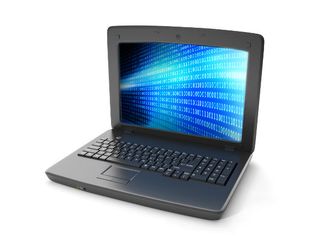 Speed up your downloads!
We live in an environment that's rich in media and data. Even with the broadest bandwidth, handling and organizing your downloads, whether you're grabbing media, data, or software, can still be a hassle. Here are a few download managers, accelerators, add-ons, and torrent managers that we hope will help you keep your gigabytes of data moving at a good clip and properly sorted on your computer.
A word of warning: Many of these programs are ad-supported or come bundled with extraneous add-ons, so a little vigilance during installation is recommended. Should an add-on to the program actually be a useful integration, we'll mention it in the pages below, if not, it's probably an superfluous toolbar that you could do without.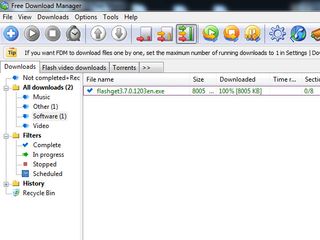 Free Download Manager
Free Download Manager is exactly what it says on the tin: a free download manager that accelerates downloads, enables BitTorrent support, Flash video downloads, and resumes broken downloads. A traffic usage feature offers the ability to adjust your bandwidth use, allowing you to keep some free for browsing the net without interfering with your downloads. FDM also includes actual file management solutions, allowing you to organize downloaded files by type and place them in defined folders once they're on your HDD. FDM is free under the GNU Public License, does its job, and integrates well with many popular internet browsers.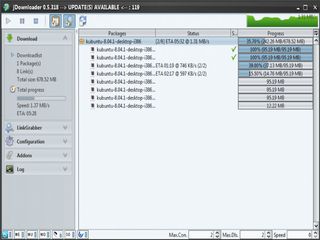 jDownloader
jDownloader is a free Java-based download management software that makes downloading from various file hosting services (like Rapidshare) a breeze. jDownloader is designed to work around the little hassles that encourage you to update to a premium service. Does the site require you to wait x seconds before clicking on a button to start your download? jDownloader automatically handles that. Captcha? Check (but not reCaptcha yet). Heck, IP address download quota limit? If your ISP allows you to use dynamic IP address, jDownloader will even take care of that when it detects your download quota limit has been reached. Simply copy links into your clipboard, and jDownloader will look for download links and load them up in its downloader. It won't actually accelerate your downloads, but it'll certainly cut down the hassle when downloading a lot of files from various file hosting services.jDownloader for Windows.jDownloader for Mac OS X.jDownloader for Linux.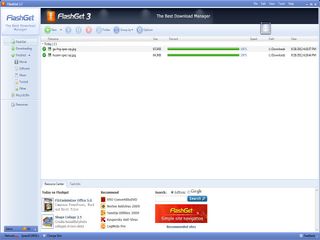 FlashGet
FlashGet is another popular freeware download manager and accelerator for Windows. FlashGet, like many download accelerators, speeds up your downloading by chopping up your intended download into smaller file packets and tries to get them from many mirror sites. FlashGet also comes with a lot of extra features such as torrent support, Flash movie downloading, RapidShare and other file hosting support, as well as antivirus checking and file management of your (soon to be numerous) downloads.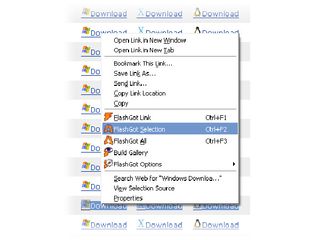 FlashGot
A Firefox-based extension, FlashGot is a free add-on for Firefox and Thunderbird that helps integrate whatever download manager you use directly into the Firefox experience with right-click contextual menu options and aids in both batch downloading and single file downloading. Rather than having to flit between Firefox and your download manager's windows, FlashGot does the work for you, allowing you to focus on browsing the net and hunting down more stuff to download and consume.FlashGot for Windows.FlashGot for Mac OS X.FlashGot for Linux.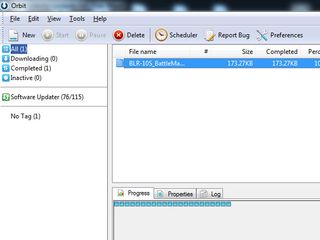 Orbit Downloader
Orbit Downloader is another great piece of freeware built around P2P and multi-source downloading and designed to increase your speed, as well as support a broad base of file transfer systems. Another focus is on web media downloads such as videos, Flash media, and music, with Orbit Downloader boasting features to grab embedded and streaming media. It also comes bundled with the Grab Pro software that helps facilitate downloading videos from sites like YouTube and Pandora that use anti-leaching features. The acceleration features are par for the course among download managers, and the added media support might make it a keeper for users who are heavy consumers of online media. Orbit Downloader supports IE, Firefox, Maxthon, and Opera.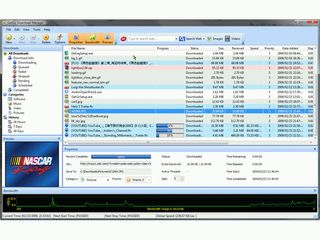 GetGo Download Manager
GetGo Download Manager is another download manager and accelerator that, like Orbit Downloader, boasts of its ability to support the download of embedded FLV videos with one-click download support for YouTube, DailyMotion, Vimeo, and more. Download acceleration, batch downloading and file management features, and a download scheduler round out the general features of GetGo. Compatible with IE 9 and Firefox 13, GetGo is a download manager worth looking at for users of these browsers.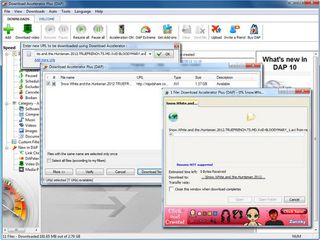 Download Accelerator Plus 10
Download Accelerator Plus is a paid software with a dumbed-down free version but even the partially lobotomized version is worth a try. Besides featuring the usual download acceleration methods, such as searching for optimum file mirrors or download sources and pausing and resuming downloads, DAP 10 also features a new add-on system that allows you to customize your download management experience. Add-ons such as "DAPsters" allow you a jDownloader-like automation when downloading through file hosting sites like RapidShare, fast-tracking you to CAPTCHA. "Link Checker" can be enabled to look up download links, automatically tagging live and invalid links before you even click on a link. These are just a few of the features you can add on. In a crowded market for download managers, DAP10's Add-Ons feature allows you to customize your experience, and as more add-ons are released, the potential of this tool can only increase.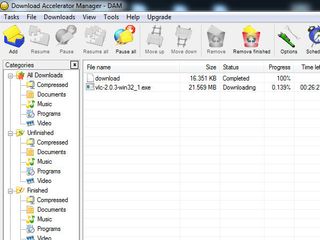 Download Accelerator Manager
Download Accelerator Manager (DAM) is another accelerator and manager program that makes a point of not only its download acceleration, but also its ability to rip and download embedded Flash videos and music from sites like YouTube with the aid of its companion program MediaGrabber. Unlike Orbit and GetGo, DAM supports Chrome, which is a plus if you field that browser instead of IE or Firefox.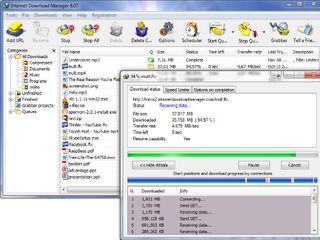 Internet Download Manager (trial)
Internet Download Manager hides a powerful package behind its extremely prosaic name. IDM does exactly what it says, accelerating downloads and organizing files you've procured. IDM also features integration with numerous popular browsers, as well as the ability to rip FLV videos from various media streaming sites. You can immediately start downloads when accessing a link, or place your downloads in a queue in order to better organize and prioritize your downloading through IDM's powerful scheduling features and organizing features. The only downside? It's not free, but it can be used with a 30 day trial version. Give it a shot and see if it's worth springing for the full version.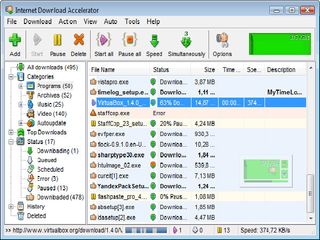 Internet Download Accelerator
Internet Download Accelerator is another competitor in the field of free download managers. Free and with few frills, it's a decent choice for acceleration as well as downloading embedded media, but the ad panel and constant nagging to upgrade to the paid version can be an irritant. If you can stomach that, it's actually a solid choice.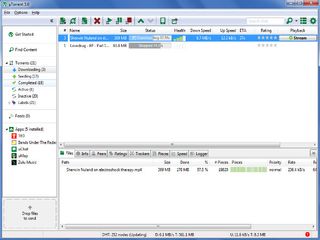 µTorrent
Can a piece of software be free, neatly designed, and packed with a ton of powerful features? µTorrent (µ = "micro") is proof that this is possible. A lightweight but surprisingly powerful torrent manager and downloader, µTorrent manages that near ideal feat of being easy on the eyes and intuitive while hiding a wealth of features under the hood in its preferences and context menus. Casual users can simply install and fire up the program, loading up torrent files and happily downloading away. More seasoned users can find a plethora of features at their fingertips. Customize your bandwidth allocations, set the maximum simultaneous downloads and uploads, prioritize particular files and packages, selectively download individual files, and more. Lightweight, simple, yet also powerful, µTorrent is hands down one of the best torrent download managers out there.µTorrent for Windows.µTorrent for Mac OS X.µTorrent for Linux.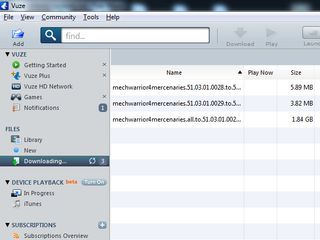 Vuze
Where µTorrent seems to hit the sweet spot of light, elegant, and powerful, Vuze hits two out of three. A clean and elegant UI is combined with more settings and configuration options than you can shake a stick at. Media searching, content subscriptions, web remote configuration, and even HD media players and device players are packed into a very powerful package. This does, however make Vuze feel a bit more bloated than its micro-sized competitor. Still, if you're the kind of user who can take advantage of all the features that Vuze provides, it's certainly an excellent torrent manager and worth your time.Vuze for Windows.Vuze for Mac OS X.Vuze for Linux.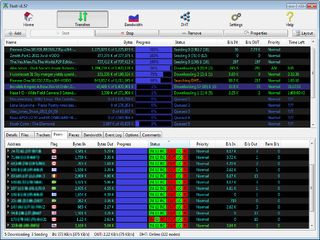 Tixati
Like Vuze, Tixati seems to hit two out of three when it comes to simplicity, design elegance, and power. In this case, power and simplicity. Tixati is resource light and minimalist in design. It doesn't come with as many frills as µTorrent but it still supports advanced features like bandwidth management and magnet linking. Let's get this out of the way, though: compared to µTorrent and Vuze, Tixati isn't exactly easy on the eyes. Don't let that stop you from trying out this lightweight torrent manager.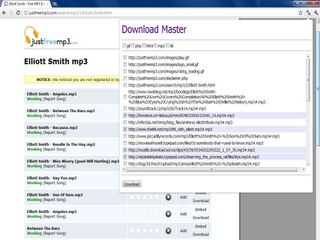 DownloadMaster
Featured in our earlier roundup of Google Chrome add-ons, DownloadMaster won't give you all the extra frills and acceleration that a full-featured download manager offers, but it does allow for one-click batch downloads of every download link on a given web page using Chrome's internal download manager. It's simple and does the job, and sometimes, that's all you need.DownloadMaster for Windows.DownloadMaster for Mac OS X.DownloadMaster for Linux.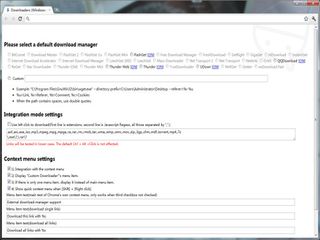 Downloaders
Should you wish to use an actual full-featured download manager for Chrome, you can ease integration issues using Downloaders, a Chrome add-on that allows you to directly call on your supported download managers from within Chrome's interface itself through a simple Ctrl+Alt+Click, allowing you to skip repeatedly alt-tabbing between multiple windows.
Check out: The 40 Best Chrome Extensions
There are a lot of download managers, torrent loaders, and add-ons out there, and we've only scratched the surface. Do you have any particular favorites that you feel should be on the list? Tips and tricks for your fellow users? Share your thoughts in the comments section below!