Best Cheap Wireless Headphones 2019 (Under $100)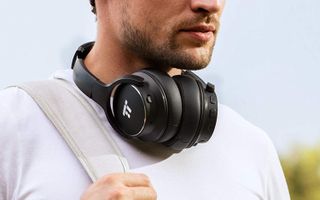 When it comes to affordable wireless headphones, people assume that cost equals quality. That's an unfair assumption, especially since the market offers a wide variety of wireless headphones capable of delivering across multiple verticals: including battery life, comfort and, most importantly, sound quality. And they get the job done without hurting your wallet.
We snatched up some of the top sellers from Amazon that fall under the $100 range and tested each one to find the best cheap wireless headphones. Looking for something a bit more premium? Check out our recommendations for best headphones, best wireless headphones and best truly wireless earbuds.
Credit: TaoTronics
Jaybird Tarah Wireless Sports Headphones (4.5 stars)
Jaybird's budget alternative to the flagship X4 wireless earphones shares similar performance hallmarks, at $30 less. The Tarah boasts a lively soundstage that can be personalized through different EQ settings and music profiles via Jaybird MySound app (Android, iOS). Bass-heavy records knock on your eardrums to maximize adrenaline. Bluetooth range is also in the same ballpark as most other models, maintaining connectivity up to 30 feet.
Whatever flaws exist on the Tarah are trite when taking overall performance into account. Battery life hovers around 6 hours, which is 2 hours less than what's offered on the X4. However, quick-charge technology has you covered by juicing up these suckers in a matter of minutes for an hour of playtime. The cinch system could be sturdier, but it's nothing to cry over. Simply put, these are the best cheap wireless headphones you can buy.
Credit: Jaybird
Anker Soundcore Spirit Pro Headphones (4.5 stars)
Anker's aggressive pricing, along with good quality and service have kept the brand ahead of the competition. The Soundcore Spirit Pro is a prime example of that. These sports-centric wireless earbuds come stocked with several ear tips and wings that offer notable comfort and secure placement. Water resistance is another highlight with SweatGuard technology, protecting the device from excessive perspiration. Built-in magnets help to clip the earbuds together around the neck for portable convenience.
Audio on the Soundcore Spirit Pro outperforms most low-end headphones, favoring low-range frequencies with a Dual-EQ feature that boosts bass. Clarity does take a hit when enabling the mode, but that's a fair compromise for adrenaline junkies who favor booming sound. The absence of Bluetooth 5.0 and USB-C charging are also felt, but overall these belong on our list of best cheap wireless headphones.
Credit: Anker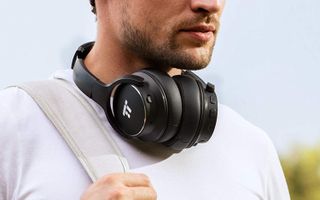 TaoTronics BH040 Active Noise Cancelling Bluetooth Headphones (4 stars)
I thought finding affordably good (and not subpar) active noise-cancelling headphones for under a Benjamin seemed unrealistic. Then, these stumbled onto my radar. The TaoTronics BH040 headphones boast impressive noise-cancelling technology, effectively blocking out distant and nearby sounds. You won't walk through a construction site in complete silence, but you can get some good quiet time in less-chaotic settings. Sound-wise, the BH040 offers punchy bass and recognizable mids.
The headphones are on the chunky side, so traveling with them does add weight to your carry-on. Also, the ear cups exert a bit of pressure after about an hour of listening. I wouldn't use these headphones to make calls, as several of my friends noted I sounded far away during chats. On the plus side, the BH040's long battery life and ability to connect to multiple devices at once did serve me well.
Credit: TaoTronics
Altec Lansing True Evo Wireless Earbuds (4 stars)
Look beyond the generic aesthetics and you'll discover a pair of truly wireless earbuds with some serious sound. The True Evo brings on the bass and makes no apologies for its thunderous low-end response. Mids and highs also blend well to produce a warm sound signature. Battery life is rated at 4 hours, but the included charging case provides 4 extra charges and works with Qi wireless charging pads.
More could have been done with the design to give the earbuds some pop. The same can be said about the limited on-ear controls, which forces users to rely more on their audio devices to manage common tasks like track navigation and volume. There is also some latency present when streaming videos online. Still, if these are drawbacks you can live with, you'll find these earbuds are worth the price in audio performance alone.
Credit: Altec Lansing
Enacfire E18 True Wireless Bluetooth Earbuds (4 stars)
The E18 is just as capable as another popular model in its product category, the Anker Zolo Liberty+, and it's priced at $100 less. Audio quality on these wireless earbuds is really crisp, with clear mids and highs. Bass response tends to be selective depending on the music genre but plays nice with alternative rock, hip-hop and jazz. The E18's standout features include the ability to control playback and manage calls on either earpiece, as well as digital assistant commands like Google Assistant and Siri.
Unfortunately, basic controls like volume must be executed directly through your paired device,. And similar to other wireless earbuds, the E18 also switches to mono when in call mode. Battery life is shorter than advertised, with only 3 hours of music playtime, but the bundled charging case earns you an extra 15 hours, while fast-charging tech gets you up and running at 80 percent on a 30-minute charge.
Credit: Enacfire/Shutterstock
Mpow H1 Wireless Headphones (3.5 stars)
These wireless cans are the comfiest of the batch, as well as the blandest-looking. The H1 headphones rest snugly atop the head and on the ears and can be comfortably worn for long stretches. The flexible design means you can bend these headphones multiple ways without worrying about snapping them in half. Mpow advertises natural HD sound, and while I wouldn't exactly describe the sound profile that way, it is tuned to emphasize singular effects and reproduce high-pitched vocals. It's also much louder than it needs to be.
The design is uninspiring, with a two-tone palette that lacks any magnetism. These headphones' bulky form factor isn't flattering either. Call quality was OK, with conversations sounding clear on both ends. However, stepping to a distance within several feet of the maximum range (33 feet) did cause interference.
Credit: Mpow/Shutterstock
Tranya T1 Sports Wireless Earbuds (3.5 stars)
Wireless earbuds are an acquired taste, but the T1 delivers enough flavor to make ordering them a savory gamble. The soundstage is dominated by deep, rumbling bass, which is cool for those who favor hard-hitting lows, but it can also silence distinct sounds meant to be heard the way they were recorded. Each earpiece is powered by Bluetooth 5.0 and stabilizes connection even when slightly out of range.
These headphones do come digital-assistant-ready, with instant access to Google Assistant and Siri. The built-in mic does a nice job of picking up vocal commands, but I experienced some random dropout on the left earpiece, and being able to screen calls only in mono through one earbud was disappointing. Battery life was mediocre, at 3 hours, which is common for most wireless earbuds, but the charging case promises up to four extra charges, giving listeners an estimated 15 hours of battery life.
Credit: Tranya/Shutterstock
BeatsX Wireless In-Ear Headphones (3 stars)
Behind-the-neck earphones are still popular, and these Beats in-ears remain a top seller that you can snag right now for under a Benjamin. They pack great wireless performance and reliable sonics into a lightweight, minimalist design. Apple's W1 chip instantly pairs the headphones to your iPhone and strengthens connectivity to enjoy drop-free calls and smooth media streaming. Battery life is listed at 8 hours on a full charge; 5-minute Fast Fuel charging gets you two hours of playback.
While improvements were made to enhance the Beats X's sound profile, it still lacks detail. Background instruments and vocals are often masked behind powerful lows. The soundstage also favors bass-heavy genres like EDM, hip-hop and rock, which is disappointing for those wanting to expand their musical palate.
Credit: Beats
Mpow 059 Bluetooth Headphones (3 stars)
Mpow makes no qualms about copying the Beats silhouette, though it could have put more effort into engineering a reliably functional headset. The Mpow 059 proved to be buggy at times, with music cutting out on occasion and the centralized multifunctional button failing to respond correctly to commands like play/pause music and power on/off. Call quality didn't win over any of my friends, either, with conversations sounding hollow on the opposite end.
All flaws aside, the 059 remains an adequate pair of over-ear headphones, with decent sound and pleasing aesthetics. These headphones have a bright soundstage, plus they handle songs that use left and right channels surprisingly well. Bluetooth was another bright spot for the headphones, as they maintained a strong connection throughout my apartment. The soft-cushioned headband and ear cups did make for a snug fit, but the hefty frame weighed me down when I was traveling.
Credit: Mpow
JLab Audio Flex Sport Wireless Headphones (3 stars)
If you want a pair of over-the-ear fitness headphones made to endure the toughest workouts –without breaking the bank – JLab has you covered. The all-new Flex Sport combines modular features with pliable aesthetics for a custom sport fit. The flexible headband is sturdy, plus it supports two tension bands that improve stability and provide three fitting preferences: loose, normal, or tight. The moisture-wicking earpads, which can be hand-washed, keep your ears cool and free of sweat.
The soundstage on the Flex Sport isn't as warm as on other headphones and requires turning on one of the three EQ Modes – Balanced, Bass Boost, and Signature – to clean up the lows and mids. Bass Boost becomes essential for songs with heavy bass content. In addition, the programmed Ambient mode is only effective when listening at high volumes and mostly picks up high frequencies, meaning you'll barely notice conversations happening right next to you.
Credit: JLabs
Altigo Wireless Active Noise Cancelling Over-Ear Headphones (2.5 stars)
A newcomer to the audio space, Altigo delivers average noise cancellation and sound in a sleek package. The design of these over-ear cans is what stands out most, highlighted by a sturdy, pliable frame and smooth matte finish. Comfort is pleasant, as the soft-cushioned pads rest gently on the ears to accommodate several hours of use. Bluetooth 4.2 also promises stable connectivity for up to 25 feet of wireless listening.
The headphones are engineered to block out a decent amount of ambient noise, but not all. It's enough to silence voices, not heavy machinery or loud frequencies. In terms of sound, I wouldn't put these up there with Bose or Sony, although the bass is decent for headphones in its price range. I recommend using the included aux cable to boost the sonics.
Credit: Altigo
Cowin E7 Pro Active Noise Cancelling Headphones (2.5 stars)
Despite some design flaws and operational issues, the E7 Pro stands out as a reasonably-priced pair of over-ears that do an admirable job of neutralizing noise. They're capable of drowning out nearby conversations and loud TVs, but not much else. The real value of these headphones comes from the laudable soundstage, which promotes booming lows and decent mids for quality listening. Using the bundled auxiliary cable slightly improves audio output.
Unfortunately, that's where the highlights end for the E7 Pro. The control panel is poorly designed with rickety buttons that require extra pressure to register commands. Audio dropout tends to occur when in noise-cancelling mode. In addition, the brushed metal finish on the earcups looks nowhere near as premium as what's shown in the ads.
Credit: Cowin
iJoy Logo Stealth Wireless Headphones (2 stars)
The iJoy Logo headphones tend to get more wrong than right but still delivered a decent listening experience minus some futile features. Sound quality was OK at best. Mids were hit or miss depending on the vocal range of certain songs, while bass performed better than average. The packaged aux-in cable bumps up clarity and volume, though I found the lows were better in wireless mode.
It's the cheapest model on this list, and its flimsy, no-frills design fits that bill. The Logo feels cheap, which never bodes well for comfort. The cushioning on the ear pads and headband was so flat that I felt pressure against my ears within 30 minutes of starting to listen. I recommend avoiding the built-in EQ and FM modes, because both are poorly programmed and blast distorted sound that can damage your hearing.
Credit: iJoy/Shutterstock
Mpow Flame Bluetooth Headphones (2 stars)
While the Mpow Flame is listed as an Amazon best seller, I strongly urge consumers to pass on it. Mpow clearly designed the Flame for sport and nothing more. The headphones are incredibly light and come IPX7-rated, so they're sweat-proof and waterproof to guarantee longer shelf life for people who sweat excessively. A carry case with multiple ear tips is also packed into the box. However, the hooks aren't as supportive as on other fitness earphones, which created looseness and had the headphones flopping around during cardio exercises.
Functionality and audio performance fared much worse. The multipurpose button was unresponsive most of the time. More upsetting was the sound profile, with its muddled lows making vocals unclear at all volume levels. Mids and lows were also nonexistent. Call quality was just as bad, with vocals sounding unclear on both ends.
Credit: Mpow