Best workout headphones: quick menu
You'll want the best workout headphones with a secure fit when you hit the gym; ones that allow you to run, jump, squat and crunch without working loose and crashing to the floor. We literally test hundreds of headphones and earbuds every year and this list brings together models that perform well in these conditions, even if they aren't specifically designed for exercise.
We all know the motivational benefits listening to music can bring, and these headphones and earbuds meet all the design and feature needs to make them particularly suitable for anyone with an active lifestyle. All models on our list are assessed to see how resistant they are to falling out while running and working out, plus they're water resistant to some degree and can handle sweaty outbreaks during exercise.
Read on to discover which are the best workout headphones to undergo our rigorous review routine, ranked and rated for active lifestyles. Don't forget, you'll find lots more info in our full standalone reviews, covering design and comfort, features, ANC performance (where applicable), battery life, and sound quality across all kinds of media, as well as how well they handle calls.
Just follow the link at the end of each product summary or tap the product name next to the star rating to discover everything you need to know about the best wireless earbuds available to buy today.
Recent updates
Update: Bose has just unveiled new Ultra models in its line up launching early October.
The quick list
The best workout headphones you can buy today
Best workout over-ear headphones overall
If you're looking for lightweight and sleek pair of over-ear headphones with the best noise-cancelling, then the Bose 700 are the best around. The flagship Bose boast 10 levels of ANC that can be adjusted in the Connect app and work flawlessly to silence the majority of external sounds from fellow workout members. Comfort levels are high. The strong build and IPX4-rated water resistance makes them durable enough for sweaty workouts, and even the occasional splash of rain during outside workouts. The earpad cushions can be replaced.
Most importantly, the 700s achieve all this without compromising sound quality, allowing listeners to enjoy clean, well-balanced sound reproduction, although the slightly deficient lower frequencies may leave bass fiends feeling short changed. Bose's companion app lets you adjust the EQ for personalized audio, though.
We love the ultramodern design, and the slim, sexy silhouette is as much of an engineering feat as the ANC performance. The short battery life is the only downside compared to newer rivals.
Read our full Bose 700 review.
Best for elite sound
Sony's WH-1000XM5 headphones have a secure yet lightweight fit that doesn't move around during workouts. With an IPX4 rating making them usefully sweat resistant and replaceable earpads, they're an effective alternative to the Bose 700. In terms of its ANC performance, they performed spectacularly well at blocking out the sounds from enthusiastic gymgoers over on the free weights, as well as the sound of the gym's public address system routinely putting out calls to team members.
During our testing we found that sound quality is superb, the 30-hour battery life (with ANC) is excellent and everything from the touch controls to the ability to tweak the EQ via the Sony Headphones Connect app is well thought out and seamlessly integrated. Call quality has also been improved greatly and there's really nothing to criticize here beyond the slightly bland styling and the $50 price increase over the XM4.
Read our full Sony WH-1000XM5 review.
Best value
Despite not have a water resistance rating, the QC45 offer several improvements, including better sound, and battery life in a lightweight and comfortable over-ear pair of headphones. ANC is as effective as it is on the 700, blocking out nearly 90 percent of ambient sound at a high rate. Bose's ambient-listening mode (Aware) does a fantastic job of piping in external sounds for increased awareness.
The combination of proprietary TriPort acoustic architecture and a volume-optimized Active EQ gives these headphones a refined, well-balanced sound signature to enjoy whatever music you play to help you power through your works. Having 24 hours of ANC playtime is a big plus, considering all the older Bose models only give you 20 hours. These are a more affordable Bose over-ear headphone option, and popular with plenty of gym goers.
Read our full Bose QuietComfort 45 review.
Best in-ears for secure fit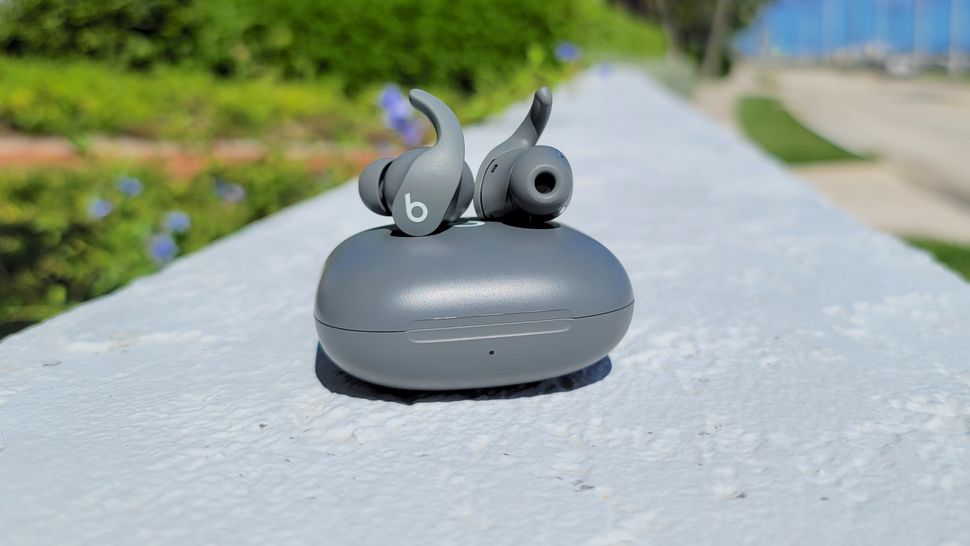 We wondered what Beats would do for an encore after releasing two critically acclaimed true wireless models in the Powerbeats Pro and Studio Buds. The answer: launch its best workout headphones to date. Enter the Fit Pro.
This sporty variation of the Studio Buds maintains the Beats aesthetic with a clean, water-resistant design, and welcomes much of the same functionality found on the AirPods Pro. You get strong active noise cancellation and Spatial Audio to enjoy 3D-like sound when vibing out to compatible tracks on Apple Music. Adding wingtips was a simple and effective upgrade that benefits exercisers, producing a secure fit that won't have the buds falling out when running or performing floor exercises. Battery life is also respectable at 6 hours with ANC on.
As with all Apple products, iOS users gain access to more functionality since the Fit Pro runs on the proprietary H1 chip. We also found the Eartip Fit Test to be unreliable and not nearly as good as when using the same tech on the AirPods Pro, but the universal wingtips and multiple tips complement all ear sizes.
Read our full Beats Fit Pro review.
Best for iPhones
Still working out with a pair of the original AirPods? It's time to upgrade – the AirPods Pro 2 are wildly comfortable by comparison. The difference is that the silicon tips gently conform to the ear canal rather than force it to open wider for the hard plastic casing. In practice that means you can wear the earbuds a lot longer without having to take them out — allowing for all-day wear without issues.
So why aren't they higher? They may not feel quite as secure in your ear when you're doing more intense athletic activities — we certainly wouldn't wear them while playing sports, for example — however they are safe to be taken to the gym and are among some of the best running earbuds and best workout headphones.
Read the full Apple AirPods Pro 2 review.
Best ear-hook design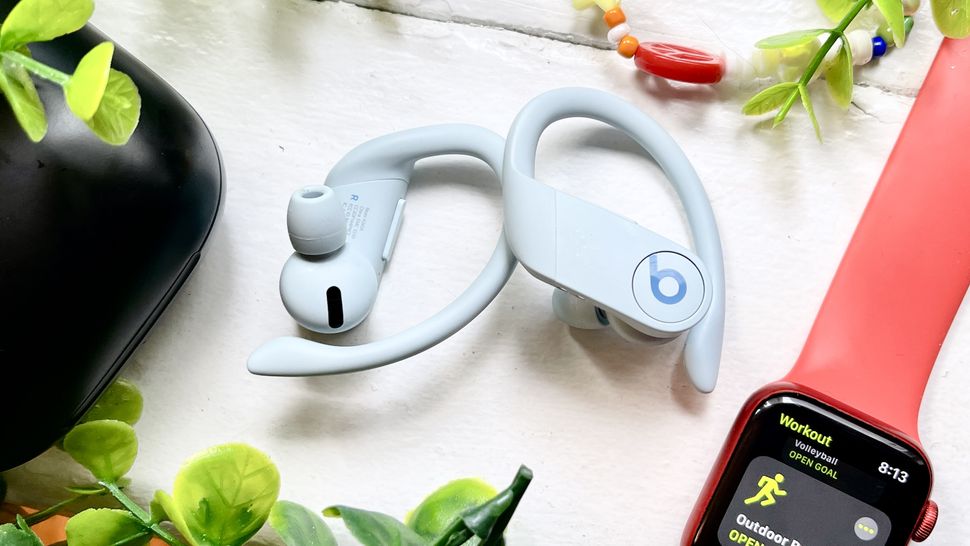 With the PowerBeats Pro, many series hallmarks remain intact, including the secure ear-hook design, energetic sound, which is more balanced this time around, and the signature B logo that doubles as a multifunctional button. Speaking of buttons, this was one of the first models in the category to introduce on-board volume controls via rockers atop each bud. You're also receiving some of the same performance perks as the AirPods Pro, thanks to the H1 chip, which gives you 50% more talk time, audio sharing capabilities with other Apple/Beats headphones, "Hey Siri" wake-word activation, and much more. IPX4 certification for water resistance comes part of the package as well.
If there's any real complaint, it is the large and heavy charging case. Will it completely throw you off track or weigh you down while you're on a run? No. Is it uncomfortable to carry around? At times, yes.
Read our full Beats Powerbeats Pro review.
Best workout earbuds from Jabra
The Elite 8 Active serve exceptionally well for fitness and casual listening. Upgraded with military-standard materials for unbreakable protection, they're built like tanks. They have Jabra's warm sound signature to jumpstart workouts the moment you press play, along with adaptive active noise cancellation, spatial audio, and some of the longest battery life available.
Bass-heavy sonics are part of the Elite 8 Active's sonic signature thanks to the powerful 6mm dynamic drivers. Lows dominated the frequency curve, but there were still some nice sounding mids and highs to digest. Noise cancelation does a fantastic job of reducing unwanted sounds, be it on runs or during video chats. The Elite 8 Active are one of the strongest pairs of workout headphones we've seen, and benefit from solid feature support across both iOS and Android devices.
Read our full Jabra Elite 8 Active review.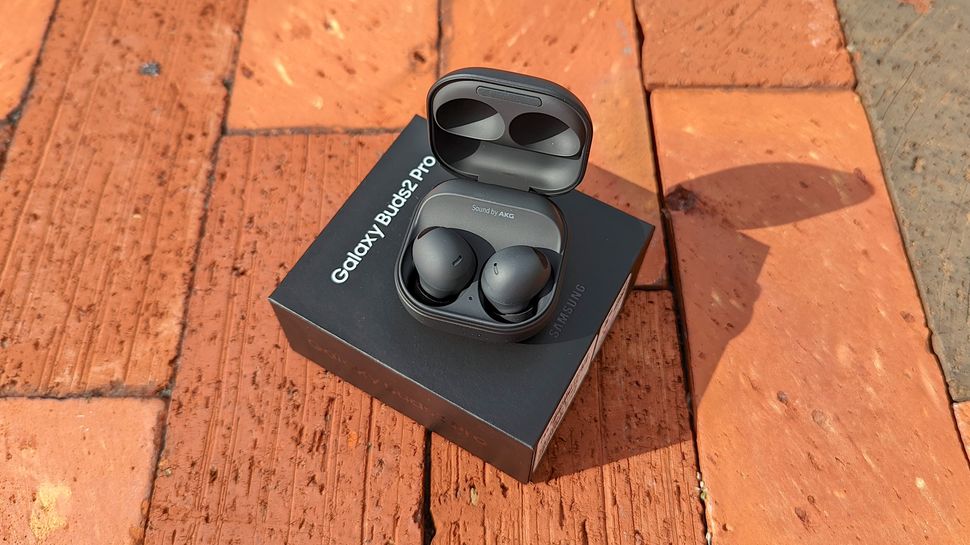 Samsung finally has a serious AirPods Pro rival, at least for Galaxy owners. Sound alone makes the Galaxy Buds 2 Pro worth the investment, giving you a high quality audio experience and compelling 3D sound with precise head tracking. Samsung's ANC holds its own against the category best and blocks out close to 90% of ambient noise. The updated design also provides improved comfort and noise isolation.
These buds operate well across all Bluetooth-enabled devices, but Galaxy smartphone owners get to enjoy cool features like Easy Pairing and compatibility with Samsung's Scalable Codec. It's upsetting that Bixby doesn't perform up to its potential, though the mediocre battery life with ANC on is a greater disappointment.
We've tried these 'buds out several times in the gym, where they performed well. They stay in place while running on the treadmill, and the IPX7 water resistant rating stands up well to protect against sweat during workouts.
Take a look at our Samsung promo codes for the latest discounts from Samsung.
See our full Samsung Galaxy Buds 2 Pro review.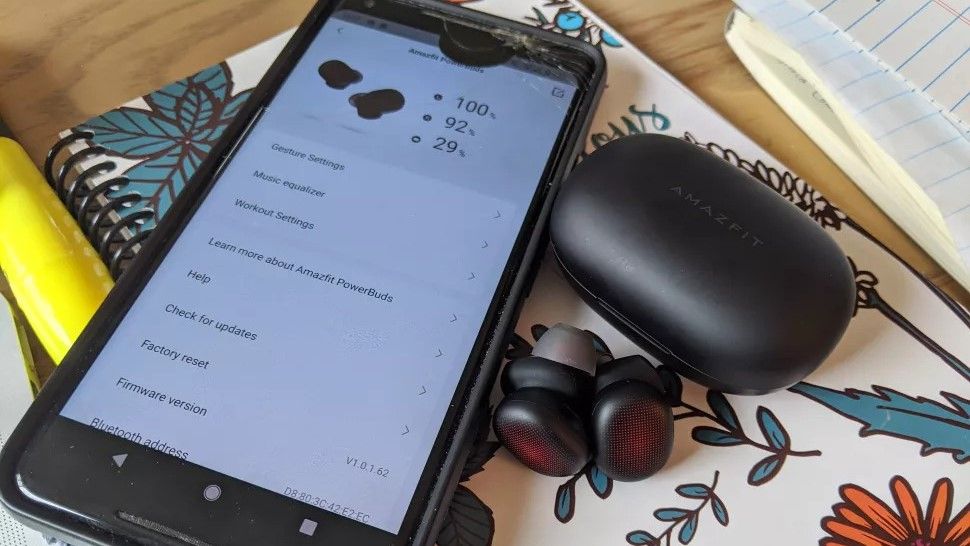 It's remarkable to see the amount of functionality jammed into these Amazfit PowerBuds, especially for under $100. They have a PPG heart rate sensor that collects biometric data, which can be saved on the companion app. Speaking of which, the Zepp app has a lot of activity tracking fields (e.g. calories burned, BMI, step count) and personalized settings, from a customizable EQ with multiple presets to workout modes. Then there's the generous playtime (8 hours) you get on a full charge, along with impactful bass response to keep adrenaline levels high.
Comfort may be an issue with some users, as the buds are on the bulky side, and the sensor, which nestles against the ear for a stabilized fit, presses against the skin. It would have also been nice if the app worked with other popular running apps; Strava and Relive seem to be the only ones compatible right now. Still, it's impossible to overlook the level of performance you're given for such a low price.
Read our full Amazfit PowerBuds Pro review.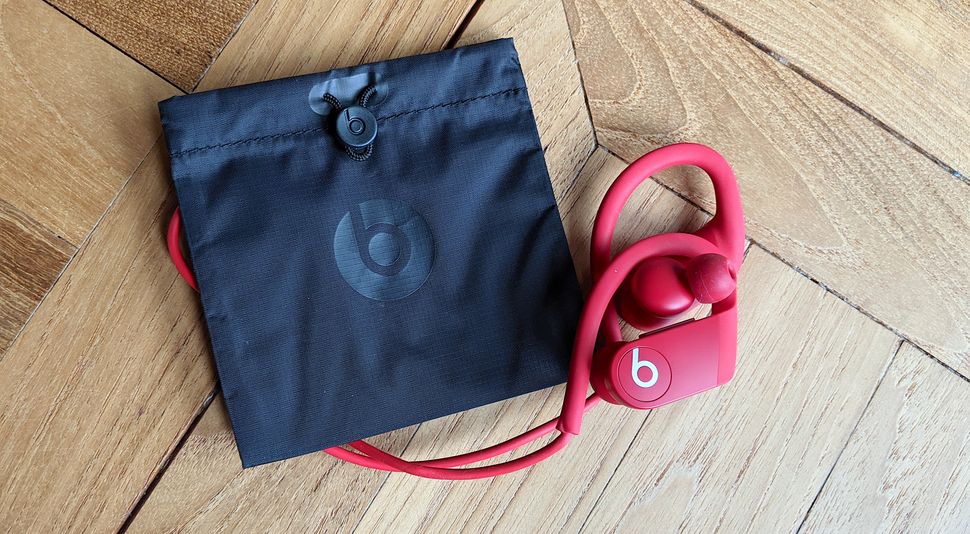 The Powerbeats 4 is similar to the more expensive Powerbeats Pro, minus one or two features, different colors, and the true wireless design. Does that make it inferior? Not at all. It still, for instance, makes the most of the H1 processor to give iPhone users terrific wireless performance across the board. Connectivity is instant with all major Apple products, and the Beats app makes it easier to pair the earphones with Android devices, too.
But what really makes the Powerbeats 4 a superior upgrade from the Powerbeats 3 are the sturdier aesthetics and improved sound and call quality. The latter is to be expected since Beats uses the same drivers and beamforming mics as the Powerbeats Pro. Comfort could be a little better and the wire connecting the two earpieces becomes annoying after a while, but all is forgiven when considering the low price of entry.
See our full Beats Powerbeats 4 review.
The JLab Epic Air Sport ANC delivers the best sound quality of any JLab wireless buds and very impressive battery life. We got 9.5 hours out of a single charge, enough for a full week's workouts even without the charging case.
As the name suggests, this affordable pair of sports headphones also provides you with active noise cancellation. You should be careful using this when out on runs, as it can mask the sound of oncoming traffic and pedestrians, but for the most part ANC is ideal for shutting out nearby noise and letting you focus on your workout. And, if you do need to hear the outside world, you can always active the pass-through transparency mode.
Read our full JLab Epic Air Sport ANC review.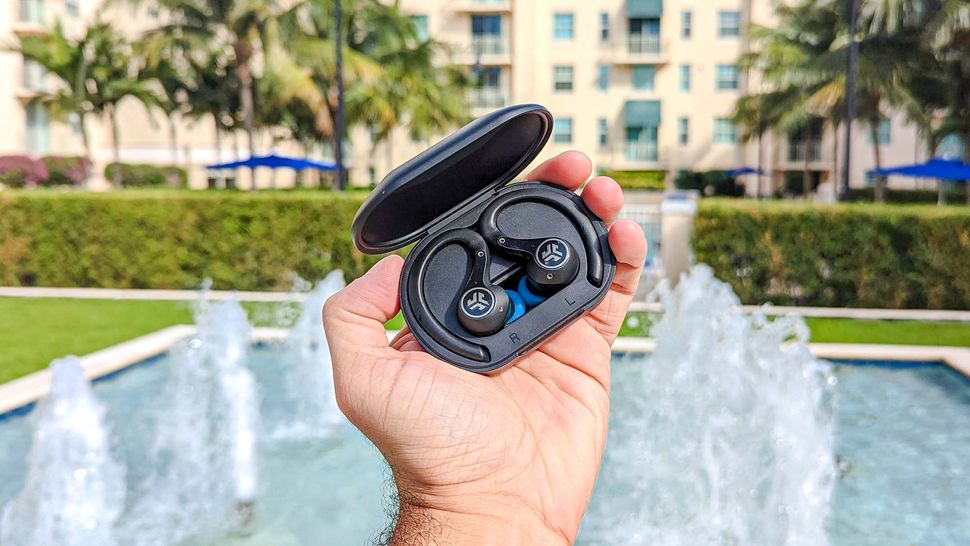 Available in the U.S. only (for now), the JLab Epic Air Sport ANC (2nd Gen) are suitable for brand enthusiasts seeking an upgrade, and budget-conscious exercisers that need reliable buds to get through intense workouts. Overall battery life remains remarkably good, and means you can use them for plenty of gym sessions and comfortably leave them in your gym bag before they need a recharge.
JLab's lively sound and a strong transparency mode are preserved. Inclusions like Tile integration and wireless charging are greatly appreciated as well. The only setback is that ANC performance as well as call quality and comfort has fallen behind market leaders, but you can only ask for so much when considering the $99 price point.
Read our full JLab Epic Air Sport ANC (2nd Gen) review.
How to choose
5 things to consider when choosing the best workout headphones for you
With so many wireless earbud options to choose from, you may find it difficult to settle on one. There are several factors to weigh up, and which one is most important depends on personal preference. Follow out list of considerations to factor in when choosing the best wireless earbuds for you.
1. Durability: The best sport headphones offer some form of water or sweat-resistant protection. Some might say they can withstand water and sweat, and some are IP-certified. If you want your headphones to be protected, make sure you look for designs with at least an IPX4 (or higher) rating.
2. Design: You'll also want to look at the design of the headphones and consider how you want to wear them while working out. They should not only be easy to wear, but also stay on your head without the need for constant readjustment. For earbuds, look at how many ear inserts and wings the pair comes with, to give you the best fit option. Some people may prefer over-ear or on-ear headphones because they tend to do a better job of blocking noise, but some prefer earbuds for their secure fit and lightweight portability.
For headphones with cables, make sure to check for an inline remote, which will let you easily control your music without pulling out your smartphone. Completely wireless fitness earbuds allow you to control your music with physical buttons or tap gestures on the earpiece rather than a remote. Some headphones are device-specific; make sure you get a pair that's fully compatible with Android and iOS.
3. Battery life: If you're considering wireless sport headphones, make sure they have the endurance you need. Some people need headphones with only 6 to 8 hours of battery life to last through a week of workouts, while others might want a device with extended longevity to get through long runs, bike rides, and hikes.
4. Accessories: It's disappointing spending money on a new pair of wireless earbuds only to find that you need to buy the accessories separately. Any models that come with a carrying case, charging cable, user guide, and extra ear cups or tips are solid purchases.
5. Pricing considerations: Obviously, price is a big consideration when looking for the best headphones. Although there are always exceptions, big-name brands will typically command a bit extra, but generally speaking, the less you spend on a pair of headphones the greater the chance that sound and features will be compromised. Going for a budget option isn't always the best choice, as any money you save on your purchase won't do you much good if you're constantly needing to recharge your audio gear, or the sound quality is poor.
As the saying goes: timing is everything; and right now many of our favorite models are discounted at online retailers, meaning you can bag a bargain for even less. Bookmark our headphone deals pages to keep track of the latest discounts.
How we test the best workout headphones
Each of the headphones listed here are tested to see how well they stand up to vigorous workouts, evaluating both how securely they fit and stay in place as well as how effective they are at preventing noise from intruding into your listening experience. Our reviewers also test every feature for app-enabled headphones, along with ease of setup.
During the testing phase, each pair of headphones is worn for 2 hours at a time throughout the course of a week. On occasion, we'll perform further testing when comparing top-rated and popular models for our Face-Off features.
We evaluate sound quality for clarity and sonic balance and listen to different tracks across all types of music genres, including hip-hop, rock, jazz, classical and electronic, while assessing volume levels and how easy the earbuds are to drive. Movies, podcasts and video games are also used where necessary.
Discover how to get the best headphone sound for you, and evaluate your own headphone sound with our Spotify and Tidal playlists.
Star ratings explained: We evaluate earbuds based on a five-point system (1 = worst, 5 = best). If a product hits nearly every mark, it's awarded a coveted Recommended badge, while our Best Value award speaks for itself. Only products with truly exceptional performance across the board are awarded an Editor's Choice badge.
For more information, check out our how we test page for Tom's Guide.
Contributions from: Alex Bracetti, Nick Pino
More from Tom's Guide