The best cheap running headphones serve the very same purpose as their more costly counterparts: keeping you entertained or motivated when you're out on a run. The only real difference is that the models listed here are a lot more affordable, which could be handy if you've already spent big on the right pair of running shoes.
Just because these models are a lot more affordable doesn't mean that they don't have a strong focus on fit and comfort. All the models covered here have been thoroughly tested and given the seal of approval by our reviewers after trying them out on a run, so you can rest assured they won't fall out when you're putting in the miles. They also come rated for water resistance to help protect against sweat and rain.
Don't forget, you'll find lots more info in our in-depth standalone reviews, covering design and comfort, features, ANC performance (where applicable), battery life, and sound quality across all kinds of media, as well as how well they handle calls.
Just follow the link at the end of each product summary or tap the product name next to the star rating to discover everything you need to know about the best wireless earbuds available to buy today.
Read on for the best cheap running headphones you can buy right now.
The best cheap running headphones you can buy right now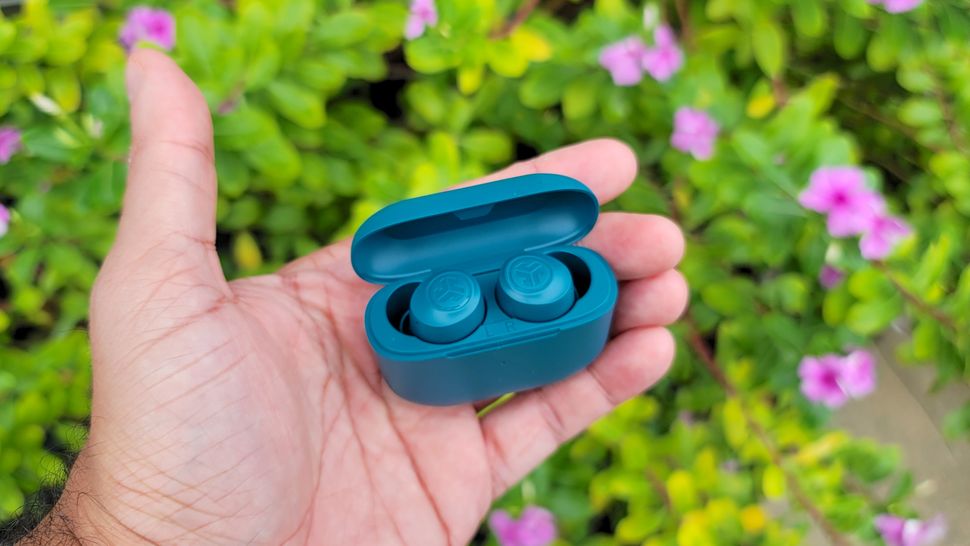 If you want the best cheap running headphones, more importantly, a pair that comes in true wireless form, seek out the JLAB Go Air Pop. Our favorite pair can be had for just $20 and has strong audio, steady battery life, and durable design, which is IPX4-certified for sweat and water resistance. The lightweight, compact form of these buds allows them to rest pleasantly on the ears during long workouts. You can also purchase the brand's $10 Cloud Foam Mnemonic Universal Earbuds Tips for optimized fit. Music is well handled, and JLab's three well-engineered EQs (JLab Signature, Balanced, and Bass Boost) present a decent sound. Battery life is just as impressive with 8 hours of listening time, plus you receive a tiny charging case that has an integrated USB cable for charging on the go.
Obviously, a price this low presents compromises, which, in the Go Air Pop's case, are weak call quality and no extra features. Then again, you won't find other buds this cheap that make up for their shortcomings with superior sound, battery life, and sturdiness.
Read our full JLab Go Air Pop review.
Avid exercisers wanting a sporty, truly wireless experience can rely on the BackBeat Fit 3100 to fuel their workouts. Plantronics reinforced these buds with IP57 certification, meaning they're strong enough to withstand high-pressure water blasts. The flexible silicone ear hooks offer enough comfort and stability to remain locked on the ears, while the company's Always Aware ear tips open up the soundstage and allow you to hear your surroundings better when training outdoors.
Mids and highs don't exactly shine here, but bass does and provides playlists' extra oomph. Using the BackBeat app allows users to personalize the controls for convenience; you can enable Google Assistant, Spotify or even start a timer with a simple tap. Battery life is steady at 5 hours, plus the accompanying charging case, which is pretty heavy, provides you up to 15 hours of total playtime.
Read our full Plantronics BackBeat Fit 3100 review.
The Skullcandy Dime 3 wireless earbuds are an enticing option with strong call quality and multipoint connectivity. The effective mics do a solid job with noise reduction and voice recognition and makes them a great buy for use on calls.
Sound quality while listening to music is great and these buds come with three built-in EQs, and boom-filled bangers handle monstrous lows like a pro. Sadly, there's no companion to let you tweak the sound profile to suit your preference, but Music (the default), Bass Boost, and Podcast serve listeners well.
Not everything hits the mark though. There's no way to assign and personalize the controls, and we're also surprised by the absence of wear detection to auto-pause content when removing the buds. The charging case is nicely compact though and small enough to be a neat key-fob addition.
Battery life in our tests ran up to 7.5 hours, and total recharge time from the case maxes out at 20 hours. A 10-minute quick charge boosts these enough to give 2 hours of playback.
Read our full Skullcandy Dime 3 review.
The JLab Go Air Sport earbuds are a worthy addition to this list and bring a bass-heavy sound with an ergonomic and water-resistant design that's geared towards runners. The bass-forward profile will stimulate energy levels, plus the stable fit and battery life make these buds an ideal pitch for exercise enthusiasts who want acceptable performance on a budget.
The $30 MSRP means you'll have to deal with compromises including dull-sounding highs, tricky controls, and awkward charging system. But the Go Air Sport accomplish what they need to for the price: long playtimes and reasonably good sound.
Read the full JLab Go Air Sport review.
How to choose the best cheap running headphones for you
You might prefer an earbud design that hooks over your ear, or sits entirely within your ear. For running, we generally found there's not much inherent difference between the two styles in terms of stability, though if you wear glasses the addition of an ear hook might mean its gets in the way of your specs.
Water resistance: Even if you're averse to running in the rain, we'd strongly recommend a pair of running headphones with certified water resistance to protect against sweat. An IP rating of IPX7 denotes full waterproofing, while IPX4 represents basic moisture resistance; consider what you'll need and what the risks are of your headphones getting seriously wet.
Active noise canceling: A lot of the best running headphones feature ANC, but this isn't necessary for running. In fact you may want to turn if off for better situational awareness near traffic and pedestrians — it will depend on how much you want the absolute best sound quality when exercising. ANC lets you focus on your entertainment but may need to be paused occasionally for safety.
Battery life: Some qualities are universal across all wireless earbuds, like battery life. Consider how long and how often you'll want to wear your headphones for; if you're a regular traveler it can definitely be worth picking a pair with longer battery life, either per charge or in terms of how much the bundled charging case provides. Wireless earbuds can last about 5 to 10 hours and offer extended playtime with their bundled charging cases — always make sure one is included.
Comfort: All running headphones need to be comfortable as well; all of the pairs on this list are fine to wear for a couple of hours at least, though some cope better with extended use than others.
Pricing considerations: Obviously, price is a big consideration when looking for the best cheap running headphones. Although there are always exceptions, big-name brands will typically command a bit extra, but generally speaking, the less you spend on a a pair of headphones the greater the chance that sound and features will be compromised. Going for a budget option isn't always the best choice, as any money you save on your purchase won't do you much good if the sound quality is poor.
As the saying goes: timing is everything; and right now many of our favorite models are being discounted at online retailers, meaning you can bag a bargain for even less. Remember to bookmark our best headphone deals page for all the latest savings.
How we test the best cheap running headphones
Like any kind of headphones, we test the best cheap running headphones by listening to a wide range of music genres — including hip-hop, rock, jazz, classical, and electronic — and will use them for at least one 2-hour session over the course of a week. This lets us both give a fair appraisal of how they sound, and how comfortable they are when worn for long periods.
All the models in this buying guide have good sound, and some also appear in our pick of the best wireless earbuds overall. But the best cheap running headphones do a whole lot more than simply play music to help you push yourself through a tough run. Find out what we listen for during our testing process and how to get the best headphone sound for you.
In determining the best cheap running headphones and earbuds, we consider fit, battery life, sound quality, design and value (are they worth the price?). We also factor in features like how well the controls work and how easily the earbuds pair with phones.
Of course, we also take them running, to see how well they stay in our ears when moving. This gives us a chance to test their sweat resistance, as well as any other fitness-related features they may have. On special occasions, we'll perform further testing when comparing top-rated and popular models for our face-off features.
To discover more information on what we listen for during our testing and reviewing process, take a look at our companion page on how to get the best headphone sound for you.
Star ratings explained: We evaluate earbuds based on a five-point system (1 = worst, 5 = best). If a product hits nearly every mark, it's awarded a coveted Recommended badge, while our Best Value award speaks for itself. Only products with truly exceptional performance across the board are awarded an Editor's Choice badge.
For more information, check out our how we test page for Tom's Guide.
Contributions from: Alex Bracetti
More from Tom's Guide