The best cheap running headphones serve the very same purpose as their expensive counterparts: keeping you entertained and, more importantly, motivated when you're out on a run. The only real difference between these and the best running headphones overall, then, is that these are a lot more affordable. Handy if you've already spent big on the right pair of running shoes.
This also means that the headphones we've chosen for this list, based on our own testing, are a more specialized bunch than the more generalist likes of the best cheap earbuds. These headphones have a stronger focus on fit, so they don't fall out when you're putting in the miles, and often come with water resistance to help protect against rain and sweat. They're the best cheap running headphones you can buy right now but don't forget to also check out the best sport headphones overall.
What are the best cheap running headphones?
Sitting in the top spot on our best cheap running headphones list is the recently launched JLab Go Air Pop. We find that these $20 wireless earbuds offer the most value for the price. Ample battery life, IPX4 protection, one of the coolest charging cases available, and a versatile sound profile that supports three fine-tuned presets are all factors that justify our claim. The several color options also make them accessorizable with your fitness gear.
Our runner-up is the Plantronics BackBeat Fit 3100. The cordless design combined with IP57 dust and water resistance and stabilized fit via ear hooks makes this model a suitable option for runners. A warm sound signature with emphasized bass allows athletes to feel the low-end performance, while the noise isolating ear tips keep listeners aware of their surroundings when jogging outside.
Coming in third place is the Skullcandy Dime. It makes a strong argument as a pair of cheap running headphones good comfort levels and good all round sound that delivers strong, punchy bass.
The best cheap running headphones under $70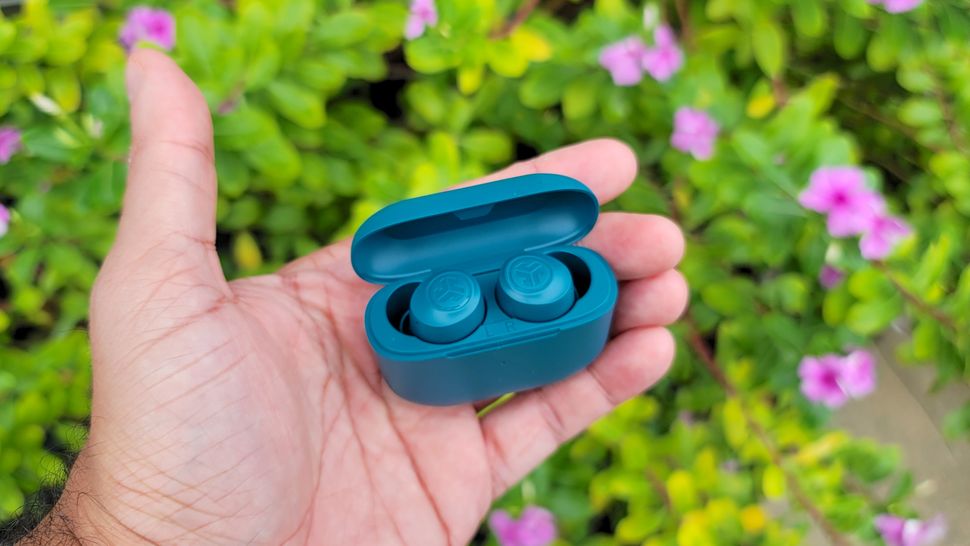 If you want the best cheap running headphones, more importantly, a pair that comes in true wireless form, seek out the JLAB Go Air Pop. Our favorite pair can be had for just $20 and has strong audio, steady battery life, and durable design, which is IPX4-certified for sweat and water resistance. The lightweight, compact form of these buds allows them to rest pleasantly on the ears during long workouts. You can also purchase the brand's $10 Cloud Foam Mnemonic Universal Earbuds Tips for optimized fit. Music is well represented, courtesy of JLab's three well-engineered EQs (JLab Signature, Balanced, and Bass Boost) that are programmed into the buds for versatile sound. Battery life is just as impressive with 8 hours of listening time, plus you receive a tiny charging case that has an integrated USB cable for charging on the go.
Obviously, a price this low presents compromises, which, in the Go Air Pop's case, are weak call quality and no extra features. Then again, you won't find other buds this cheap that make up for their shortcomings with superior sound, battery life, and sturdiness.
Read our full JLab Go Air Pop review.
Avid exercisers wanting a sporty, truly wireless experience can rely on the BackBeat Fit 3100 to fuel their workouts. Plantronics reinforced these buds with IP57 certification, meaning they're strong enough to withstand high-pressure water blasts. The flexible silicone ear hooks offer enough comfort and stability to remain locked on the ears, while the company's Always Aware ear tips open up the soundstage and allow you to hear your surroundings better when training outdoors.
Mids and highs don't exactly shine here, but bass does and provides playlists' extra oomph. Using the BackBeat app allows users to personalize the controls for convenience; you can enable Google Assistant, Spotify or even start a timer with a simple tap. Battery life is steady at 5 hours, plus the accompanying charging case, which is pretty heavy, provides you up to 15 hours of total playtime.
Read our full Plantronics BackBeat Fit 3100 review.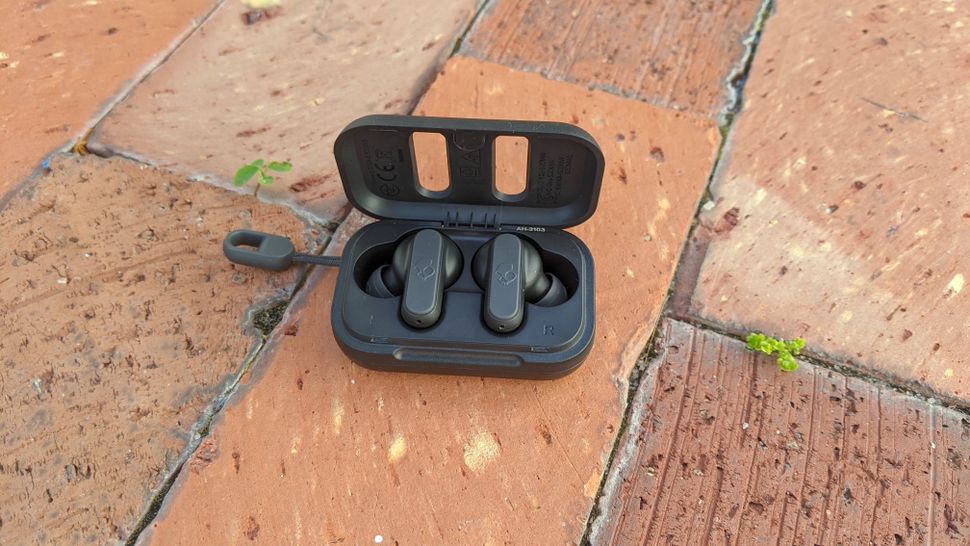 The Skullcandy Dime may be considered more a budget-friendly lifestyle option, but the combination of IPX4 water resistance and a super-sturdy design make a strong argument for it to double as a pair of cheap running headphones. Each bud is covered in solid plastic casing to ensure they don't easily break when dropped from a high distance or stepped on by mistake. Fit and comfort are surprisingly good as well. What you'll really want the Dime for is its superb sound that delivers strong, punchy bass free of distortion. And what's not to love about the car key fob-inspired charging case that is ridiculously small and slides pleasantly into any pocket.
Some might have issues with the impractical controls and underwhelming battery life (3.5 hours on a single charge), but we find these drawbacks livable when factoring in the unbeatable price.
Read our full Skullcandy Dime review.
The JLab Go Air Sport earbuds are a worthy addition to this list and bring a bass-heavy sound with an ergonomic and water-resistant design that's geared towards runners. The bass-forward profile will stimulate energy levels, plus the stable fit and battery life make these buds an ideal pitch for exercise enthusiasts who want acceptable performance on a budget.
The $30 MSRP means you'll have to deal with compromises including dull-sounding highs, tricky controls, and awkward charging system. But the Go Air Sport accomplish what they need to for the price: long playtimes and reasonably good sound.
Read the full JLab Go Air Sport review.
How to choose the best cheap running headphones for you
When shopping for the best cheap running headphones, make sweat and water resistance your priority. This is practically your insurance policy and prevents the headphones or earbuds from suffering any damage caused by excessive moisture . The specialized coating can also fend off scratches and scuffs, depending on the IPX rating (aim for IPX4 or higher). There are a handful of extremely durable models out there that are not sweat- or water-resistant, which are still serviceable for long-term use, granted they run a higher risk of breaking sooner than later. That all depends on how much you abuse them.
Audio is what fuels your workouts, so make sure whatever pair you settle on has some sonic kick to it. Bass plays a pivotal role in how you want these headphones to sound, and you want a model that can handle it well and not distort your music. If you can find headphones that offer a little of everything on the frequency spectrum – lows, mids, and highs – more props to you.
Those in the market for wireless sports headphones need to consider battery life. Look for Bluetooth models with 6 hours (or more) of playtime on a single charge. Should you go the truly wireless route, be certain that your wireless earbuds come with a charging case that can hold multiple charges to juice the buds on the go.
Accessories should be the last box you check off. You'll want extra ear tips, fins, and a carrying case, if available.
How we test the best cheap running headphones
In determining the best cheap running headphones and earbuds, we consider fit, battery life, sound quality, design and value (are they worth the price?). We also factor in features like how well the controls work and how easily the earbuds pair with phones.
Of course, we also take them running, to see how well they stay in our ears when moving. This gives us a chance to test the headphones' sweat resistance, as well as any other fitness-related features they may have. On special occasions, we'll perform further testing when comparing top-rated and popular models for our Face-Off features.
In terms of audio, we listen to many sample tracks that span a number of genres, including hip-hop, rock, jazz, classical and R&B, while evaluating volume, clarity and fullness. We also make phone calls to assess both call quality and microphone performance. If the earbuds can also be paired with a voice assistant such as Siri or Google Assistant, we evaluate how well that interaction works.
During the testing phase, our reviewers wear each pair of headphones for hours at a time throughout the course of a week. Reviewers will make note of battery life and how well it matches the rated battery life provided by earbud makers.