We can't talk about AirPods without mentioning the iPhone.
Apple's two most popular products are intertwined with one another, thanks to phenomenal ecosystem integration that allows for seamless communication between them. The number of perks given to AirPods owners is plentiful, from hands-free "Hey Siri" voice activation to instant pairing and spatial audio. Enhancements to active noise cancellation (ANC), sound quality, and usability also make these iconic earbuds an ideal add-on for iPhone users.
However, the iPhone is not closed to third-party hardware. Many of the best wireless earbuds are compatible with the latest iPhones and serve well as a calling headset, music listening device, and even workout companion. Some even outperform the AirPods in key areas such as battery life and wearability.
Alternative AirPods Options are abundant, but we handpicked several noteworthy models to pair with an Apple smartphone based on performance, preference, and price. Here are my 5 favorite wireless earbuds excellent to use with an iPhone that aren't AirPods.
Best for iOS features
1. Beats Fit Pro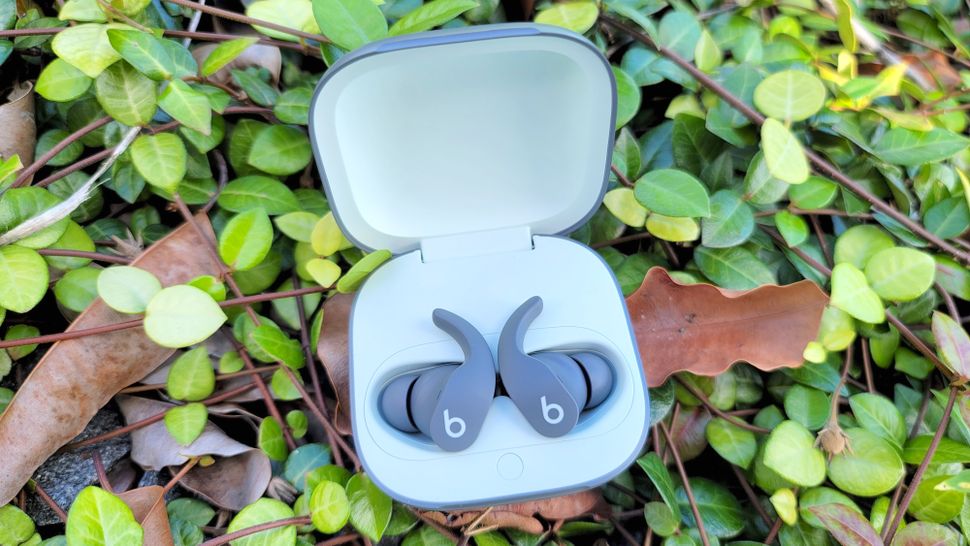 It doesn't get any more AirPods-like than the Beats Fit Pro ($199), which are essentially the fitness version of Apple's original AirPods Pro. Although they cost less, they carry around 90 percent of the same 'pro' features in a more secure design.
Apple's adaptive EQ and proprietary 9.5mm transducer pump out well-balanced sound highlighted by emphatic bass response. Personalized Spatial Audio makes music and movies more intimate by mapping the sound signature to your hearing. In addition, the tiny oval design with installed wing tips produces snug comfort and fit for optimal sound.
Noise cancellation is just as reliable as it is on the first-gen AirPods Pro and blocks out 85 percent of unwanted noise during workouts. Switching to Transparency mode will greatly increase awareness of surroundings on runs. ANC remains steady at 6 hours; turning off the feature extends playtime by an hour.
Everything else that makes the AirPods Pro fantastic is accounted for, including audio sharing, Ear Tip Fit Test, EQ selection, Find My (Buds) integration, and shares plenty hidden AirPods Pro 2 features, too. The Fit Pro also takes advantage of firmware updates to receive new features introduced in the latest versions of iOS.
Best value
2. Sennheiser CX Plus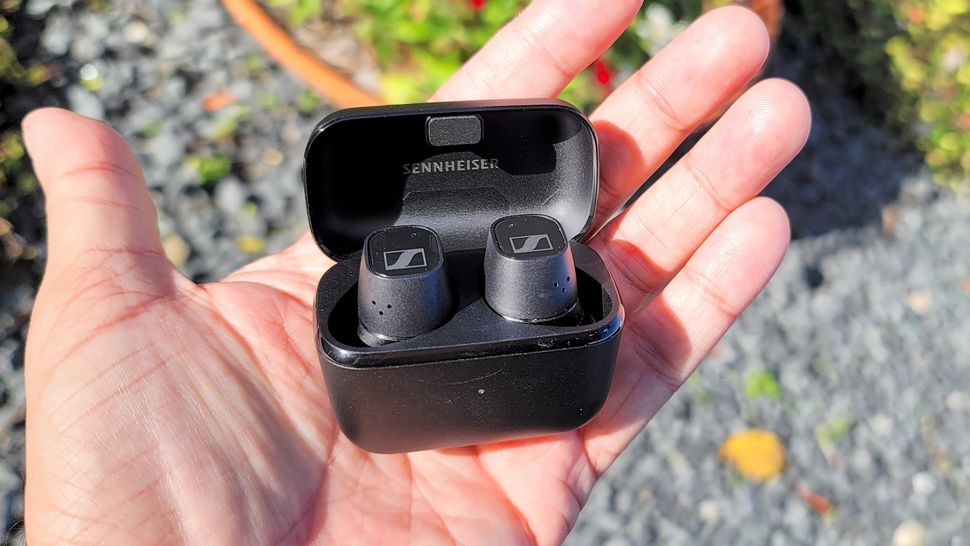 As exceptional as the flagship Momentum True Wireless 3 earbuds are, we feel the better value lies with the market's most underrated earbuds: the CX Plus. These earbuds deliver flagship sound for $180, making them an attractive mid-price option, and even more so when you find they're being discounted to $117 @ Amazon.
Sennheiser's sound signature is full of emotive lows, rich mids, and crisp highs, and our audio editor rates them as one of the best-sounding mid-priced wireless earbuds around right now. Customization settings like the three-band EQ and pre-programmed presets are useful for tweaking sound, granted audiophiles will find the default sound signature perfect as is.
AptX Adaptive enhances streaming quality on Android devices, but not the iPhone. However, AAC runs smoothly when playing files on Apple Music and other popular music services; make sure to apply these Spotify tips and Tidal features for to make sure you're getting the very best sound quality from your streaming service subscription.
ANC does a surprisingly good job of silencing high-frequency sounds, which is something you don't get from many sub-$120 wireless earbuds. It won't outperform the AirPods Pro 2's noise cancellation, but can clear out the soundscape for uncompromised sound. The feature also comes in handy during voice and video chats by eliminating most distractions for precise vocal capture.
More importantly, the 9 hours of listening time per charge is more than any AirPods model out there, and that's with ANC on. Case in point, these buds check off many boxes and perform up to par with all iOS/macOS devices.
Best for voice and video calls
3. Bose QuietComfort Earbuds 2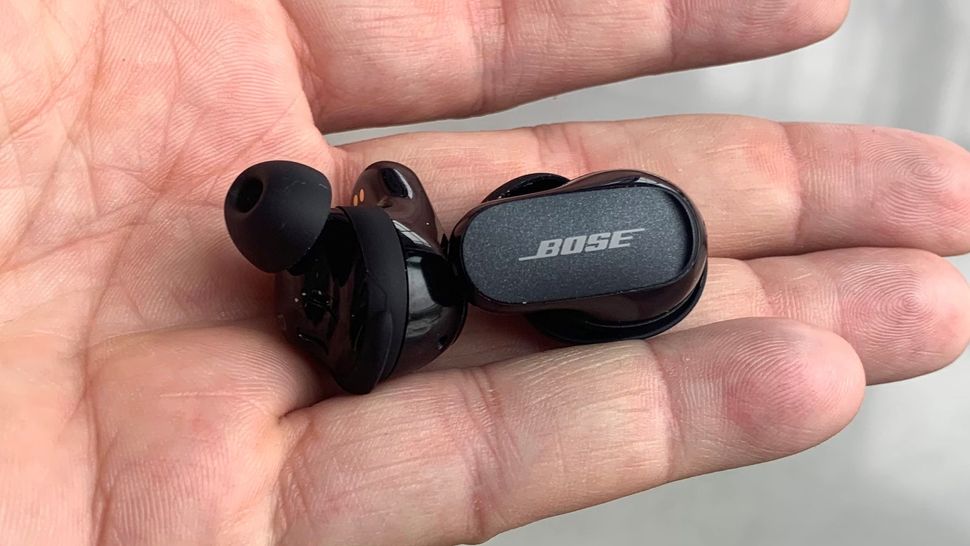 The AirPods Pro 2 are a strong contender for best headphones for voice and video calls for iPhone users. But that's not because of their call quality, but for their features and FaceTime integration; using spatial audio for video conferencing is cool. Nonetheless, the Bose QuietComfort Earbuds 2 ($299) stand out as the better calling earbuds overall due to Bose's class-leading ANC and Self Voice mode, aka Sidetone, which is one of several underrated wireless earbuds features.
These buds employ Bose's new CustomTune technology that automatically calibrates ANC and sound to the unique properties of your ear. It works superbly for calls, music listening, and noise neutralization. The feature adjusts to your environment and keeps unwanted noises to a minimum, while Self Voice amps up your vocals during chats for clearer presentation.
Bluetooth 5.3 keeps connections stable within range (up to 100 feet) and opens the door for high-quality aptX Lossless support, which Bose confirmed is on the way via an over-the-air update. This wireless codec upgrade should complement the QC Earbuds 2's punchy and sharp soundstage.
Bose's redesign is also a more sophisticated take on Apple's iconic long-stem design. They composed these buds from sturdier materials and sell them in multiple standout colors: Eclipse gray, midnight blue, soapstone, and triple black. The QuietComfort Earbuds 2 don't come cheap, but it's a worthwhile expense for iPhone owners wanting superior ANC and call quality in a neat package.
Best for fitness and battery life
4. JLab Epic Air Sport ANC (2nd Gen)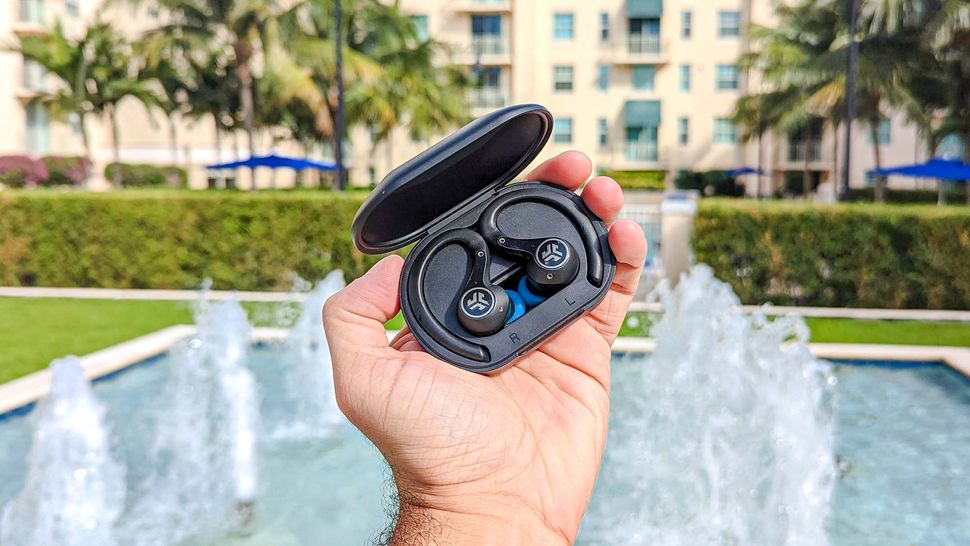 Apple made the AirPods Pro 2 more fitness-friendly with a new ear tip kit that absorbs sweat and provides better on-ear stability than the previous version. Unfortunately, the fragile exterior and low ANC playtimes pale in comparison to many of the best workout headphones like the super-affordable JLab Epic Air Sport ANC (2nd Gen).
The $99 MSRP might make you think bargain bin earbuds, but they have plenty going for them. Let's start with the design, which is far more secure than the AirPods. The ear hooks wrap nicely around the ear to ensure placement, while the included foam tips form to the listener's ears and produce a tight seal. You have to purchase third-party foam tips for the AirPods Pro, an accessory that makes a huge difference in comfort and sound. The hard plastic shell is built to take a beating and comes IP66-rated for dirt, sweat, and water resistance.
Sound won't match the AirPods Pro, but wearers can expect warm and punchy sonics when blasting workout playlists. Those wanting a more refined soundstage can create their own sound profile by adjusting the bass, midrange, and treble on the 10-band EQ. Listening in ANC mode also boosts fidelity for clearer-sounding lows and mids. Speaking of which, JLab's noise cancellation is only capable of handling low-frequency sounds, though their transparency mode (Be Aware) is wonderful for monitoring environments on runs.
The Epic Air Sport ANC (2nd Gen) have their fair share of cool features as well, including a built-in USB cable in the wireless charging case and Tile integration to easily track lost buds. But it's the lengthy battery life that iPhone owners will value most: up to 15 hours per charge with the case holding up to 70 hours.
Best for sound quality
5. Sony WF-1000XM4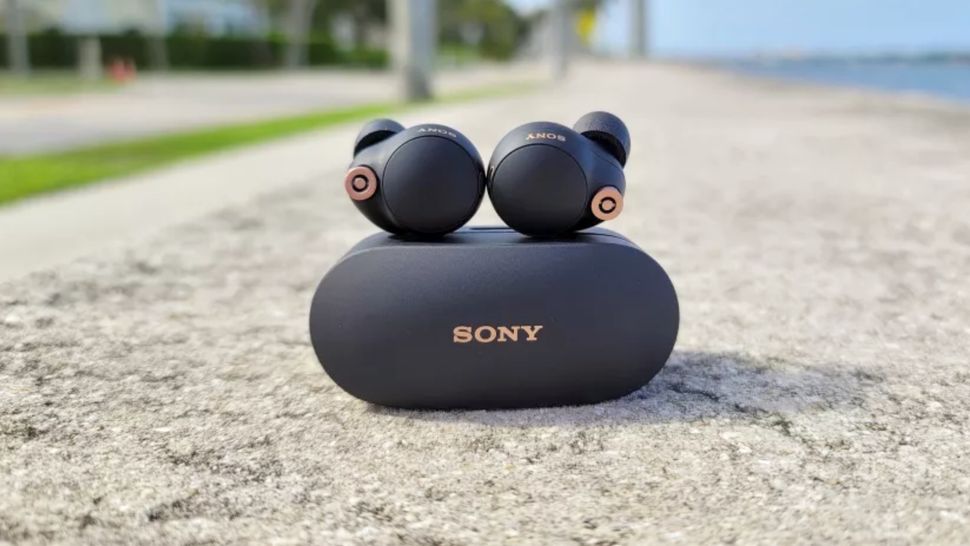 Several models compete for the best audiophile headphones and earbuds. But when factoring in compatibility, features, and performance, it's tough to beat the WF-10000XM4, and our audio editor recently rated them a firm favorite. At $279, they're more expensive than the Apple's AirPods Pro 2 flagship, but can regularly be found discounted online; we've seen them drop as low as $198 in recent sales.
Sony's flagship buds are platform-neutral, so you can enjoy them at their full potential on either iOS or Android via the Sony Headphones Connect app. Some features like 360 Reality Audio, Sony's spatial audio alternative, are integrated with hi-res streaming platforms like Tidal. This is huge for those wanting a 3D hi-res listening experience.
That's only the tip of the sonic iceberg. These buds boast numerous sound tools that elevate music performance, no matter the device. The WF-1000XM4's dynamic, well-defined sound profile suits all media (e.g., music, movies, video games, podcasts). Stereo imaging is exceptional, with instruments accurately placed and localized on tracks. Toggling on the DSEE setting significantly upscales lo-fi recordings, plus the multi-band EQ with several well-engineered presets make personalizing sound fun.
Sony's noise cancellation grows stronger with every new XM-series model. It adjusts on the fly to block out incidental sounds at levels that nearly match the former king of true wireless ANC: the Bose QuietComfort Earbuds. That should speak for itself, but if you need more convincing, then know that the WF-1000XM4 eliminates ambient sound better than the AirPods Pro 2.
Longer battery life (8 to 12 hours), Multipoint Bluetooth to pair to two devices simultaneously, tri-digital assistance (Siri, Google Assistant, Alexa), and a gorgeous redesign complete this gem.
More from Tom's Guide