The iPhone 14 Pro Max is the iPhone I'd recommend to power users. Why? Well, you get the best cameras in a phone based on my testing, a new always-on on display and a clever Dynamic Island that replaces the notch with a smaller area that delivers alerts and live activities on the fly.
I also got a kick out of using the camera's new Action mode for capturing video. Other smartphones have a similar feature, but the combination of the iPhone 14 Pro Max's video quality and its super steady footage feels a bit like magic.
Also magical is the ease with which you can switch between multiple phone numbers using this flagship's eSIM functionality, though some will lament the utter lack of a physical SIM card tray.
Once again Apple has made the fastest phone around with its A16 Bionic chip, but it's not really about benchmarks. Instead, it's about what this chip enables, from the always-on display to the powerful 48MP camera and what it can do. Add in extra-long battery life and you have the best iPhone you can buy as well as one of the best phones you can buy period.
If you want a smaller phone check out our iPhone 14 Pro review, and also see our iPhone 14 review if you want the most affordable new iPhone. But if you're tempted by the latest Android flagships as well, check out our Google Pixel 7 Pro vs iPhone 14 Pro Max face-off for how the two compare, as well as our Galaxy S23 Ultra vs iPhone 14 Pro Max comparison.
iPhone 14 Pro Max specs
Swipe to scroll horizontally
| | |
| --- | --- |
| Row 0 - Cell 0 | Row 0 - Cell 1 |
| Screen size | 6.7-inches |
| Refresh rate | 1-120Hz |
| CPU | Apple A16 Bionic |
| Storage | 128GB, 256GB, 512GB, 1TB |
| Cameras | 48MP main, 12MP ultrawide, 12MP telephoto with 3x optical zoom |
| Dust/Water resistance | IP68 |
| Colors | Purple, gold, silver and space black |
| Rated battery life | 13 hours 39 minutes (web surfing) |
| Size | 6.33 x 3.05 x 0.31 inches |
| Weight | 8.47 ounces |
iPhone 14 Pro Max review: Release date and price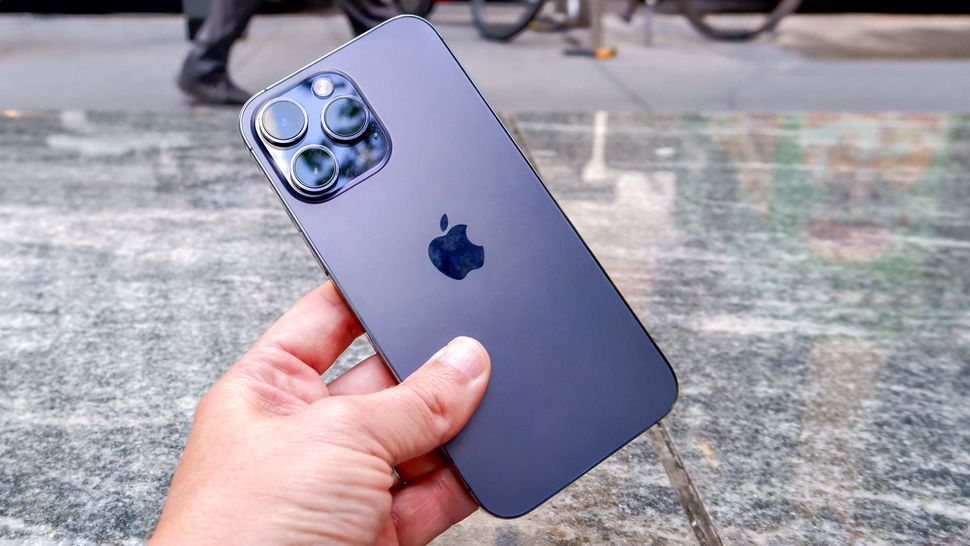 The iPhone 14 Pro Max is on sale now and has a release date of September 16. The starting price is $1,099 / £1,199 / AU$1,899, making it one of the most expensive flagship phones around.
The starting storage remains 128GB, which frankly doesn't feel very Pro. But you can upgrade to 256GB for $1,199 (£1,309/AU$2,099). Going to 512GB costs $1,399 (£1,529/AU$2,419) and 1TB will run you $1,599 (£1,749/AU$2,769).
For more, see our iPhone 14 deals guide to get the biggest discounts, as we expect there to be a lot of deals around Black Friday, and our iPhone 14 delivery date guide to see when you can expect to see your phone if you buy it right now.
iPhone 14 Pro Max review: Design
When I picked up the iPhone 14 Pro Max for this review I noticed two things immediately. The first is that the notch has been replaced by a pill-shaped cutout (more on the Dynamic Island below), and the second is that the camera bump is even bigger.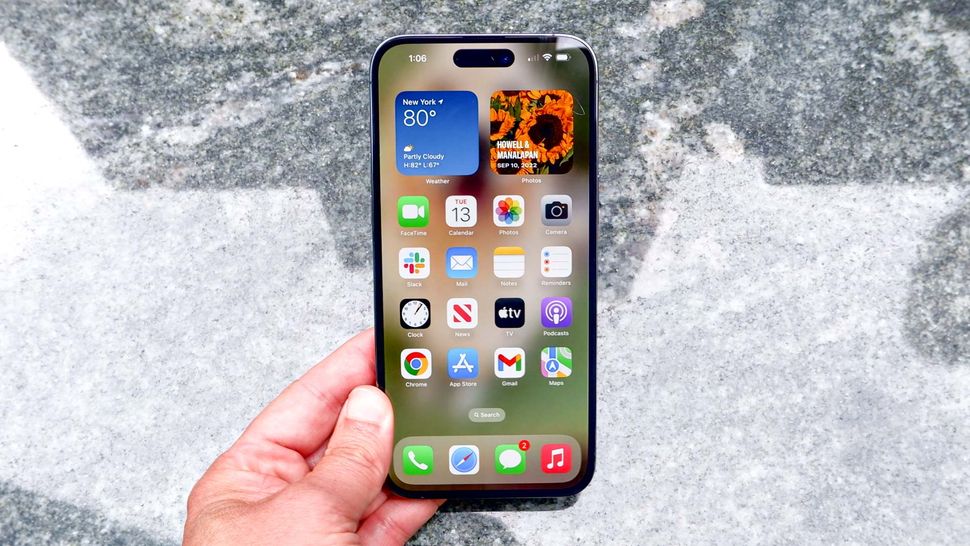 All three camera lenses on the back of the iPhone 14 Pro Max are larger, as is the flash, so this area takes up a lot of room. This is also a slightly heavier and thicker phone than its predecessor: The iPhone 14 Pro Max measures 6.33 x 3.05 x 0.31 inches and weighs 8.47 ounces, compared to 6.33 x 3.07 x 0.3 inches and 8.46 ounces for the iPhone 13 Pro Max.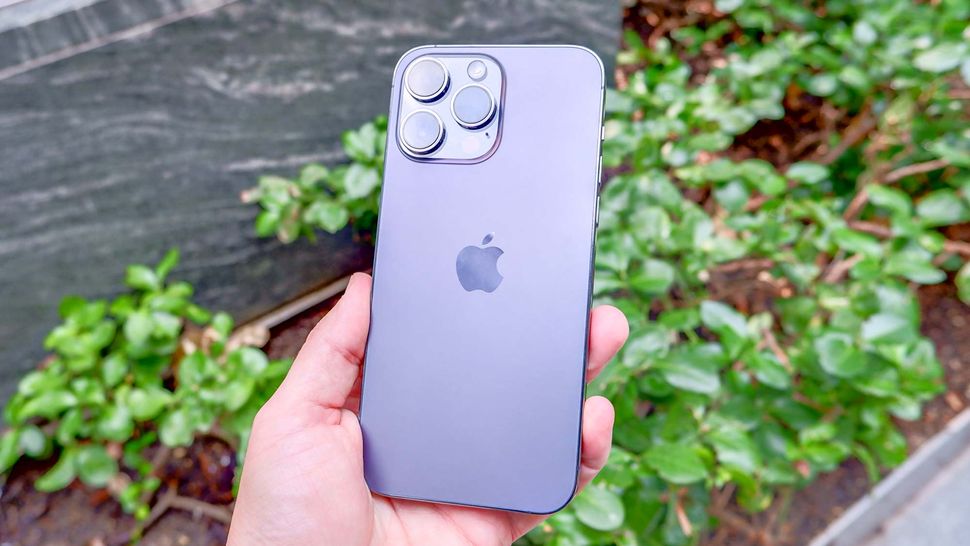 There are four color options for the iPhone 14 Pro Max: deep purple, silver, gold, and space black. I'm partial to the deep purple as it pops the most, and that's the one I tested out for this review. I continue to appreciate the matte glass back (which is now removable) and color-matched polished steel sides Apple uses for its Pro phones. The overall look is elegant if a bit too familiar, with the same IP68 water resistance.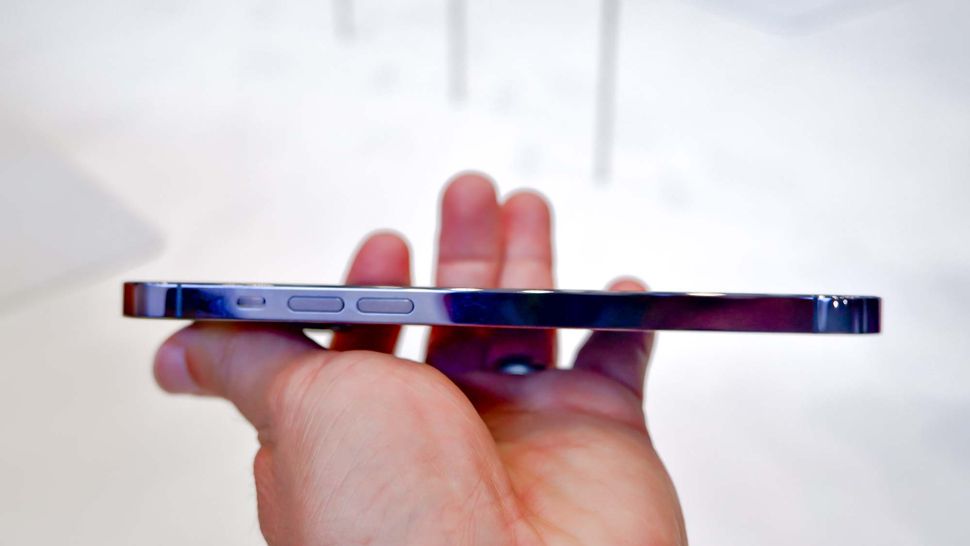 What's missing? That would be the SIM card tray. Like the headphone jack before it, Apple has removed this feature for U.S. models, replacing it with eSIM technology. The good news is that we found it quite easy to add a line to the iPhone 14 Pro Max, and you can have two active numbers at once (say, one for your personal number and one for business). The bad news is that some overseas carriers don't yet support eSIM, so you'll need to check if your provider is compatible before you travel overseas.
If you want to keep your iPhone 14 Pro Max looking box-fresh then check out our round up of the best iPhone 14 Pro Max cases. If you aren't a case user already though, check out these drop test results to see what could happen to your new phone.
iPhone 14 Pro Max review: Meet Dynamic Island
Now this is innovative. Apple didn't just shrink the iPhone's notch and move it down; it found a way to make this area useful and even fun. In addition to housing the TrueDepth camera, the Dynamic Island acts like a mini dashboard, providing access to the info you need no matter what app you're in.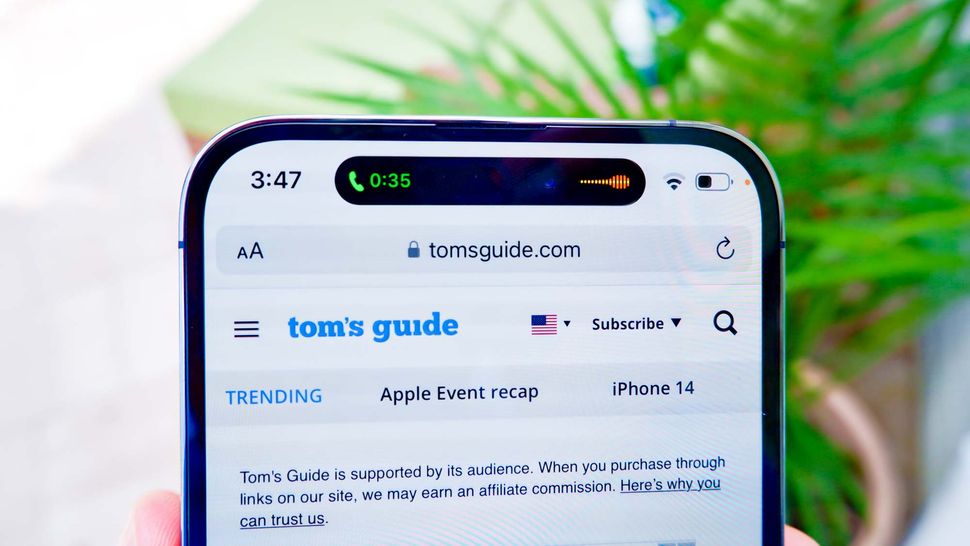 If you open up Apple Music or Spotify, for example, and then swipe back to the home screen, you'll see the album art displayed on the left side and there's a mini waveform animation on the right. And if you press and hold on the Dynamic Island, a larger window will pop up showing the track progress and playback controls. Or you can press once just to launch into the app.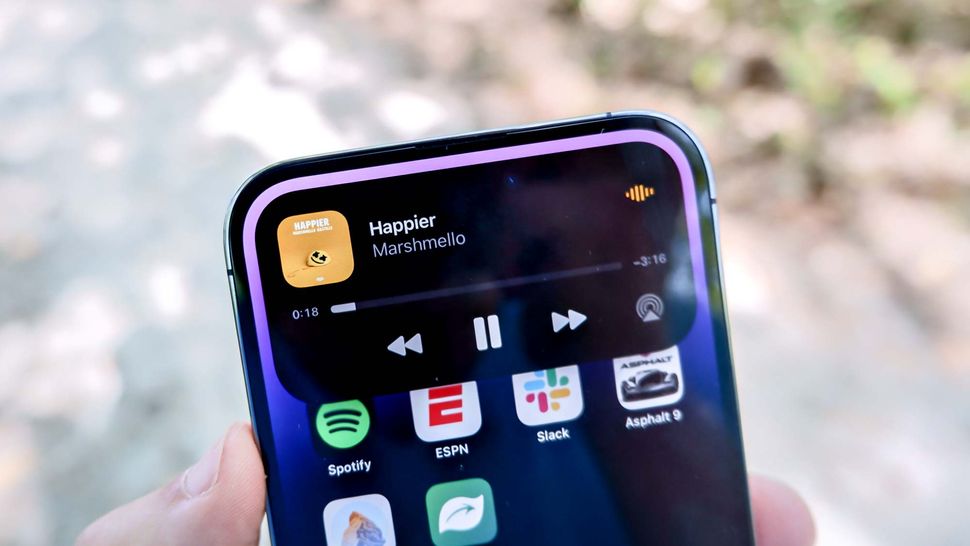 There's lot of other apps that take advantage of Dynamic Island. You can see the status of your timer there, the next direction to take in Maps, the status of incoming and outgoing calls and more. You can even have two live activities displayed side by side in the Island.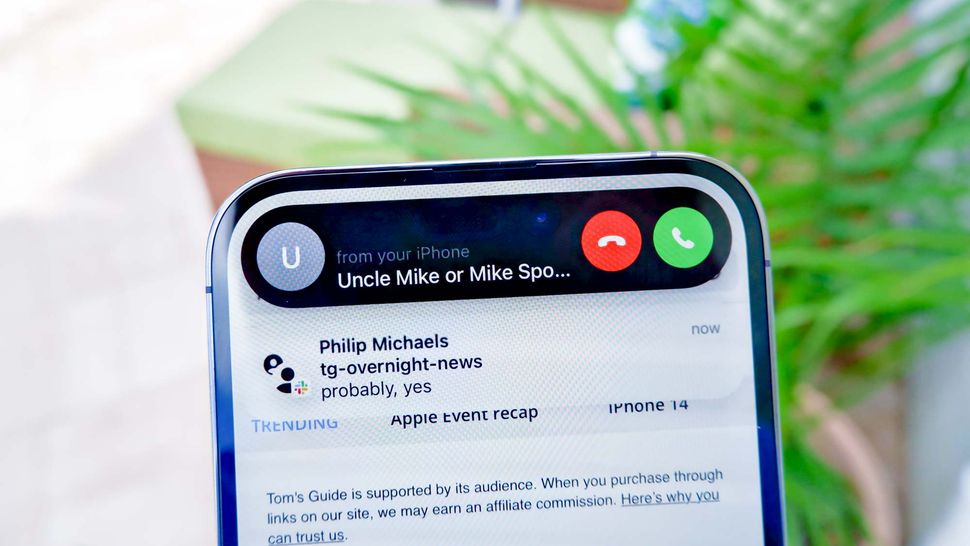 Apple has made a Live Activities API available to developers to deliver more Dynamic Island experiences like sports scores, food delivery status, ride sharing info and more. I can't wait to be able to see how far away my DoorDash delivery is or Uber ride without having to constantly dive back into the app. For now, here's a look at some the early apps that have adopted Live Activities and how they work with Dynamic Island.
The uses of Dynamic Island extend to other activities as well, such as Face ID, and the animations are fluid without being intrusive. This is just a killer feature and frankly a good reason to get the iPhone 14 Pro Max over the regular iPhone 14 or iPhone 14 Plus (check out our iPhone 14 Plus vs iPhone 14 Pro Max showdown).
iPhone 14 Pro Max review: Always-on display and screen quality
Apple is definitely playing catch-up with Android phones when it comes to the iPhone 14 Pro's new always-on display, and yet Apple's implementation delivers a more robust experience — if you're willing to take the time to set it up.
Because the iPhone 14 Pro Max's display refresh rate can scale all the way down to 1Hz, Apple designed its AOD to essentially mirror the lock screen (in color) but at a much lower brightness level. So you can still see your wallpaper, lock screen widgets like weather, calendar and activity ring and notifications coming through.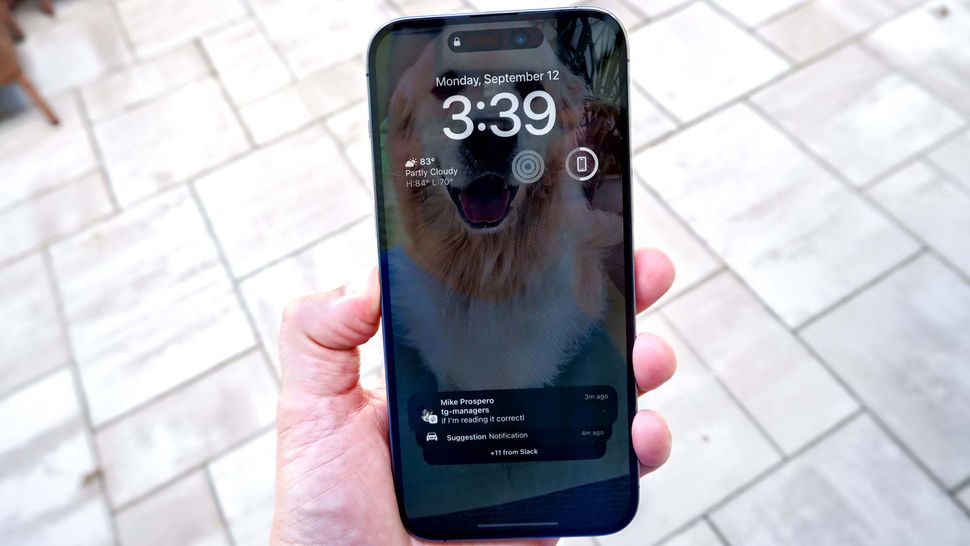 The always-on display is smart enough to turn off if you put the iPhone 14 Pro Max in your pocket or upside down on a table. I personally appreciated having the always-on display for simply displaying the time without having to fully turn on the display, as my dogs usually see that as a sign they can go outside no matter the time of night.
In a way, I prefer the simplicity of the Pixel 6 and Galaxy S22 Ultra with their always-on displays, showing just the basics like time, battery status and notifications. But I like that there's more customizations options for the iPhone 14 Pro Max. With iOS 16.2, you can further refine the always-on display by disabling the wallpaper and/or notifications if you prefer.
Otherwise, the iPhone 14 Pro Max's Super Retina XDR display is amazingly bright and vivid. In fact, this panel is rated for up to 1,600 nits of brightness with HDR content and 2,000 nits outdoors in bright sunlight.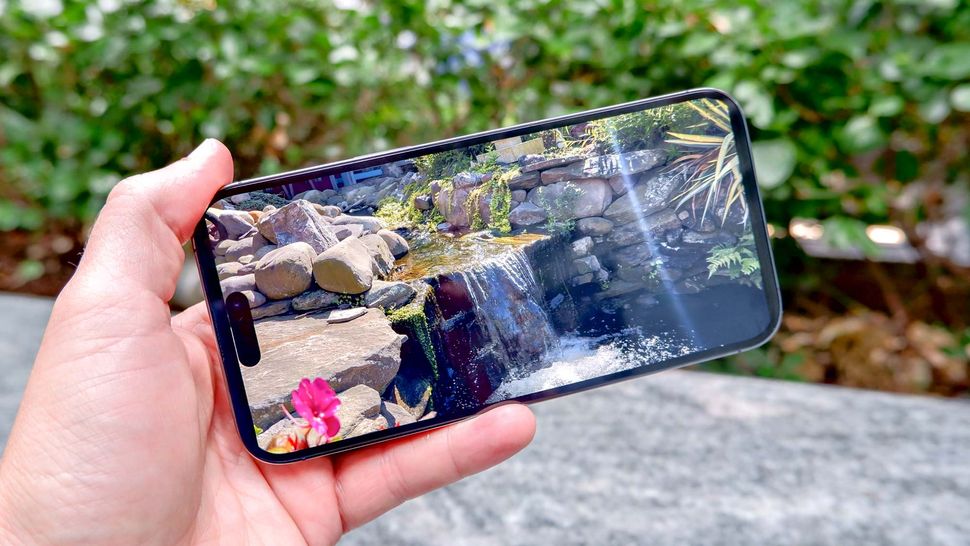 This panel dazzled as I zoomed in on footage of a fountain, as I could make out the drops of water hitting the pool below and creating a fizzy bunch of bubbles. And I got lost in a tropical paradise when playing the AirTwister air shooting game, with fluid animations to match the 120Hz ProMotion display.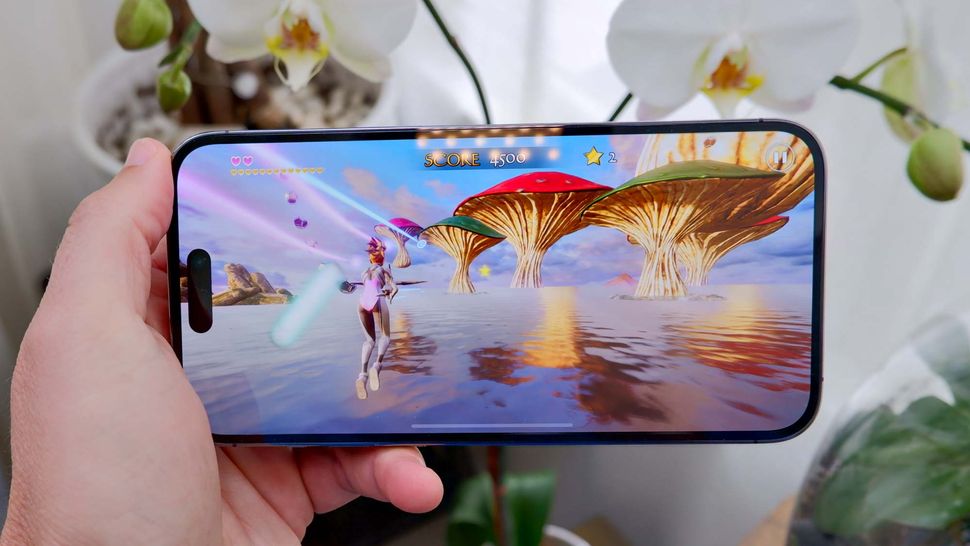 On our lab tests, the iPhone 14 Pro Max reached up to 1,565 nits with HDR content, which is very close to Apple's claim. And this panel registered 117.5% of the sRGB color gamut and 83.2 % of the DCI-P3 color space. The Delta-E reading for color accuracy was 0.26, where 0 is perfect.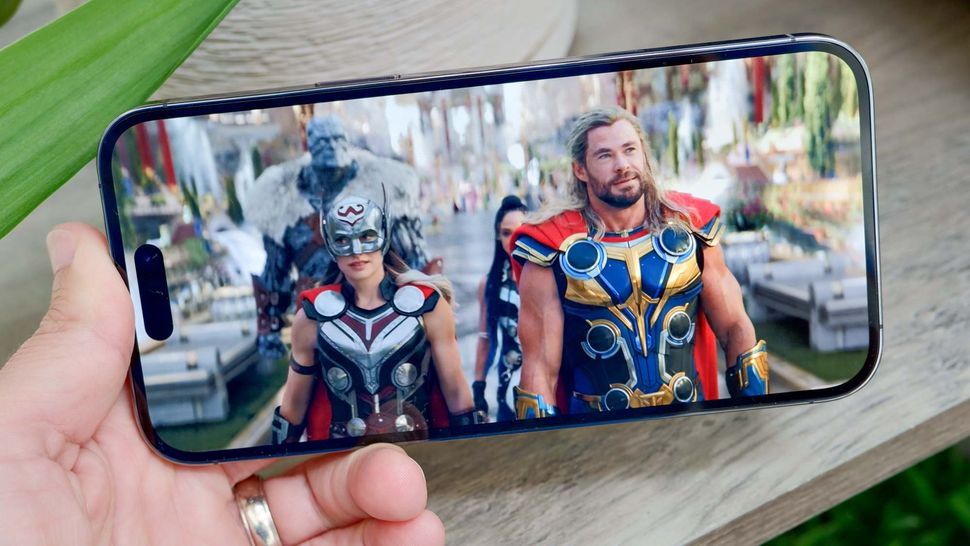 By comparison, the iPhone 13 Pro Max hit 1,040 max nits on our testing and scored 109.3% and 77.4% on the sRGB and DCI-P3 tests. So the iPhone 14 Pro Max has a better screen all around, though its Delta-E rating was slightly behind the iPhone 13 Pro Max at 0.21.
The Galaxy S22 Ultra reached 1,359 nits with HDR content, and it registered 137.5% and 97.4% on the sRGB and DCI-P3. And its Delta-E rating was 0.25. That makes Samsung's panel more colorful but a bit dimmer.
Some users are experiencing a display bug on their iPhone 14 Pro Max as of iOS 16.2.
iPhone 14 Pro Max review: Cameras
Apple has shaken things up with its cameras on the iPhone 14 Pro Max, offering a 48MP main wide sensor for the first time. By default, the sensor will group every four pixels in a quad-pixel and optimize for better light capture in 12MP photos. But you can go 48MP in Pro RAW mode if you want the most detail possible, which is ideal for cropping in.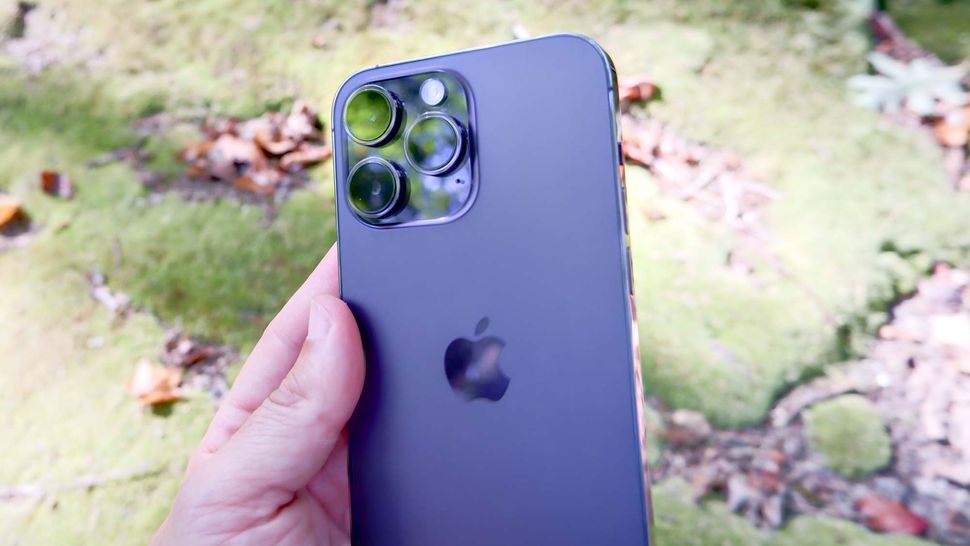 The 48MP camera also enables a new 2x zoom option that joins the 12MP 3x telephoto zoom lens, but you don't get the higher zoom offered by the Galaxy S22 Ultra's 10x dual optical setup.
The iPhone Pro Max also features a new 12MP ultrawide camera that's nearly twice the size and 12MP TrueDepth camera now offers autofocus along with a faster f/1.9 aperture for better low-light photos. In fact, better low-light performance is a big theme across the board with this phone, as there's a Photonic Engine powered by the A16 Bionic chip that's designed to offer brighter and more colorful photos for every camera.
You can shoot 48MP photos, but you first have to enable Apple ProRaw and set the ProRaw resolution to 48MP in the Settings app. It would be easier to initially activate this within the camera app, but once enabled, you can toggle between RAW and normal pics in the camera app.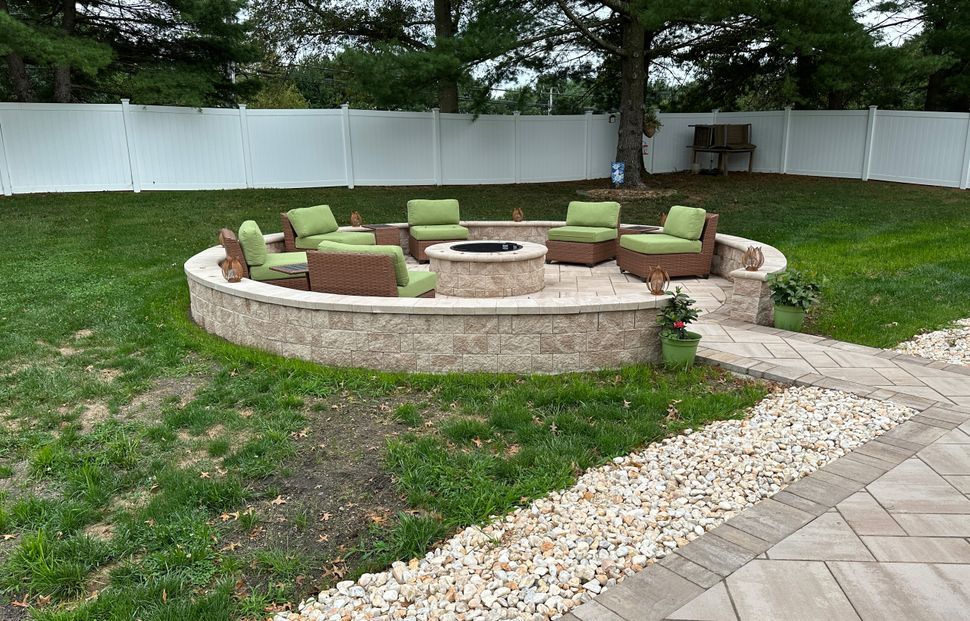 When I shot a 48MP image of a fire pit area, I could zoom in much more without losing detail. You can make out more detail in the bricks and lights atop the circular wall. Just keep in mind that you'll have to edit the images afterward for the best results.
For more, check out my in-depth iPhone 14 Pro Max camera testing comparing 48MP photos versus 12MP shots in a wide range of scenarios. You can also see our detailed iPhone 14 Pro Max vs iPhone 13 Pro Max camera comparison to see how it compares to the previous model.
Based on my testing versus competing flagships, I'd say the iPhone 14 Pro is the best camera phone you can buy. Let's start with this shot of pansies. The purple and yellow pops more through the Samsung Galaxy S22 Ultra, but there's more details in the petals on the iPhone 14 Pro Max. This one is really close.
Turning to this photo of peppers, the iPhone 14 Pro Max offers more contrast and depth as you zoom in, and the colors from the S22 Ultra are a bit too oversaturated. I'd give the edge to Apple here.
With this image of Halloween decorations, the iPhone 14 Pro Max wins in my eyes because the oranges, whites and sunflowers in its photo look richer; there's also a bit of a haze over the S22 Ultra's photo. However, Samsung's phone does a better job illuminating the background, as you can make out more of the skeletons hanging on the wall in shadow.
In this portrait of me taken at the Manasquan reservoir, the iPhone 14 Pro Max captures exceptional detail in my shirt, shorts and face while blurring the background well. The Google Pixel 6 offers a more realistic blue in my shirt and takes some of the shine away from my face.
The iPhone 14 Pro Max wins this night mode comparison hands down. The stone wall surrounding the fire pit is much sharper on the iPhone, and the green cushions and surrounding lights are brighter.
One area where the Galaxy S22 Ultra still wins is zoom. At 15x you can make out more detail in this gross silver and orange slug, and the bark in the tree looks sharper, too. Plus, this is the max zoom level for the Pro Max, while the S22 Ultra can get to 30x and even 100x (with some shakiness).
Last but not least, both the iPhone 14 Pro Max and Galaxy S22 Ultra capture a pleasing selfie. I give the nod to the iPhone with its better detail in my hair, face and shirt. There's some smoothing going on with the S22 Ultra in my face and the image is a touch hazy.
If you're on the fence about upgrading, see our iPhone 14 Pro Max vs iPhone 12 Max camera face-off to see if the differences are big enough for you. You can also check out our Google Pixel 7 Pro vs. iPhone 14 Pro Max: Low-light camera shootout to see which phone takes better low-lit shots.
Recently, some users have been reporting that the iPhone 14 Pro and Pro Max are giving more over-processed photos. Popular YouTuber Marques Brownlee released a video also echoing this issue and theorized that it could be that the balance between the software and hardware on the iPhone 14 Pro Max is slightly off. This means that the software is over-processing images even though the phone has a high resolution 48MP camera and it doesn't need to work that hard anymore.
iPhone 14 Pro Max review: Video
There are two major upgrades with the iPhone 14 Pro Max's video capture. The first is Action mode, and the second is bumped-up 4K resolution in Cinema Mode.
With Action mode, you just toggle a button in the camera app when recording to smooth out the action. This especially comes in handy when both the shooter and subject are in motion. To test out Action mode I first recorded a clip running up a small incline on a trail.
With Action mode off, the camera shook back and forth so much it was dizzying, but with the effect on my ascent looks silky smooth — almost like I was using a gimbal. Just note that the resolution is capped at 2.8K, as Apple crops in on the footage to make the effect work.
When I compared the iPhone 14 Pro Max Action mode versus the Galaxy S22 Ultra's Super Steady Mode, I found both phones offered equally smooth footage when running up a hill. The downhill video did look steadier on the iPhone than the Samsung, as the S22 Ultra's clip was shakier albeit brighter.
The overall video recording quality from the iPhone 14 Pro Max is stellar, as evidenced by footage I captured of a fountain. The rushing water and green moss look professional-grade look like they were shot by a pro-level camera, despite a bit of lens flare. And Apple has made stepping between zoom levels when shooting video smoother than before.
Unfortunately, If you want to shoot video in 4K ProRes, you will need to buy an iPhone 14 Pro or Pro Max with at least 256GB of storage. Otherwise, you will be capped at 1080p HD video at 30FPS.
iPhone 14 Pro Max review: Performance
The iPhone 14 Pro Max's A16 Bionic is Apple's first chip built using the 4-nanometer process, and it's once again the fastest chip in a phone. The CPU is rated to be only 10% faster than the A15 Bionic, but it offers 50% more memory bandwidth, which aids gameplay.
In my testing, I found the iPhone 14 Pro Max wonderfully responsive whether I was bouncing between lots of apps or playing games like Asphalt 9 Legends. Racing on the Himalayas track, I experienced fluid action even with several other cars on screen jostling for first place.
On Geekbench 5, which measures overall performance, the iPhone 14 Pro Max hit 1,882 in single-core and 5,333 in multicore. That's notably better than the iPhone 13 Pro Max (1,720/4,549) and it blows away the Galaxy Z Fold 4 and its Snapdragon 8 Plus Gen 1 chip (1,328/3,831). The S22 Ultra was even further behind with its Snapdragon 8 Gen 1 processor (1,249/3,392).
Swipe to scroll horizontally
Geekbench results

| | | | |
| --- | --- | --- | --- |
| Row 0 - Cell 0 | Processor | Single core | Multi-core |
| iPhone 14 Pro Max | A16 Bionic | 1,882 | 5,333 |
| iPhone 13 Pro Max | A15 Bionic | 1,720 | 4,549 |
| Galaxy S22 Ultra | Snapdragon 8 Gen 1 | 1,240 | 3,392 |
| Galaxy Z Fold 4 | Snapdragon 8 Plus Gen 1 | 1,328 | 3,831 |
Turning to graphics, the iPhone 14 Pro Max notched 12,363 or 74 frames per second on the 3DMark Wild Life Unlimited benchmark. The Galaxy S22 Ultra had a score of 9,499 and 56.87 fps. Last year's iPhone 13 Pro Max reached 11,418 and 68.37 fps, so it's definitely a tick up in graphics performance here.
Swipe to scroll horizontally
3DMark results

| | | | |
| --- | --- | --- | --- |
| Row 0 - Cell 0 | Processor | Score | FPS |
| iPhone 14 Pro Max | A16 Bionic | 12,363 | 74 |
| iPhone 13 Pro Max | A15 Bionic | 11,418 | 68.3 |
| Galaxy S22 Ultra | Snapdragon 8 Gen 1 | 9,499 | 68.37 |
| Galaxy Z Fold 4 | Snapdragon 8 Plus Gen 1 | 8,819 | 52.8 |
Oddly, the iPhone 14 Pro Max turned in a slightly slower time in our video editing test, which involved transcoding a 4K video to 1080p in the Adobe Premiere Rush app. The new iPhone took 30 seconds to the iPhone 13 Pro Max's 25 seconds. The Galaxy S22 Ultra needed 47 seconds and the Galaxy Z Fold 4 45 seconds.
If you're interested in our full results, and how they compare to other iPhones, take a look at our iPhone 14 benchmarks guide.
If there's one complaint we have about the iPhone 14 Pro Max's specs, it's the storage. The company still offers 128GB of storage to start, which is not great when you consider how much space 48MP photos can take up, not to mention 4K video and some of the top games. In fact, sales data shows that 50% of iPhone 14 Pro shoppers are choosing 256GB of storage, so it would be good to see Apple step things up.
iPhone 14 Pro Max review: Battery life and charging
Thanks in part to the iPhone 14 Pro Max's more efficient chip, the iPhone 14 Pro Max lasted a very long time on the Tom's Guide battery test. We're talking an average of 13 hours and 39 minutes. This is good enough for the iPhone 14 Pro Max to vault near the top our best phone battery life list.
For more check out our iPhone 14 battery life tested roundup to see how long all four new iPhones last on a charge.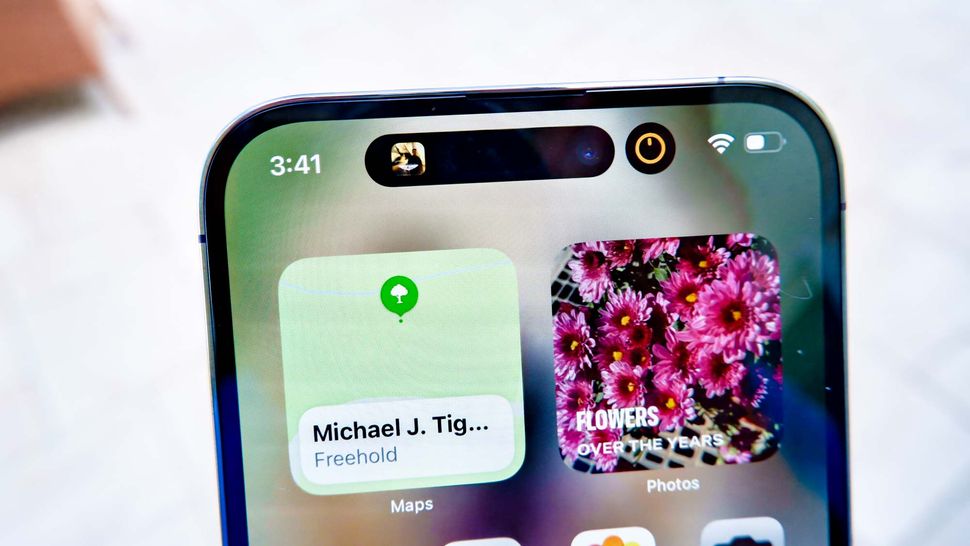 Anecdotally, the iPhone 14 Pro Max fared quite well in terms of endurance. After charging close to 90% and then using the phone from 1 p.m. to 6 p.m. for downloading apps, playing music and shooting photos and videos, the phone's battery only dropped to 60%.
Unfortunately, the iPhone 14 Pro Max sticks with 20W charging, so there are faster charging phones out there. Charging a drained iPhone 14 Pro Max, we got to only 42% in 30 minutes; Apple claims you can hit 50%, so we'll be retesting and updating this review. By comparison, the Galaxy S22 Ultra got to 58% in 30 minutes with its 25W charger, and the OnePlus 10 Pro reached 93% and got to 55% in 15 minutes, benefitting from 65W charging speeds.
iPhone 14 Pro Max review: Emergency SOS via satellite and crash detection
Apple launched two key safety features for the iPhone 14 Pro Max. The first is Emergency SOS via satellite, which combines new antennas and software to connect to satellites when you can't get a cellular or Wi-Fi signal. You'll then get help from emergency services to your location or the option to share your location via Find My. This is free to use for three years after activating the iPhone 14 Pro Max, after which you'll have to pay.
The second safety feature is Crash Detection, which leverages the iPhone 14's improved accelerometer and gyroscope to detect whether you're in a car crash. Should a crash happen, your iPhone can automatically dial emergency services, as well as notify your emergency contacts you designate.
In one iPhone 14 Crash Detection test by a YouTuber, the feature worked well during simulated crashes using a remote-controlled vehicle. Both times, the iPhone began its countdown to automatically call the emergency services before being canceled. However, there was a small delay between the crash and Crash Detection kicking in on the low-speed crash.
iPhone 14 Pro Max review: iOS 16
The iPhone 14 Pro Max runs iOS 16 by default, and there's a lot to like in this new software update. You can customize the lock screen with widgets, photos and more, and what you choose will also show up on your always-on display. Other highlights include the ability to unsend texts and edit them, a replacement for passwords called Passkeys, a new fitness app and (finally) a battery percentage indicator.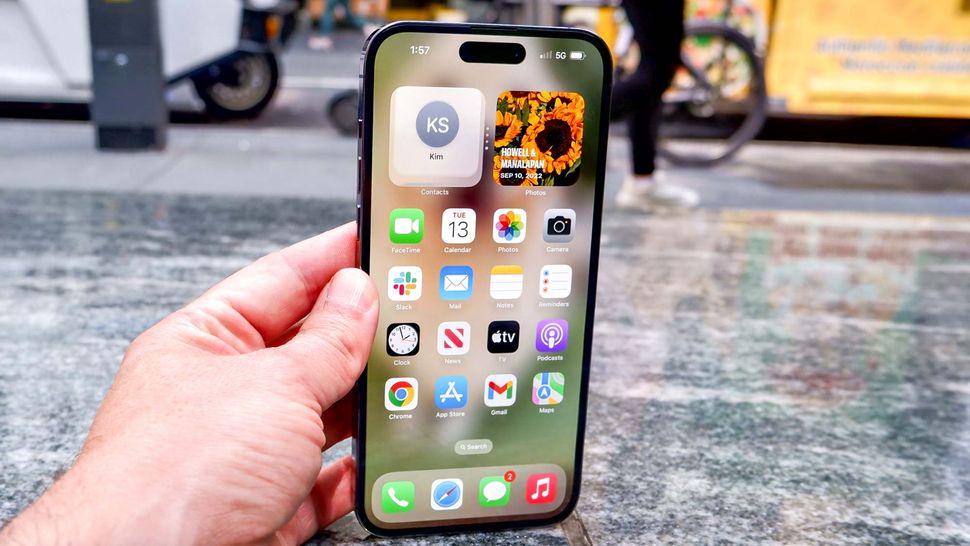 October's iOS 16.1 update introduced iCloud Shared Photo Library, which make it easier to share and edit photos with family members. As we mentioned, Live Activities are now here to showing things like sports scores and the real-time progress of your food order or ride share.
The updates continue with iOS 16.2, which introduces a Freeform collaboration app for brainstorming with others in real time and across different Apple devices. Apple Music subscribers can now access a fun karaoke feature, and iOS 16.2 also introduces enhancements to widgets. For more see our iOS 16 review and how to use iOS 16 guide.
iPhone 14 Pro Max problems and issues
Some iPhone 14 Pro owners are complaining about the camera shaking or rattling when using apps like Snapchat, TikTok and Instagram. The issue could be related to the optical image stabilization system in the new iPhone 14 Pro and iPhone 14 Pro Max. While we have not been able to replicate the issue, some users have posted videos of the problem.
We would anticipate that a software update would address this problem in the iPhone 14 Pro series and will report back.
iPhone 14 Pro Max review: Verdict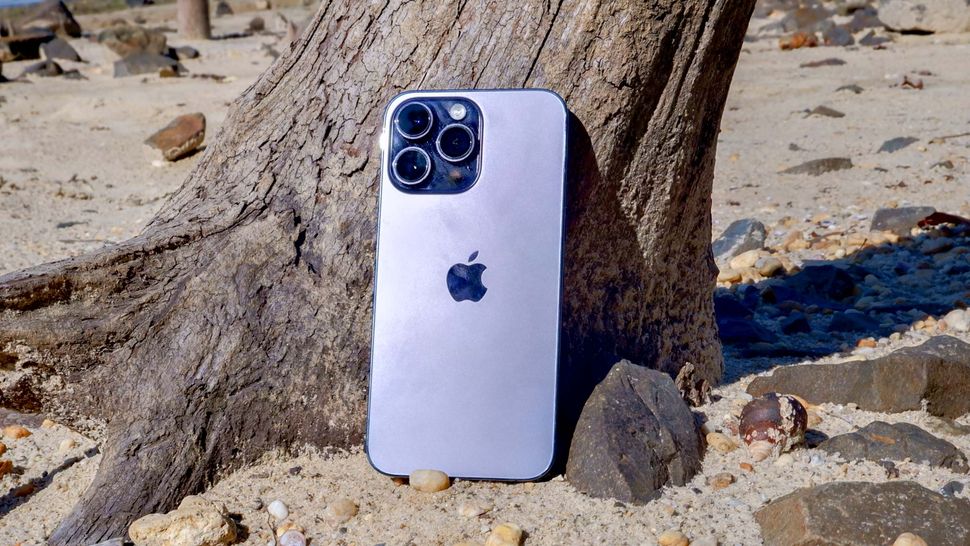 The iPhone 14 Pro Max is the best big-screen phone around, and it justifies the high price by providing a stellar display with always-on capabilities, the best cameras in a phone and extra long battery life. The Dynamic Island is by far my favorite feature, because it saves you time having to jump between multiple apps just to get key bits of info, and it will get even better as developers jump on board.
If you like to shoot video, you'll also enjoy the new Action mode for smoother footage and the even sharper Cinematic mode. The always-on display also works well, even if you have to work to get the feature the way you want.
There are some things I don't like about the iPhone 14 Pro Max, including its heft and the fact that it doesn't offer faster charging that matches what rival phones provide. And while I personally can live without a SIM card tray, international travelers may be frustrated not being able to just pop in a new SIM when they land; some carriers simply don't support eSIM functionality yet.
Overall, though, the iPhone 14 Pro Max is a beast of a phone that's Pro-level powerful while also being a joy to use. It's the best phone you can buy, period.
Want to see what this phone looks like from the inside? Take a look at this iPhone 14 Pro Max teardown. Check out our detailed comparison of the Google Pixel 7 Pro vs. iPhone 14 Pro Max.