We now have a launch date for the Samsung Galaxy S22. So expect rumors about Samsung's next phone to really heat up in the next two weeks.
Then again, we've already got a pretty good idea of what Samsung has planned for its flagship phone lineup, thanks to everything that's leaked out so far. And that's well in advance of the next Samsung Galaxy Unpacked 2022 event taking place in early February.
One of the most compelling rumors is that the Galaxy S22 Ultra will be a successor to the Galaxy Note. That means we could see an integrated S Pen along with a wider display and squared-off design.
And across the Galaxy S22 line, we're expecting camera upgrades, a new chipset, refined design and more. Such upgrades will be rather welcome. While our Samsung Galaxy S21 review was largely positive, shoppers didn't seem all that excited about Samsung's three flagship phones.
Notably, some refinement in camera performance would be welcome, as the iPhone 13 series delivers better image quality than the Galaxy S21 in some scenarios. And the Galaxy S22 will have to compete against the value-priced Samsung Galaxy S21 FE and the Google Pixel 6 and its Tensor chip. (We've got a Samsung Galaxy S22 Ultra vs. Google Pixel 6 Pro comparison to show you how the phones might measure up.)
Here are all the early rumors for the Samsung Galaxy S22 and what we want to see from this series. And because the S22 is just one of many new devices expected from the Korean company in the next 12 months, we've also put together a guide to what to expect from Samsung in 2022.
Samsung Galaxy S22 news (updated January 27)
Samsung Galaxy S22 specs (rumored)
| | | | |
| --- | --- | --- | --- |
| | Galaxy S22 | Galaxy S22 Plus | Galaxy S22 Ultra |
| Display | 6.06-inch AMOLED, FHD | 6.5-inch AMOLED, FHD | 6.8-inch AMOLED, QHD |
| Refresh rate | 120Hz adaptive | 120Hz adaptive | 120Hz adaptive |
| Rear cameras | 50MP main, 12MP ultrawide, 10MP 3x optical telephoto | 50MP main, 12MP ultrawide, 10MP 3x optical telephoto | 108MP main, 12MP ultrawide, 10MP 3x optical telephoto, 10MP 10x optical telephoto |
| Front camera | 10MP | 10MP | 40MP |
| Chipset | Snapdragon 8 Gen 1/ Exynos 2200 | Snapdragon 8 Gen 1/ Exynos 2200 | Snapdragon 8 Gen 1/ Exynos 2200 |
| RAM | 8GB | 8GB | 8GB/12GB/16GB |
| Storage | 128GB/256GB | 128GB/256GB | 128GB/256GB/512GB/1TB |
| Battery | 3,800 mAh | 4,600 mAh | 5,000 mAh |
| Charging | 25W | 25W | 25W or 45W |
| Colors | Black, white, green, pink gold | Black, white, green, pink gold | Black, white, green, red |
Samsung Galaxy S22 release date rumors
It's less of a rumor now, but we expect to get our first official look at the Galaxy S22 on February 9. That's the date Samsung has set for its next Galaxy Unpacked event, with the Galaxy S22 likely to headline the show.
Galaxy Unpacked gets underway at 10 a.m. ET/7 a.m. PT as a live stream on February 9. So get the Samsung Galaxy Unpacked 2022 event in your calendar and follow our guide to how to watch Samsung Galaxy Unpacked 2022 for more details.
That same day may also be when pre-orders open, followed by the Galaxy S22's rumored release date on February 25. However, a report from South Korea, citing sources within Samsung, says that the phone ships on February 24. Whatever date is right, it won't be long before the Galaxy S22 lands in our hands.
Samsung Galaxy S22 price
With the Galaxy S21 lineup, Samsung reduced the cost for all three models by $200, but a leaker has claimed all three models in the Galaxy S22 range will increase by $100.
While this tipster doesn't have an established record, they have the Galaxy S22 starting at $899, the Galaxy S22 Plus starting at $1,099 and the Samsung Galaxy S22 Ultra coming in at $1,299.
It would seem odd of Samsung to increase the price of the standard and Plus models, given they aren't expected to be hugely different from their predecessors. But a price increase on the Galaxy S22 Ultra might make sense given it's set to be a true Galaxy Note successor. Still, the pressure would be on Samsung to produce a phone that can justify that price.
Fortunately, an alternate source giving the price of the S22 series in euros, shows Samsung keeping the Galaxy S22 and S22 Plus at the same price, but changing things around for the S22 Ultra. The base model will apparently be slightly cheaper than the S21 Ultra, but it won't have as much RAM. Models with the same amount of RAM as before are about 50 euros more expensive.
Samsung Galaxy S22 design
Since we're getting closer to the Galaxy S22 launch, we're now seeing the first alleged live photos of the Galaxy S22. The back of the leaked image shows a Contour Cut camera that's less pronounced, which is a good thing.
Other photos of what's likely the Galaxy S22 lineup show the same look for both the Galaxy S22 and Galaxy S22 Plus. Both appear to be an evolution of the S21's design with the camera module sporting clear casing that holds a trio of cameras. Given the S21 was one of the more attractive phones of 2021, iterating on this with the Galaxy S22 and S22 Plus is no bad thing.
Last year, while the Galaxy S21 Plus and Ultra had glass backs, the standard S21 used a plastic back. That seems to be changing for the Galaxy S22 series though, with leaker Ice Universe claiming all three phones will have glass bodies.
The biggest design change will take place on the Galaxy S22 Ultra. It's set to have a flatter rectangular design that's distinctly Galaxy Note-like, and an integrated S Pen holder is also expected. That's not by accident, according to Samsung's TM Roh, who suggested in a blog post that the S22 Ultra will draw on the Galaxy Note for a lot of features.
The Galaxy S22 Ultra is tipped to get five cameras in its rear array. But rather than use a Contour Cut module, these are expected to be integrated into the back of the phone, giving it a slick and seamless look.
A de-listed video from Unbox Therapy, which was cheekily re-posted by other YouTube users, shows off a hands-on session with dummy units of the Galaxy S22 Ultra, S22 and S22 Plus. It hammers home the Note-like design of the Galaxy S22 Ultra, as well as hints at the design evolution of the Galaxy S22 and S22 Plus.
The Samsung Galaxy S22 Ultra could also be one of the toughest flagship phones around, as it's rumored to make use of the as-yet-unannounced Gorilla Glass Victus Plus as well as Samsung's Armor Aluminum frame, a strengthened metal frame first seen on the Galaxy Z Fold 3 and Galaxy Z Flip 3.
Whether these tough material will also come to the standard and Plus Galaxy S22 models isn't clear, but we'd not be surprised to see them applied to the smaller phones.
As far as colors go, analyst Ross Young has tweeted the likely options. He claims the Galaxy S22 and Galaxy S22 Plus will come in black, green, pink gold and white varieties, while the Galaxy S22 Ultra will be available in black, green, white and a dark red model.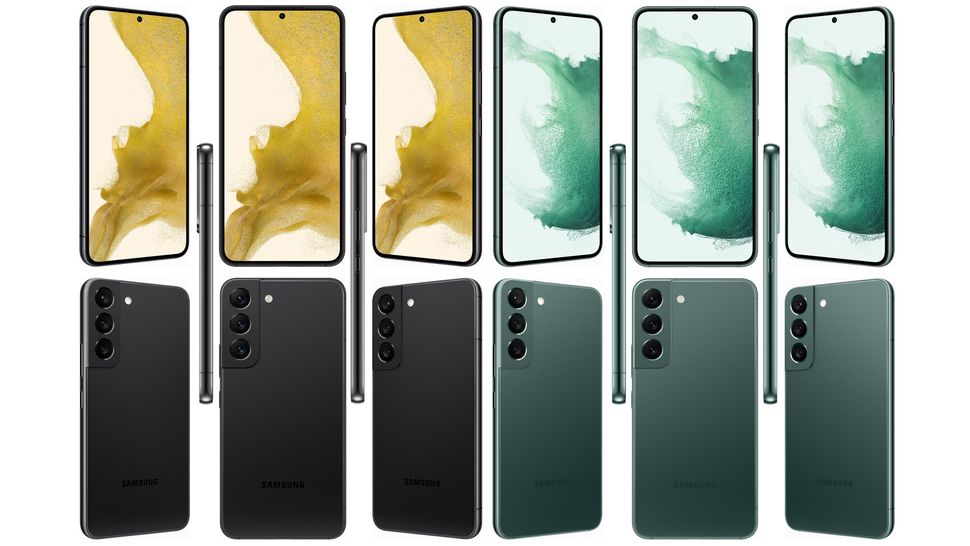 Mere weeks before we expect to see the Galaxy S22 in all of its glory, famed leaker Evan Blass (@evleaks on Twitter) showed off very official-looking renders of all three Galaxy S22 models in their various color options. For the non-Ultra models, we're looking at black, white, pink and a misty shade of green.
Samsung Galaxy S22 displays
The Samsung Galaxy S22 lineup could bring in smaller displays for the standard and Plus models, compared to the Galaxy S21 phones. And that may see the Galaxy S22 save us from oversized phones.
The Galaxy S22's display is predicted to come in at 6.06 inches (down from 6.2 inches on the S21); the S22 Plus could sport a 6.5-inch panel (down from 6.7 inches); and the Galaxy S22 Ultra is expected to be 6.81 inches (the same as the Galaxy S21 Ultra).
However, a new leak from WinFuture has slightly different specs for the displays, putting the S22 at 6.1in not 6.06in and the S22 Plus at 6.6in rather than 6.5in.
Samsung will keep the overall shape of the display the same for the Galaxy S22 and S22 Plus, while the Ultra is set to have the blockier screen design of the Galaxy Note 20 Ultra.
Like the Galaxy S21 series, the S22 phones are all expected to have LTPO panels, meaning they'll be able to scale the refresh rate on its display from 120Hz down to 1Hz. This helps save battery life.
Another rumor claims the Samsung Galaxy S22 Ultra and S22 Plus will sport some of the brightest displays ever, with both phones set to hit a peak brightness of 1,750 nits. That handily beats anything else on the market, including the iPhone 13 Pro Max, and that figure was also backed up in another leak from WinFuture.
Another report also says that the phones managed to cover 100% of the challenging DCI-P3 color gamut, beating the Galaxy S21 Ultra's 81% and the iPhone 13 Pro Max's 77% (from our testing).
Going by the leaks and render image, all three phones are set to use a punch-hole camera cutout in the center top part of the display; it's unlikely the phones will have the under-display camera seen in the Samsung Galaxy Z Fold 3.
Samsung Galaxy S22 cameras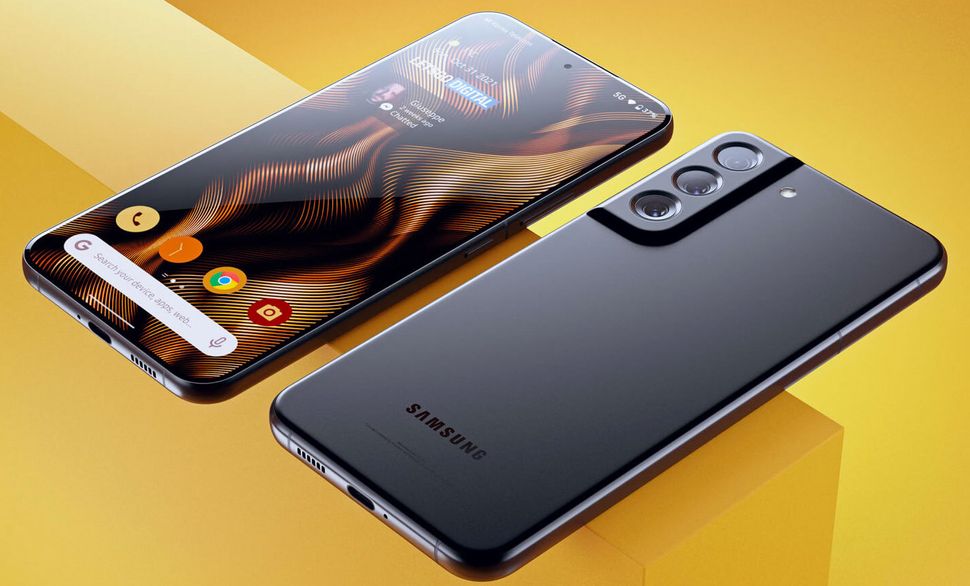 It's looking like the Galaxy S22 and its Plus stablemate are set to get upgraded main and telephoto rear cameras, at least according to reliable leaker Ice Universe.
Apparently, both phones will make use of a 50MP main camera. It could be equipped with a Samsung GN5 sensor that the company unveiled earlier in the year, and that has already been providing impressive results on the Google Pixel 6.
This was lent more weight by a leaker claiming the Galaxy S22 Plus will have a 50MP main camera and have an "Adaptive Pixel" feature, which is claimed to be capable of 12MP pixel-binned photos (when a sensor combines its pixels into larger virtual ones for enhanced brightness and color at the expense of detail), and also 108MP photos, using a "remosaic" mode.
What about the zooming power? One rumor points to the Galaxy S22 offering a 3X telephoto zoom lens with a 10MP resolution. This would be an upgrade over the previous 3x hybrid optical zoom.
Samsung is also reportedly testing the ability to shoot 8K video at 60 frames per second for the Galaxy S22. This would be an improvement over the Galaxy S21 Ultra, which maxes out at 24fps for 8K video. Granted, there are very few people who own 8K TVs, as they are prohibitively expensive. But this upgrade would result in a more future-proof phone.
Around the front, the Galaxy S22 range has been tipped to come with the same resolution sensors as their predecessors; so 10MP for the Galaxy S22 and S22 Plus and 40MP for the Galaxy S22 Ultra. This may seem a bit disappointing, but there's potential for some hardware changes, such as wider apertures.
And Samsung is very likely to have worked to improve the image processing on the software side of its next-gen phones, hopefully reducing over-sharpening or over-smoothing, as well as letting in more light and delivering even colors.
Claimed Samsung Galaxy S22 camera specs

| | Samsung Galaxy S22/Plus | Samsung Galaxy S22 Ultra |
| --- | --- | --- |
| Main sensor | 50MP | 108MP with improved sensor |
| Telephoto | 10MP, 3x optical | 10MP, 3x optical, 10MP 10x optical |
| Ultrawide | 12MP | 12MP |
| Front facing | 10MP | 40MP |
The Galaxy S22 Ultra seems to be the phone to watch when it comes to photography as Ice Universe seemingly tipped a whole suite of specs for the Galaxy S21 Ultra.
While on paper these look very similar to the Galaxy S21, improved sensors and potentially upgraded computational photography could make all the difference. For example, a later Ice Universe tweet claims that there will be an AI enhancement mode for the 108MP camera, helping extract detail from the high-resolution sensor, one that will help boost color and image brightness too. Samsung is touting the low-light features in the Galaxy S22 Ultra camera in advance of the phone's unveiling.
Another leak claims that the 108MP main camera will have a Super Clear Lens. While we don't know exactly what that would mean, it probably indicates that Samsung is taking steps to reduce glare and reflections in photos.
Samsung Galaxy S22 specs
The main chip powering the Galaxy S22 could be the just unveiled Snapdragon 8 Gen 1. In fact, a rumor that circulated before Qualcomm revealed its new chipset claimed that Samsung could be the company to manufacture the new Snapdragon chip.
A benchmark for a Galaxy S22 Plus has been discovered using the next-gen Snapdragon chip. The results don't look too hot compared to currently available phones, but we'd imagine the scores will increase as Samsung does some final tweaking to the phone before launch. For what it's worth, Qualcomm says that the Kryo CPU in the Snapdragon 8 Gen 1 is 20% faster than its predecessor with 30% more power savings. The Adreno GPU is supposed to boost speed by 30% while being 25% more efficient in terms of power consumption.
As for rumors about RAM, the vanilla S22 and S22 Pro may use 8GB RAM and 256GB storage, while the S22 Ultra will have a choice between 12GB and 16GB of RAM, and 256GB and 512GB of storage. One leak says that the Galaxy S22 Ultra will come in 128GB, 256GB, and 512GB options, paired with either 8GB or 12GB of RAM.
Another tipster offers different storage options for the Galaxy S22 models. The Galaxy S22 and S22 Plus would come in 128GB and 256GB versions in this rumor, while the S22 Ultra would include a 512GB version as well. And as we mentioned, there's rumors of a 1TB option for the Galaxy S22 Ultra.
Samsung Galaxy S22: Exynos 2200
Samsung doesn't usually rely just on Snapdragon silicon to power its Galaxy S phones. For flagships released outside the U.S., Samsung has historically turned to its own Exynos chips, and this time, the next flagship Exynos chipset is packing something extra.
The Exynos 2200, as it is called, features a Xclipse 920 GPU which uses AMD RDNA 2 graphics architecture. That's the same tech that happens to underpin the PS5 and Xbox Series X. That's not to say the Galaxy S22 will have the power of the latest games consoles, but it could easily surpass the handsets on our best gaming phones list.
While Samsung has revealed many of the chip's abilities, it hasn't released final performance figures, likely because the chip isn't quite finished despite it having entered mass production. However we can turn back to the leaks to get some indication of the chip's power.
Reliable leaker Ice Universe posted alleged Wild Life results on Twitter of the performance of one Exynos 2200 configuration; the graphics benchmark results showed a score of 8,134 points with an average FPS of 50.3. That's extremely impressive for an Android phone.
Similarly, Geekbench 5 results taken alongside the Snapdragon 8 Gen 1 version of the S22 show that in the multi-core part of the test, the Exynos chip is slightly better. Usually Snapdragon chips outperform equivalent Exynos ones, so this looks great for Samsung buyers in countries like the U.K., where the Exynos Galaxy S models are sold.
In fact, the Exynos 2200 seems nailed on for the Galaxy S22 models slated for Europe, according to a leaker who's posted which regions will feature Samsung flagships with which chips. The Snapdragon 8 Gen 1 will feature in Galaxy S22 models released in North and South America, East Asia and Oceania. It will be a mix of Snapdragon and Exynos chipsets in other parts of the world.
Samsung Galaxy S22 battery and charging
We've heard that Samsung might re-introduce upwards of 65W fast charging with the Galaxy S22. This comes courtesy of known leaker Ice Universe, who claims that Samsung is testing 25W, 45W, and 65W charging.
However, that may not be the case as a newer listing relating to the Galaxy S22 range seen on China's 3C tech regulator website, has the upcoming flagship phone set to stick with the 25W charging of its predecessor.
But this has been refuted by a more recent rumour that has the Samsung Galaxy S22 Ultra tipped to have 45W charging. Another leak has the Samsung Galaxy S22 Plus tipped to have 45W charging as well. Both these rumors seem fairly legitimate and we suspect Samsung will go for a charging upgrade to keep pace with others on our best Android phones list.
Furthermore, the Galaxy S22 could get 25W wireless charging, offering a notable upgrade over the 15W charging the Galaxy S21 range has. That would mean faster charging times, though it might also require you to get a specific stand; that's nothing new as other phones with high-wattage chargers need proprietary docks.
Ice Universe also claims the Galaxy S22 will offer a 3,800 mAh power pack while the Galaxy S22 Plus will use a 4,600 mAh battery — both figures represent 200 mAh downgrades. The Galaxy S22 Ultra is expected to retain the 5,000 mAh size of its predecessor.
However, a new listing supposedly from 3C Certification, China's compliance service for electrical products, has shown what's believed to be the Galaxy S22 Plus and Galaxy S22 Ultra with smaller battery capacities than their predecessors.
The Galaxy S22 Plus could have a 4,370 mAh battery and the Galaxy S22 Ultra could come with a 4,855 mAh battery capacity. That means the batteries may be even smaller than Ice Universe has claimed.
The above has been given more weight by a rumor that the Samsung Galaxy S22 could have a smaller battery than the Galaxy S21. This titdbit noted the Galaxy S22 will have a battery rated for 3,590 mAh, which is hardly a huge capacity for 2021 standards let alone 2022. A certification posted at Safety Korea also corroborated this rumor, after posting a battery alleged to be from the Galaxy S22. That battery had a total capacity of 3.700 mAh, and a usable capacity of 3,590 mAh.
However, we have no way to verify this information. And Samsung may have put prioritization on battery optimization than capacity in order to deliver a solid battery life overall.
Meanwhile, the most recent leak, from WinFuture, puts the S22 at 3,700mAh, the S22 Plus at 4,500mAh and the S22 Ultra at 5,000mAh. In short, exact battery details are one of the biggest remaining mysteries about the S22 range.
Samsung Galaxy S22: What we want to see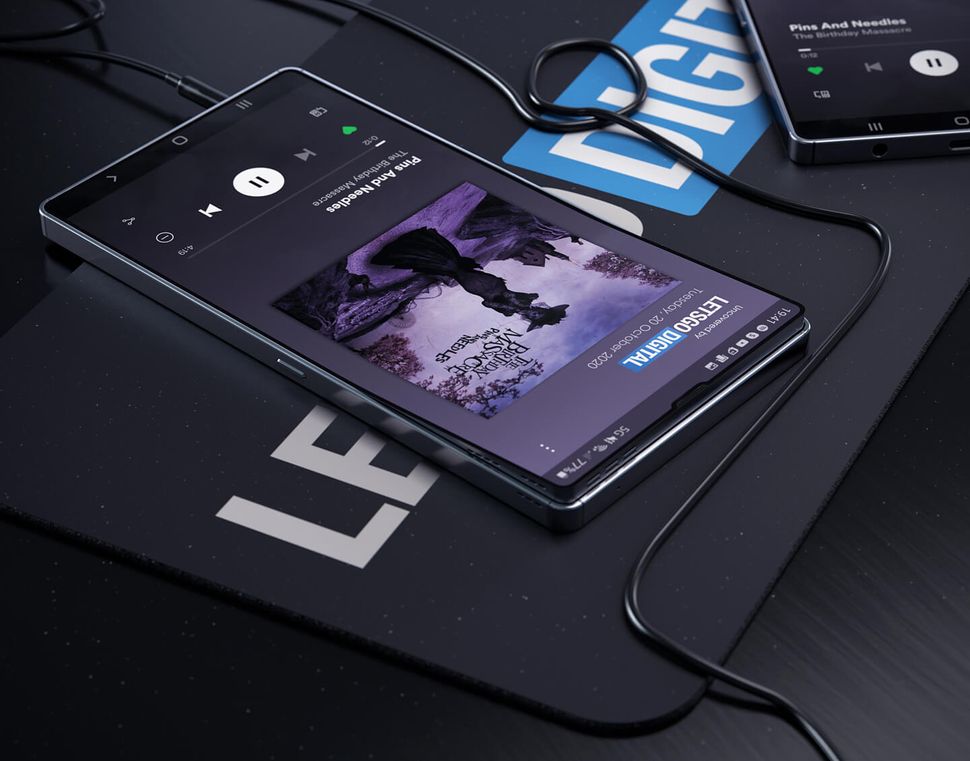 Now that the new year is here and the Galaxy S22 launch is even closer, we've got a wishlist of features we hope Samsung will incorporate. Here are the top 5 rumored Samsung S22 and S22 Plus upgrades we want to see.
A true full-screen design: This is rumored to be coming true so it's not a big ask. We'd like to see a full-screen design for the Galaxy S22 with a front camera that disappears when you don't need it. We'd also like to be able to use apps in full-screen mode without having to dig into settings as you do now with some apps and games.
A sharper display: Samsung dropped the resolution on the Galaxy S21 and Galaxy S21 Plus from quad HD to 1080p, likely in an effort to save cost. But it would be nice if the sharpest resolution wasn't a Galaxy S22 Ultra-exclusive feature this time around.
S Pen support for every Galaxy S22: Right now, only the Galaxy S21 Ultra supports the S Pen as an option, while the Galaxy S21 and Galaxy S21 Plus do not. So if Samsung is serious about adding S Pen support to more devices, providing a digitizer for all three Galaxy S22 models would be welcome.
Faster charging (even if it's not in the box): After offering a 45W charger option on the Galaxy S20 Ultra, Samsung stepped away from that perk for the Galaxy S21 lineup. However, a leak points to Samsung releasing a 65W charger, and we hope that it supports the Galaxy S22 lineup.
Longer battery life: The Galaxy S21's battery life wasn't bad, but it could be better. On the Tom's Guide battery test, the regular Galaxy S21 lasted 9 hours and 53 minutes when web surfing over 5G, but that dipped all the way down to 6:31 with adaptive display mode on.
The Galaxy S21 Ultra fared better, as it endured for 11 hours and 25 minutes in 60Hz mode and 10:07 in adaptive mode. Keep in mind that the the adaptive display on the S21 Ultra is more dynamic, as it can scale down to 10 Hz, as opposed to 48Hz for the S21 and S21 Plus. So it would be nice if Samsung graced the S22 and S22 Plus with the same refresh rate range as the Ultra for its next phones.
Better cooling: Some Galaxy S21 users and reviewers have complained that the Galaxy S22 can run quite warm under heavy workloads or when gaming for longer stretches. So it would be good to see a better cooling solution for the Galaxy S22.
Bring back microSD: The Galaxy S21 saw the removal of the microSD card slot, much to the chagrin of many users and fans. While Samsung didn't provide reasoning for this, we expect it might have something to do with keeping the S21 costs reduced as much as possible. However, that doesn't mean we don't want to see expandable storage come back in the Galaxy S22. Samsung was one of the last bastions of this feature in the flagship market after all.
Samsung Galaxy S22 outlook
Going by all the leaks and rumors so far, the Galaxy S22 and S22 Plus look set to be solid if unremarkable upgrades over their predecessors. That's fine as both are some of the best Android phones you can currently buy.
But the Galaxy S22 Ultra seems to be the phone to watch, given it's set to fill the gap left by the Galaxy Note presumed death. With the potential for a big screen, killer cameras and a whole lot of power, the S22 Ultra could be one of the best camera phones and best gaming phones in one.
We'll have to wait a little longer to see if all these rumors bear fruit, but the S22 Ultra is looking very promising indeed.