Netgear makes some of the best mesh routers we've tested. However, they can also be expensive. Although Prime Day is likely still weeks away, here's one sale I guarantee Amazon won't have.
For a limited time, you can get the Netgear Orbi 960 3-Pack on sale for $1,399 at Netgear via exclusive coupon "TOMS10". That's $100 off and the best price we've seen for this premium mesh router. The coupon can be used on any Orbi 960 Series, 860 Series, or M6 router (whether it's a satellite/router/or bundle). It's one of the best Netgear promo codes we've seen.
Netgear mesh router deals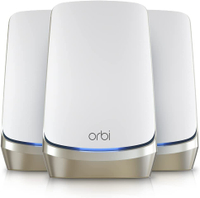 Netgear Orbi 960 3-Pack: was $1,499 now $1,399 @ Netgear
Editor's Choice! The Netgear Orbi 960 (RBKE963B) is quite possibly the fastest mesh-router system on the planet. It's also the most expensive mesh kit around and makes sense only for customers who have gigabit broadband connections and enormous homes. In our Netgear Orbi 960 review, we said it's the best-performing, most capable and secure mesh system available today. Use coupon "TOMS10" to save $100 and knock its price to $1,399. By comparison, Amazon sells it for $1,499.
The Netgear Orbi 960 and 860 Series both hold a spot in our list of the best mesh routers. The 960 is our favorite overall router, whereas the 860 is our top mesh Wi-Fi system for Wi-Fi 6. Both Editor's Choice devices are the best you'll find.
In our Netgear Orbi WiFi 6 (RBK852) review (860 Series), we said it hits the mark for Wi-Fi 6 homes with a mix of good throughput, a dedicated backhaul channel for data from the satellites to the router, and extra online security. Simply put: it's one of the best Wi-Fi 6 routers we've tested.
Meanwhile, in our Netgear Orbi Wi-Fi 6E (RBKE963) review (960 Series) we said it's far and away the best system available today. (And it's high price reflects that). If you can afford it and live in a big enough home, it'll satisfy all of your need for speed.
Remember to use coupon "TOMS10" at checkout to save 10% (up to $100) on these routers (singles and bundles).