Quick Menu
The list in brief
1. Best overall
2. Best performance
3. Best range
4. Best value
5. Best for gamers
6. Best design
7. Best customization
8. Best for smart homes
9. Best on a budget
How to choose
How we test
The best Wi-Fi 6 routers provide a significant upgrade over older Wi-Fi routers with excellent speeds and a strong Wi-Fi signal. They also come in two varieties: Wi-Fi 6 routers and Wi-Fi 6E routers.
To determine which Wi-Fi 6 and Wi-Fi 6E routers made this list, we put them all through extensive real-world testing but we also used networking benchmark software like iXChariot and iPerf3. We tested each of these routers at 5, 50, 75 and 100 feet to measure both their range and throughput.
While a Wi-Fi 6 router will improve the speed of your home network, a Wi-Fi 6E router will give you even better download speeds with less network congestion. This is because Wi-Fi 6E adds a third 6 GHz band that's dramatically faster, albeit at a much shorter range. We've rounded up the best Wi-Fi 6 and Wi-Fi 6E routers for apartments as well as both small and large homes with all of the features you need to completely upgrade your home network.
The quick list
Below you'll find everything you need to know at a glance about the best Wi-Fi 6 and Wi-Fi 6E routers. Whether you need a mesh Wi-Fi system for a larger home or a traditional router for an apartment, there's something here for every budget. More expensive Wi-Fi 6E routers are at the top while cheaper Wi-Fi 6 routers are at the bottom of this list.
Load the next 3 products...
Best customization
The best Wi-Fi 6 router for customization
The Asus RT-AX86U is a dual-band router that's reasonably priced and highly customizable. At the back, there's a gigabit as well as a 2.5G WAN port, four gigabit Ethernet ports and two USB 3.0 ports. The RT-AX86U has a range of 95-feet and it reached speeds of 929 Mbps at 15 feet in our tests.
Best for smart homes
The best Wi-Fi 6 router for smart homes

The Eero Pro 6 is a tri-band mesh Wi-Fi system with a built-in Zigbee radio to connect all of your smart home devices but you can also use an Echo Dot as a mesh extender. It only has two gigabit Ethernet ports at the back but is relatively small and can easily be placed on a table or desk. The Eero Pro 6 delivered 438.2 Mbps at 15 feet in our tests with a range of 105 feet.
Best on a budget
The best Wi-Fi 6 router on a budget
The Reyee RG-E5 is an inexpensive dual-band router that's very compact. It has a gigabit WAN port along with four gigabit LAN ports at the back and a button at the top makes it easy to add it to a mesh network. The RG-E5 reached speeds of 849 Mbps at 15 feet in our tests with a range of 100 feet.
The best Wi-Fi 6 routers you can buy today
The best Wi-Fi 6E router overall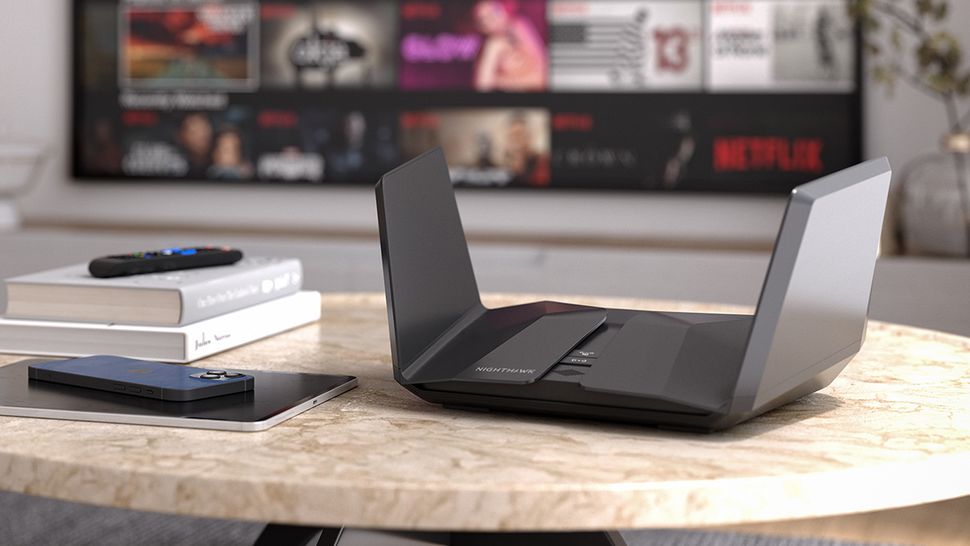 The Netgear Nighthawk RAXE500 was the first Wi-Fi 6e router to hit the market, and the results are mind-blowing. By adding a 6-GHz band to the already impressive capabilities of Wi-Fi 6, the Nighthawk RAXE500 delivers category-leading performance.
With an AXE11000 rating, the tri-band device more than lives up to the hype by delivering nearly 2.5 Gbps of real-world data. Add this to the slick design and highly customizable configuration options, and the Netgear Nighthawk RAXE500 becomes one of the best routers we've ever reviewed, and possibly the fastest.
By adding access to a slew of new data-delivering channels in the 6-GHz spectrum, the tri-band Netgear Nighthawk RAXE500 takes the lead as the first high-performance Wi-Fi 6e router. While it's best at close quarters and is quite expensive, the RAXE500 is worth every penny if you have the need for speed.
Read our full Netgear Nighthawk RAXE500 review.
The best Wi-Fi 6E router for performance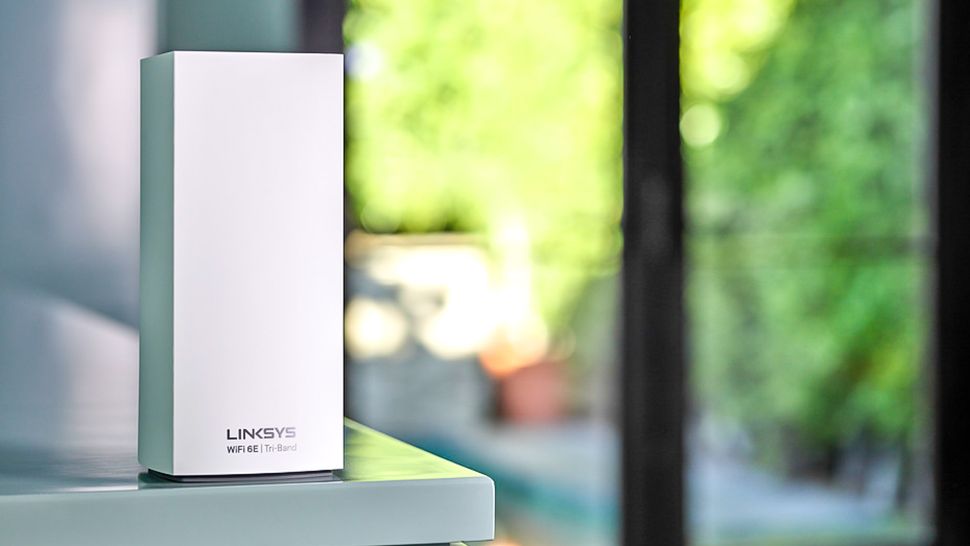 The Linksys Atlas Max 6E was the first mesh Wi-Fi router we tested that beat the Netgear Orbi Wi-Fi 6E (RBKE963) in terms of overall throughput. At 15 feet, the Atlas 6E had a throughput of 1.189 Gbps of data, which stayed strong at 25 feet (1.008 Gbps), before dropping to 382.2 Mbps at 50 feet.
Each Atlas Max 6E device has 12 amplified antennas, one 5Gbps WAN input port, four downstream gigabit LAN ports and a USB 3.0 port for attaching a storage device. Just as significantly, each can be configured as the host router or satellite during setup. We also like the fact that it comes with a three-year warranty and lifetime support, which blows away the competition. Also, if the Linksys Atlas Max 6E is too bulky or too expensive for you, it might be worth considering the Linksys Velop AX4200 instead.
Read our full Linksys Atlas Max 6E review.
The Best Wi-Fi 6E router for range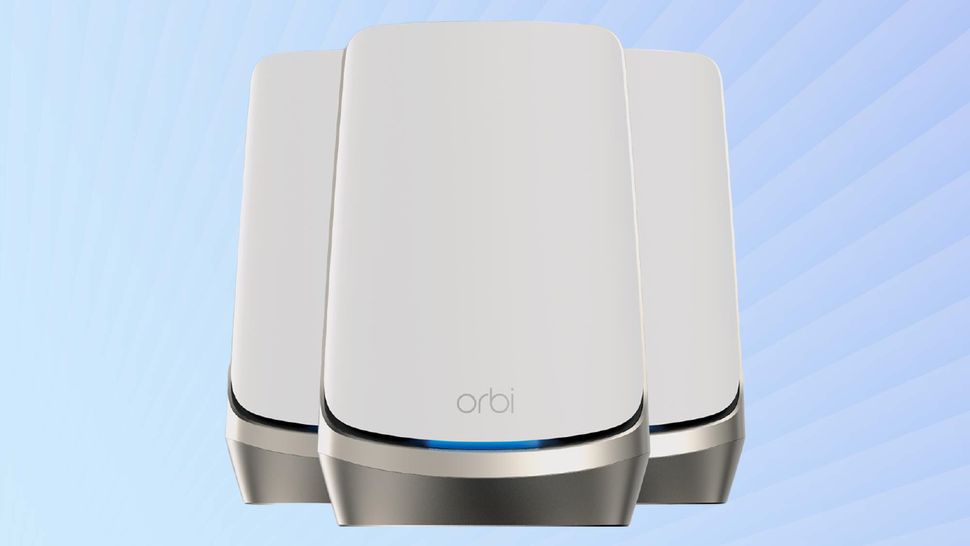 Easily the fastest mesh-router system on the planet, Netgear's Orbi RBKE963 is also the most expensive. But if you have money to burn, a gigabit broadband connection and an enormous house, this is the mesh system for you.
The RBKE963 can cover up to 9,000 square feet; add a third satellite and you can go to 12,000 square feet. At a distance of 15 feet, the router's 6-Ghz channel delivered throughput of more than a gigabit, the first mesh router to do so in our tests.
Each unit has 12 antennas and four Ethernet ports (one rated at 2.5 Gbps), and the system creates channels on the 2.5, 5 and 6-Ghz bands, plus a fourth 5-Ghz one for backhaul between units.
Netgear offers trial subscriptions to its Armor security software, which includes Bitdefender antivirus, and parental controls. You'll also have to pay for tech support after 90 days.
But if you can afford to pay for this mesh system, you won't mind. If not, the Wi-Fi 6-based Orbi RBK863SB makes for a worthy alternative.
Read our full Netgear Orbi WiFi 6E (RBKE963) review.
The best value Wi-Fi 6E router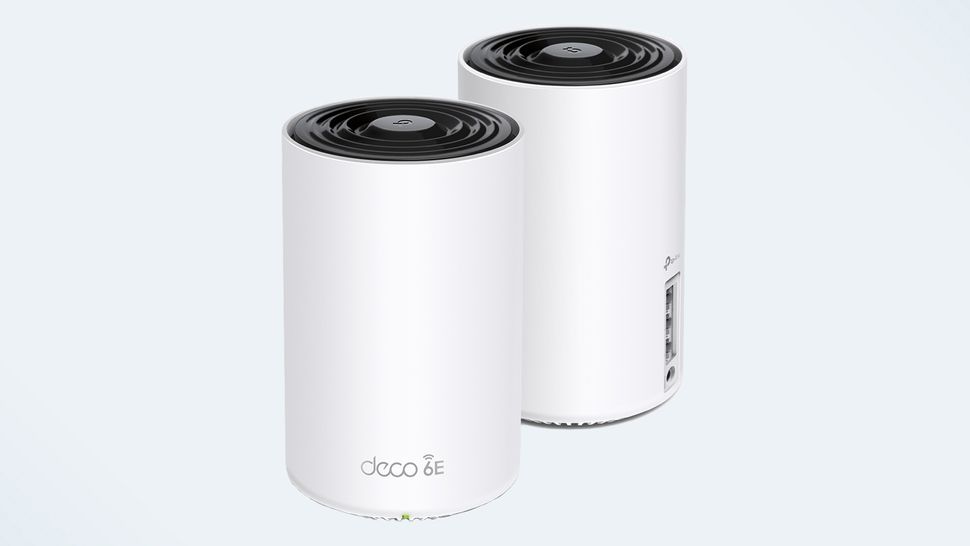 The Deco XE75 from TP-Link is available in either two-packs or three-packs and this mesh router system provides an inexpensive way to create a Wi-Fi 6E network that can fill your whole home with Wi-Fi. Each of the two (or three) nodes can act as either a satellite or a router and they all have three Ethernet ports that can be used to hardwire devices or as a wired access point.
In our testing, the Deco XE75 had excellent data flow through walls, clause up and at middle distances with a throughput of 1.220 Gbps at 15 feet. While you can use the 6GHz band to connect newer computers and phones, you can also use it for wireless backhaul between the unit designated as the router and the satellites. One downside to the XE75 is that its Ethernet ports only support 1Gbps which is why TP-Link just released the Deco XE75 Pro which features a 2.5G Ethernet port for multi-gig connections.
Read our full TP-Link Deco XE75 review
The best Wi-Fi 6E router for gamers
The Asus GT-AXE11000 is a Wi-Fi 6E gaming router that delivers excellent speeds, killer gaming features and awesome customization options. This tri-band gaming router also uses seven high-performance 160MHz data channels in the 6Hz band to help distribute a lot of data to nearby devices.
At the back of the GT-AXE11000 you'll find a 10G and a 2.5G WAN port, four gigabit LAN ports, a USB 3.2 Gen 1 x 1 port and a USB 2.0 port to connect all of your wired devices and even to transfer data from a hard drive across your home network. There's also Asus' built-in AiProtection security software to keep everyone and everything on your home network safe online.
In our testing, the GT-AXE11000 was able to reach a maximum speed of 2.96 Gbps at 15 feet with an overall range of 85 feet. It's dedicated gaming features are nothing to slouch at either. If you want a powerful gaming router that's futureproof thanks to its multi-gig ports, the GT-AXE11000 should be your first choice.
Read our full Asus GT-AXE10000 review.
The best Wi-Fi 6 router design
The Orbi RBK863SB picks up where the the Orbi RBK852 left off and features improved performance as well as a new all-black color scheme which is sold exclusively through Netgear's website.
There's also an innovative new antenna design that we found helped boost mid-range Wi-Fi 6 performance during our testing with speeds of up to 547.7 Mbps at 50 feet with a total range of 90 feet. Netgear has even added the ability to create a separate networking channel just for your smart home devices which can be really useful.
Netgear also provides its built-in Armor security software with the Orbi RBK863SB for free for one year. However, after this trial period expires, it costs $100 annually. As for ports, there isn't a USB port for sharing data across your network but there is a 10 Gbps WAN port as well as four gigabit Ethernet ports. Like the other devices in Netgear's Orbi line, the Orbi RBK863SB is quite expensive at $1,100 for a three-piece kit but if you have a large home you want to fill with a strong Wi-Fi signal and want excellent performance, this mesh Wi-Fi system just might be for you.
Read our full Netgear Orbi RBK863SB review.
The best Wi-Fi 6 router for customization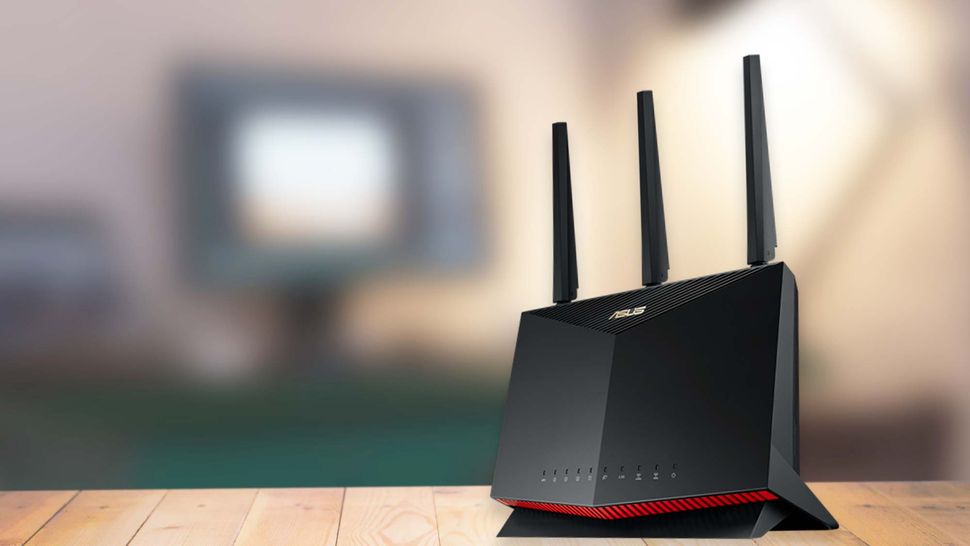 The Asus RT-AX86U is a Wi-Fi 6 powerhouse that delivers great speeds and killer gaming features, as well as awesome customization options, all for under $300. With high-end performance and lifetime protection against intrusions and malware, it's also a great option for securing your entire home network, providing long term protection without a subscription fee, and carrying a two-year warranty.
But the real draw of the Asus RT-AX86U is the performance, which approaches the the magical 1-Gbps mark to provide speedy and effortless connectivity for all of your devices.
With excellent range and great performance — even through walls and between floors — the RT-AX86U is equal parts general-use router and elite gaming router, and the collection of features and ports it offers are a steal compared to some of the top-performing gaming gear. If you want the best Wi-Fi 6 router for the whole household, the Asus RT-AX86U is it.
Read our full Asus RT-AX86U review.
The best Wi-Fi 6 router for smart homes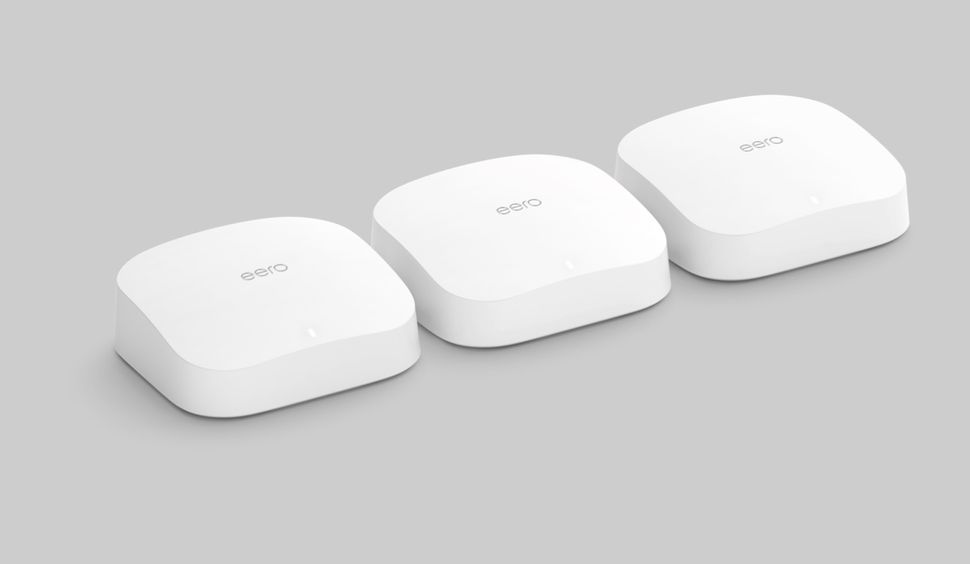 The Eero Pro 6 combines tri-band Wi-Fi 6 networking with a mesh setup that's quicker and easier than pretty much any mesh system we've reviewed, making it the best way to get great performance throughout your home without much hassle. With a single unit covering 2,000 square feet with reasonably fast Wi-Fi, the three-pack Eero Pro 6 will blanket up to 6,000 square feet with ease — and we set up the three-piece system in about 11 minutes.
It may not have the highest throughput, but the Eero Pro 6 mesh kit does well at mid-range distances where others peter out, is quick to set up and automatically adjusts just about everything.
If you want granular customization, then tools like band steering, local DNS caching and home automation tools, it's got those, too. But the Eero Pro 6 does it's best when it lets you set it and forget it, giving you speedy Wi-Fi 6 without the hassles.
Read our full Eero Pro 6 review.
The best budget Wi-Fi 6 router
The Reyee RG-E5 is a real bargain for a Wi-Fi 6 router that can cover 3,000 square feet. It can also become the center of a mesh network when paired with other Reyee gear and there's even a one-touch button to simplify the setup process. However, the Reyee RG-E5's budget price means this router lacks things like extra security software, port aggregation and a USB port for connecting storage devices to your network.
At its rear the Reyee RG-E5 has four gigabit Ethernet ports while the eight flipper antennas at the top of the device can be adjusted for a better signal. In our testing, the router was able to deliver 849.2 Mbps at 15 feet though it has a range of 100 feet. If you want to upgrade to Wi-Fi 6 without breaking the bank, this is the router to get.
Read our full Reyee RG-E5 review.
How to choose the best Wi-Fi 6 router for you
Choosing the best Wi-Fi 6 router isn't that different from shopping for any other networking product. Although the complicated jargon can be confusing, there are really only two significant questions that need to be answered.
First, what speed do you need for your internet use and devices? Second, what sort of coverage do you need for your home?
Speed: Wi-Fi 6 is good for high-speed connections as the newer standard offers higher throughput than the previous 802.11ac standard. It's also especially well-suited to gigabit-speed internet plans which may be available in your area.
However, even average broadband speeds will benefit from Wi-Fi 6 as the standard offers better efficiency for sharing bandwidth among many devices.
Compatibility: Similarly, you'll get the most out of Wi-Fi 6 by using newer Wi-Fi 6-equipped devices. While the standard is backwards compatible and should work with every older Wi-Fi-connected device you own, some of the features, like improved battery life for connected devices, will only work when both your router and your connected devices have Wi-Fi 6 capability.
Most new laptops, desktops, smartphones and tablets now include Wi-Fi 6 while a few even support Wi-Fi 6e which makes a Wi-Fi 6 router the best way to futureproof your home network.
Coverage: The other question is coverage area or how far and wide your Wi-Fi signal will travel. A basic standalone router will usually be sufficient for an apartment or smaller home with ranges of 50 to 100 feet being common.
Larger homes though, with 3,000 square feet of space or more, will benefit from a mesh system that pairs a base unit with satellite extensions that can be placed throughout the house.
These extensions stretch the reach of your Wi-Fi signal to cover even a large home though they can also be expanded as needed with additional units. (Learn more in our article What is a mesh Wi-Fi router, and do you need one?)
Gaming: One other consideration is gaming. The last thing you want is to have your gaming session slowed down or even interrupted by your network connection.
Gaming routers provide all of the same capabilities of a standard router but are optimized specifically for gaming. They reduce interruptions, help eliminate lage and usually offer advanced controls for customizing how data is used among the different devices in your home. (Check out the best gaming routers for more details and our favorite models.)
Price: Finally, the biggest factor in many people's purchasing decisions isn't specific features or capabilities, but price. While Wi-Fi 6 products are still notably more expensive than older standards, there are a handful of budget-friendly options out there and even a few with Wi-Fi 6e.
Though many Wi-Fi 6 products cost $300 or more, there are options in both standalone and mesh devices with more affordable prices. While these do offer many of the benefits of Wi-Fi 6, they will often do so with more modest device handling and less impressive coverage. Still though, a solid Wi-Fi 6 standalone router can be had for under $150 and a mesh system can be found for under $300.
How we test the best Wi-Fi 6 routers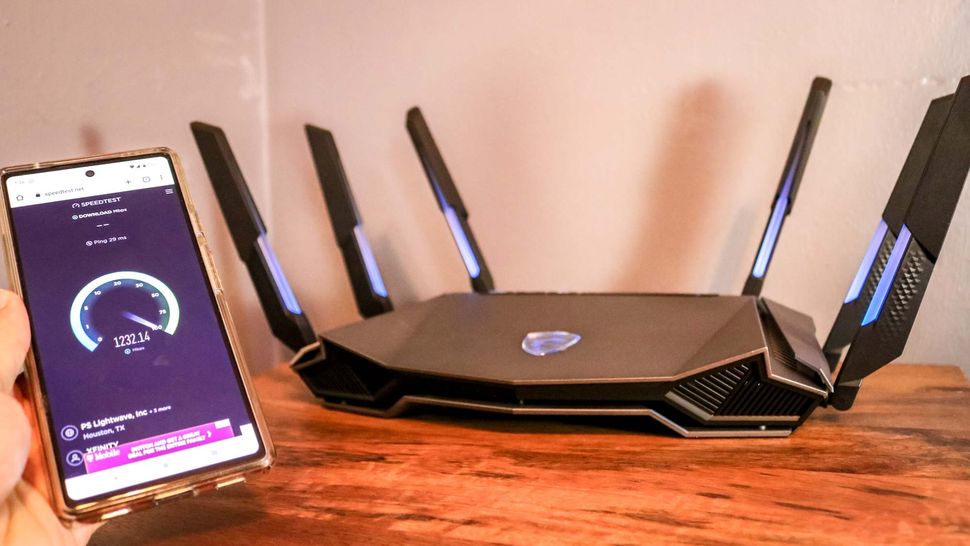 We test every router we review to measure their performance and range, in addition to hands-on use to evaluate their setup process and the quality of their settings and features.
Throughput describes how much data a router can move back and forth over its wireless connection. Higher throughput will serve you better in data-heavy use cases like streaming video, gaming or connecting multiple devices at once.
We measure throughput using IXChariot, first at a 5-foot distance without obstructions in order to gauge the maximum amount of data a router can move. We then measure how much data a router can move at 50, 75 and 100 feet, so that you can choose the best model for smaller homes and apartments where short-range performance is more of a priority.
We also test performance through walls and ceilings to determine how well a router can provide a signal when dealing with Wi-Fi dampening conditions which are common to many buildings and homes.
For mesh routers, we perform additional testing to determine how well the mesh system does when it comes to sending a signal through both the main router and its satellite units.
Following our throughput tests, we also put the router through real-world tests by connecting a number of devices – laptops, TVs, smartphones and tablets — and stream several games, TV shows and movies simultaneously to see how well a router performs under strain.
For more information, check out our how we test page for Tom's Guide.
Next: When and when not to use a Wi-Fi extender — and what to do instead.
Check out all of our home networking coverage:
Best Wi-Fi routers | Best mesh routers | Best gaming routers | Best Wi-Fi extenders | Best powerline extenders | Best cable modems