Since we've been tracking prices, there's been one consistent Cocoon by Sealy mattress sale: 35% off the full range. You can ignore that countdown clock on the brand homepage, you're never going to have to pay full price. We also have an extra promo code for you: enter discount code EXTRA25 at checkout and you can knock an additional $25 off your purchase. You'll also get up to $199 of pillows and sheets thrown in for free.
We have some good news for you: while the rest of the mattress market is putting up its prices, the MSRP of the Chill Memory Foam model has actually dropped (as of summer 2023). Right now, this mattress is the cheapest we've ever seen it. If you opt for a queen size, the 35% off deal will knock the price down to $699 (which is $100 cheaper than the previous sale price), and the extra $25 off means you'll only pay $674. The Labor day mattress sales are coming up, but we aren't expecting prices to drop further, based on Cocoon's previous deals habits.
In our Cocoon by Sealy mattress review, we were super impressed with this mattress' phase-change cover, which kept our testers at the perfect temperature throughout the review period. This mattress sleeps cooler than any other memory foam mattress in this price bracket, earning it a coveted spot in our best mattress ranking. Let's take a closer look at the best Cocoon by Sealy mattress sales and deals to shop today.
The best Cocoon by Sealy deals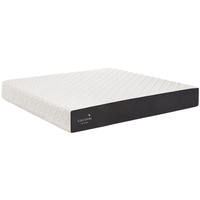 Cocoon Chill Memory Foam mattress: was $619 now from $374 with code EXTRA25
The standard Cocoon sale knocks 35% off all sizes of the Chill mattress, and you can knock an extra $25 off by entering the code EXTRA25 at the checkout. A drop in MSRP means this is the cheapest price we've ever seen on this mattress, and free sheets and pillows amp up the value further. The Chill stands out by sleeping impressively cool for an all-foam mattress, with phase-change material that quickly absorbs then dissipates body heat. It's also far cheaper than most dedicated cooling mattresses, making it the perfect choice for warm sleepers on a tight budget. For maximum breathability, though, take a look at the Chill Hybrid below.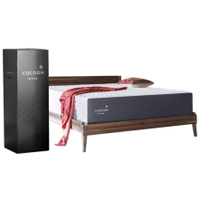 Cocoon Chill Hybrid mattress: was $839 now from $514 with code EXTRA25
The Chill Hybrid adds a layer of springs compared to the all-foam model above. There's 35% off, a free bundle of sheets and pillows, and if you pop the code EXTRA25 in at checkout, you'll take the price down by a further $25. The springs give somewhere for air to circulate, so this version will be more breathable than the all-foam model, and it's slightly firmer, too. We'd recommend the Chill Hybrid to very hot sleepers, or back or stomach sleepers who need that bit of extra spinal support. It alleviates pressure on your hips and back, and absorbs motion transfer, which is a must if you share your bed with a restless sleeper.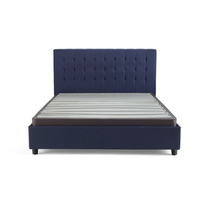 Cocoon Foundation: was $299 now from $224 at Cocoon by Sealy
There's $50 off the Cocoon bed foundation, plus an extra $25 with code EXTRA25. The perfect partner for your Chill mattress, this simple foundation can be assembled in three steps. Cocoon describes it as being 'better than a box spring'. This isn't a flashy bed, but it's built to support either Chill mattress so that you sleep soundly. The Cocoon Foundation is made from spruce with a fabric finish, and is covered by a 5-year limited warranty.
Which Cocoon mattress should you choose?
Cocoon by Sealy offers two mattresses, both available in medium-soft and extra firm. The Cocoon Chill is the brand's memory foam mattress designed with a stretch-knit cooling cover that absorbs and disperses heat. The all-foam Chill replaces the Cocoon Classic, which was fairly similar in design but lacked the premium cooling cover.
Next up is the Cocoon Chill Hybrid, which is the brand's flagship mattress. This is a 12-inch deep hybrid that sandwiches together Perfect Fit Memory Foam (for proper spinal alignment) and premium coils.
As this uses premium materials and has the highest level of support and cooling, the Cocoon by Sealy Chill Hybrid is the most expensive in the range. But compared to other cooling hybrids, it's still affordable at $1,099 for a queen size when on sale.
If you find yourself overheating during sleep, Cocoon also makes a range of cooling sheets and pillows – you'll sometimes get these bundled in for free with your Chill mattress purchase. Plus, you can pick up a specially designed Cocoon foundation, which has been engineered to support all Cocoon by Sealy mattresses. You won't find Cocoon in our best mattress toppers guide though, as the brand doesn't make any at this time.
More of today's best Cocoon by Sealy prices
The Chill is Cocoon by Sealy's all-foam mattress option. Built from Certi-PUR memory foams to provide both comfort and support, and wrapped in a cooling cover, it's a great combination of luxury and value.
That cover is probably what'll draw you to the Chill, as it does a fine job of dissipating the uncomfortable heat that many people struggle with in bed. It's made from a proprietary 'phase-change' material, which helps to keep you cool, and if you're prone to overheating at night it should be a godsend.
The Chill is available in medium-soft or extra firm, meaning that whatever your preference, there's an option that'll provide both comfort and support – so if you're after a US-made mattress in a box that'll make sure you don't wake up in a sweat, it's the perfect choice.
The Cocoon Chill Hybrid Mattress is the newest addition to the family, and is now the flagship model in the Cocoon by Sealy range. It's a full-blooded hybrid mattress yet costs significantly less than many of its competitors. Without a sale or discount, you can pick up a twin size for $1,139, with a queen size normally costing $1,699.
The big draw with the Cocoon Chill Hybrid is that it offers more cooling power than the all-foam Chill. So if you have more budget to spend and sleeping hot is by far your biggest challenge, it's worth considering the Hybrid over the other Cocoon models.
There are over 300 user reviews of the Chill Hybrid on the Cocoon site, with an average rating of 4.7 out of 5. Most users rate its pressure relieving abilities and how cool it is to the touch. It's slightly deeper at 12 inches compared to the all-foam Chill's 10-inch depth and marries a premium grade memory foam with coils. This should deliver consistent support, comfort and a little bounce where you need it.
Much like the Chill, Cocoon's Classic mattress is made of memory foam and is built in the USA. At full price, a queen-size Classic costs $440 less than the Chill when it's not on sale, so if you're looking for a budget mattress, the Classic is worth considering for as long as Sealy continues to sell it.
While it does lack the cooling tech of its pricier siblings, very few customer reviews note that they found the bed too warm. And, as with the Chill, you'll get free delivery and a 100-night trial to see if it's right for you. After that, you have a 10-year guarantee backing you up, so you know the Cocoon by Sealy mattresses are built to last.
Do I need an Cocoon by Sealy promo code?
Thankfully, all of these Cocoon by Sealy promo codes are automatically applied at checkout, so there's no need to start hunting around for coupons. Just pick what you'd like to purchase, add it to your basket, head to the checkout, and bam – discount applied.
Cocoon by Sealy Black Friday mattress deals in 2022: What we expect
Last year, the best Cocoon by Sealy Black Friday deal was pretty good: 25% off the company's premium Chill mattress, plus two free pillows and free sheets (worth $179). That meant there was a discount of up to $287.50 on a king-sized Chill mattress, taking the price down to $862.50 (was $1,150). If you were looking for a queen size Chill mattress, the price dropped to $697.50, down from $930; while the twin had a healthy $150 discount, taking the price to $450 (was $600).
That was a marked improvement on the 2018 Cocoon by Sealy Black Friday and Cyber Monday deals, which weren't quite as generous. Then, we saw a flat $100 off any mattress, plus free sheets and pillows.
So what do we predict for Black Friday 2022? Well, we're expecting better mattress deals and Black Friday mattress topper deals than last year across the board. We think this year's Cocoon by Sealy Black Friday and Cyber Monday mattress deals will cut 35% off the price of the Chill mattress - and if we're really lucky, the company might give away two free pillows and free sheets (worth $179) with every order too.
In fact, we've already seen a 35% Cocoon by Sealy discount this year, in the summer sales, so there's a very high chance this deal will return. We had predicted that prices would start from just $386.45 for a twin for Black Friday - but because the price of a twin has gone up recently, we've revised that to $470.18. We still think a king size could drop as low as $740.70 though - that would be a huge saving of $400.
Could the offers be even better? Well, the mattress market is extremely competitive at the best of times, but given the economic downturn following the global pandemic, mattress companies will be doing everything they can to encourage people to spend with them. So yes, there's a fair chance we might see the best Cocoon by Sealy Black Friday deals ever in November this year. Whatever happens, you'll find the biggest discounts here, first, so bookmark this page and make sure you keep checking back.
When else can I find a good Cocoon by Sealy sale?
Thankfully, Cocoon isn't shy of a sale or two, and all-year round we've seen great discounts dropping – so there's no need to wait for Black Friday if you need a new mattress right now. For the best discounts, it's worth checking in around Labor Day, Memorial Day, 4th of July and the height of summer.
Also, we don't tend to see a huge variation between the Cocoon by Sealy sales throughout the year, so if you're settled on a Cocoon mattress, we'd advise bagging the Chill in the summer sale while you can. Otherwise, when you're ready, just head back here to find the best Cocoon by Sealy promo codes, deals and sales – you'll find the best prices on this page.
Read more: