If you're heading out of town for the holidays, investing in one of the best outdoor security cameras could give you a little peace of mind while you're on the road. That's because you can use them to keep tabs on what's going on around your house, and get alerts when they detect something.
Best outdoor security cameras: Jump links
We've divided this guide into a few sections: Outdoor cameras without built-in lights, cameras with spotlights, and cameras with floodlights. (If you're looking for indoor cameras, check out our best home security cameras page.) The former tend to be more compact, while the latter are ideal if you want to replace an existing floodlight or spotlight.
All of these cameras have been tested in real-world conditions to see how they stand up to the elements, how well they illuminate in the dark, and how well they capture people, animals, and more. And many are on sale, so be sure to check out our Black Friday deals and the best Ring Black Friday deals for discounts on some of the top models.
Security camera deals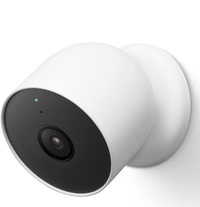 Nest Cam (battery): was $179 now $119 @ Amazon
Our favorite outdoor camera is currently 33% off in this Prime Big Deal Days sale. It offers excellent video quality, is easy to mount, and can store up to three hours of video locally.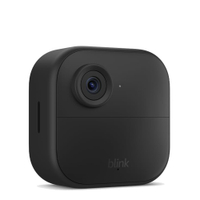 Blink Outdoor 4: was $119 now $71 @ Amazon
Blink's newest outdoor camera offers improved video, as well as the ability to get alerts for people only, which cuts down on your notifications. It still has excellent battery life — up to 2 years — and you can store video locally.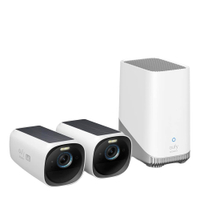 eufyCam 3: was $549 now $379 @ Amazon
Our favorite subscription-free camera is currently 31% off. This camera delivers 4K video, has a built-in spotlight, and a solar panel, so you don't need to recharge it as often. It saves video locally, and best of all, there's no recurring fees for things like person detection.
The quick list
Load the next 3 products...
Best floodlight cam
7. Nest Cam with Floodlight
Best floodlight cam
It's our favorite outdoor camera, only with the added benefit of two powerful 2400 lumen floodlights. However, like most of its ilk, it needs to be hardwired to work.
Best cheap floodlight
Best cheap floodlight
Wyze took its excellent Wyze Cam v3 and added a pair of adjustable 2600 lumen LEDs. You'll need a subscription to get the most out of it, but like the camera itself, it's cheaper than the competition.
Best battery floodlight
9. Arlo Pro 3 Floodlight Cam
Best battery floodlight cam
Unlike most other floodlight cams, the Arlo Pro 3 Floodlight runs on battery power alone, making it easier to set up. However, you can't move its lights around independently.
The best outdoor security cameras you can buy today
These cameras are best for outdoor areas that receive a good bit of light both day and night — for example, a porch where there's an overhead light. However, plenty of these cameras will also work in the dark, as they have infrared lighting or color night vision built in.
Best overall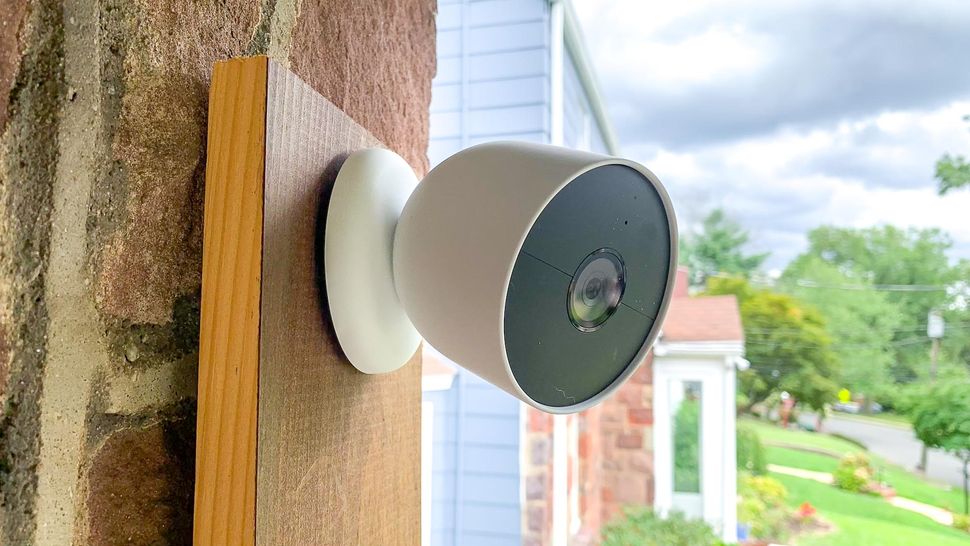 The well-designed Nest Cam (battery) has a simple shape and is one of the easiest home security cameras to install, thanks to its magnetic base. It's weatherproof, so it can be mounted just about anywhere outside. Its 1080p camera captures sharp images day and night, and its microphone and speaker made conversations a breeze.
The Nest Cam (battery) also offers three hours of rolling video storage for free, as well as person, vehicle, and animal detection. If you sign up for a Nest Aware subscription (starting at $6/month), you also get familiar face detection as well as the ability to store up to a month's worth of video. However, while it has good battery life, Nest does not make any accessories to extend it, such as a removable battery or a solar panel.
Read our full Nest Cam (battery) review.
Best budget wireless outdoor camera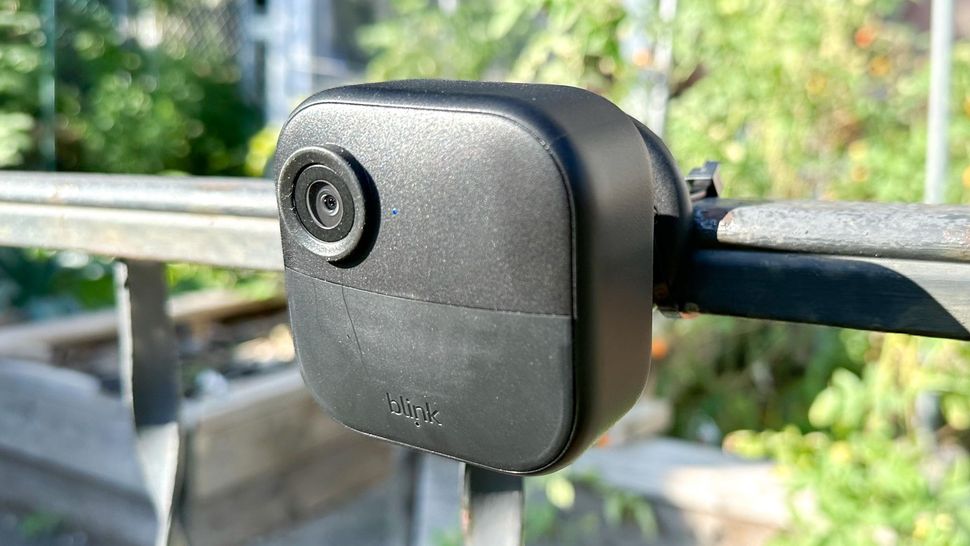 The Blink Outdoor 4 is the best outdoor security camera for those who want a truly wireless option for around $100. The camera runs off two AA batteries (which should last up to two years), and communicates wirelessly with a small base station that's connected to your Wi-Fi network. Compared to the previous generation, the Blink Outdoor 4 has much better night vision, a wider field of view, and comes with person detection — provided you sign up for a subscription.
The Blink Outdoor 4 is weatherproof, and comes with a convenient mounting bracket. While not tops — both Nest and Arlo deliver better images — the 1080p video it records is good for the price. While it lacks free cloud storage, you can save videos locally to a USB drive. Cloud storage starts at $3/month or $30/year. Blink's app is fairly robust, and while it doesn't have all the bells and whistles of more expensive cameras, it has plenty of features for the price.
Read our full Blink Outdoor 4 review.
Best subscription-free camera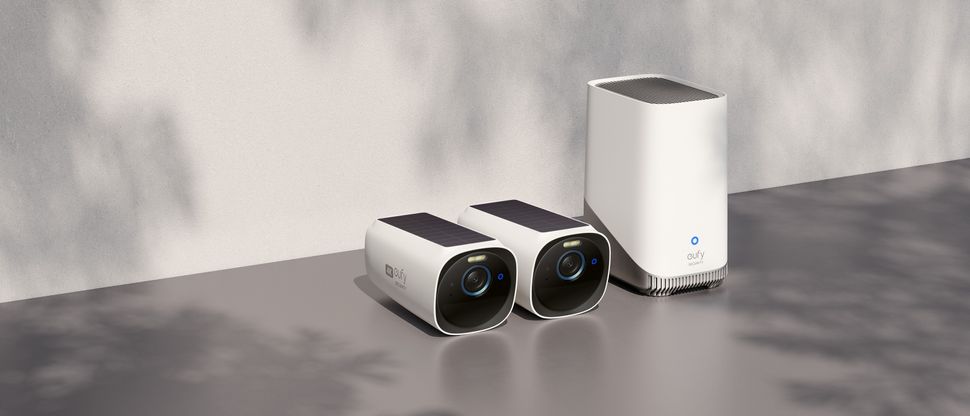 While the EufyCam 3 has a high upfront cost — $549 for two cameras and the base station — you can make it up on the back end, as you don't need to sign up for a subscription to store video. But that's not all that impressed us; the EufyCam 3's 4K resolution was sharp and clear both day and night, and the massive battery and built-in solar panels meant we never had to recharge or replace the batteries, even after months of use.
The AI built into the cameras can be trained to recognize familiar faces, as well as vehicle and pet detection. It also works with Alexa and Google Assistant. Video is saved locally on the HomeBase 3, which has 16GB of storage built-in; however, you can increase its storage capacity all the way up to 16 TB using a 2.5-inch HDD or SSD.
A wireless 4K security camera that never needs to be recharged and doesn't require a monthly subscription? That's a winner in our book.
Read our full EufyCam 3 review.
Best spotlight cameras
These cameras have small built-in spotlights, which are good at providing a bit of illumination in a small area. However, the range of the lights isn't very effective beyond a range of around 10 feet.
Best spotlight cam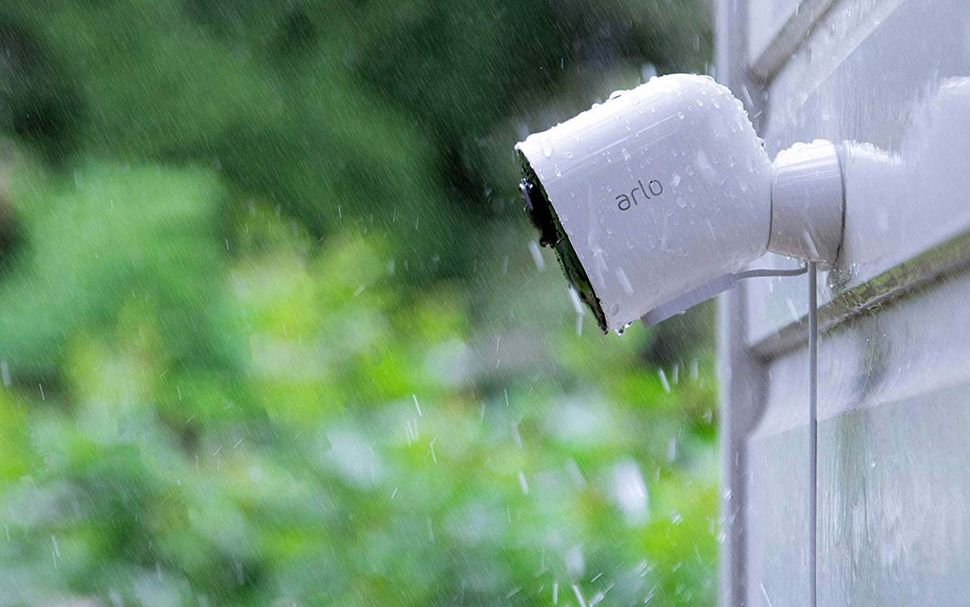 The Arlo Ultra is the best outdoor security camera if price is no object. Not only does it deliver the best video quality, but it also uses that extra resolution to enable digital track and zoom, which makes it easier to follow and ID a person as they move across the frame. A built-in spotlight also enables color recording at night, and it has dual microphones for better audio.
The Arlo Ultra run on battery power alone, but it can be wired if there's an outlet nearby. Arlo also sells a solar panel for $80, which should help to keep the battery charged longer.
All of this will cost you, though: A single camera (with the hub) is $399, and extra cameras are $299 each. The Arlo Ultra doesn't come with a free tier of cloud storage, so you have to spend at least $3 per month if you want to save any videos. And if you want to save 4K videos, it's an extra $1.99 per camera per month, on top of the monthly plan, the latter of which is waived for the first year. But if you want the absolute best when it comes to video quality, the Arlo Ultra is it.
Arlo has come out with the Arlo Ultra 2, which has better Wi-Fi, so you should be able to place the cameras further from the base station.
Read our full Arlo Ultra review
Best budget spotlight cam
While it's the same size as the Wyze Cam v3 — one of our other favorite budget security cameras — the Pro model adds a small 70-lumen LED that helps illuminate things a little better at night. Compared to other models on this list, such as the Nest Cam with Floodlight, the Wyze's light is pretty weak, but if you just need a little light, it could do the trick.
In addition, the Wyze Cam v3 Pro can record video at up to 2K (at 20 fps), which is a higher resolution than the standard Wyze Cam v3, which tops out at 1080p. While the video wasn't as crisp or smooth as that you'd get from the Arlo Ultra, it was still clear enough so that we could clearly identify people and pets, day or night.
The only other caveat is that the Wyze Cam v3 Pro needs to be plugged in to work, and while it has local storage, you can't access it via the Wyze app unless you pay for a subscription.
Read our full Wyze Cam v3 Pro review.
Best Ring spotlight cam
If Ring's floodlight cam is a bit overkill — you may not need to illuminate as big an area — the Ring Spotlight Cam Pro is a great option for Ring subscribers. This more compact unit boasts two LED lights that put out a combined 750 lumens, which is more than bright enough for a smaller outdoor area.
Like Ring's other security cameras, we really liked the 1080p video from the Spotlight Cam Pro's camera, which was sharp and clear both day and night. We also like that Ring offers this camera in several configurations to best suit your needs: the Ring Spotlight Cam Pro Battery ($229), the Ring Spotlight Cam Pro Plug-in ($229), the Ring Spotlight Cam Pro Solar ($249), and the Ring Spotlight Cam Pro Wired ($249).
The first three models all have battery compartments as well a USB-C port in the back, so you can connect it to an external power source; the Solar model also comes with a solar panel, so you won't have to manually charge the camera's batteries as often, if ever. The Battery and the Plug-in models can also be connected to a solar panel — Ring sells a large one that costs $59, and a small one that costs $39.
As with all of Ring's cameras, you'll need a Ring Protect subscription (starting at $4/month) if you want to save video or use several of its other features.
Read our full Ring Spotlight Cam Pro review.
Floodlight cams
These cameras can replace your existing floodlights around the exterior of your home, and offer plenty of light to alert you or intruders that you're watching. In most cases, you can angle the lights separately from the camera, so you can ensure that you're hitting the right parts of your yard.
Best floodlight cam
Take the excellent Nest Cam (wired) and add two powerful floodlights, and you get the appropriately named Nest Cam with Floodlight (wired). The camera itself records great high-definition video, and has a three-hour local backup in case your Internet connection goes down. On either side are two dimmable LEDS that can crank out 2400 lumens, more than enough to illuminate anything around.
Like the Ring Floodlight, the Nest camera needs to he hardwired to work, so it's less mobile than the Arlo Pro 3 Floodlight, which runs on battery power alone. Still, you get a few niceties for free, including person detection, customizable motion zones, and (limited) local storage. Unless you need a camera that works with Alexa, this is definitely a floodlight camera to consider.
Read our full Nest Cam with Floodlight (wired) review.
Best budget floodlight cam
Like much of its competition, Wyze took its excellent Wyze Cam v3, added a few LEDs, and called it the Wyze Cam Floodlight. And, because the Wyze Cam is so inexpensive, so too is the Wyze Cam Floodlight, which costs less than $100 — a bargain compared to other security camera floodlights.
Despite its low price, we were generally pleased with the quality of video, though the floodlights tended to wash out people's faces if they got too close. If you have a second Wyze Cam, you can also connect it to the floodlight to increase your surveillance coverage. The cameras also have local storage, handy if your internet goes down. Like most other security cameras, you'll need to pay for Wyze Cam Plus if you want person and package detection, but at $1.99/month, it's far cheaper than others.
Read our full Wyze Cam Floodlight review.
Best wireless floodlight cam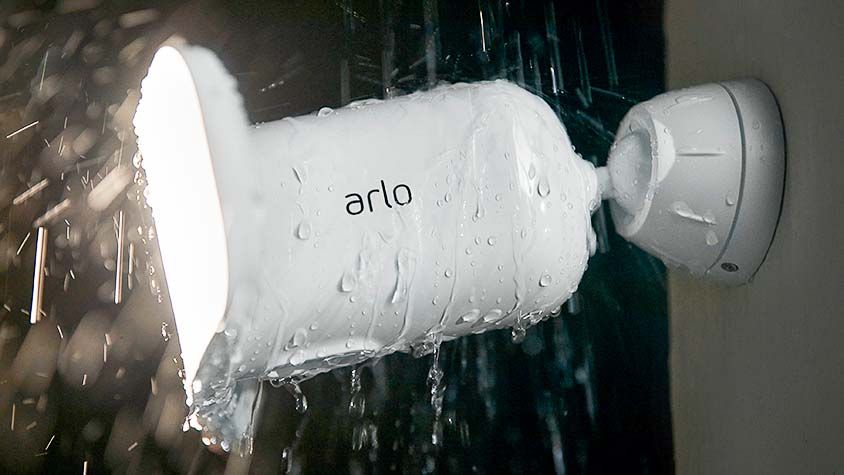 For those who don't have an outdoor light fixture, the Arlo Pro 3 Floodlight camera is the best option for adding an outdoor security camera with a floodlight. This battery-powered camera is simple to install, has a bright 2000-lumen light, and has a 2K camera that can digitally pan and zoom, so you can get a better look at who's outside.
However, you may also want to invest in a solar recharging panel, as we found that the camera's battery drains quickly, especially when using the floodlight. And, like many security cameras, you'll need to subscribe to Arlo (starting at $2.99/month) if you want to use all the camera's features.
Read our full Arlo Pro 3 Floodlight Camera review
Best cameras with professional monitoring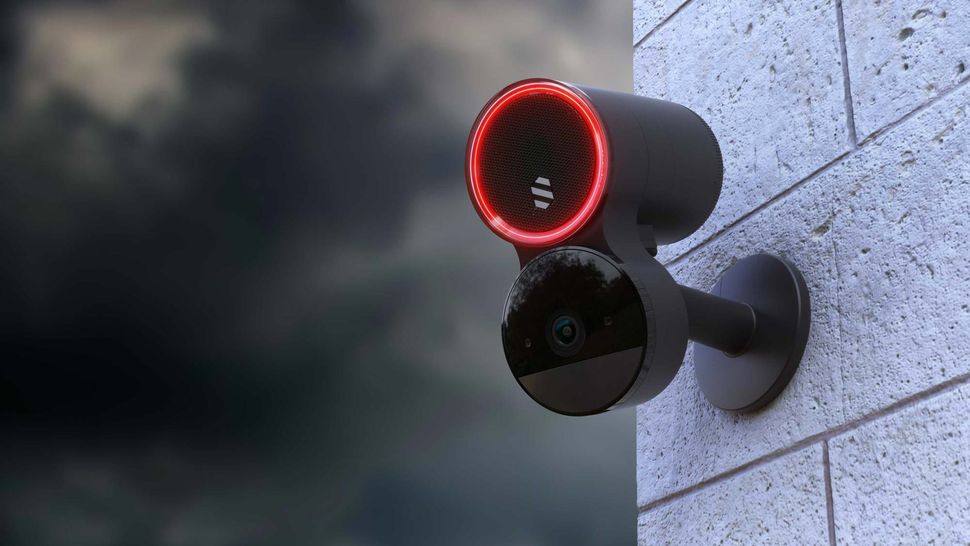 The Deep Sentinel is more like a mini professionally monitored security system than a standalone security camera. That's because when the camera spot an intruder, it sends a live feed to a monitoring station. From there, a professional can sound an alarm on the camera, shout a warning, and if necessary, contact the police.
This isn't cheap: In addition to the cost of the cameras ($499 for three cameras), you also have to pay a monthly fee of $50. And, the resolution of the video tops out at 480p, as it prioritizes the smoothness of the video stream over its definition.
You could spend a similar amount for the best home security system, but they don't monitor your cameras as proactively as Deep Sentinel. But, they're the best home security cameras if you're looking for active monitoring.
Read our full Deep Sentinel review.
What to look for when buying an outdoor security camera
Aside from price, there are a few things you'll want to consider when shopping for an outdoor security camera.
Weatherproofing: Any outdoor security camera should be protected against the elements. While they probably won't take to being dunked underwater, they should have some resistance to rain, sleet, and snow.
Battery powered: Many outdoor security cameras, such as the Arlo and Blink cameras, can run off battery power alone. That makes them easier to install, as you don't have to worry about running a power cord to the camera. However, this also means you'll have to either recharge or replace the batteries on a regular basis. Increasingly, companies are offering solar panels as optional accessories so you don't have to recharge the batteries as often.
Night vision: Almost all outdoor security cameras record good video during the daytime; it's nighttime video that really separates the haves from the have-nots. Most cameras use infrared lights to illuminate their subjects; better cameras will light the scene without blowing out the subject, so you'll be able to see details more clearly.
Extra lighting: Some outdoor security cameras, such as those from Ring and Arlo, have LED lights built in, so that at night time, you'll not only be able to see subjects more clearly, but you'll also be able to see better yourself if you're outside. Some have spotlights, which are good for a small area, while others have floodlights, which helps illuminate a yard.
Storage and storage fees: Most security cameras now require a subscription to either use all their features or to store video in the cloud. You'll want to refer to our best security camera storage plans for more detail, but before choosing a security camera, think about how many other cameras (including the best video doorbells) you're planning to install. The company that offers the best value depends upon how many cameras you want to use on your property.
How we test the best outdoor security cameras
As with the best home security cameras, we test outdoor security cameras outside our homes. We see how well they record video during daylight hours and at nighttime, and look at the detail of the recorded video, as well as the accompanying audio.
We also evaluate the security cameras' apps and features; you should be able to easily schedule when the cameras turn on and off, as well as set things such as custom motion zones and sensitivity, so that a tree branch or passing car doesn't set it off.
Better cameras will also let you filter for people, animals, vehicles, and packages, so that you only get the alerts you want.
More from Tom's Guide