Best handheld games consoles: Quick Menu
Gaming on the go used to be the domain of smartphones and Nintendo consoles, and while that's still true, the rise of handheld PC means there's more selection than ever when it comes to choosing the best handheld gaming consoles.
Devices like the Steam Deck let you play a huge library of games once consigned to PCs, while gaming-centric smartphones can let you run impressive mobile games. And of course, Nintendo still offers some great devices for gaming on the go.
With that in mind read on to see what our picks for the best handheld gaming consoles are and which ones might be most suited for you.
The quick list
Here are the best handheld gaming consoles you can buy right now based on our testing and reviews. Scroll on for our full in-depth reviews.
The best handheld gaming consoles you can buy today
The best handheld console overall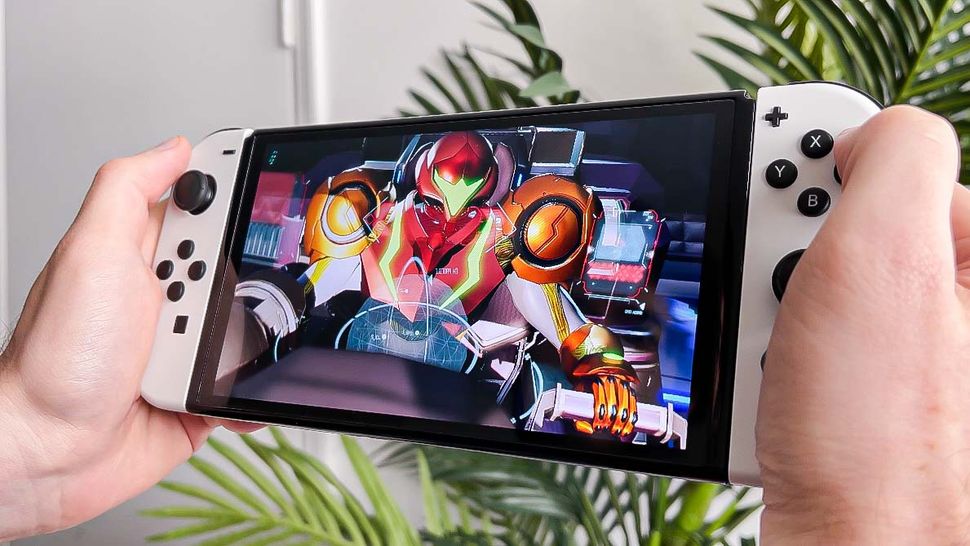 Where once the original Nintendo Switch topped this list, it's been pretty much completely replaced by the Nintendo Switch OLED. As the name would suggest, this Switch offers an OLED display that's not only larger than that of the standard Switch but also brighter and more colorful really making some of the best Nintendo Switch games really pop.
Other improvements like a sturdy kickstand, better speakers and an Ethernet port, make the Switch OLED the handheld games console to get today. The only caveat is that if you have an original Nintendo Switch you might not see the biggest of upgrades moving from it to the Switch OLED.
Read our full Nintendo Switch OLED review.
The best handheld gaming console for PC users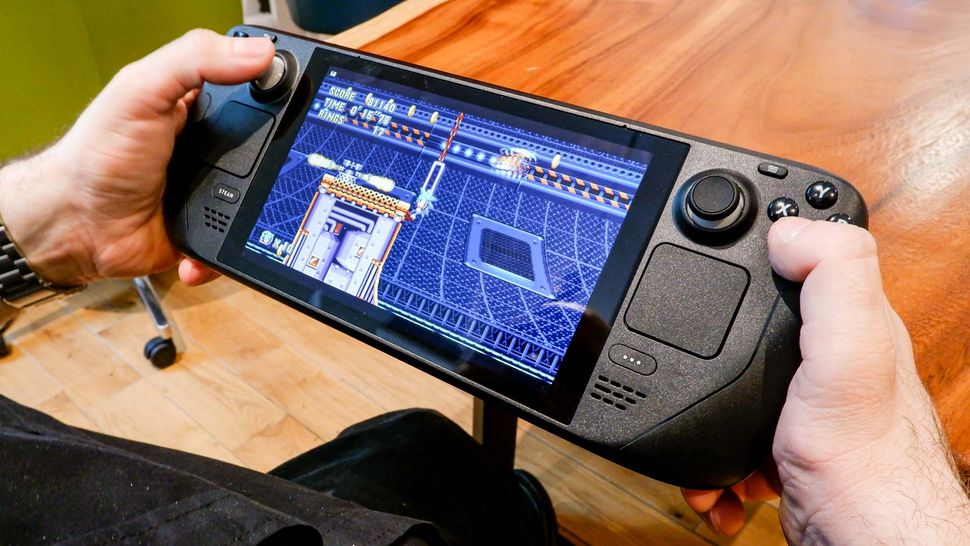 The Steam Deck isn't the first handheld PC on the market, but it's arguably the first to bring the experience into the mainstream. As its name suggests, the Steam Deck comes from Valve, and lets you access the majority of your Steam library natively. That means you can play almost any PC game that you can buy on Steam — and if you want to try your luck with side-loaded titles, you can do that as well. Steam is the largest and best-known game download platform on the Web, and Valve has done an incredible job optimizing these titles for a non-Windows platform.
The system isn't perfect, as the battery life is still a little lacking, and not every Steam game works perfectly. But the system also receives frequent updates, and new games are getting optimized all the time. With a comfortable design, a vibrant screen and excellent performance, Tom's Guide called the Steam Deck "the real deal."
Read our full Steam Deck review.
A more portable Switch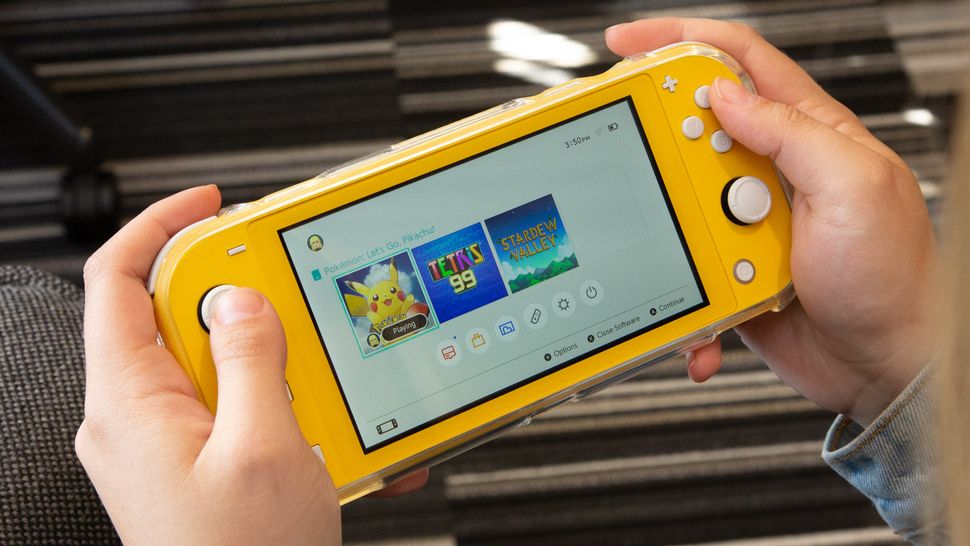 The Nintendo Switch Lite is about two-thirds the size of the regular Switch, and delivers two-thirds of what we love about the full-size model. Like its bigger cousin, the Switch Lite has access to Nintendo's incredible library of first- and third-party games, as well as a comfortable control scheme and a big, colorful screen. Whether you want to play your fill of Zelda, Mario and Animal Crossing, or Doom, Bayonetta and Assassin's Creed, the Switch Lite can deliver the same excellent games in a profile that's easy to stash in a backpack or purse.
There are some drawbacks, though. Due to its smaller size, the Switch Lite has a smaller battery, meaning less playtime overall. The Switch Lite also doesn't have detachable Joy-Cons, meaning that impromptu multiplayer sessions are much harder to facilitate. You also can't transfer save data easily between a Switch Lite and a regular Switch, so consider carefully which one you want.
Read our full Nintendo Switch Lite review.
The best handheld console for iOS gaming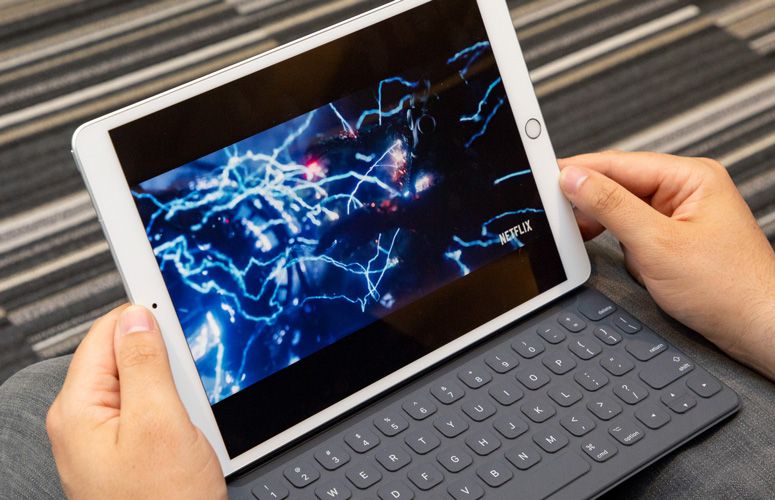 The Apple iPad Air is one of the best tablets on the market, so it stands to reason that it's also one of the best handheld gaming consoles. The Apple App Store has some of the best smartphone games on the market, and it usually gets the best titles months before Android does. In addition to perennial favorites like Fortnite, Hearthstone and Minecraft, you can also play indie darlings like Monument Valley, Florence and Threes.
What really sets the iPad apart from Android tablets, though, is Apple Arcade. This subscription service gives you access to more than 100 games for $5 per month. Some of the games are exclusive to the Apple Arcade service; others, you can get on a Switch or PC, but not an Android device. Sayonara Wild Hearts was an early contender for the best Apple Arcade game, but What the Golf, Dear Reader and Lifelike are also ingenious experiences that you generally won't find elsewhere.
Read our full Apple iPad Air review.
For the original Switch experience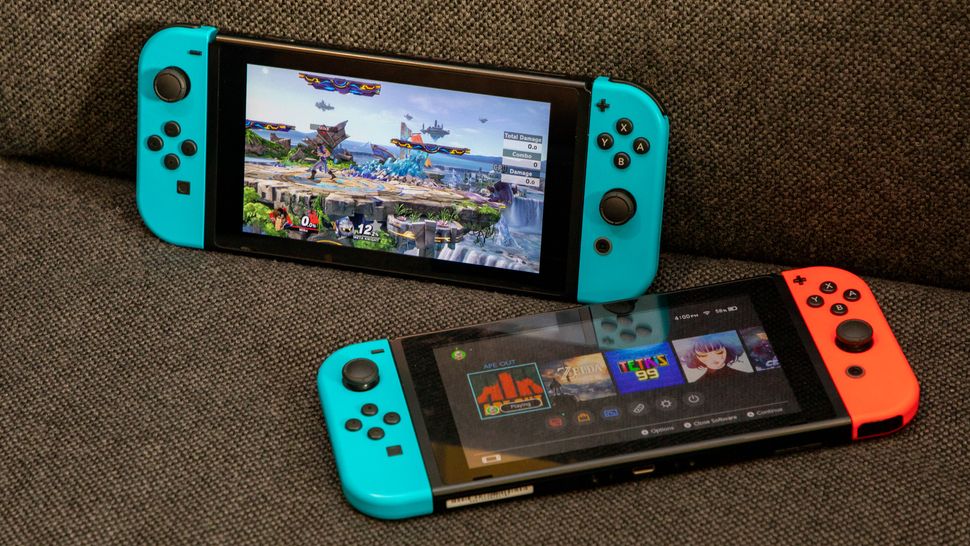 When it launched in 2017 the Nintendo Switch was a bit of a resurgence for Nintendo giving us a new hybrid console that worked just well as a handheld machine as it did connected to a TV. While Joy-Con drift was an issue, the compelling roster of first-party games made it a must-have for gaming fans. Now some years later it has a healthy library of great games from all manner of developers and is still a brilliant little games console.
The only reason it isn't higher on this list it's superseded by the Switch OLED in basically every way. But if you can find the original Switch for a bargain price, we still suggest you snap it up.
Read our full Nintendo Switch Review.
The best Steam Deck alternative
The Asus ROG Ally might not be the Steam Deck killer we expected but it's currently the best Windows handheld on the market.
This 7-inch handheld boasts a 120Hz display and a powerful new Zen 4-based AMD APU. Toss in official support from Xbox and the ability to play any Windows-compatible game out of the box, and the ROG Ally should theoretically decimate Valve's portable gaming device. However, better specs on paper don't always make for a better gaming experience.
The 1080p display delivers sharp visuals and a smooth refresh rate. Games can also run at 60 frames per second and above thanks to the new Ryzen Z1 Extreme processor. On top of that, the handheld's ergonomic design makes it a pleasure to hold — not to mention comfortable to use for long stretches of time. There's a lot to like about the ROG Ally.
Despite its virtues, the Asus ROG Ally isn't toppling the Steam Deck. Yes, it has a sharper display and a faster processor, but the gains from these are arguably negligible — especially when you have to run games at 720p to get nominally better performance. Worst of all is the lack of a dedicated user interface like SteamOS. The Asus Armoury Crate app does a decent enough job of gathering games in one spot, but it's nowhere near as intuitive or functional as Valve's operating system.
Read our full Asus ROG Ally review.
The best gaming smartphone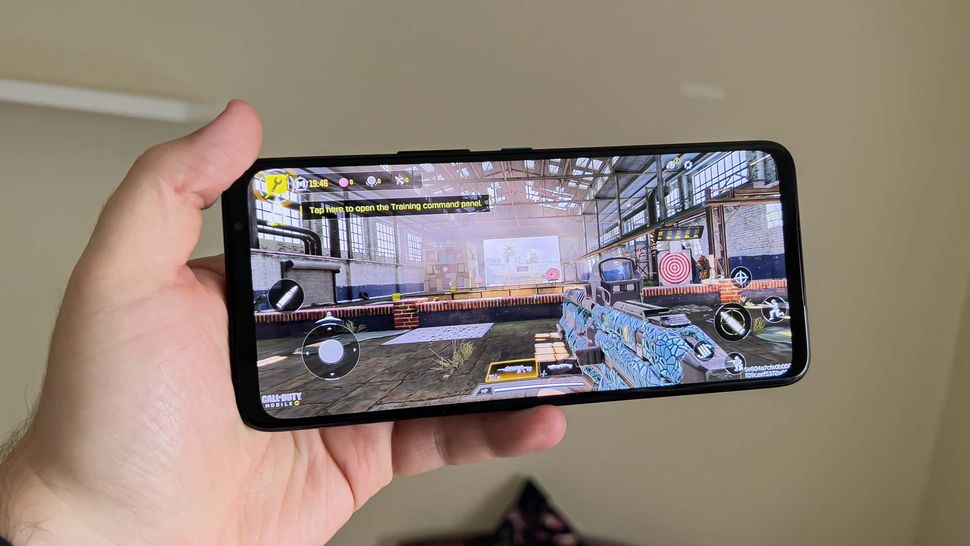 The best handheld gaming console is arguably the one you already have on you, and that's why it's worth considering a dedicated gaming phone, like the Asus ROG Phone 6 Pro. This excellent (albeit very large) smartphone is powerful enough to run any game on Android, which means you can enjoy both casual handheld titles as well as longer sit-down-and-play experiences.
This monster packs a Snapdragon 8 Plus Gen 1 chipset, a whopping 18GB of RAM, a mammoth 6,000 mAh battery, new and upgraded AirTriggers, and enhanced cooling options for sustained gaming periods.
The chip alone makes the ROG Phone 6 Pro the most powerful gaming phone to date — it comes close to matching Apple's A15 Bionic in our testing. While 18GB of RAM is excessive, it's something to brag about. This handset also has the best software we've seen on a gaming phone.
And you'll be gaming for a while: The ROG Phone 6 Pro lasted an epic 15 hours and 30 minutes on the Tom's Guide battery test — making it the longest-lasting phone that we've ever tested at Tom's Guide. Change the display resolution to 60Hz and you get an extra hour.
Don't forget that Android smartphones now have access to a variety of cloud gaming services, from Google Stadia, to Nvidia GeForce Now, to Xbox Cloud Gaming. With the ROG Phone 6 Pro's large screen and fast refresh rate, you can play many of your favorite console and PC games from anywhere in your home — or anywhere with a strong enough Wi-Fi connection.
Read our full Asus ROG Phone 6 Pro review
How to choose the best handheld gaming console for you
The best handheld gaming console for your needs depends on where you want to use it. If you need something that you can stash in your pocket and play absolutely anywhere, the ROG Phone 5 is the smallest, most versatile device on the list. If you want to split your game time equally between home and traveling, the Nintendo Switch is probably the best option, since you can hook it up to a TV.
Price is also a consideration. The iPad Air and ROG phone are much more expensive than the dedicated gaming handhelds on this list, but they're also more versatile devices. It's probably not a great idea to buy them exclusively for gaming, but if you happen to already own one, you may want to see what kind of games you can get before you complement it with a dedicated Nintendo device. Likewise, the Switch Lite is cheaper than the full-fledged Switch, but it also has fewer features.
How we test handheld gaming consoles
Since the best handheld gaming consoles comprise both dedicated gaming hardware and versatile mobile devices, we don't have a standardized procedure to test them. Instead, we draw from our experiences with these devices after we give them full reviews. A Nintendo Switch and an Apple iPad Air, for example, fill very different roles in the tech world, so devising apples-to-apples tests for them is nearly impossible.
Instead, we evaluate each system's game library, as well as how well it plays games relative to its hardware. An ROG Phone 5 is more powerful than a Switch Lite, but the Switch Lite can play much deeper, more involved games, thanks to its built-in controllers and Nintendo pedigree.
To earn a spot on this list, a system simply has to play excellent games, and be small enough to transport easily. For anything beyond that, we rely on our qualitative judgment.