These days the best gaming laptops are powerful enough to play the latest and greatest games nearly as well as a beefy gaming PC, yet portable enough to slip into a backpack.
With so many choices, picking the best gaming laptop for your needs can be tricky business. While gaming laptops have a reputation for being big, loud and heavy, these days you can get thin-and-light gaming laptops from the likes of Alienware, Asus and Razor that blend into a coffee shop yet pack enough power to play through a few levels of Doom Eternal when you're done with work.
Of course, you can still get a massive 18-inch beast of a machine if you want to, and it will be powerful enough to rival the best gaming PCs on the market—but it will also be heavy and loud enough that you'll want to keep it on your desk most of the time.
Whatever your tastes, we've got a great recommendation for you. We've tested and reviewed dozens and dozens of gaming laptops from the top manufacturers, and we use that research to compile this regularly-updated list of the best gaming laptops on the market. Read on to find one that's right for you!
Written by
Alex Wawro is a lifelong journalist who's spent over a decade covering tech, games and entertainment. He oversees the computing department at Tom's Guide, which includes managing laptop coverage and reviewing many himself every year.
The quick list
In a hurry? Here's a brief overview of the gaming laptops on this list, along with quick links that let you jump down the page directly to a review of whichever laptop catches your eye.
Load the next 6 products...
Most stylish
The best stylish gaming laptop

The Alienware x16 delivers the goods with its powerful RTX 40 series-driven performance, large 16-inch 240Hz display and futuristic design. While pricey, you're getting a machine that runs games like a dream — and looks great to match. The laptop can run hot based on our testing but overall you're certainly getting your money's worth.

Read more below
The best gaming laptops you can buy today
The best gaming laptop overall
The Asus ROG Zephyrus G14 (2023) is a great gaming laptop, delivering a potent blend of performance, portability and power efficiency.
We've long been fans of the Zephyrus G14 because it has the chops to run most games at solid framerates, the efficiency to be used as a work laptop in a pinch, and a slim, compact chassis that's more portable than most gaming laptops.
The 2023 model is the first we've reviewed with a mini-LED display, and it looks great. Factor in the good speakers and an AMD CPU/GPU combo that delivers solid gaming performance (as well as a solid 1080p webcam) and you've got a potent gaming ultraportable.
While it can't match the outlandish 11-hour battery life of its predecessors, the brighter screen is worth it. And while the webcam is nothing to get excited about, at least now the other folks on your Zoom calls will get to see your face.
Read our full Asus ROG Zephryus G14 (2023) review.
Considering an older model? They're still great; read our full Asus ROG Zephryus G14 (2022) review to see why.
The best budget gaming laptop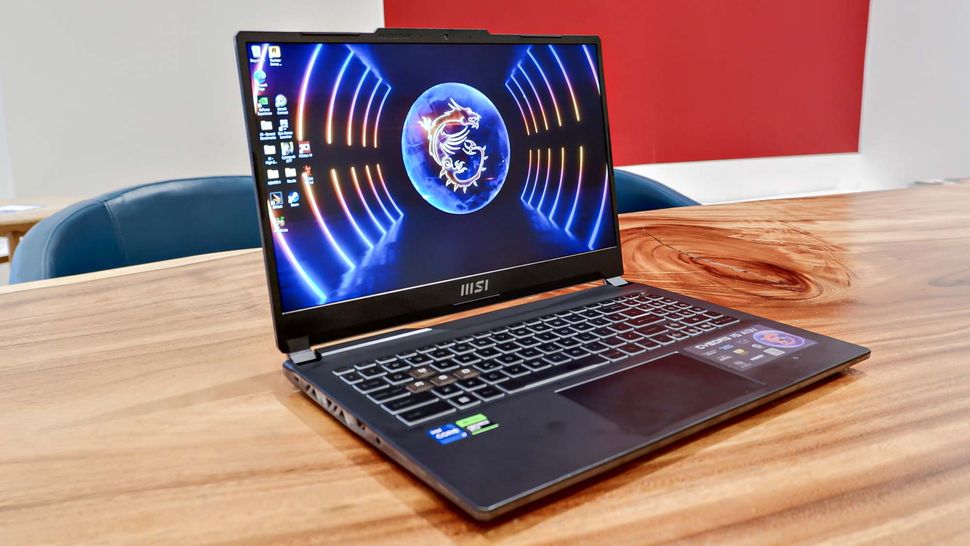 The MSI Cyborg 15 ($999) is a cyberpunk-inspired gaming laptop that won't destroy your wallet. Packing a 13th Gen Intel Core CPU and an Nvidia RTX 4050 GPU, this laptop delivers solid gaming performance for $1,000. Toss in a 144Hz 15.6-inch display and you have a machine that's a great entry into the world of PC gaming.
The laptop has a cool design, great performance and costs less than $1,000. The display could be brighter and a bit more colorful, but the 144Hz refresh rate is welcome. And while its battery life isn't great, the Cyborg 15 also doubles as a good productivity device, so long as you keep it plugged in.
Read our full MSI Cyborg 15 review.
The best big-screen gaming laptop
The Alienware m18 is the biggest, most powerful gaming laptop we've tested to date. It's too heavy, hot and loud to be of much use on the go, but when plugged in it runs the latest games as well as some of the best gaming PCs, truly earning the term desktop replacement.
It's the heaviest 18-inch gaming laptop we've yet tested, but our review unit outperformed just about every laptop on this list, including the 18-inch Blade 18 a few spots down. The low-profile CherryMX mechanical keys are also a delight to type on, and the speakers and screen are good enough for gaming. The port placement is a little odd (why put a single USB-C port on the right-hand side, right up near the front?) and the heat this thing kicks off is truly scorching when it gets going, but if power is all you care about (and price is no object) this is the biggest, best gaming laptop to buy.
Read our full Alienware m18 review.
The best thin-and-light gaming laptop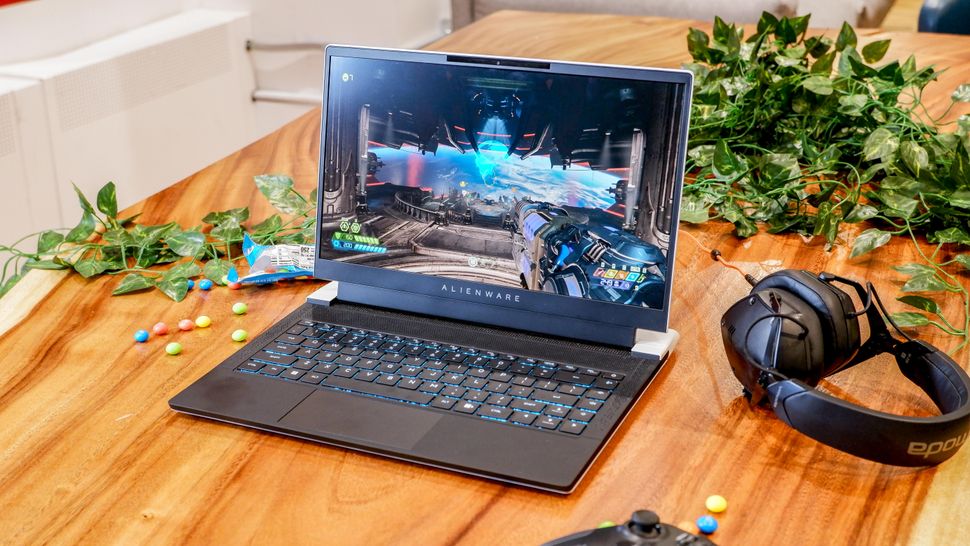 The Alienware x14 is a gaming laptop we've looked forward to reviewing ever since our brief hands-on time with it back in January 2022. At just 0.6 inches thin it's the thinnest laptop on this list, and thanks to its 12th gen Intel Alder Lake processor and Nvidia RTX 30 series GPU the Alienware x14 is a proper gaming laptop capable of running modern titles. Thanks to a few innovations like vapor chamber cooling and Smart Fan control technology, this laptop is capable of achieving high performance while remaining relatively cool.
While the x14 isn't as impressive as a big, beefy gaming laptop like the Alienware m18 in terms of screen size and performance, its comparatively lower price will make it accessible to more folks. If you're all about gaming on the go and prize portability over power, the Alienware x14 is a great choice.
Read our full Alienware x14 review.
The best Samsung gaming laptop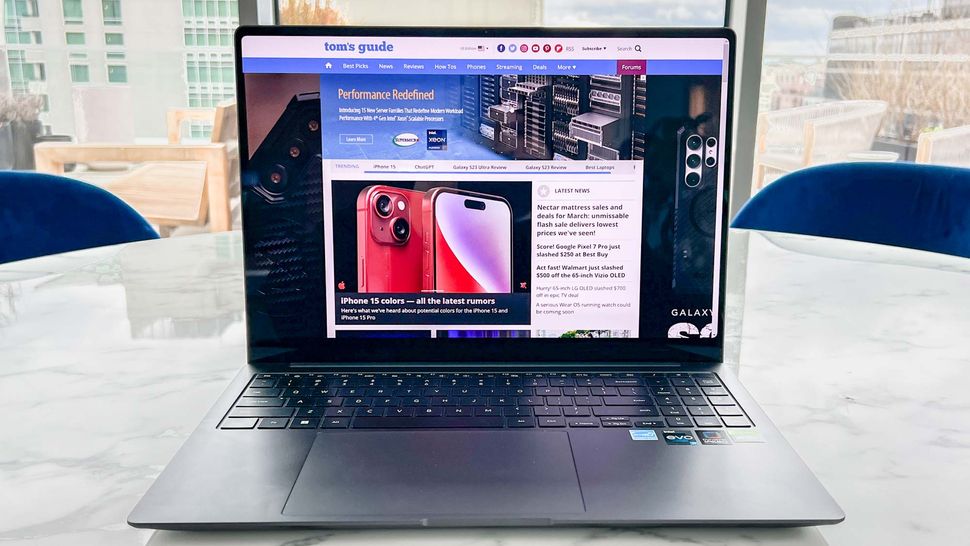 The Samsung Galaxy Book 3 Ultra is a powerful laptop that's capable of handling everyday computing tasks, video editing and high-end gaming. In addition to its impressive performance, this notebook also packs a gorgeous OLED display that makes viewing content and playing games a pure joy. On its own, it's a fantastic Windows 11 laptop.
But like the Galaxy Book 3 Pro 360, you won't be able to make use of features like Samsung Multi Control if you don't own the latest iterations of the company's smartphones. The number of pre-installed Samsung apps is effectively bloatware for those not invested in the company's ecosystem. As I said, this is a great Windows laptop. But some of its appeal is lost when you remove its interoperability with Samsung devices.
The biggest rival to the Samsung Galaxy Book 3 Ultra is the MacBook Pro 16-inch. Samsung's laptop is remarkably lighter, has a full-size USB port and offers a more colorful (albeit dimmer) OLED display. Plus, the Book 3 Ultra is a better choice for gamers due to its Nvidia GTX 4050 GPU and Windows ecosystem. However, the MacBook Pro offers much longer battery life and has better performance for video editing.
Overall, the Book 3 Ultra isn't a MacBook Pro killer per se, but it is a killer 16-inch Windows laptop and is deserving of the Ultra name.
Read our full Samsung Galaxy Book 3 Ultra review.
The best OLED gaming laptop
The Razer Blade 15 is consistently a solid gaming laptop that's expensive, runs hot, and doesn't last long on battery power. However, if you care about having an OLED display, the Blade 15 is one of the few great gaming laptops that's consistently available with an OLED display option.
Like its predecessors, the Razer Blade 15 (2022) is a thin, lightweight gaming laptop with a stylish design and powerful components.The keyboard and touchpad leave a lot to be desired, and it can get quite toasty when gaming. Don't expect more than an hour of game time on battery power, either.
Read our full Razer Blade 15 (2022) review.
The best stylish gaming laptop
The Alienware x16 (starting at $1,999) is both stylish and powerful. Thanks to the company's Legend 3.0 design language, this is one of the thinnest gaming laptops you'll find — comparable to Razer's own notebooks in that respect. While the Alienware x16 is recognizably a gaming laptop, it also wouldn't look out of place at your office or favorite cafe due to its subdued design.
This laptop isn't just for show as it packs the latest Intel CPU and Nvidia RTX 40 series laptop GPU — giving it plenty of power to run graphically-demanding games. On top of that, the crisp 16-inch 2K display and smooth 240Hz refresh rate ensure your games look as good as they play. Although the price is high — and so are the temperatures when gaming — the Alienware x16 has earned its place on this list
Read our full Alienware x16 (2023) review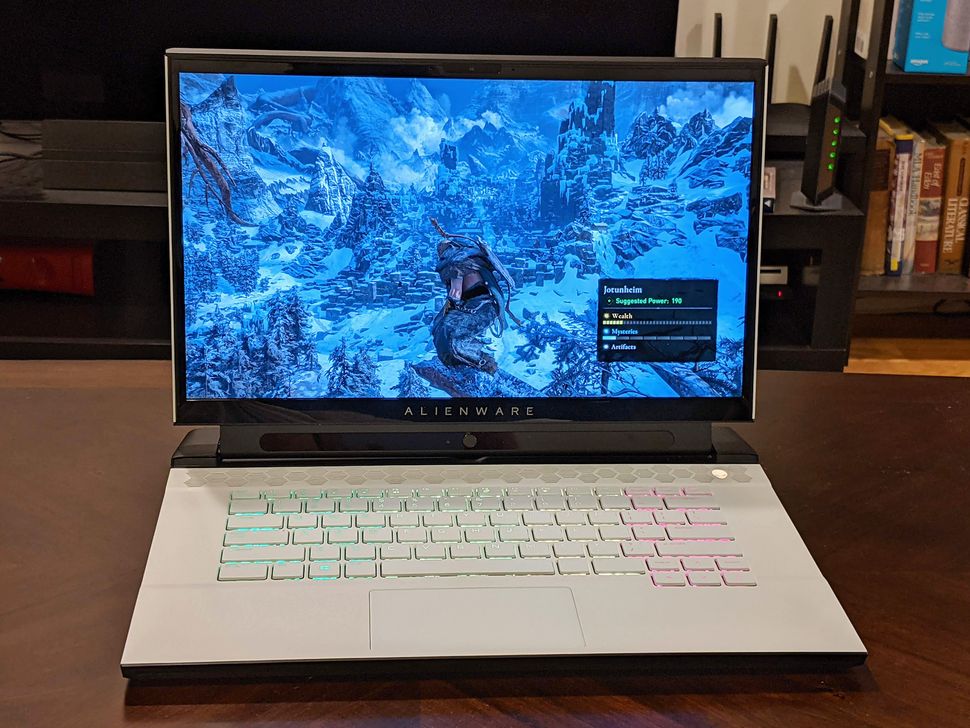 The Alienware m15 R4 is a sleek and functional gaming laptop, powered by an impressive Nvidia GeForce RTX 3070 GPU. While this machine can easily run you $2,500 (or more), in return, you'll get a streamlined and relatively lightweight device with a slick white chassis and an RGB keyboard. With a fast CPU, lots of hard drive space and a surprisingly good touchpad, the m15 R4 is a suitable tool for both work and play.
If you pick up this laptop, be aware that the fan can get very loud, and that the battery life isn't really long enough for sustained productivity or gaming. Those (and the price) are about the only drawbacks, though. This machine can run the latest games at demanding settings, and thanks to its cutting-edge hardware, it's sure to last you for years to come.
Read our full Alienware m15 R4 review.
The 2023 Asus ROG Strix Scar 17 is a hair smaller than the most massive 18-inch gaming laptops, but you won't lose anything in performance by picking this semi-mobile monster.
The unit we reviewed is kitted out with an AMD Ryzen 9 7945HX CPU and a beastly Nvidia GeForce RTX 4090 laptop GPU, providing more than enough power to run any current game at very high settings.
However, it's prone to spikes of heat during intense gaming sessions and the webcam is terrible, so don't expect to game with this thing in your lap or look your best on a video call. Still, if you're willing to pay for the privilege of having all this power in a 17-inch PC, this is an excellent gaming laptop for you.
Read our full Asus ROG Strix Scar 17 review.
Battery benchmarks: comparison
Swipe to scroll horizontally
| | |
| --- | --- |
| Laptop | Battery life (tested) |
| Asus ROG Zephyrus G14 (2022) | 9:51 |
| MSI Cyborg 15 | 5:05 |
| Alienware m18 | 4:33 |
| Alienware x14 | 5:32 |
| Samsung Galaxy Book 3 Ultra | 10:01 |
| Razer Blade 15 | 4:47 |
| MSI Bravo 15 | 6:20 |
| Asus ROG Strix Scar Edition | 6:20 |
| Alienware m15 R4 | 4:01 |
How to choose the best laptop for you
How to choose the best gaming laptop for you
Power or portability? You'll need to consider what type of gaming and where you'll be doing it before you decide what's the best gaming laptop for you. Do you plan to mostly play triple-A demanding games at home and on a desk, but have the scope to occasionally move your machine, then a chunkier and more powerful gaming laptop, like the Alienware Area 51m might be best. But if you plan to carry your gaming laptop around a fair bit, say for LAN parties, then a thinner and lighter laptop like the MSI GS65 Stealth Thin could be for you.
Display: These days there's a wide range of display choice for gaming laptops. You can get a standard 60Hz 1080p panel that might come with built-in anti-screen-tearing features like Nvidia's G-Sync. But if you're willing to pay more, you can get gaming laptops with high refresh-rate displays, often sitting at 144Hz. But the latest machines can hit 240Hz, with those on the cutting-edge sporting 300Hz displays. HIgh refresh-rate displays are great for people who play fast-paced games such as Overwatch or Counter-Strike: Global Offensive. But if you mostly plan to plug in an external monitor, then you might be better off saving money by going for a 60Hz Full HD screen.
Budget or high-end? If you don't want to break the bank by paying for a gaming laptop, then a budget machine, like Acer's Nitro 5, could be for you. It won't run the very latest games at the best frame rates, but will be more than capable for decent 1080p gaming. For example, if you're pondering which is the best Age of Empires III civilization to start with, you won't need a massively powerful machine for the game. But if you want a real monster of a gaming laptop that'll easily chew through the most demanding games, then a laptop like the MSI GT75VR Titan is worth checking out, but do be prepared to pay quite a bit for a high-end laptop.
Gaming only, or work as well? The good thing about gaming laptops is they have plenty of power for professional tasks as well, such as video rendering or CAD work. As they can be an expensive purchase, it might be worth looking at getting a machine that can pull double duties as a gaming and work laptop. Machines like the Asus ROG Zephyrus G14 or the Razer Blade Pro 17 are good examples of this, offering a form-factor that's slim enough to easily take them to work, yet also have a powerful enough specification for triple-A gaming.
How we tested these laptops
How we test the best gaming laptops
To find the best gaming laptop, we run every machine through a rigorous suite of benchmarks and real-world tests to gauge how it will perform during everyday use.
We measure the average brightness and color quality of each laptop's display using our in-house light meter and colorimeter. For general performance, we run our machines through tests that include Geekbench 5 (CPU performance), as well as various 3DMark tests to measure graphics capabilities. We also run a file transfer test to measure how fast a machine's hard drive is, and a custom battery test that has the machine browse the internet over Wi-Fi until it runs out of juice.
We also run benchmarks for popular games such as Assassin's Creed Valhalla, Far Cry 6 and Red Dead Redemption 2 on every gaming laptop we test. For more information on our testing process, check out our guide to how we test.