The best small phones in Australia have all but gone away, despite some holdouts. While there was once a time when smaller was deemed to be better, in the past decade or so, our penchant for bigger devices has grown exponentially.
But, there is certainly still a consumer base for small phones in Australia and you'll find some manufacturers are still committed to the cause. Apple is one such brand doing its part to keep compact phones in people's hands, with the latest iPhone SE (2022), a new version of the 4.7-inch iPhone that adds a new processor and 5G connectivity, arriving in March last year.
The iPhone SE isn't the only small phone on Apple's books, with the Cupertino-based company also offering the iPhone mini. However, the iPhone mini line suffered its inevitable fate upon the arrival of the iPhone 14 series, being replaced by the giant iPhone Plus models. Fortunately, for now at least, Apple is still giving you the chance to pick up the iPhone 13 mini, if you fancy. The logical assumption would suggest the iPhone 13 mini will disappear from Apple stores following the launch of the iPhone 15.
But it's clear the handset doesn't have much company, as smartphone displays continue to get larger and larger. That's fine for people who like big screens, but there are precious few options for those who prefer something they can comfortably use one-handed. Trust us, we think this is quite the tragedy.
The best small phones you can buy today
Small phones are a rarity these days, though at least Apple still seems to believe the best things come in small packages — for now, anyway. We've gone through all of the best options available to Australian customers and put them through rigorous testing to see which ones you should buy. Here are the best small phones in Australia you can still get your hands on.
Apple continued the small phone legacy laid down by the iPhone 12 mini with the iPhone 13 mini. This little handset is very powerful thanks to its A15 Bionic chip. There's nothing it can't handle, all while being easily pocketed or used one-handed. The 5.4-inch OLED display is still crisp with excellent colors and viewing angles.
Apple kept the design the same as the iPhone 12 mini, but improved the battery life — in the Tom's Guide battery test, the iPhone 13 mini lasted over 1.5 hours longer than its predecessor. The cameras also got an upgrade, with the 12MP wide-angle main and 12MP ultrawide cameras benefitting from larger sensors that let in more light. The ultrawide also gained autofocus capabilities. The upgrades don't end there either, as the iPhone 13 mini also received Cinematic Mode and Photographic Styles.
The former lets you record portrait videos with dynamically shifting focus for that artistic look. Photographic Styles are basically real-time filters that you can test out while you're aiming the camera, letting you capture photos that match your personal taste.
We love the iPhone 13 mini's compact frame and impressive power. It's perfect for people in Australia who want a small phone with powerful hardware and great creative capabilities.
Read our full iPhone 13 mini review.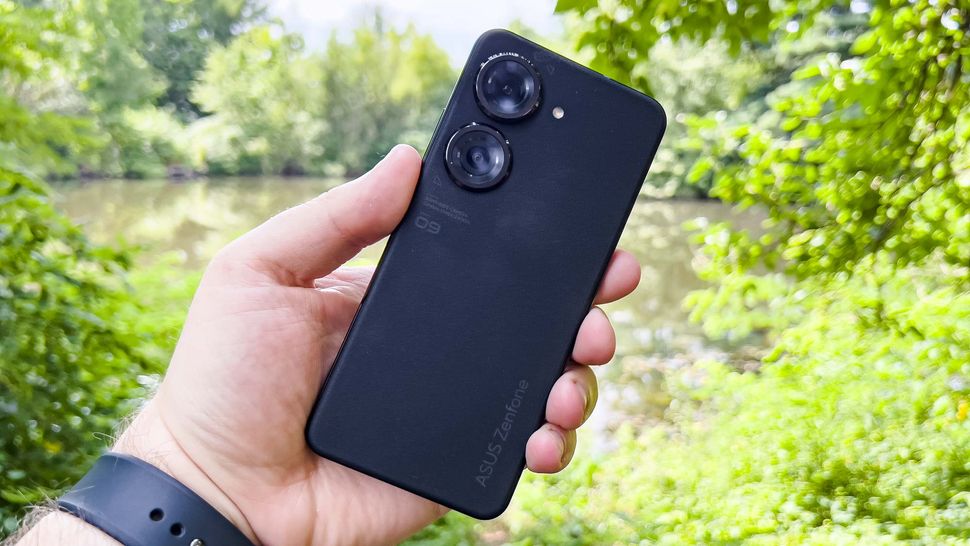 Small phones may be a rarity in Australia, but Asus isn't giving up. No siree, the Zenfone 9 is exactly what we wanted to see in a small Android phone. It packs in a ton of horsepower thanks to its Snapdragon 8 Plus Gen 1 processor, paired with either 8GB or 16GB of RAM. The 5.9-inch AMOLED display is especially great with punchy colours.
The cameras are generally pretty good for most purposes, though we did notice a warm, yellowish tinge to some photos in our testing. It's by no means bad, just noticeable against other strong camera phones.
With an RRP of AU$1,199, the Zenfone 9 is the best small Android phone around.
Read our full Asus Zenfone 9 review.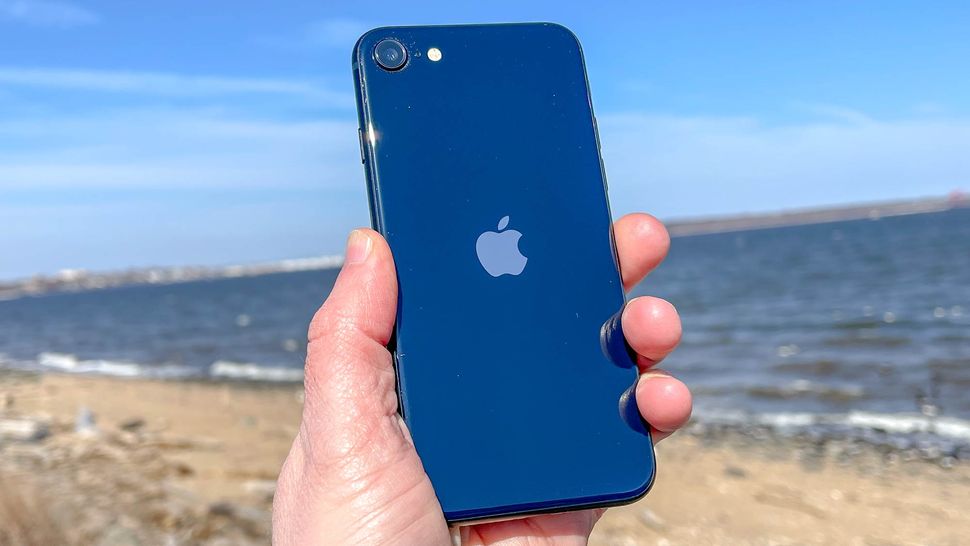 Apple seems to be the last bastion of small phones, we're sad to say. The recent iPhone 13 mini and now the new iPhone SE (2022) both keep the screen size well under six inches. In the SE's case, it's a teeny 4.7-inch LCD. We don't think it's the prettiest, nor does it have a high resolution, but it fits in small hands and pockets.
But, while its looks could now be considered dated, it's entirely up-to-date where things under the hood are concerned. Apple has installed the same A15 Bionic chip that powers the iPhone 13 series, meaning you're highly unlikely to find any phone that is faster for the same AU$719 RRP or less — even the most expensive Android phones have a hard time keeping up in some places.
Of course, there's no Night mode here, something the equally diminutive iPhone 13 mini has. The new SE also lacks support for Australia's mmWave 5G network. Again, the iPhone 13 mini enjoys that luxury. But when you factor in the low price, you have to understand that some sacrifices need to be made. If having the smallest phone is what you want, the iPhone SE (2022) should be one of your top considerations.
Read our full iPhone SE (2022) review.
While it's been supplanted by the new iPhone 13 mini, 2020's iPhone 12 mini is still a great small phone and can still be picked up from select retailers in Australia. From its compact 5.4-inch display to its dual camera system, the iPhone 12 mini is still the little phone that could. If we had to level any true complaint against it, it'd be that the battery life is pretty poor. Oh, and the base storage is just 64GB.
Even so, you get the powerful A14 Bionic chip powering the whole experience, making for a handset that can run laps around many Android phones. We think the main wide-angle and secondary ultrawide lens can take some beautiful photos, thanks to Apple's computational photography skills.
The iPhone 12 mini is no longer for sale from Apple, so stock will start to dwindle soon. You might be able to find a good deal, especially on a used model.
Read our full iPhone 12 mini review.
Editor's note: Google has officially discontinued the Pixel 4a, so you may have a harder time finding one. Even today, it's not a bad phone and has some life left to it. But the Pixel 6a has replaced it.
With a 5.81-inch OLED display and very slim bezels, the Google Pixel 4a stands out to us as one of the best small phones in Australia with a big screen, even with the larger Pixel 5a now available. In fact, the OLED panel dominates the Pixel 4a's footprint, thanks to a hole-punch selfie camera design and a very slender earpiece, keeping the border encircling the screen to its absolute minimum.
At a hair over 140 grams, the Pixel 4a is also exceptionally light, owing to its polycarbonate-but-quality build. It's pretty thin too, despite having a healthy 3,140 mAh battery. Unfortunately, the battery doesn't last quite as long on a charge as we'd like, but the Pixel 4a's other benefits — from that beautiful screen to its software and update support, impressive camera, solid (if not iPhone-beating) performance and low price — complement its exceptional one-handed usability well.
While it may be discontinued, you can still pick one up for under AU$500, making it an absolute bargain.
Read our full Google Pixel 4a review.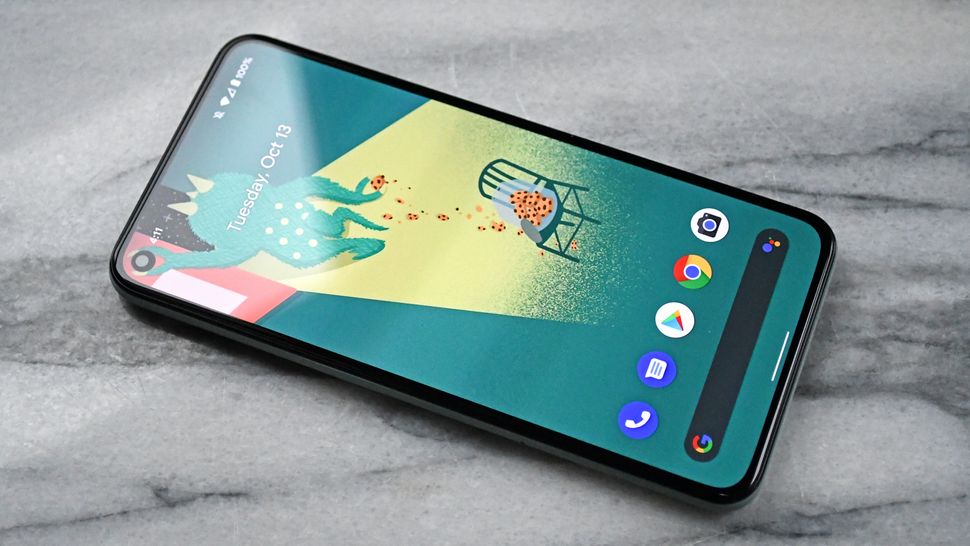 Editor's note: The Pixel 5 is about two years old, but still has some life left. That said, you might have a harder time finding one since Google no longer sells it, leaving the used market as your best option.
Google's Pixel 5 isn't an improvement over the Pixel 4 in every respect, which is likely why we found it somewhat disappointing. This Pixel's battery life is much better and it supports 5G across millimeter-wave and sub-6GHz bands, but it's less powerful than the old model, and lacks 3D Face Unlock and the capability to read Motion Sense air gestures, which were quite unique features.
But the Pixel 5 still has a lot going for it. It retains its class-leading camera, now armed with a secondary ultrawide camera sensor; it's cloaked in a distinctive all-aluminum design that we love; and of course, it benefits from Google's latest exclusive Android features, like Hold For Me and Call Screen for phone calls.
And it packs all of this into a supremely pocketable footprint, making for perhaps the most trimmed-down small phone I've ever seen in terms of screen-to-body ratio. The Pixel 5 isn't perfect in our eyes, and the Pixel 4a 5G can claim a lot of the same features for less, though the 4a 5G is larger and lacks some luxuries, like wireless charging. Heck, we think even the Pixel 5a can hold its own to the Pixel 5, given that they use the same chipset.
Of course, the Pixel 6 is here with a return to the two model sizes. However, the Pixel 6 is not a small phone with its 6.4-inch display. But it's a serious upgrade over the Pixel 5 in every regard except maybe battery life — Google just can't seem to get battery life right. But if you're not set on a small phone, the Pixel 6 is worth your time.
Read our full Google Pixel 5 review.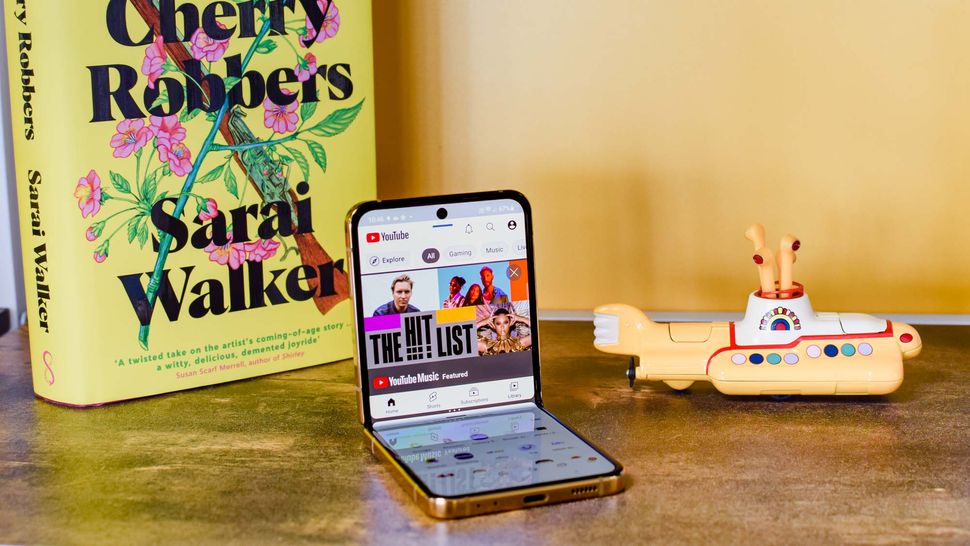 We may have found a loophole with this small phone entry, but hear us out. Yes, the Samsung Galaxy Z Flip 4 has a rather large 6.7-inch display when unfolded, but in folded mode it's decidedly diminutive and easily pocketable, which we think earns it a spot on this list.
This is especially due to the fact the Z Flip 4 can still be used when folded, thanks to the 1.9-inch on the top cover. You are limited in the tasks you can carry out, but at least it offers something and isn't just a dormant display. Elsewhere it's an extremely capable phone, and despite the battery life not quite worrying the true flagships of the smartphone world, it's still commendable.
Admittedly, when you think of a small phone, you're going to associate it with low cost. The Galaxy Z Flip 4 does buck that trend, but when you're getting a near-flagship-quality phone in a pocketable form factor, we think it's a sound investment.
Read our full Samsung Galaxy Z Flip 4 review to see whether it's the choice for you
How to choose the best small phone for you
You usually have to sacrifice something when buying a small phone. Of course, screen real estate is part of the tradeoff; but small phones also have smaller batteries, and sometimes less RAM or fewer camera lenses than larger, more expensive versions of the same device.
If you prioritise a compact form factor over all else — and you probably do if you're reading this page — these tradeoffs will likely be well worth it. Apple and Google are featured prominently on our list of the best small phones because they don't eliminate critical features from more compact handsets. That's illustrated by the fact that the iPhone 13 mini packs the same punch as the iPhone 13 Pro Max. Or how the new iPhone SE (2022) utilises the same A15 Bionic chipset found in those more premium iPhone 13 models.
But the biggest challenge you might face when shopping for the best small phone is just how little choice there is. Smartphone shoppers favour bigger screens and that's where most device makers are putting their efforts these days.
How we test smartphones
In order for a smartphone to make our best phone list, it needs to excel on several tests that we run on every handset. We perform some of these tests in our labs and some in the real world.
When it comes to performance, we rely on such synthetic benchmarks as Geekbench 5 and 3DMark to measure graphics performance. These tests allow us to compare performance across iPhones and Android devices. We also run a real-world video transcoding test on each phone using the Adobe Premiere Rush app and time the result. (We unfortunately have to skip this test on some phones due to app compatibility issues, but we attempt this benchmark with each device we get in to review.)
Swipe to scroll horizontally
Performance benchmarks

| | | |
| --- | --- | --- |
| Row 0 - Cell 0 | Geekbench 5 (single-core / multicore) | 3DMark Wild Life Unlimited (FPS) |
| iPhone 13 mini | 1733 / 4643 | 61 |
| Zenfone 9 | 1190 / 4069 | 58 |
| iPhone SE (2022) | 1718 / 4482 | 50 |
| iPhone 12 mini | 1602 / 4123 | 54 |
| Pixel 4a | 551 / 1647 | N/A |
| Pixel 5 | 596 / 1617 | N/A |
To measure the quality of a phone's display, we perform lab tests to determine the brightness of the panel (in nits), as well as how colourful each screen is (DCI-P3 colour gamut). In these cases, higher numbers are better. We also measure colour accuracy of each panel with a Delta-E rating, where lower numbers are better and score of 0 is perfect.
Swipe to scroll horizontally
Display benchmarks

| | | | |
| --- | --- | --- | --- |
| Row 0 - Cell 0 | sRGB (%) | DCI-P3 (%) | Delta-E |
| iPhone 13 mini | 117 | 83 | 0.27 |
| Zenfone 9 | 157 (Optimal) / 184 (Natural) | 111 (Optimal) / 130 (Natural) | 0.28 (Optimal) / 0.3 (Natural) |
| iPhone SE (2022) | 115 | 81 | 0.21 |
| iPhone 12 mini | 118 | 83 | N/A |
| Pixel 4a | 106 | 75 | 0.29 |
| Pixel 5 | 129 | 91 | 0.3 |
One of the most important tests we run is the Tom's Guide battery test. We run a web surfing test over 5G (or 4G if the phone doesn't have 5G support) at 150 nits of screen brightness until the battery gives out. In general, a phone that lasts 10 hours or more is good, and anything above 11 hours makes our list of the best phone battery life.
Swipe to scroll horizontally
Battery life benchmark

| | |
| --- | --- |
| Row 0 - Cell 0 | Battery life (Hrs:Mins) |
| iPhone 13 mini | 8:54 |
| Zenfone 9 | 13:13 (adaptive), 12:52 (120Hz), 13:20 (60Hz) |
| iPhone SE (2022) | 7:39 |
| iPhone 12 mini | 7:28 |
| Pixel 4a | 8:33 |
| Pixel 5 | 9:29 (90Hz) / 9:53 (60Hz) |
Last but not least, we take the best phones out in the field to take photos outdoors, indoors and at night in low light to see how they perform versus their closest competitors. We take shots of landscapes, food, portraits and more, and also allow you to be the judge with side-by-side comparisons in our reviews.