10 Essential Soulcalibur VI Tips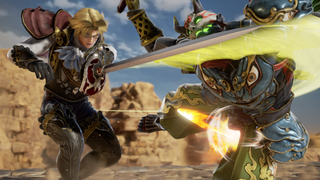 Master the sword
Soulcalibur VI brings Bandai Namco's storied 3D fighting series back in a big way, with gorgeous visuals, a nostalgic cast of fan-favorite characters and the most refined combat the franchise has seen yet. But with a daunting amount of new systems and mechanics to master, the game can quickly get overwhelming for both new and old players trying to figure out the difference between a Reversal Edge and a Soul Charge. Whether you're a fighting game neophyte or an aspiring pro, here are 10 tips for taking your Soulcalibur VI game to the next level.
Credit: Bandai Namco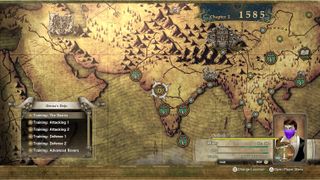 Do the tutorials
Soulcalibur VI has a wealth of useful in-game tutorial content, though you'll have to do a bit of digging for it. For starters, you should do all six training missions in the Libra of Soul mode (found in Drona's Dojo) to get a grasp of the game's basics. When you're ready to go deeper, check out the Combat Lessons in the game's pause menu while playing just about any mode. Here, you'll find an exhaustive encyclopedia of handy tips, from universal mechanics to character-specific strategies.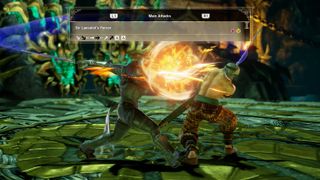 Master your moves
Each character in Soulcalibur VI has a fairly overwhelming amount of moves, so one of the first things you should do is get familiar with their most important ones. While in training mode, pull up your Move List and focus on your character's Main Attacks to start. You can select any move with the X or A button to see it in action; that will give you a good idea of the speed and range of every main attack.
Once you're comfortable with your character's key moves, you should continue this process with the rest of your move list to get a better sense of what your favorite fighter is capable of. Then, mess with these moves yourself in training mode, trying to build up an arsenal of attacks that include highs, mids and lows, close-range and long-range moves, and moves that can start a basic combo.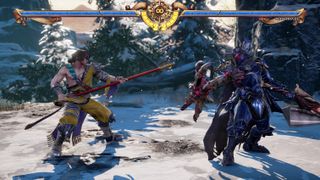 Stay nimble
Having good movement is key to succeeding in any 3D fighter, and that's especially true for Soulcalibur. The game's 8-way-run system lets you freely sidestep in any direction to create space between you and your opponent as well as avoid vertical attacks and throws — just keep in mind that horizontal attacks will hit sidesteppers.
You can jump (Up + Guard) to avoid low attacks and crouch (Down + Guard) to avoid high attacks and throws as well as block lows. Make sure to mix together all of these movements to keep your opponent on their toes, create optimal space for landing big attacks, and keep yourself safe from being knocked out of the ring.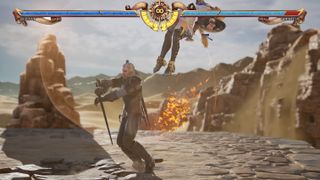 Combo like a pro
As with most fighting games, you'll want to perform combos in Soulcalibur VI to perform big chunks of damage at once. One easy way to start a combo is by performing a launcher (Down-Forward + Vertical Attack), which will knock your opponent into the air and leave them vulnerable for a juggle. Keep in mind that players can control their aerial movement after being launched, so you'll want to focus on doing a small number of high-damage moves before they escape. Launchers are also one of several ways to knock your opponent out of the arena for a ring out, so be sure to practice different combos and attacks when your opponent's back is to the edge of the ring.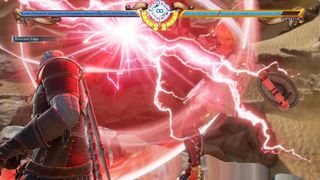 Know the basics of Reversal Edge...
One of Soulcalibur VI's most important new mechanics is Reversal Edge, which you can perform by pressing Horizontal Attack + Guard (or just R1 or RB) to absorb an attack and trigger a rock-paper-scissors mini-game. During a Reversal Edge Clash, you and your opponent can each press a button to try and get an advantage.
The basic gist is this: horizontal attacks beat kicks, kicks beat vertical attacks, and vertical attacks beat horizontal attacks. You can also guard during a reversal edge, but trying to guard a vertical attack will reset the Clash phase. Likewise, you can try and sidestep (forward dodges horizontal attacks, up or down dodges vertical ones and back dodges kicks) but guessing wrong could lead to taking big damage.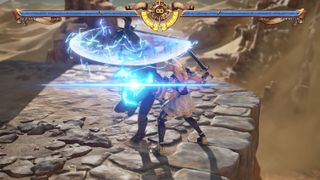 …And how to break one
While Reversal Edge is a powerful tool, a smart player can easily avoid it. If you see an opponent starting up an reversal edge (their weapon will glow silver), you can perform a Break Attack (which is marked by blue lightning) or one of your character's Unblockable attacks (marked by red flames) to knock them out of it. Reversal Edges can also be sidestepped. Consult the move list to learn your character's Break Attacks and Unblockables, and be sure to look out for them when you're looking to pull off a Reversal Edge of your own.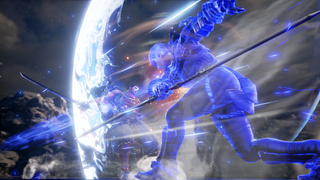 Use your Soul Gauge wisely
As you battle, you'll fill up to two Soul Gauge meters, which allow you to perform both Soul Charges (which gives you a temporary power boost) and Critical Edges (a big, damaging super attack). But as tempting as it might be to let that flashy Critical Edge rip as soon as you have one, doing so recklessly is a bad idea. The startup of any Critical Edge can be easily interrupted by a fast attack, and missing one completely will leave you super vulnerable.
As such, you should aim to use Critical Edge to punish your opponent's whiffed move, or as part of a combo. And while Critical Edges do tons of damage at once, you should also consider launching a Soul Charge to give yourself more offensive and defense options. Which brings me to my next point...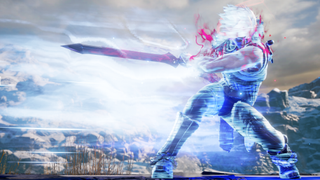 Learn your Soul Charge moves
Another key mechanic new to Soulcalibur VI is Soul Charge (performed by pressing Back + all three attack buttons or Back + R2/RT), which allows you to spend one bar of your Soul Gauge to temporarily enter a powered-up state that gives you additional moves. Be sure to check the "Gauge Attacks" part of your move list to learn your fighter's Soul Charge attacks, many of which open up new combo and movement possibilities. There are also tons of strategic benefits to triggering a Soul Charge — launching one will knock away an aggressive opponent, and will temporarily freeze the in-game clock to prevent a loss via time-out.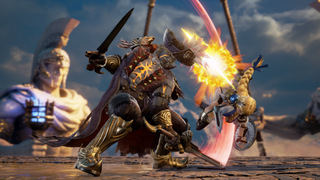 Don't be afraid to hop online
If you're new to Soulcalibur (or fighting games in general), you're probably going to lose when you hop online. A lot. And that's OK! Fighting actual players is the best way to level up your skills, and you'll gain a ton of strategic and character-specific knowledge just by seeing how folks from all over the world play the game. Start with Casual Match mode if you don't want to worry about your rank, and use the replay function to study your matches and figure out what to improve on. If you have people to train with locally, even better.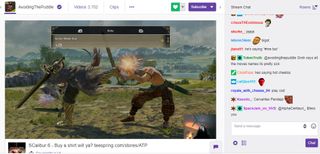 Watch and learn from the pros
Aside from getting real-world match experience, watching high-level Soulcalibur VI gameplay is one of the best ways to learn more about your character and improve your overall game. There are tons of Soulcalibur VI streams and videos available at any given moment on Twitch and YouTube, and Bandai Namco even has its own official tutorial series. You should also hit up 8wayrun.com, a popular community hub filled with forums and tutorials designed to help players reach the next level.
Credit: Twitch.tv/avoidingthepuddle