If you need the best Nintendo Switch controllers to add extra or different inputs to your console, these are the gamepads you need to look at.
Nintendo's already kind of generous by letting you use the Switch's included Joy-Cons as two separate controllers (unless you have a Nintendo Switch Lite), but that's still not enough for a big multiplayer session, or a worthy replacement for a traditional gaming controller. That's why you should look through these options, which include more specialized or retro controllers, to bolster your controller count for your Nintendo Switch OLED or basic Nintendo Switch.
Take a look at our best Nintendo Switch controllers picks below, and hopefully soon you won't need to keep lending out your favorite Joy-Cons everytime you want to play Smash Bros. with someone.
The best Nintendo Switch controllers you can buy today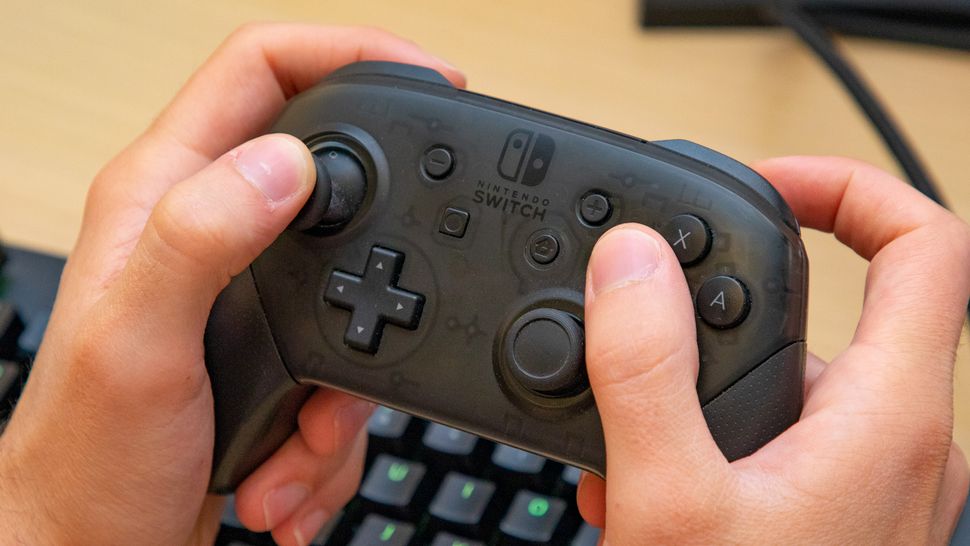 (opens in new tab)
It carries a hefty price tag, but Nintendo's Pro Controller is still the best traditional gamepad for playing Switch games like Splatoon 2 or Super Smash Bros. Ultimate with maximum precision. Its translucent plastic design is both sturdy and supremely comfortable, with ergonomic curves and textured grips on the handles. The thumbsticks are durable and soft to the touch, and the face buttons are big and satisfyingly clicky.
One of the controller's only shortcomings is the d-pad, which is solid, but not as big or precise as some of the third-party options out there. The Pro Controller also features full-HD rumble and motion-control support, as well as NFC functionality for scanning in amiibos.
(opens in new tab)
If you want to play platformers like the Mega Man X Legacy Collection, Super Mario Maker 2 and Nintendo Switch Online's retro games the way they were meant to be played, the 8BitDo SN30 Pro is the best Nintendo Switch Controller. Just like the 8BitDo SN30, this controller has a retro design and is an essentially a re-creation of the iconic Super Nintendo controller, with a lightweight candybar design, an excellent d-pad and snappy face buttons. However, it add rear triggers, analog sticks and even motion controllers so you can play more modern games like Splatoon 3 too. There are also a wide variety of colors available for the SN30 Pro from Gameboy-inspired designs to one that even would be right at home next to the original PlayStation.
(opens in new tab)
PDP's Faceoff Deluxe+ Audio Wired Controller stands out from the pack by being the only one of our best Nintendo Switch controllers that you can plug a pair of headphones into. That means you can get more immersed in Breath of the Wild from the couch, or use your gaming headset to talk with friends in games that support built-in voice chat (including Fortnite). It's also a fine budget controller in its own right, offering a solid plastic build, satisfying sticks and triggers, and handy programmable buttons on the rear for mapping extra inputs.
Read our full PDP Faceoff Deluxe+ review
(opens in new tab)
If you don't have the $70 to fork out for Nintendo's Pro Controller, the PowerA Enhanced Wireless Controller is the best Nintendo Switch controller alternative for $20 less. This gamepad has a lightweight but substantial design, solid buttons and analog sticks that we've found to be even smoother than that of the Pro Controller. And while PowerA's controller lacks rumble, you'll still get motion-control support for titles like Splatoon 2 and Mario Kart 8 Deluxe. To top it off, the Enhanced Wireless Controller comes in a variety of slick color schemes that include licensed Mario, Zelda and Diablo options.
(opens in new tab)
Sure, the Switch packs two Joy-Cons, but it never hurts to have an extra pair or two handy for multiplayer games. Each individual Joy-Con doubles as a stand-alone mini-controller, which makes them the best Nintendo Switch controller to pass to a friend for casual titles like Super Mario Party or Overcooked. And since Joy-Cons come in a rainbow of colors, picking up a new pair is a great way to personalize your Switch. If you just need a single Joy-Con, Nintendo also sells them as single units.
(opens in new tab)
If you're jealous of the Nintendo Switch Lite just because it has a proper d-pad, save your $200. Hori's excellent D-Pad controller will do the trick for just $25. This neat little accessory replaces your Switch's left Joy-Con with one that features a full directional pad, which feels even more precise and satisfying than Nintendo's Pro Controller. It also comes in a trio of fun styles for Zelda, Mario and Pokémon fans. While it doesn't work wirelessly and lacks HD rumble, Hori's custom Joy-Con is the best Nintendo Switch controller for anyone who plays fighting games or platformers on the go.
Your Switch will somehow still fit into its dock when you attach the Split Pad Pro in place of your Joy-Cons. However this controller isn't designed for the Switch in TV mode. You will instead appreciate Hori's officially licensed peripheral best in handheld mode, where you get the full benefit of its full-sized controls and bonus rebindable buttons mounted on the back grips.
Just like the Joy-Cons, the Split Pad Pro comes in an impressive array of colors and special editions, letting you express yourself more than most third-party pads. Taking this out and about will be tough going due to the extra weight however, and you don't get any special features like NFC or motion controls that make certain games extra enjoyable.
If you want a separate controller to complement your handheld-only Nintendo Switch Lite, then 8BitDo sells a suitably Lite controller for you to try. The compact controller comes in the same bright yellow or blue as the Switch Lite, and features dual d-pad inputs.
The lack of analog stick could be an issue depending on the game you're playing. It also doesn't feature any advanced features like the standard Switch controls do, which again may pose an issue when playing certain titles. Overall though, having a controller designed with the Switch Lite in mind is a great idea, and could prove to be a handy back-up pad when you are in the mood for some impromptu multiplayer or co-op.
(opens in new tab)
If you have smaller hands or want a Nintendo Switch controller that's better suited for younger gamers, the PowerA Nano Enhanced Wireless Controller is your best bet. This controller sports all of the same features as a full-size PowerA Enhanced Wireless Controller just in a smaller package. It's also much more portable and even comes with a drawstring pouch to protect it on the go. The PowerA Nano Enhanced Wireless Controller is available in black and grey but the grey version features the iconic red and light blue colors from the Switch's Joy-Cons on its bumpers, triggers and control sticks.
How to choose the best Nintendo Switch controller for you
When picking the best controller for your needs, you'll need to first off decide which form factor you want. Maybe you want something that's shaped more like a PlayStation or Xbox controller, or you're after something like the Joy-Cons that come with the Switch. Perhaps you want a totally different shape also, to better suit the games you're playing. Decide this first before going forward.
The next big question is wired or wireless. The Switch allows for both Bluetooth and USB connections, but if you're playing it away from the dock, or have a dockless Switch Lite, then you only have one USB-C port to use. If you like to use your Switch out and about, Bluetooth is likely the better option for you.
The last big priority when picking the best Nintendo Switch controller for you is if you want or need the special features of the basic Switch controllers, namely rumble, motion controls and NFC. You don't need any of these to enjoy gaming on the Switch, but if you own Amiibos or play games that require motion controls, you'll need a controller that supports this. Rumble is less critical, but is still a point of preference you should consider when buying.
Is the Nintendo Switch Pro Controller better than the Joy-Cons?
Although the Pro title may make you think the Nintendo Switch Pro Controllers is flat-out better than the default Joy-Cons, it's not that simple. While both sets of controls offer the same buttons and features, the Pro Controller's layout is definitely suited to a player who's used to playing on an Xbox or PlayStation gamepad. But as a result, it lacks the Joy-Con's more quirky aspects like being able to be used as two mini-controllers for multi-player, and it's definitely not as comfortable to wave around when using motion controls.