Maybe you just started working from home or are looking to give your home office a bit of a revamp, and are thinking of upgrading to one of the best standing desks. Either way, you have a lot of research to do and decisions to make before you pull the trigger.
There are plenty of must-have features like a cable management tray that can make or break the standing desk experience, but there's also one more practical consideration you should decide on first — will a wide or narrow standing desk be a better fit for your workflow and your space?
I know, this may seem simple, but as someone who has tested dozens of standing desks, the length of your desk really has an impact on how you use it as well as the features available at checkout.
Here are four questions you should ask before deciding if a narrow vs a wide standing desk is best for your home office.
1. Are you going to put it together yourself?
Regardless of whether you pick a wide or narrow standing desk, you're still likely going to have to assemble it yourself. There are some companies that charge you a bit extra to have someone from their team come and build your desk but unfortunately, they are few and far between.
Although putting a narrow or wide standing desk together will be a very similar process, it's the last step where they differ.
Once everything is assembled, you have to flip your standing desk over. From my own personal experience, it's much easier to flip over a narrow standing desk than a wider one. Even though this last step is a two-person job, you can — if you're extremely careful — do this on your own in stages, by flipping the desk over in two steps.
However, the process becomes more difficult if you have a standing desk with a larger surface area, to the point where you will need a second pair of hands.
Some narrow standing desks like the Realspace Smart Electric Height-Adjustable Desk or the FlexiSpot Comhar basically come pre-assembled and you only need to attach the legs. However, if you have a bit more to spend and want the easiest standing desk to assemble, the Vari Electric Standing Desk is the best bet. In fact, you only need to screw in eight bolts as its frame comes pre-attached to the desktop.
2. Do you plan on moving your standing desk?
As a general rule of thumb, you're going to want to build your standing desk in the room you plan on using it in once it's fully assembled. This way you won't have to ask a friend to help you move it to another room. However, if your home office just doesn't have the space to build a desk in — which it might not — you can always adjust the desk to its lowest setting to make it easier to move.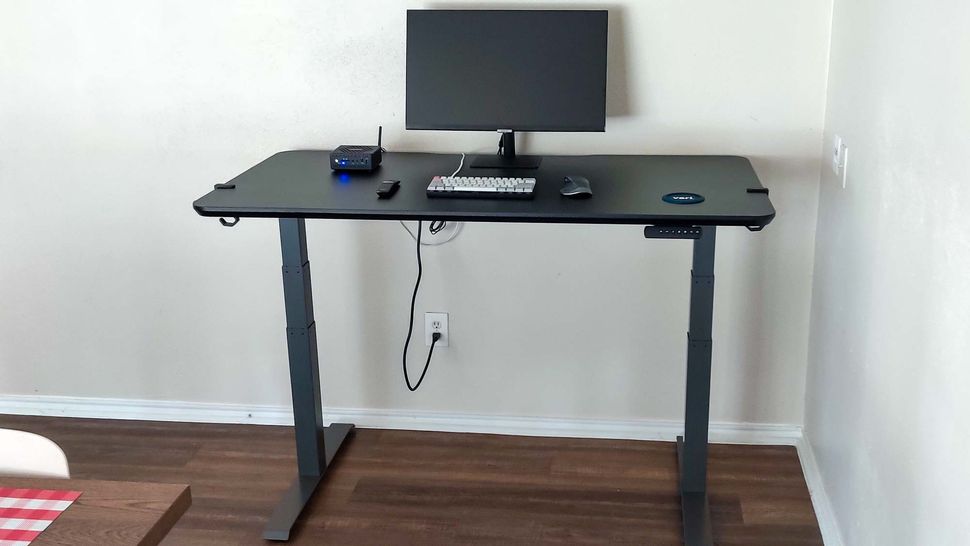 With this desk, I actually had to do just that as I originally assembled it and tested it out in my kitchen. However, since I reviewed the version of the Vari Electric Desk with a laminate desktop, it didn't weigh as much as a wooden desktop would have.
Besides the size limitations that come with a wider desk, you also want to think long and hard about the desktop material itself. While a solid wood desktop may look a lot nicer, opting for a chipboard one like I did with the Flexispot E7 Pro Plus will help keep the weight of your desk down and make it easier to move.
At the same time, you also want to think about the width of your desk; besides adding extra weight and bulk, it will also help determine how much space you have on your desktop. Standing desks with a 24-inch width still give you a lot of room but if you're planning on keeping a computer on top of your desk, you might want one with a 30-inch width instead like the one pictured above.
3. Are you planning on using a laptop or a desktop?
What you plan to put on your desk also plays a big role in whether a wide or narrow desk is right for you. If you use one of the best laptops instead of one of the best computers, you might not need all that extra desktop space that comes with a wider standing desk.
For those who use a laptop as their main computer, a narrow standing desk with a width of 48-inches should be more than enough — with plenty of space left over for a desk lamp, laptop stand or other accessories. If you're planning on getting two or more of the best monitors, though, you may appreciate some more desk area.
Even if you decide to switch to using a desktop down the road, you can keep using your narrow standing desk if you pair it with one of the best mini PCs like the Mac Mini M2 or the Geekom Mini IT8 for Windows users. An all-in-one computer is also a good choice as your PC and monitor are together in one package.
4. Do you need extra storage space?
When making the switch from one of the best desks to a standing desk, you're likely going to lose out on storage space. This is because the legs need room to move up and down and you usually don't have space for drawers. However, that isn't always the case. For instance, the Flexispot Comhar's desktop has a unique design that includes extra space for a pull-out drawer. The drawer doesn't have too much depth but it does have enough room to store a laptop, tablet and other accessories you might need throughout the day.
If you need even more room, the Realspace Smart Electric Height-Adjustable Desk has deeper drawers and two of them instead of one in the middle. It also has a built-in cable management area at the rear that gives you more than enough room for one of the best surge protectors and your monitor's AC adapter.
There is one downside to all of this storage space. As you can see in the picture above, it's impossible to keep the desk at the right height for working comfortably with the room needed to push in one of the best office chairs. However, you can adjust the desk's height to be able to push in your chair or lean its armrests up against the drawers like I do.
When it comes to drawers and extra storage, so far, I've only seen narrow standing desks with a width of 48-inches that have them. There may be wider standing desks with drawers but I've yet to come across or review one like this yet.
Wide vs narrow standing desk: Which should you get?
In the end, the type of standing desk and how wide or narrow its desktop is really up to your needs. You'll want to think carefully about the space you plan to use it in and consider whether or not you plan on moving anytime soon. Both types of desk work well for a laptop or desktop computer but if you plan on using multiple monitors, a wider desk is probably the better choice.
It's so easy to get weighed down with all of the choices you have to make when picking out a standing desk but whether you get one that's wide or narrow will really impact how you end up using it. Just be sure to think things over thoroughly before making your final decision.
More from Tom's Guide