The DreamCloud Mattress is one of the most sought-after hybrid beds in the world, and prices have been slashed in a huge flash sale saving you 50% off the DreamCloud in every size. That reduces the cost of a queen to just $665 (was $1,332). The sale ends today (25 October), so you don't have long left to grab one of this year's best mattresses at a super-low price.
In our official DreamCloud Mattress review, we explain that this is the bed we recommend if you want a Saatva but can't stretch your budget that far. We scored it highly in all key areas including back support, comfort and pressure relief, all at an affordable price.
You'll get a 365-night trial period with the DreamCloud Luxury Hybrid, as well as a lifetime warranty. Those are seriously good perks for a mattress starting at $419 with free shipping and returns. This is one of the best early Black Friday mattress deals we have seen yet.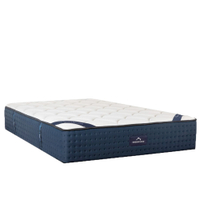 DreamCloud Luxury Hybrid Mattress by DreamCloud
Was: from $839
Now: from $419 at DreamCloud
Saving: Up to $1,088
Summary: We rate the seven-layer DreamCloud as the best hybrid mattress for nearly all sleepers who want full body support and medium-firm comfort without paying the earth. The DreamCloud is an excellent bed in its own right, but it's a particularly great choice for anyone who's read our Saatva Classic Mattress review and wants the same slice of hotel luxury sleep at home but at a cheaper price. The DreamCloud comes in one comfort level (medium-firm) and is made of coil and foam. When we tested it, we loved how cool it slept (those coils boost airflow), and how it reduced the hip and back pain of our main mattress tester when lying down. The edge support could be stronger, but it isn't a deal breaker and you'll still find it easy getting in and out of bed. It's a tall mattress at 14 inches though, so keep that in mind if you are short.
Benefits: 365 night trial | Lifetime warranty | Free shipping and returns
Price history: There are monthly DreamCloud mattress deals and sales on all of the brand's beds each month, with discounts ranging from 33% to 40% off. So this 50% off flash saving is a decent increase on the savings we normally see from this Resident Home sleep brand. A queen is currently discounted to $665 (was $1,332), with a maximum saving of $1,088 on the split king DreamCloud.
Saatva vs DreamCloud: mattress sales compared
Both Saatva and DreamCloud are running mattress sales this weekend, but which of them is offering the best value for money? That depends on the type of mattress you need, as a juicy discount means nothing unless you choose a mattress that properly suits your body and sleep needs.
Saatva's new offer will save you 15% of all orders over $925 this weekend, reducing the cost of a queen size Saatva Classic to $1,696. While that is a brilliant price for a handcrafted innerspring bed, this is an offer we see most weeks. DreamCloud's new 50% off sale is not one we see often as the savings are usually around the 33% to 40% mark, so if you want the best sale for the cheapest price and the largest discount, head to DreamCloud.
In our Saatva vs DreamCloud mattress comparison, we fully explore the Saatva Classic and DreamCloud Luxury Hybrid to see how they compare. We explain their pros and cons, and compare test data to help you make an easy decision when picking between them. For a luxury alternative that also uses certiPUR foams and organic materials, take a look at Avocado Green Mattress – our Avocado mattress deals guide has the latest offers.